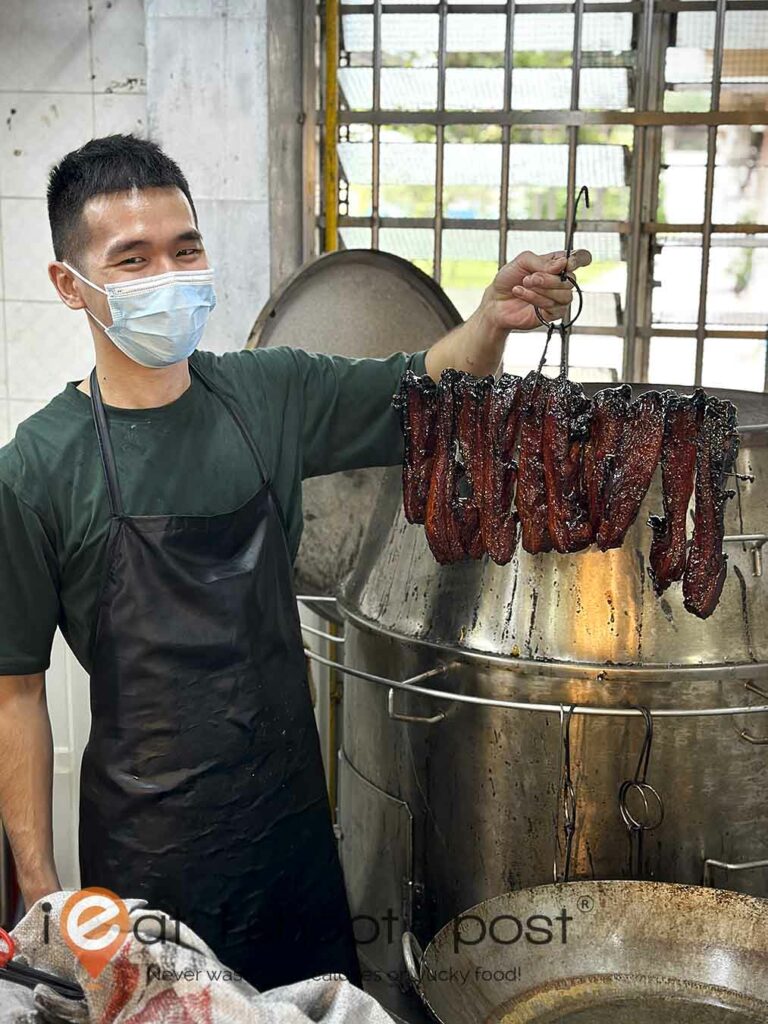 I first met Lim Kah Chuan, 30, when he was still at Tian Cheng Charcoal Roasted at 81 Whampoa Drive. He was only 27 then, but has already had 10 years of roasting under his belt. His passion for perfecting his roasting technique enabled him to build up the stall's reputation and he went on to help his boss open another six stalls across Singapore. Earlier this year, he left Tian Cheng to set up his own stall at Jalan Berseh. Now into his 2nd month, word is spreading over the digital grapevine about this up-and-coming Roast Master.
At the start, it was just a job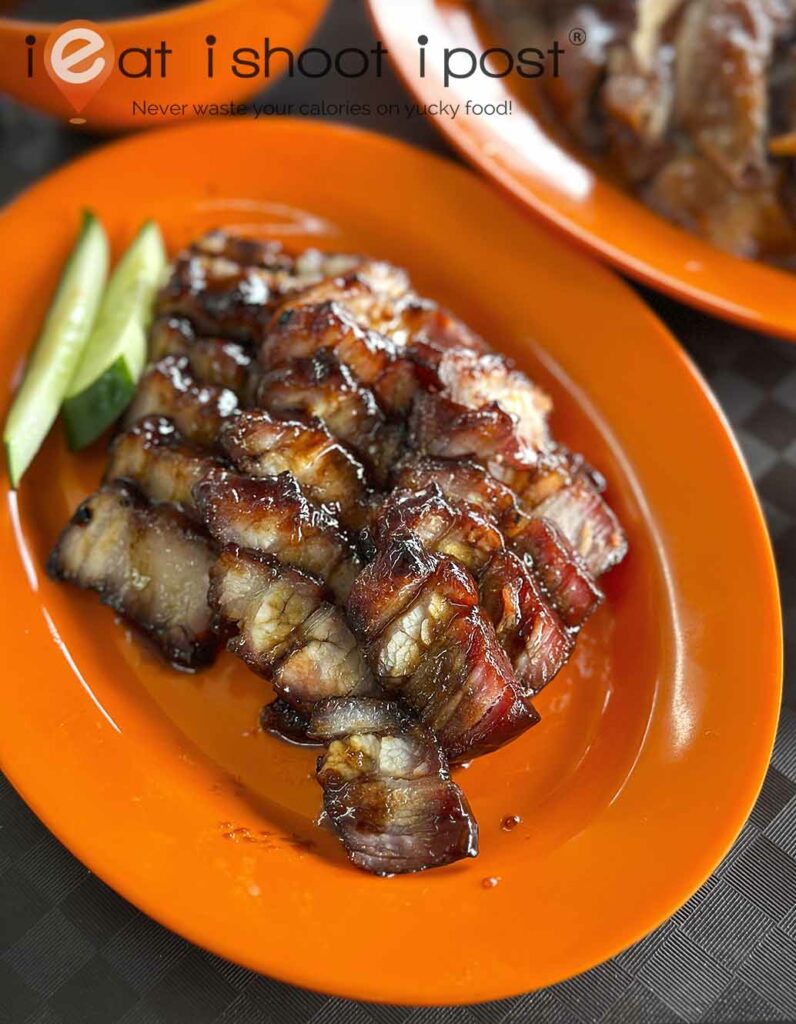 However, "Jun," as he is affectionately known, didn't harbor a passion for the Cantonese Roast initially. He did grow up helping his mum at her roast duck stall in Ipoh, but he never thought he would make roasting his life's passion. When he came to Singapore, he landed his first job as a kitchen hand in an economic rice stall. After a brief period in this role, his boss sent him to work at a roasted meat stall for two weeks and then got him to operate a stall by himself.
Jun recalls that in those days, he was doing it just as a job to earn money. All he needed to do was to follow their protocols. The meats were marinated with a premix and he only had to ensure that the meats are roasted till they are cooked through. The next time you are underwhelmed by the Charsiu at your neighborhood coffeeshop, just remember Jun's story!
Epiphany came early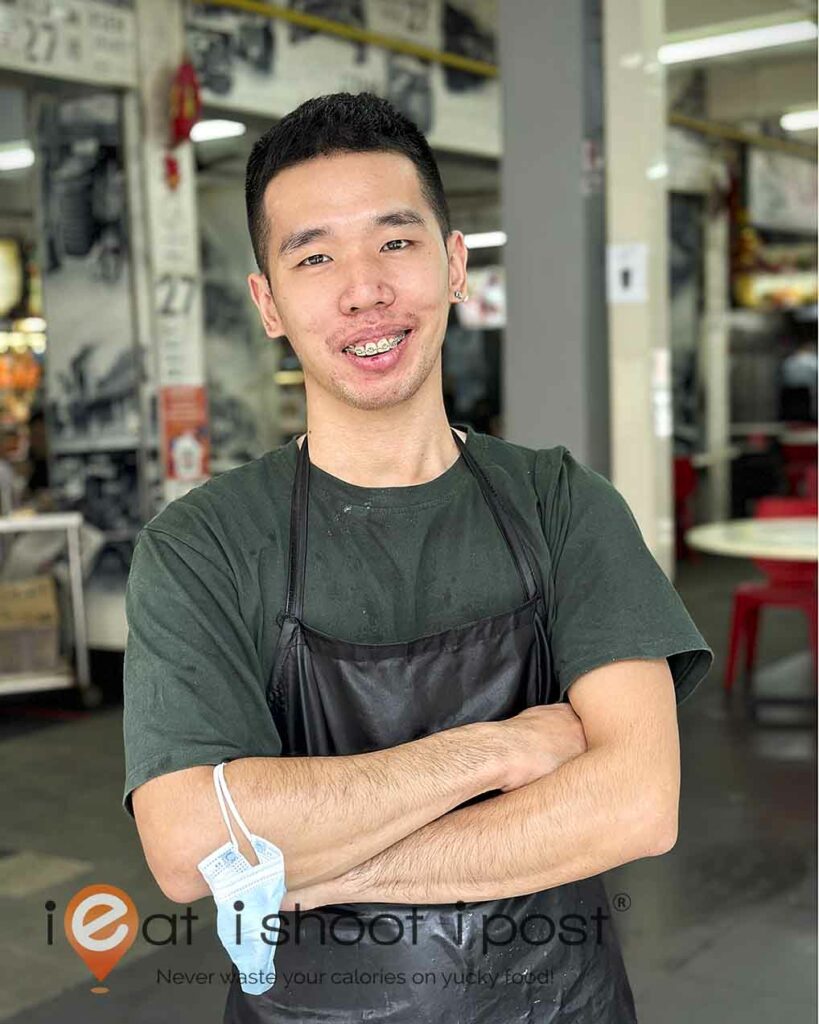 Around the age of 25, he awoke one day and decided that he would roast the meats that day to his own satisfaction. That decision would turn his job into a vocation. From then on, he has been working hard on improving his roasting skills. His stint at Tian Cheng gave him the confidence that he could make it in the world of hawkering, and now, with the help of his brother-in-law, Alex, he is starting the next chapter of his life.
One of the Best Charsius in recent years
My friend, Jimmy, who had first brought me to Tian Cheng, was the one who also brought me to his new stall at Jalan Berseh. The coffee shop is already famous for Sungei Road Laksa which had been its anchor tenant for many years.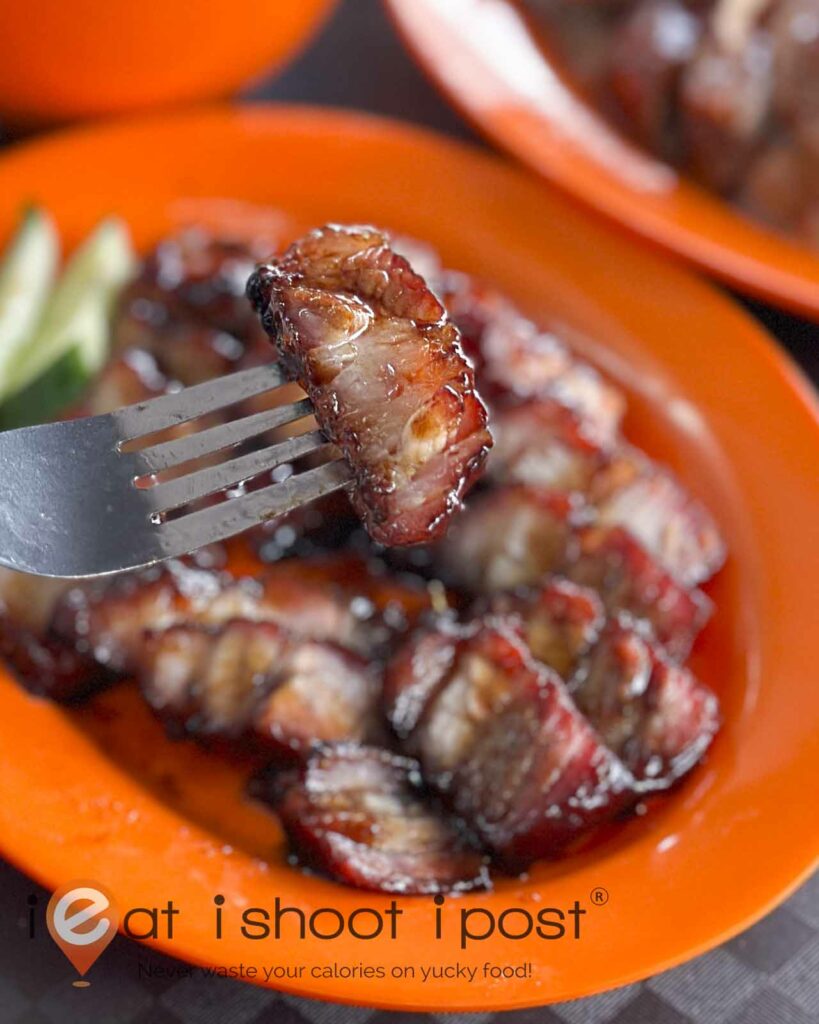 Xiao Di's Charsiu is one of the best I have tasted in recent years. Like most newer Charsiu stalls, he uses pork belly which results in a Charsiu with a caramelized exterior and a sublimely unctuous bite. In the old days, most stalls would use pork shoulder which is leaner, but stalls like 88 Hong Kong Roast and Roast Paradise popularised the pork belly as a more fatty cut for Charsiu.
If you are averse to fats, this Charsiu is really not for you. But if you have a few calories to spare, it will bestow upon you a momentary transcendence from this earthly realm. It was a tad sweet but otherwise, the charcoal smoke flavor was distinct and the meat was roasted perfectly such that the fats were nicely rendered but still had enough integrity that the layers of meat didn't come apart when you picked it up. Nearly perfect but can still be improved. 4.25/5
The Roast Duck is good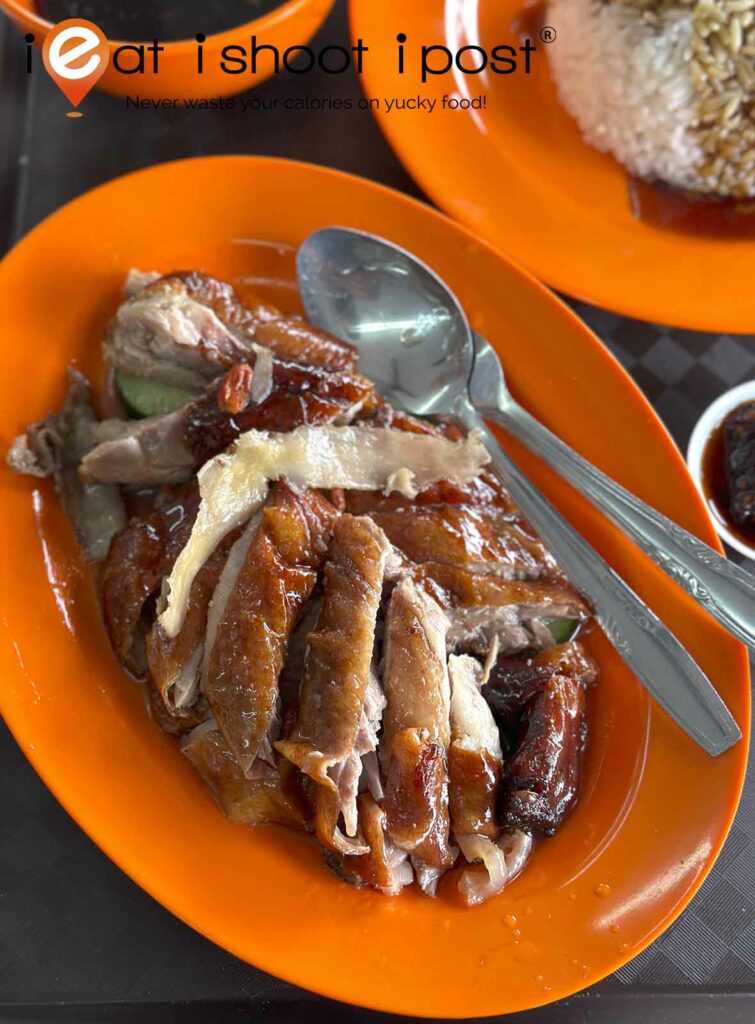 The Roast Duck is very good. The meat is tender and it doesn't have a gamey flavor. Jun tells me that the key to Roast Duck is to make sure that the bird is washed thoroughly before roasting and you really need to go low and slow in order to ensure that the meat is cooked long enough so that it becomes tender. He uses a bit of dang gui (Angelica sinensis) in the marinade and the flavor is evident in the sauce. It isn't as strong as the duck at Dian Xiao Er, but adds a subtle herbal note. It would be great if they had some plum sauce to go with the duck. 4.25/5
And the Siobak is good too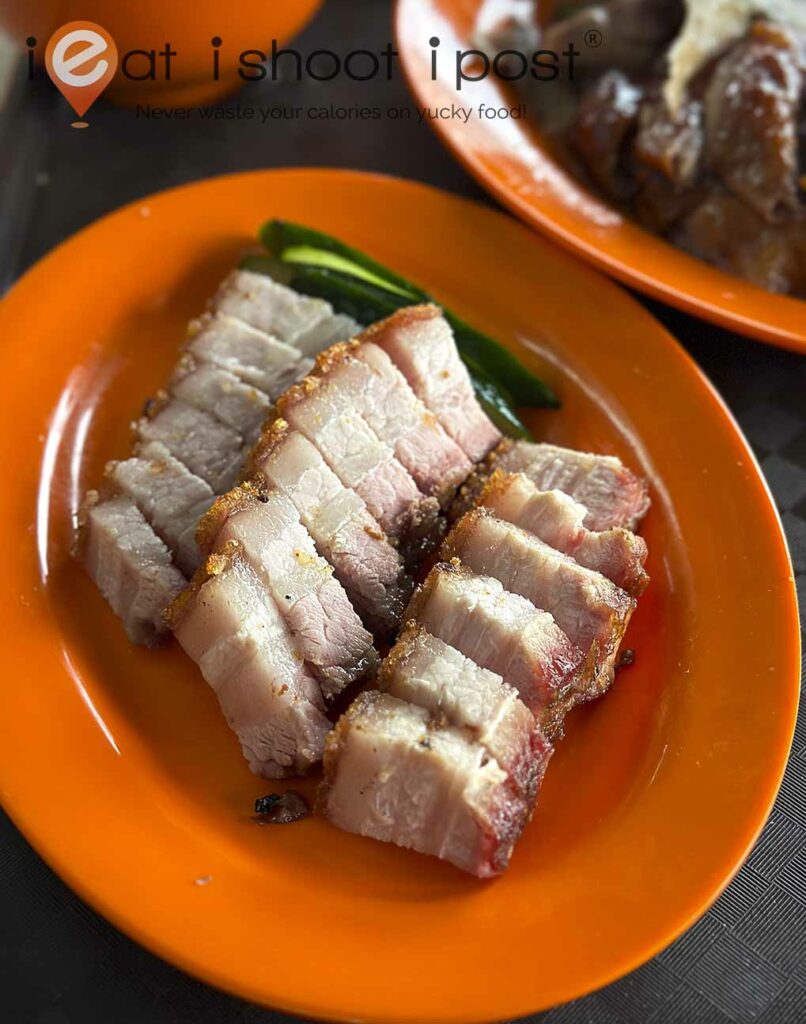 The Sio Bak is also nicely done and the marinade has penetrated through to the meat which is nice and tender. The skin is thin and crispy but not as shattering as I would have liked. It would be even better if he could cut it so that it is more chunky. 4.25/5
Special mention must be made to the chilli and the soup. The sambal chilli doesn't just come out of a packet but is made in-house if chock full of shallots and dried shrimp. They also provide a soup which changes daily that is also chock full of ingredients like lotus root, water crest etc. Not bad for something that is complementary!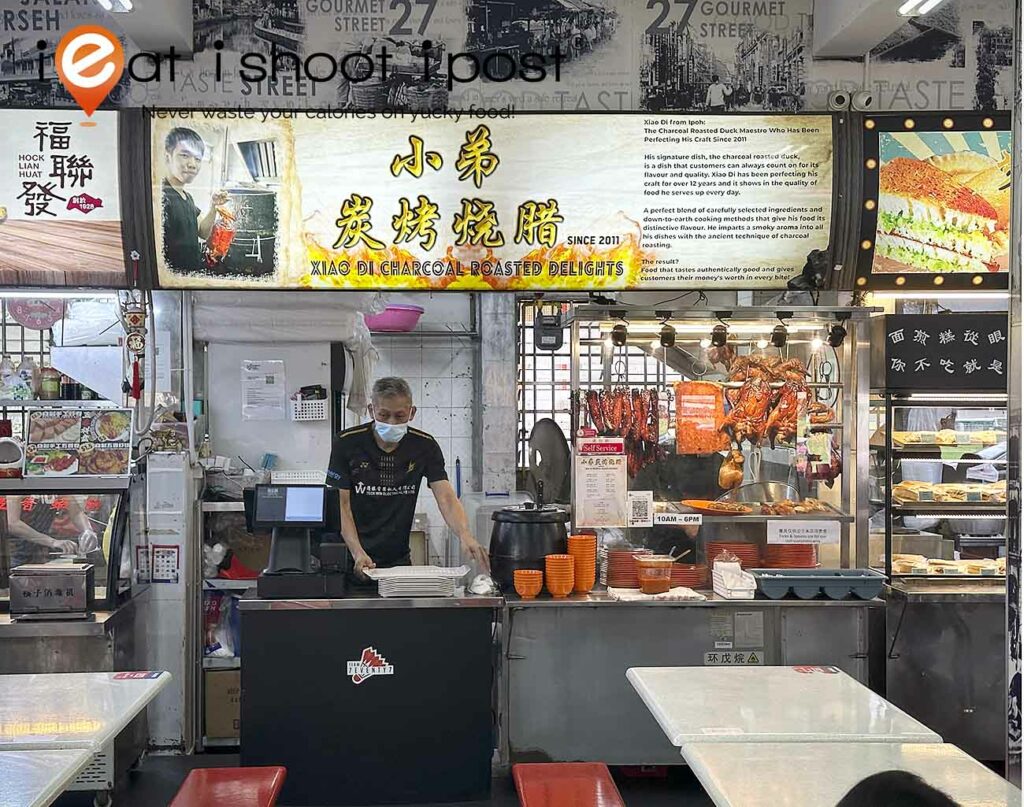 Conclusion
Great to see another passionate young hawker on the rise! I only hope that Jun will focus on perfecting his roasts for a while before being tempted by some investors to expand. If he continues with his own stall, he should soon join the ranks of the best Roast Masters here!