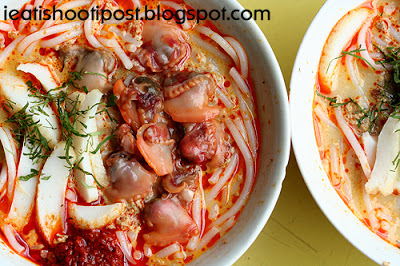 If you still want to eat laksa that is cooked with charcoal fire, you better hurry down to this Sungei Road Laksa before it goes the way of the Dodo! This is probably one of the last few places where you can still see the traditional aluminium pot resting on top of a charcoal fire!
People say that this is the first stall to introduce the concept of eating laksa with only your spoon. Apparently, it was this uncle who first had the idea of cutting up the laksa bee hoon so that you can scoop it up only with a spoon. How true this is, I don't really know. Can some of our makangurus out there please confirm if this is true?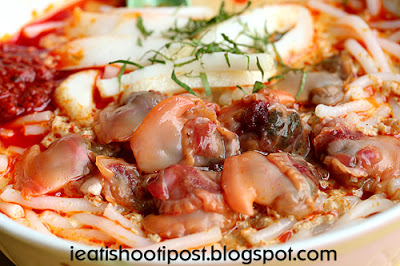 For $2 a bowl, they are certainly generous with the amount of Haam (Cockles) so lovers of this mollusk would be very happy. The distinct characteristic of this laksa has to be the gravy which is much lighter than what I am used to. It has flavour without being too jialak (heavy). Personally, I felt that the bowl I had that day did not meet up to expectations befitting its legendary status. But that's me against the 10 or 20 other customers who had turned up to eat the laksa at 3pm in the afternoon . 4.25/5
Conclusion
One of the most well known laksa around and its still being heated over a charcoal fire (I notice they acutally use gas to cook but the pot in front is heated by charcoal). I felt the gravy could have had more ooomph but I am sure there are fans of this laksa out there who would beg to differ.
Update: 11 May 2013
Had it again this week and it was excellent. Although the soup is very light, the spices and coconut flavours were intense. As a result, I am upping its rating to 4.5/5