Its been a long time since I ate Orh Luak (oyster omelette). Too long. The last time I had a truely great Orh Luak was in Bangkok. Oyster Omelette is a Teochew dish and there is a thriving Teochew community in Bangkok (Swatow, where the Teochews live, is very close to Thailand) When I used to live there, we frequented this old Teochew eating house which had the best Orh Nee (Yam Paste), Orh Luak, Braised Duck and of course Ter Kah (Braised Pig trotter). Ooooh, its hard to find something as rustic in Singapore. The place would have been given a "D" rating by NEA but the food was darn shiok!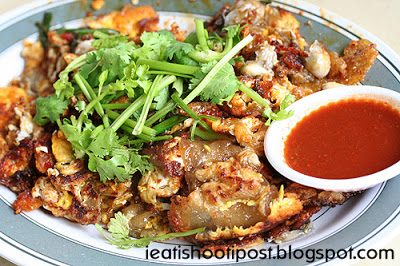 Anyway, back to this Orh Luak. It may not be as rustic but is seriously shiokadoodledoo. The owner is yet another Teochew Ah Hia who insists on using the best oysters from Korea, the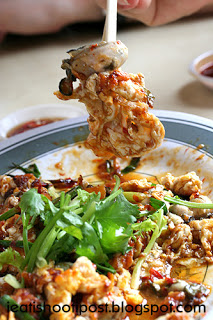 best sweet potato flour from China, the best eggs from Swee Choon Egg farm in Choa Chu Kang, everything must be grade A. The only thing that he does not do himself is the lard, but he insists that he gets only the best ready made lard available. What else do you get from frying the best oysters, sweet potato flour, eggs, fish sauce and homemade chilli sauce in a hot pan full of the best lard? The yummiest and most artery clogging concoction invented by man, that's what. 4.5/5 That is why this dish is something one takes only Gu Gu Jip Pai (long long time once) and if you ever ordered one that is mediocre, then it would be better to not eat it rather than trying to finish it just because mom always taught you never to waste food. In my opinion, sometimes it is better to waste the food in order to save on the medical costs later. (Of course in the first place you should not even order it if you know it is not good)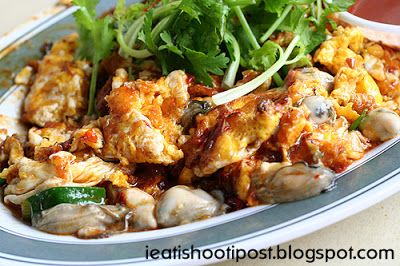 This stall fries several styles of oyster omelette. You must try the Orh Neng (Oyster Egg) which is fried without the sweet potato flour. This one was amazingly more shiokadelicious than the Orh Luak! It is wetter then Orh Luak and the fried eggs soaking in the juice created by the oysters, chilli and lard is absolutely (and literally) to die for. 4.75/5
Conclusion
Darn good but oh so sinful. Why is it that all the really tasty stuff like lard, oysters and eggs have to be bad for you? I'd eat this every week otherwise.
Many thanks to Sen for providing the link to this video!