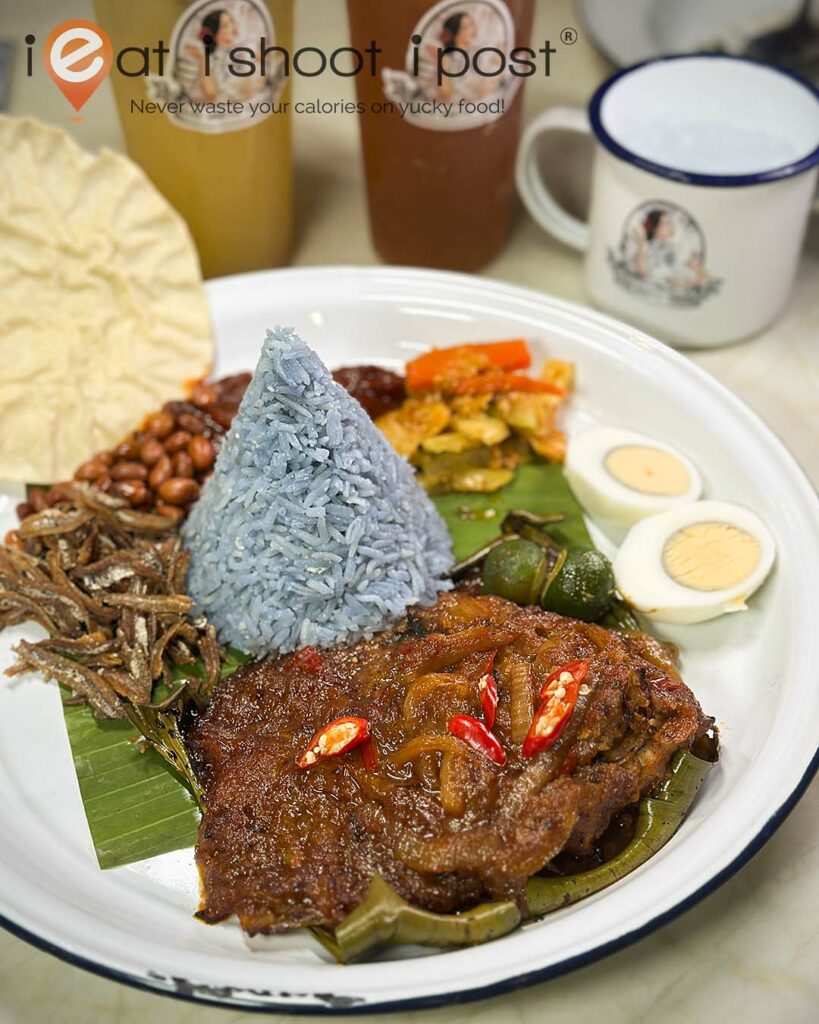 The White Tiffin: Cafe serving up beloved Singaporean favourites
I am delighted to witness the emergence of cafes like White Tiffin and Sinpopo which are offering beloved Singaporean favourites! Some examples are a combination of kopi with kuehs, buttercream cakes, Nasi Lemak, Laksa, among others. I have always believed that we have an overabundance of cafes serving Western-style cuisine, but not enough establishments showcasing our local delicacies, particularly the traditional Nonya kuehs. I suspect that it's because people expect to pay $8 for a slice of chocolate fan-dangled whatchamacallit cake, but only $1.50 for a slice of kueh salat. Even if the kueh salat were meticulously crafted with fresh coconut and pure pandan juice!
We have visited White Tiffin at Changi City Point on several occasions and have always enjoyed the food, but couldn't get much information about the media-shy owners. We did manage to uncover that the holding company was a caterer known as Manna Pot which has been around for two decades but not much more. The quality of the food indicated that it wasn't simply another mass-market cafe jumping onto the Nonya cafe bandwagon. The food truly evoked the image of a passionate old Nonya slowly stirring the rempah over a hot stove!
The White Tiffin Story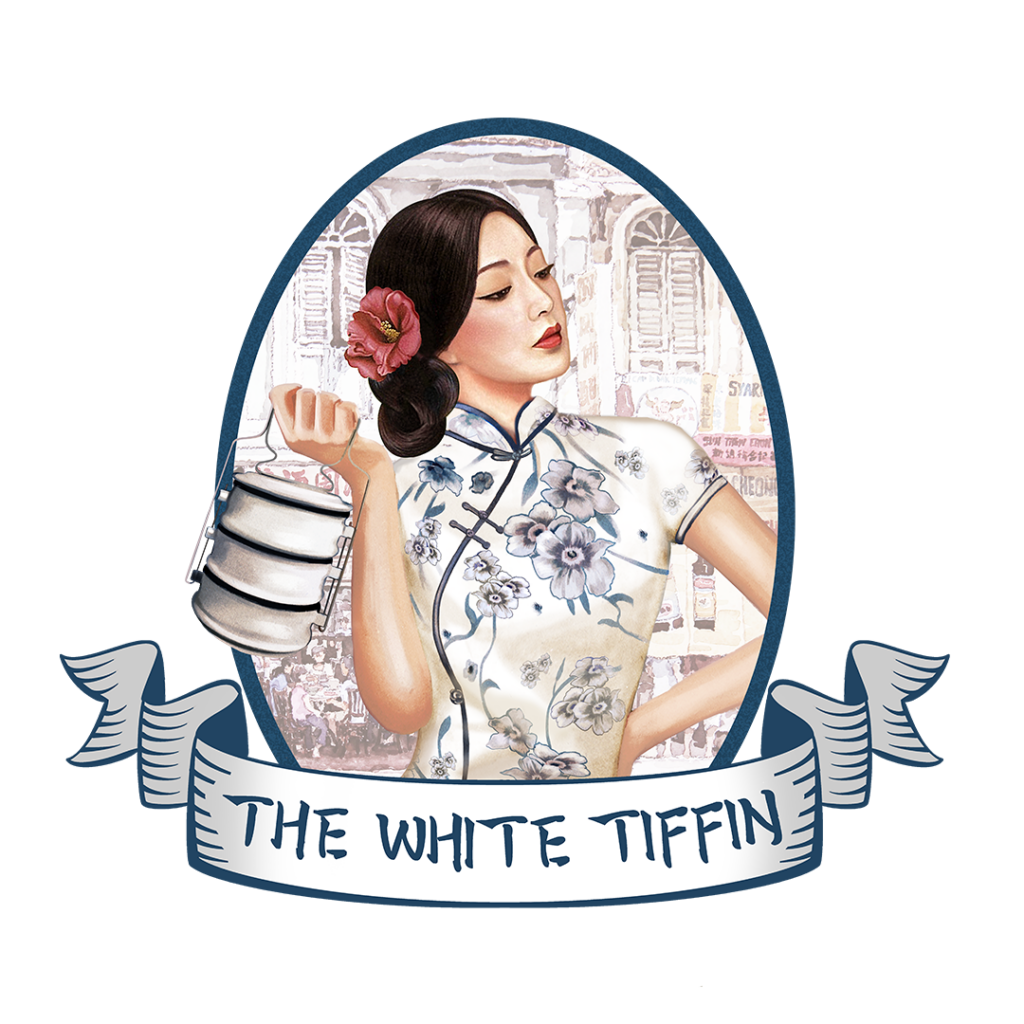 So here is the story of how it all began….. (you heard it first here!)
The opportunity to discover their story arose when we were invited for a media tasting at their Esplanade Exchange outlet. Do note that they are situated at Esplanade MRT, not at Theatres by the Bay.
We finally had the chance to meet Bettina, head chef and daughter of Mdm Linda Tan, who founded Manna Pot in 2001.
As suspected, the driving force behind White Tiffin is indeed a passionate chef whose life took a turn at the start of the new millennium when she lost her job. In order to provide for her family, she began catering for her church, leading to the birth of Manna Pot. The concept of White Tiffin emerged in 2020, just before the onset of the Covid-19 pandemic. While there is no specific backstory regarding the name "White Tiffin," it perfectly embodies the owners' vision of a café with nostalgic vibes, serving exceptional old-school Singaporean favorites. As for the elegant lady donning a white cheongsam on the logo, she is not an earlier rendition of Mdm Tan. She is instead a figment of the designer's imagination of a "lovely young lady in white cheongsam". (or an AI rendering!)
With the background story out of the way, let's get down to the food.
Nasi Lemak with Stingray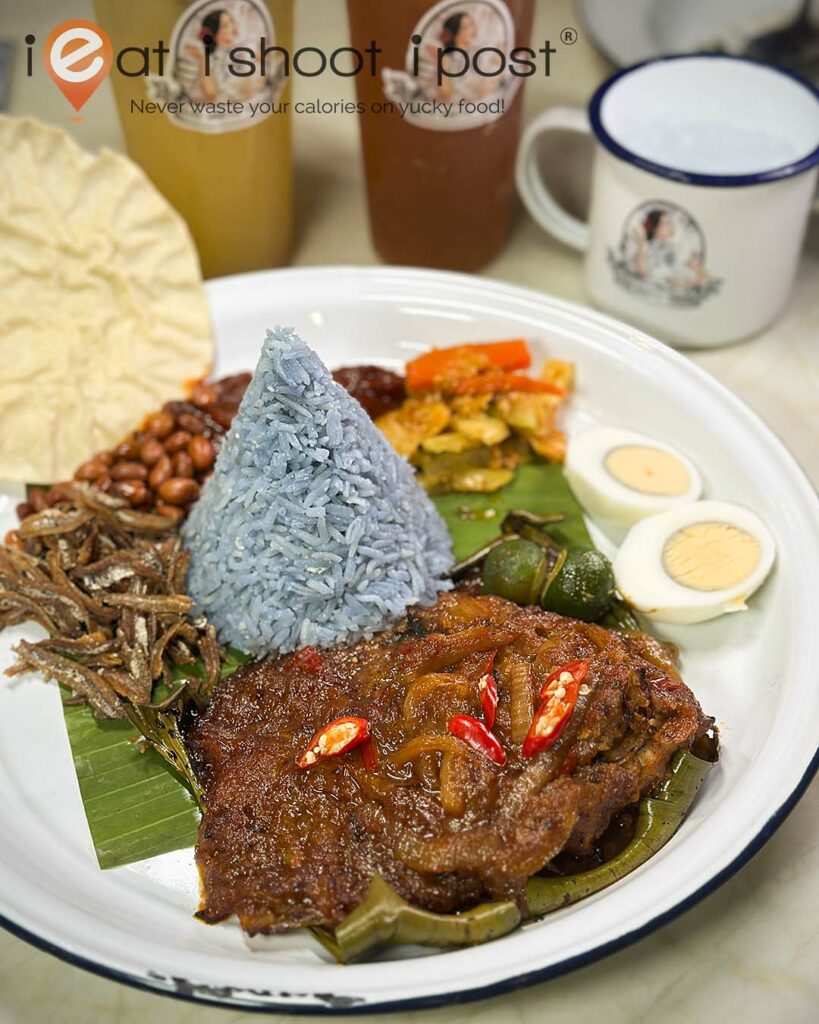 White Tiffin doesn't serve your usual mass-market cafe food that is sourced from a third party's central kitchen. They serve Mdm Tan's own recipes where she insists on using fresh coconut milk and pure pandan juice to make the kuehs and all the various rempah is made in-house. The restaurant's iconic blue pea nasi lemak is made with blue pea flower extract which they use a lot of to obtain the intense blue color on the rice.
The Blue Pea Nasi Lemak is what I would usually order at Changi City Point. The rice and sambal tumis combination is very good and it goes very well with the curry or fried chicken. 4.25/5 Over at Esplanade they have introduced a new sambal stingray. While the sambal is good, the flesh of the stingray was a little mushy rather than flaky, so I can't recommend it. 3.5/5
White Tiffin Sampler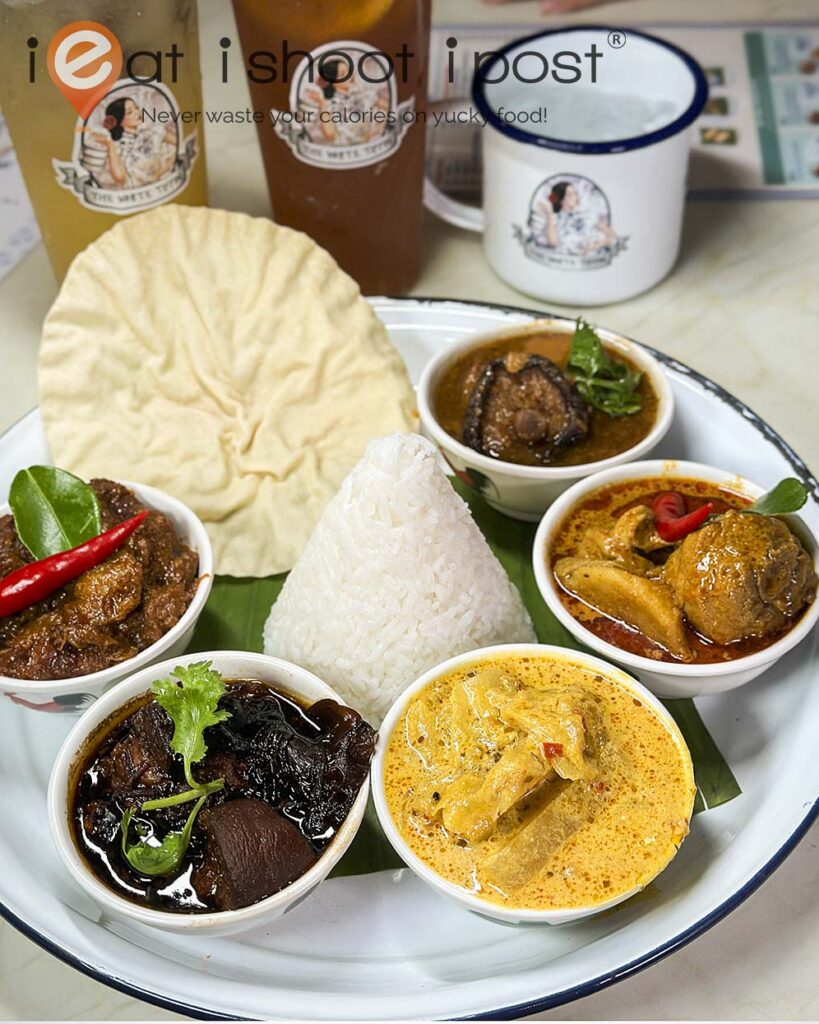 In case you are not sure what to order, the White Tiffin sampler allows you to try 5 different items. The sayur lodeh is very good 4.25/5. However, I felt the curry chicken wasn't as good as I had remembered when I was at Changi City Point. Due to some limitations at the Esplanade outlet, they are not able to offer any deep-fried items. So, instead of fried chicken, they offer marinated baked chicken which is quite nice. The beef rendang, babi ponteh and black vinegar pork trotters were good but not something I'd especially head there to eat. 3.5/5
White Tiffin Local Trio
If you can't decide between Laksa, Mee Siam, and Nasi Lemak, you can opt for the Classic Trio $13.90 and have small portions of each. The Laksa is very good and similar to those that we have tasted at various hotel buffets which pride themselves on making this particular dish. The standard of Laksa in Singapore is at a level where there isn't any real secret to the recipe anymore. We have tasted many good laksas in recent years but nothing that we can actually place at the front of the pack. If you have a hankering for a rich and fragrant Laksa, you can find it at White Tiffin. 4.25/5 Their mee siam would satisfy those who like their mee siam tangier. For us, we like ours a little less tart. 3.75/5
Nonya Kuehs and Old-School Cakes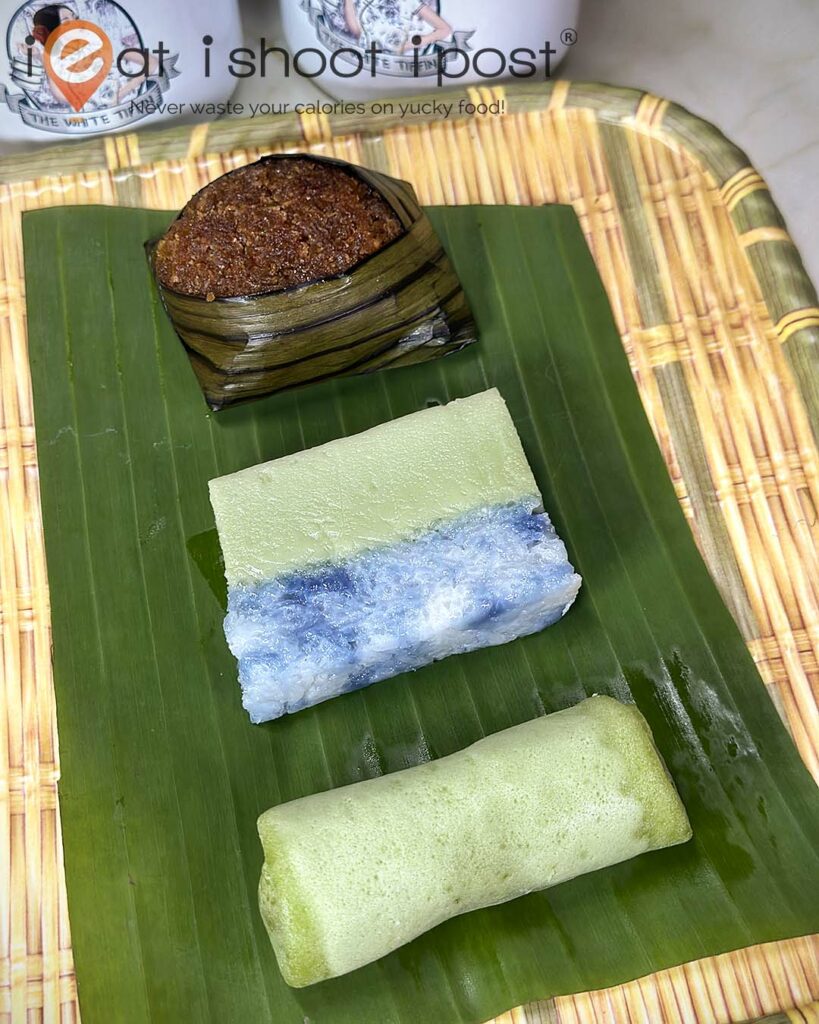 The Nonya Kuehs are very good and well worth ordering. As mentioned before, Mdm Tan insists on using only fresh coconut milk to make the various kueh and pure pandan juice and blue pea flower extract is used so there is a certain level of quality to the kuehs. 4.25/5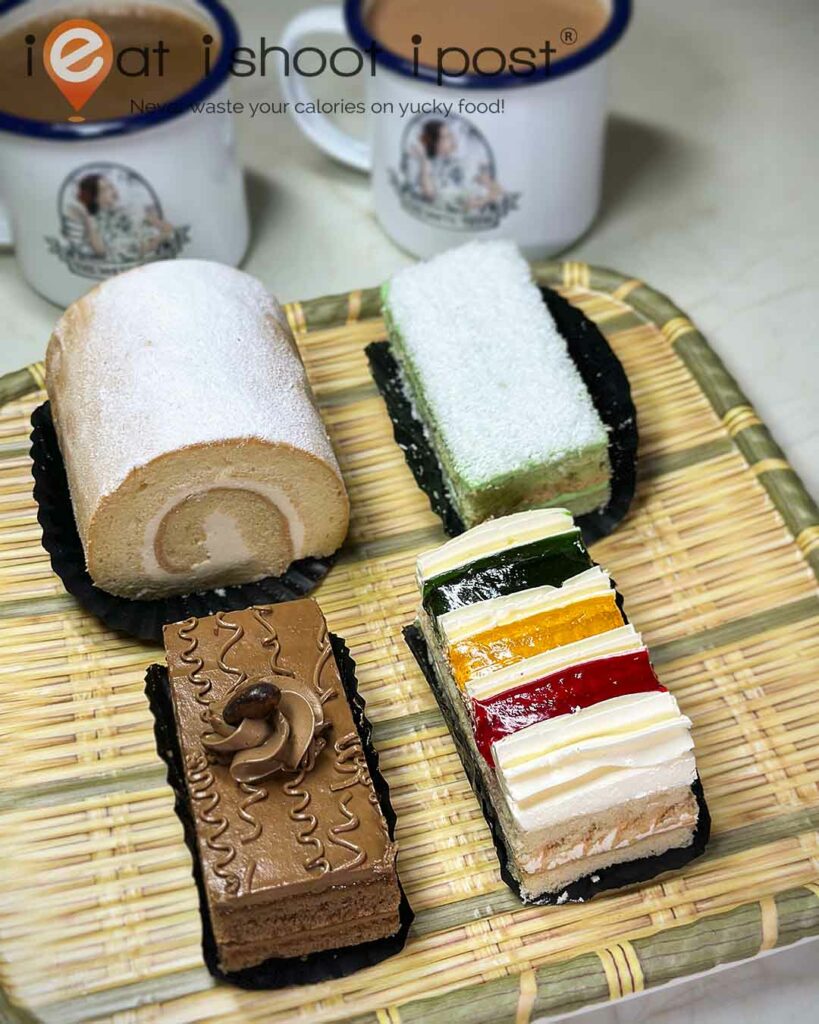 They have their own bakery to make their buttercream cakes. These go really well with kopi and are perfect for afternoon tea. Unfortunately, I think there was a problem with the fridge that they kept the cake in and so the sponge was very dry. I am sure they will fix the problem soon. It is good to see more places offering these types of old-school cakes. They come in smaller pieces and are more affordable than the once sold at Western cafes! 3.5/5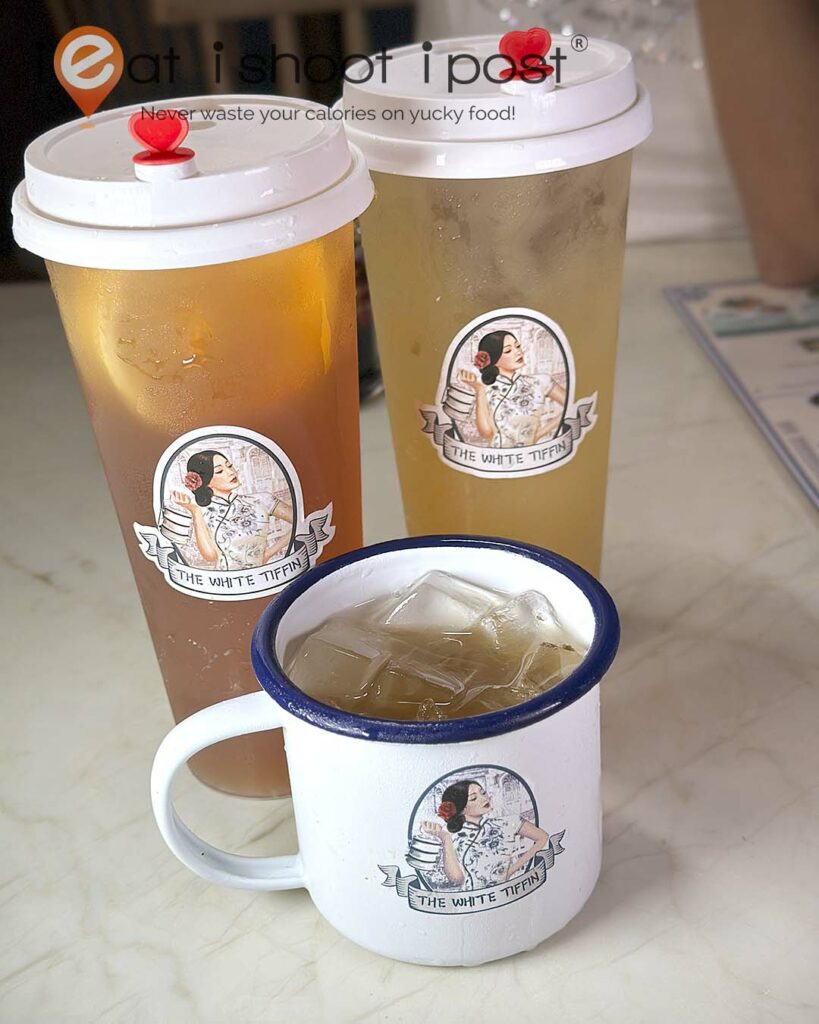 Conclusion
Next time if you are looking for a place for afternoon tea and you pass by a white Tiffin, don't hesitate to go in! A slice of Nonya cake and a warm cup of kopi will more than satisfy your craving. if you're a little more hungry, try their Nasi lemak!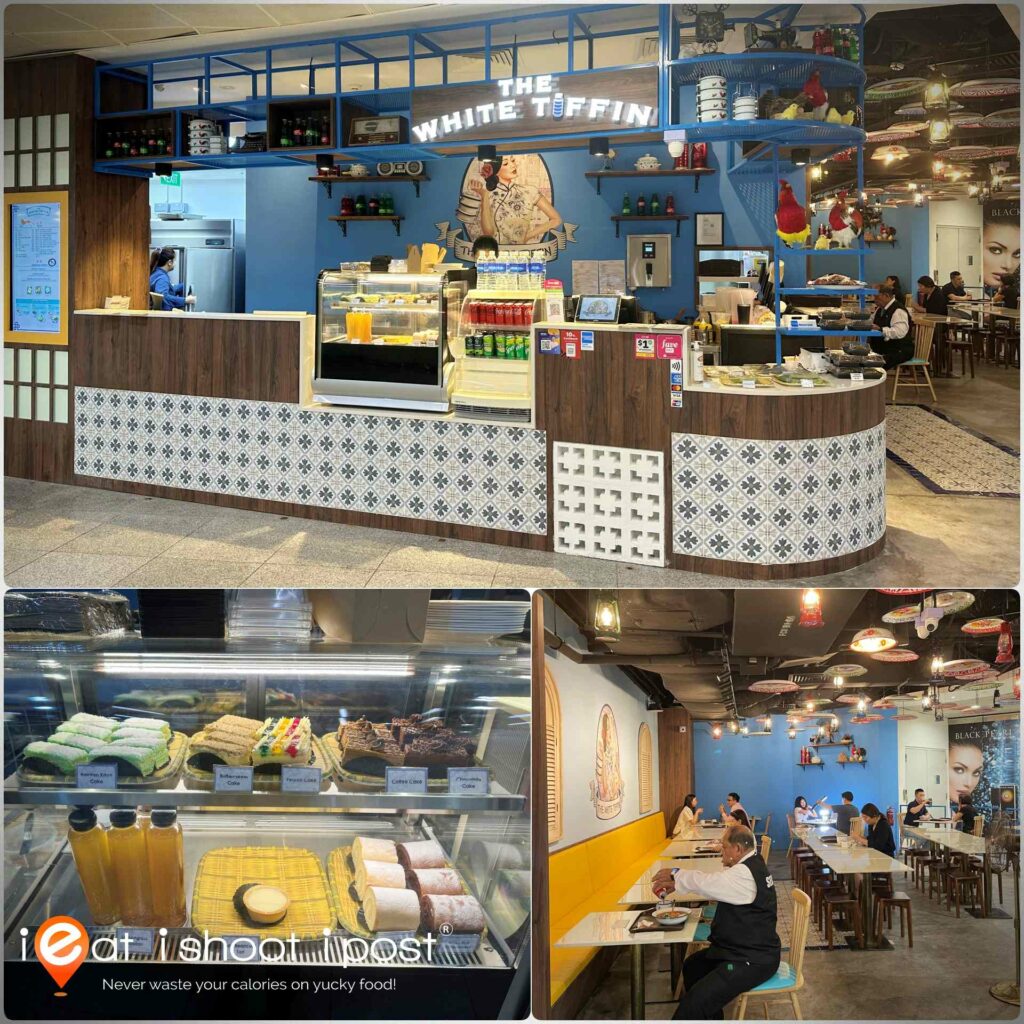 For more nonya kuehs, check out this list here.

Disclosure: this was a media tasting.