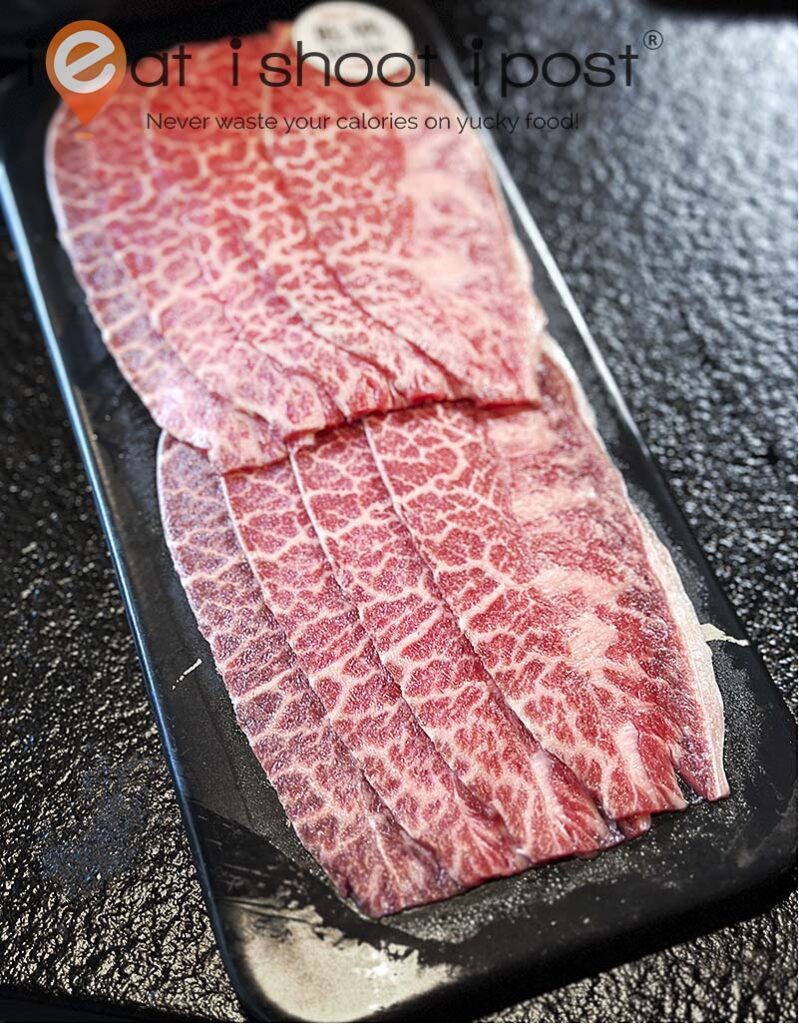 Fans since 2020
We have been avid fans of Chaoniu since our first blog post in 2020, when they first opened along East Coast Road. After a brief closure, they reopened at Duo Galleria in 2022, further consolidating their position as a restaurant worthy of recognition.
The owner, Ah Le, is a naturalized Singaporean hailing from Fuzhou, and his passion for food shines through in every aspect of the dining experience. He goes to great lengths to source the finest cuts of beef from various parts of the world. He has been hesitant to open another restaurant, fearing that he wouldn't be able to maintain the high standards he has set.
During our numerous visits, we have never been disappointed with the quality of the food. So, we highly recommend this restaurant to anyone seeking an exceptional hotpot experience. There is, however, one caveat.
Better than Chaoshan Beefpot?
Even though they bill themselves as a Chaoshan Beef Hotpot restaurant, the style of the beef hotpot is quite different from those found in Chaoshan itself. They are arguably better in some respects, but in Singapore, we just don't have the luxury of having beef as fresh as what they do in Chaoshan where the cattle go from farm to table within 12 hours.
New Side Dishes
Ah Le and his team have continued to innovate and come up with more side dishes and in this post, we want to introduce you to some of the new stuff.
Beef Pancake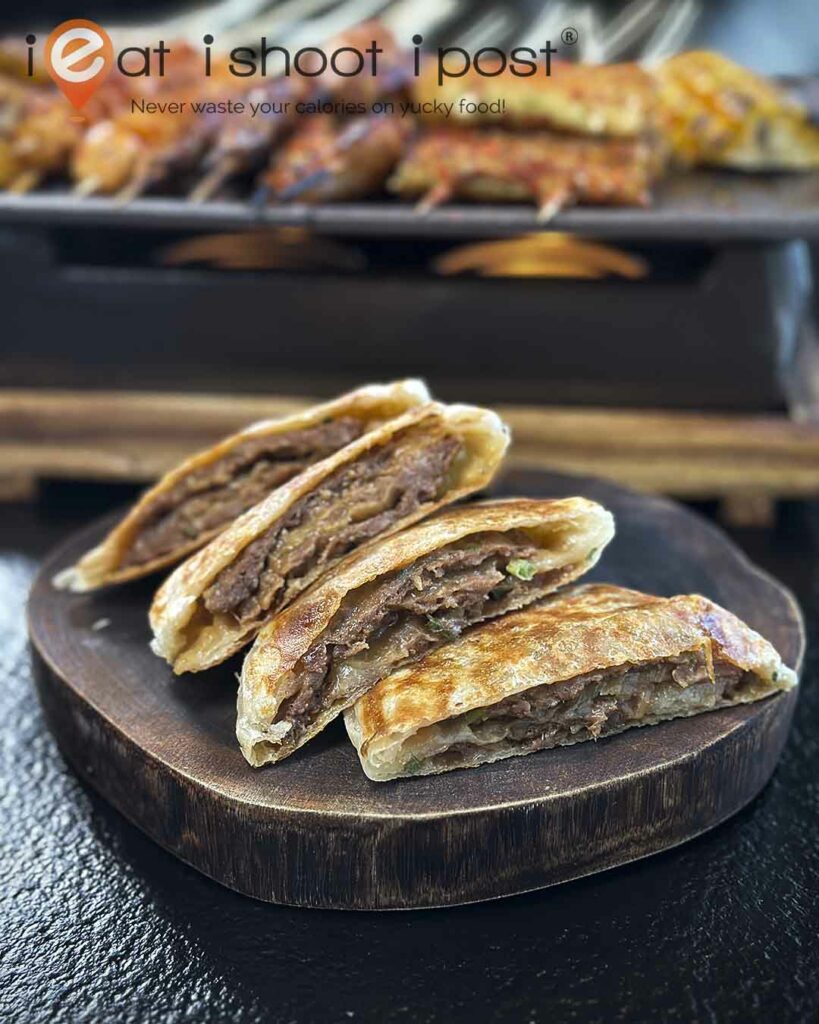 One of the new dishes which we have found totally irresistible is their Beef Pancake (aka beef pie). This is essentially a Chinese-style murtabak. The beef filling is made of the offcuts of their premium beef and is lightly seasoned such that the natural beef flavour really shines through. I am tempted to order one whole portion for just for myself but for the fact that I still need to leave room for the hotpot! 4.5/5
BBQ Skewers
They have also introduced BBQ skewers which are done really well. The quality of the beef for their Beef Skewers ($3 for 3 skewers) distinguishes Chaoniu's from the competition. Not wanting to cut corners, they actually have a charcoal grill set up to grill the skewers properly. The seasoning of cumin and chilli flakes is very classic of Chinese style BBQ. Worth ordering if you have someone in your group who wants this. For us, we would probably order the Beef pancake and Beef Guotie. 4/5
Salt & Pepper Chicken and Fried Pork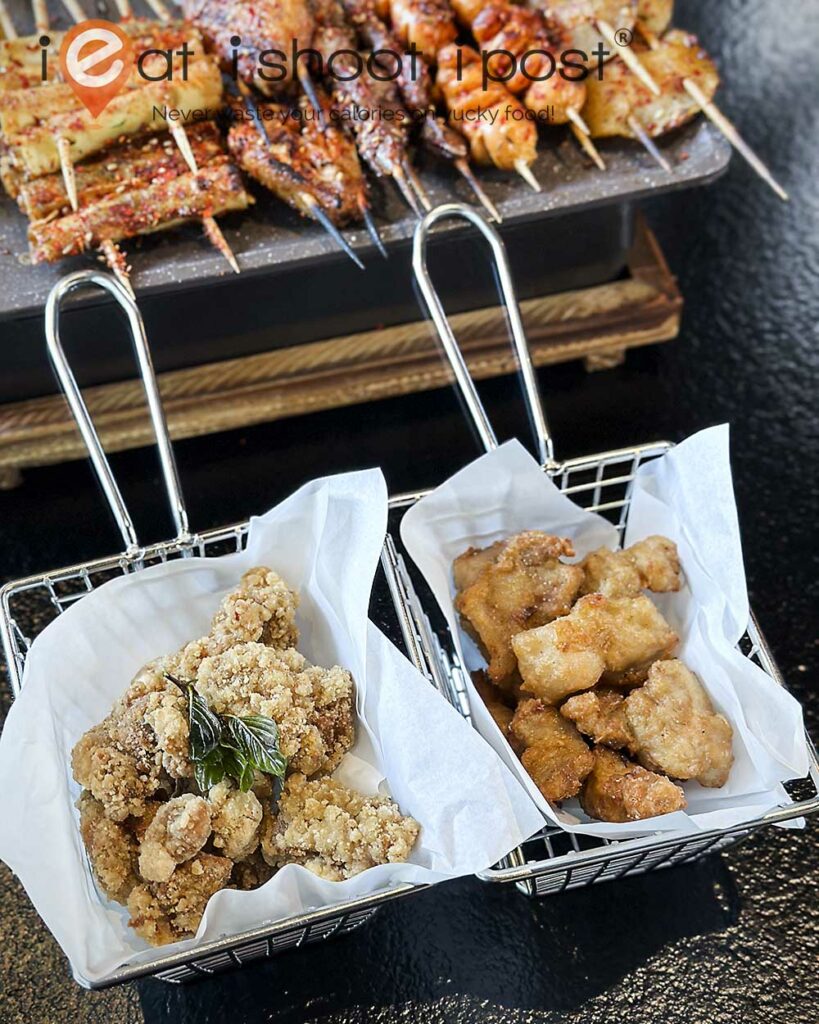 If you are after some fried stuff, (and who doesn't like fried stuff?) they have just introduced a lovely Fried Pork which is very well seasoned. They also have Taiwanese style Salt & Pepper Chicken which is also good but between the two I'd go for the pork. 4.25/5
Fuzhou Fish Balls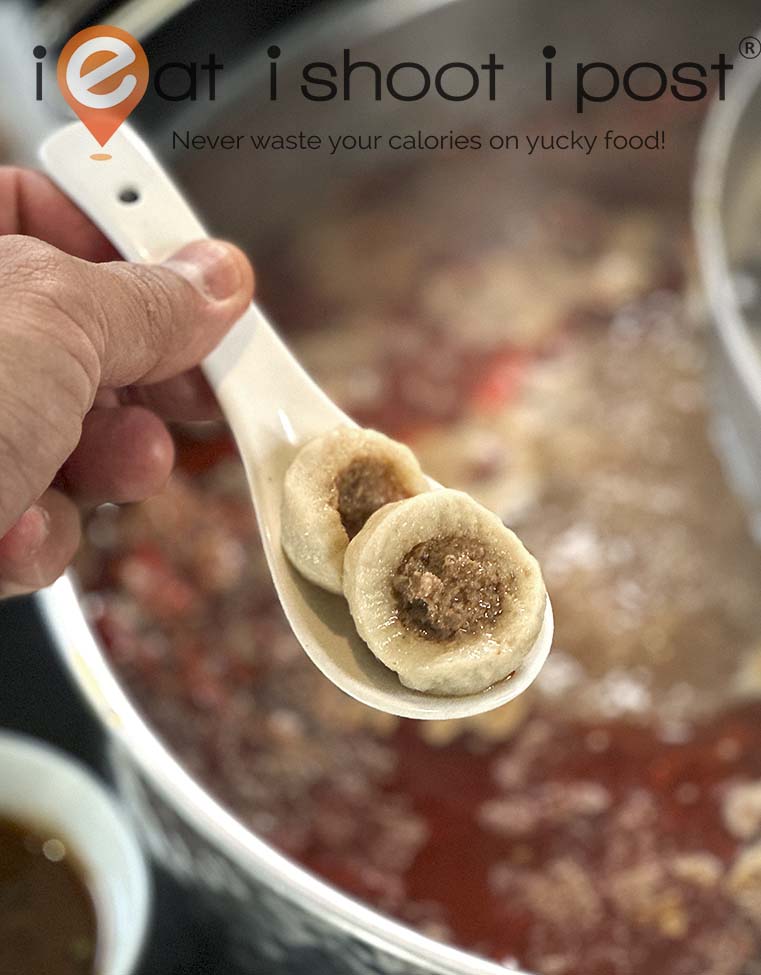 Fuzhou fishballs might seem to be an odd thing to find in a Beef Hotpot restaurant. But Ah Le couldn't help but put it in the menu. He found that none of the locally made Fuzhou fishballs can compare to those from his hometown. So he imports them for his restaurant so his patrons can enjoy them. The fish paste is more doughy than what we are used to but the pork filling is quite amazing. Definitely something you should try! 4.5/5
New Soup Base – Spicy Nourishing Soup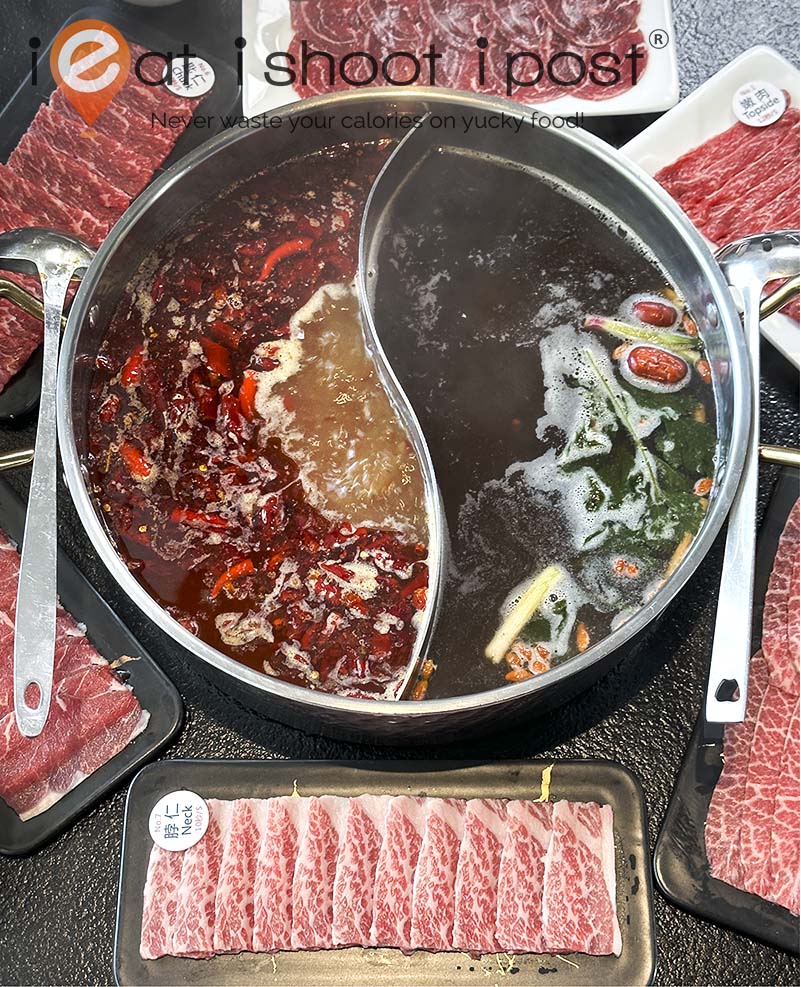 They have also just introduce a Mala soup base as some of their patrons have been asking for it. The Mala soup here isn't as firey as those in Chongqing hotpot places and is quite drinkable. It is made of a rich chicken stock, so it has a depth of umami beneath that red chilli oil. For us, our favourite soup base is still the Signature Oxtail soup, but you can opt to have two types of soup if you wish. 4/5
Our Favourite Beef Cuts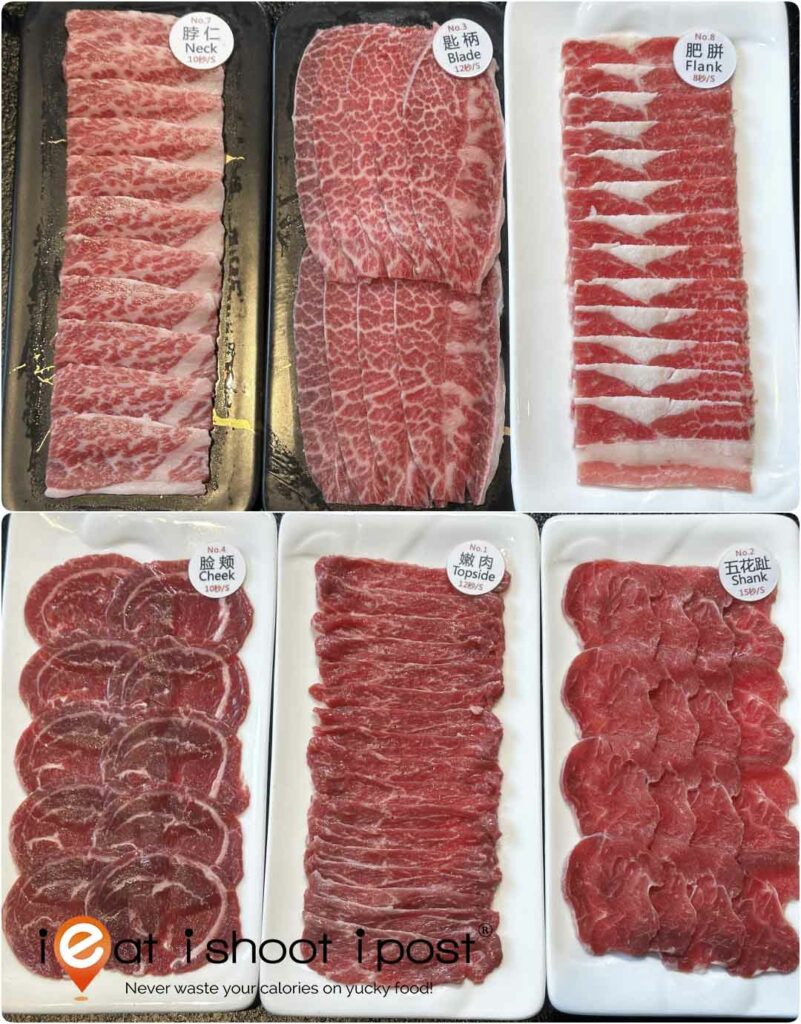 In case you are wondering which cuts of beef to order, our favourites are the neck ($22), blade ($15), shank ($13) and flank ($13). The neck, which is often turned into mince in a Western butchery is the most prized cut in a Teochew hotpot restaurant. It's tender and well-marbled even though it isn't Wagyu.
To help you with your ordering, we have put together a set which features all the stuff we would order at a super special price!
Ieatishootipost Set $98++ (worth $140++) good for 3-4 pax
Beef Cuts: Neck, Shank, Blade, Flank
Vegetable platter
Beef Ball and Fuzhou Fishballs
Beef Pancake
BBQ Beef Skewers*
Choice of Crispy Pork OR Salt & Pepper Chicken*
Spicy and Oxtail Broth
Just call to reserve the ieatishootipost set. Valid till 31 July 2023.
*Nb Weekday Lunch: BBQ Beef Skewers are not available. You will get both the Crispy Pork AND Salt & Pepper Chicken instead.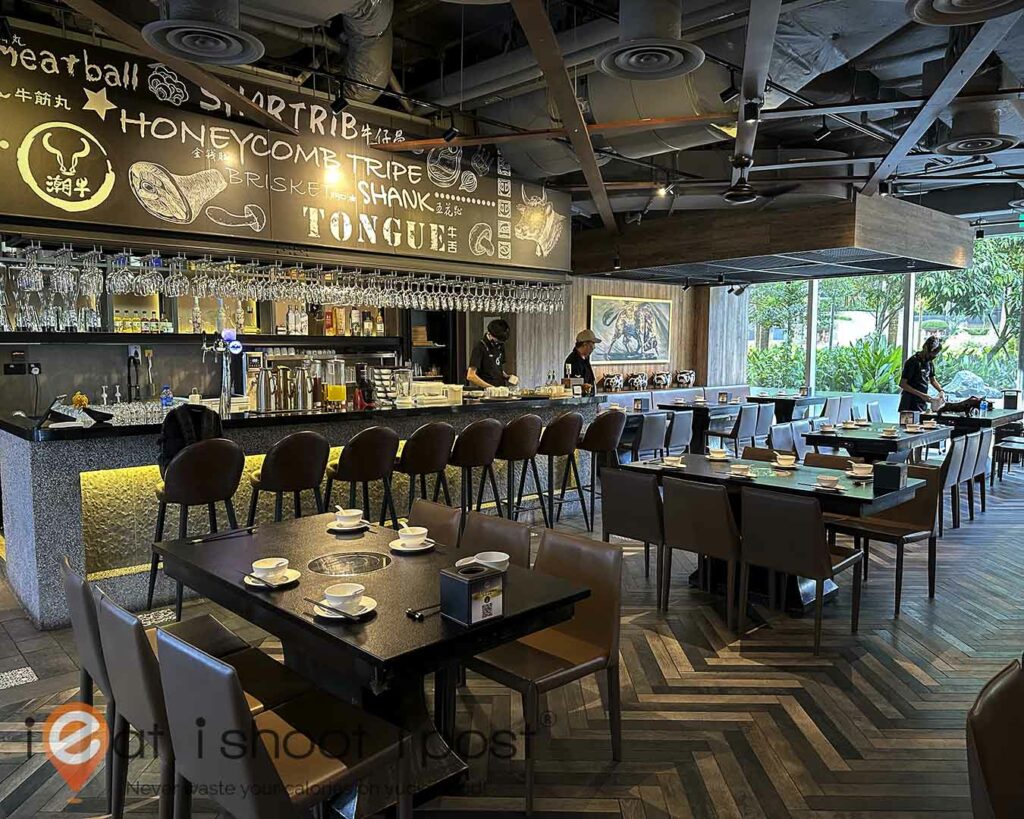 Conclusion
We've been telling you about Chaoniu since 2020! If you haven't visited yet, what are you waiting for?

Disclosure: we were invited to produce a video on our take of the new dishes but decided to writeup about them since it is so nice!