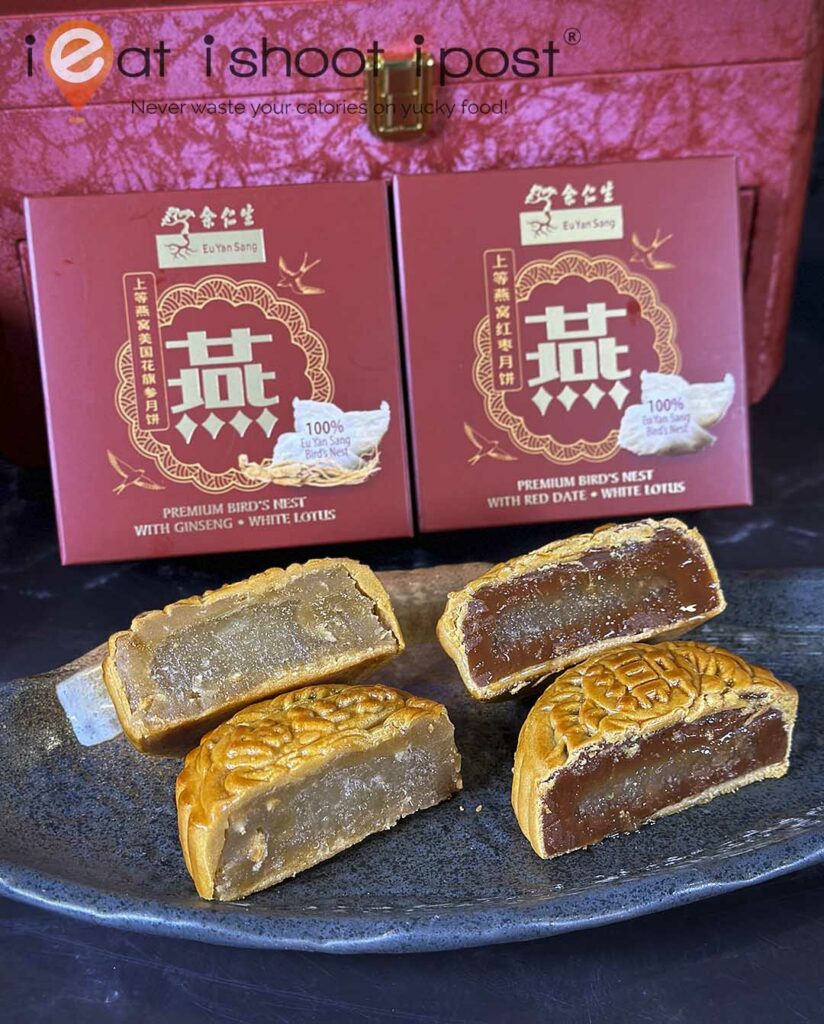 In the fiercely competitive market where everyone is trying to get a slice of the mooncake (pie), brands have resorted to all sorts of creative ideas to attract attention to their mooncake offerings. From elaborate boxes with flashing lights and music, to confections filled with esoteric ingredients, there is something for everyone under the moon.
What always puzzles me when considering the price of mooncakes, is how much value is placed on the number of salted egg yolks. If you have ever bought salted eggs before, you'd know that salted eggs are a pretty ordinary everyday ingredient. Granted that there are different grades of salted eggs and the better quality mooncakes usually have salted eggs that are of deep orange hue and a shiny appearance. Their cost is still quite modest. But when it is placed into a mooncake, it suddenly acquires a badge of opulence. In their pursuit of crafting premier offerings, manufacturers have gone so far as to incorporate everything from Mao Shan Wang durian to Jamón Ibérico and champagne truffles. All in an effort to elevate the status of their offerings.
For those seeking premium mooncakes that at the same time confer nutritional benefits, Eu Yan Sang's bird's nest mooncakes are well worth considering. To be honest, I don't really know much about Bird's Nests, except that they are a highly esteemed medicinal product in Traditional Chinese Medicine (TCM). So, when I was tasked to review their Emperor Bird's Nest mooncakes, I thought I'd better do some research. So I promptly headed off to the Eu Yan Sang outlet at the nearby mall.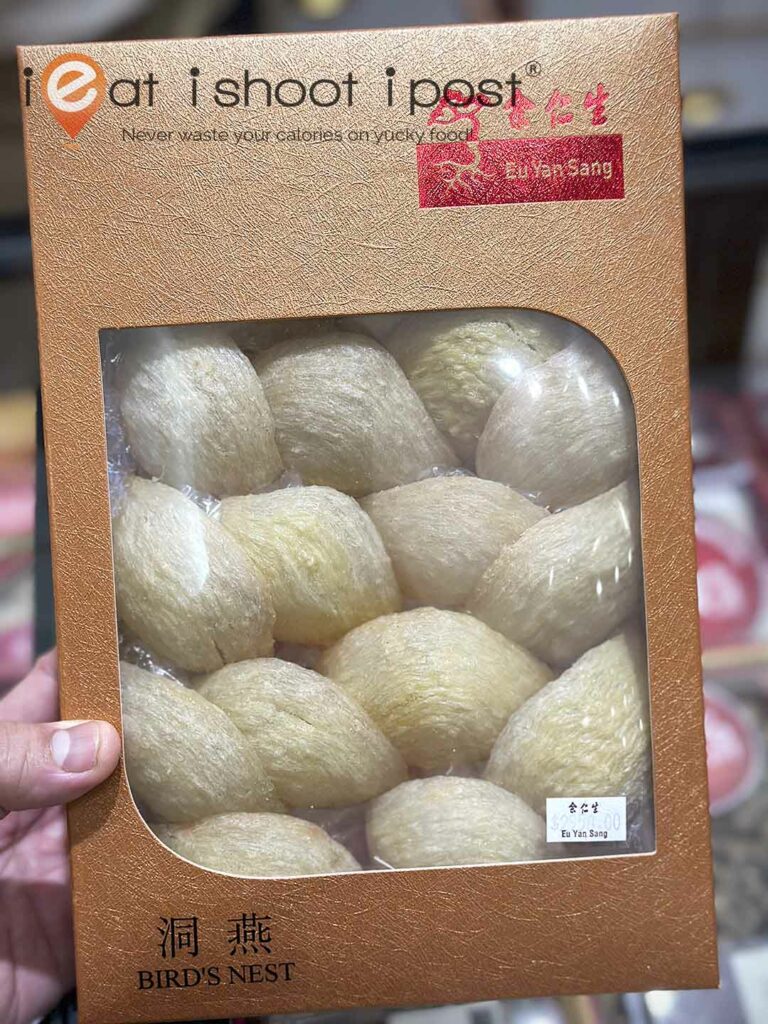 Imagine my astonishment when the lady at the counter informed me that the box of innocuous-looking bird's nest costs almost $3000! This was, of course, the price of their top-quality bird's nests that were harvested from natural caves. But even the ones harvested in man-made birdhouses range in the hundreds for a small box! Little wonder that edible Bird's Nests are sometimes referred to as the "Caviar of the East"!
Some medical research has been done on the medicinal value of bird's nests. They have shown some medicinal benefits, but the research isn't definitive. Some researchers have found epidermal growth factors in the nest that are able to stimulate epidermal (skin) cells. That may explain why they have been traditionally used as an anti-aging supplement. Although the evidence isn't definitive, the longstanding tradition of using edible bird's nests for enhancing immunity, promoting better complexion, and supporting respiratory health, carries significant weight which should not be simply dismissed.
Eu Yan Sang Mooncakes with Premium Bird's Nest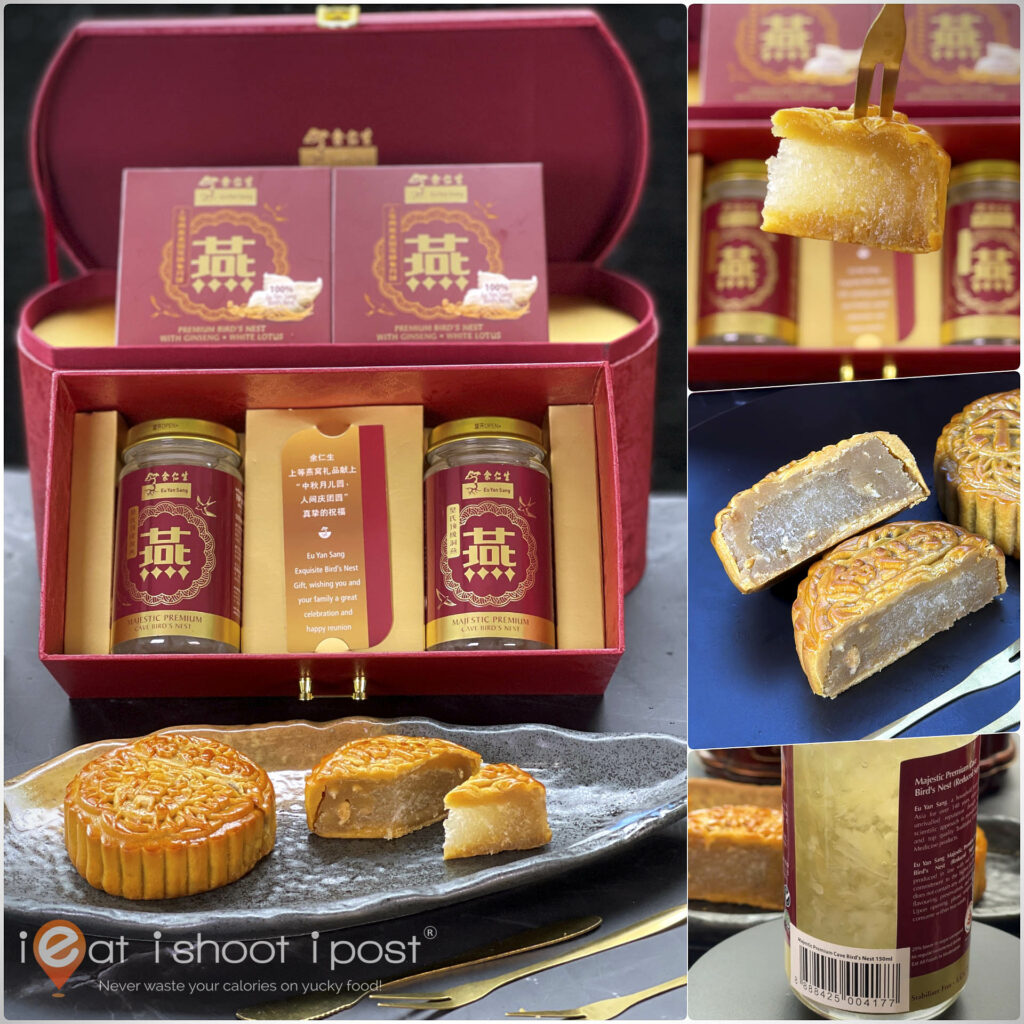 Eu Yan San offers two different flavors for their premium Bird's Nest Mooncakes. The first one is a baked mooncake which is filled with their premium bird's nest that has been infused with American Ginseng. Although the bird's nest doesn't really have a strong flavor, the texture, and its translucency does make it very unique.
The mooncakes are made locally using premium ingredients like unbleached lotus seed paste and they actually taste very good. They have a touch of refinement about them and the flavour is very balanced.
There are many different options available, but the one pictured above comes with two bottles of Majestic Premium Cave Bird's Nest, which make for a very presentable gift with genuine value attached to it.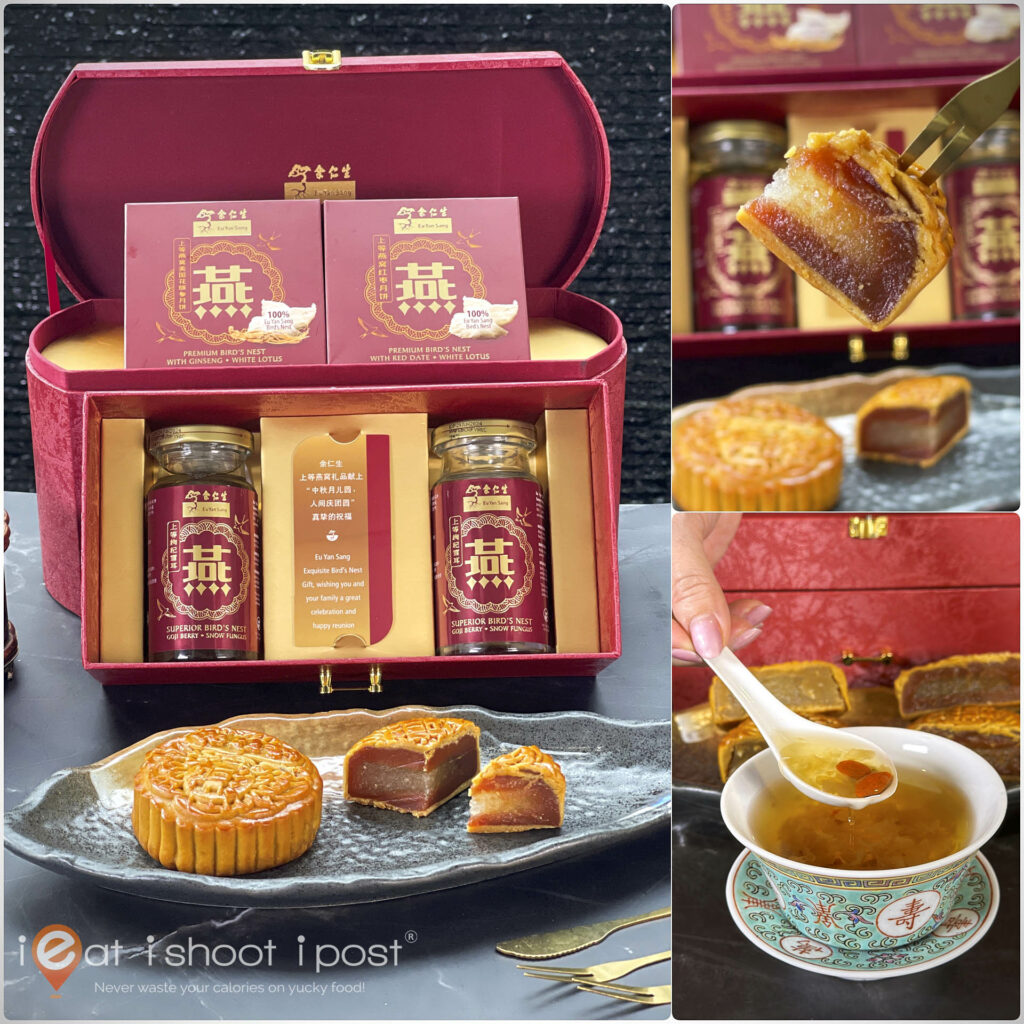 The Ruby Dates Bird's Nest mooncake has the same premium Bird's Nest paste at its core. But the lotus paste is infused with red dates to give it its deep maroon colour and distinctive flavour. The infusion of red dates is a nice departure from the usual lotus paste and makes for something rather attractive. The set pictured above is paired with Superior Goji Bird's Nest with Snow Fungus.
Mooncakes with other "treasures"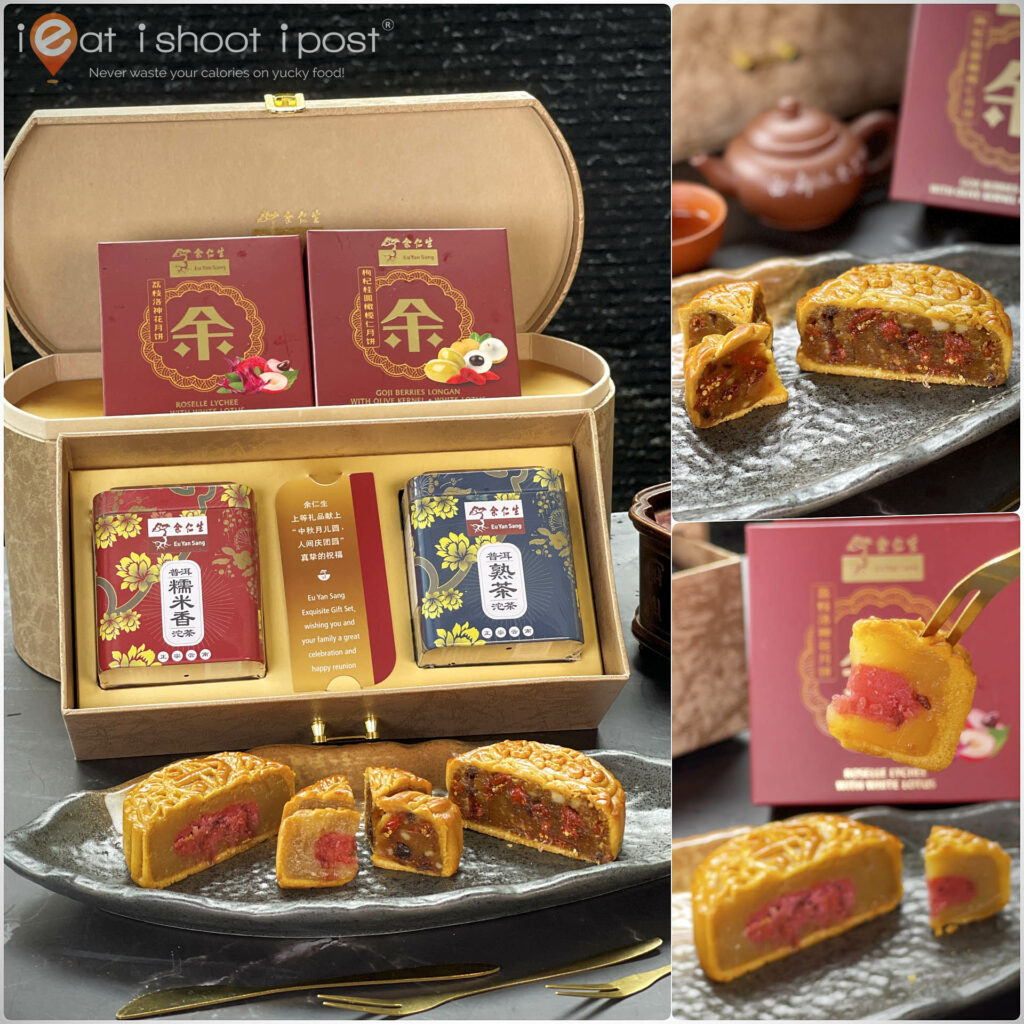 In addition to the Bird's Nest range, they also have other flavours. The Triple Treasures mooncake has plump goji berries, coupled with dried longans and olive kernels. These add an interesting textural contrast to the lotus seed paste. Lisa particularly like the little bursts of sweetness from the goji berries and dried longans. The Mademoiselle's Lychee Roselle mooncake has a fruity accent to it. Both are unique and have a touch of quality about them.
These sets come with premium Mini Tuo Cha which are specially selected to pair with the mooncakes. They are essentially premium Pu Erh teas with the full-bodied "Ripe" and aromatic "Glutinous" flavours.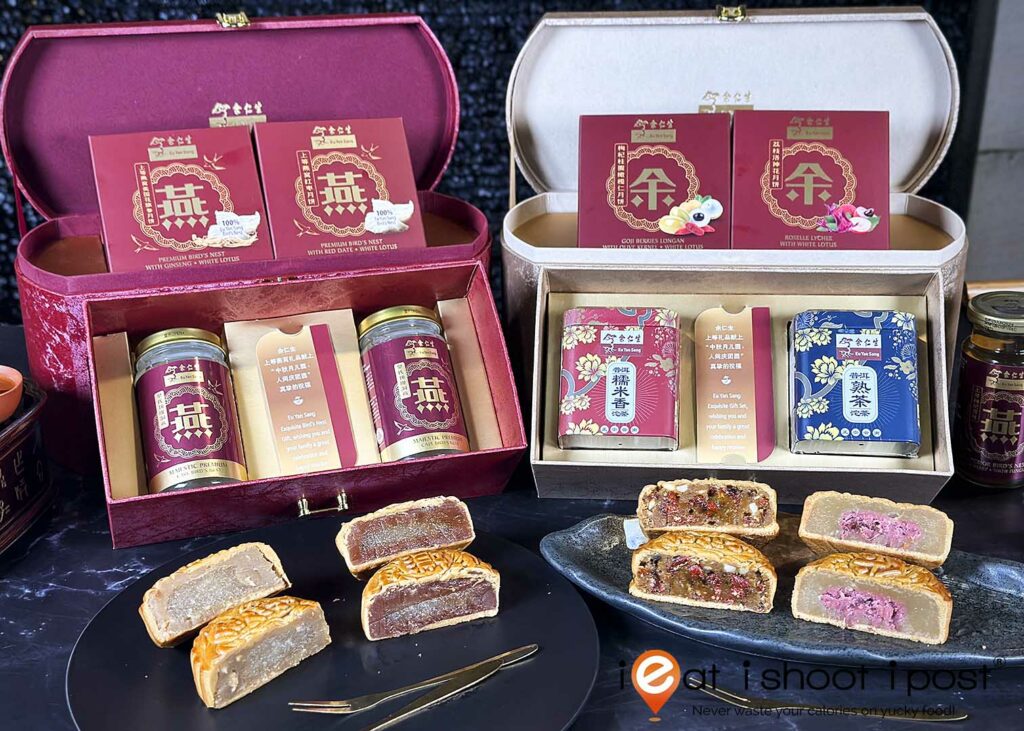 Auspicious greetings of health and well-being!
I believe a primary advantage of gifting a set of Eu Yan Sang mooncakes lies in the opportunity to highlight the health benefits associated with the ingredients. Presenting a set of Bird's Nest mooncakes can be accompanied by a blessing of youthfulness and good health.
Alternatively, opt for the Triple Treasures and you could elucidate that the inclusion of goji berries can contribute to improved eyesight. And how dried longans have a calming effect on the heart and mind. And with Mademoiselle's Lychee-Roselle mooncakes, how roselle flowers aid in enhancing blood circulation while reducing stress.
Naturally, consistent consumption would be necessary to observe tangible effects. Yet this gesture encompasses a profoundly auspicious sentiment and is bound to leave a lasting impression.
Conclusion
Eu Yan Sang's offerings make for a truly distinctive gift option this Mid-Autumn Festival. Their mooncakes are expertly crafted, boasting an exquisite taste. And their incorporation of Chinese medicinal elements sets them apart in a sea of choices.
From 24 Aug 2023, pop into any of these Eu Yan Sang stores for a tasting!
Changi Airport Terminal 3
Choa Chu Kang Lot One
Compass One
Jurong East Mall (JEM)
Marina Bay Sands
Nex Serangoon
Parkway Parade
Plaza Singapura
Suntec City
Takashimaya
Tampines Mall
Toa Payoh Hub
nb: tasting at some stores may not be ready until 31 Aug.
Disclosure: This post is written in partnership with Eu Yan Sang. Opinions expressed are that of our own.