By Lisa
As a child, the mooncake festival was really a treat where we get to light up our lanterns and walk around the estate.  I'll always remember dad slicing a pomelo carefully like an open flower, removing the flesh and using wires to secure the "petals" to fashion a pomelo lantern! Part of the excitement was of course to eat mooncakes. Those days, we only have baked mooncakes with red bean paste, lotus seed paste or mixed nuts filling.  These days, and especially since the introduction of snow-skin mooncakes, the number of unique flavours have amplified! Mooncake makers have also extended their creativity toward the gift boxes!  If you are giving  mooncakes as gifts for parents, friends or corporate clients, then the look of the box is another important determining factor in your purchasing decision!
This year, we're reviewing a selection of mooncakes that have Exclusive Mid Autumn Promotions for Citi Cardmembers.
Goodwood Park Hotel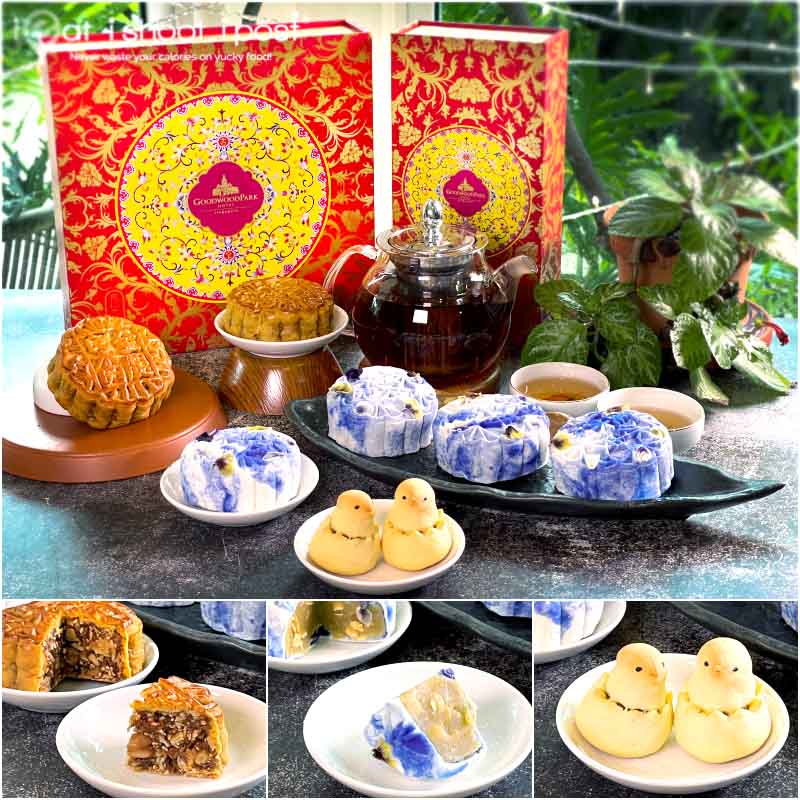 First thing that probably comes to mind when you think about Goodwood Park Hotel is their durian cakes, right? Yes, they do carry Mao Shan Wang and Black Thorn durian mooncakes but we decided to try something different. We were quite impressed by their Assorted nuts with Ham (Kum Toy) mooncake.  The chef did a good job creating the right mix of melon seed, almond, sesame, walnut, cashew nut, "jin hua" ham and their own in-house roasted char siew.  The mooncakes were full of flavour and had a good balance of sweet and savoury.
The Blue-Pea flower snow-skin mooncakes are beautiful and are reminiscent of the moon at dusk. What's different at Goodwood Park Hotel's offering is their very adorable Chicky Duo. This light buttery pastry filled with white lotus paste and a quarter of salted egg, look like young chicks just hatched out of their shell should be is a winner with the kids.
Get 15% off all mooncakes, until 21 Sep 2021 for all Citi Cardmembers.
Hua Ting Restaurant | Orchard Hotel Singapore
What stood out for me in Hua Ting Restaurant's offering is Chef Lap Fai's low sugar white lotus paste with Macadamia nuts! The lotus paste was light, not too sweet and the macadamia nuts gave the paste a nice textural contrast.
The mini snow-skin mooncakes are sold in boxes of 8 where you get interesting flavours like Wasabi with Roasted Hazelnut (green), Salted Egg Yolk Custard (yellow) and Blueberry with Vintage Hua Diao wine (purple).  Beware when eating the wasabi flavoured mooncake as you may bite into a piece that has loads of wasabi.  We must admit that we had initially thought the purple coloured mooncake was yam flavour but it turned out to be blueberry flavour and it tasted a lot like eating bubblegum! It was a fun experience.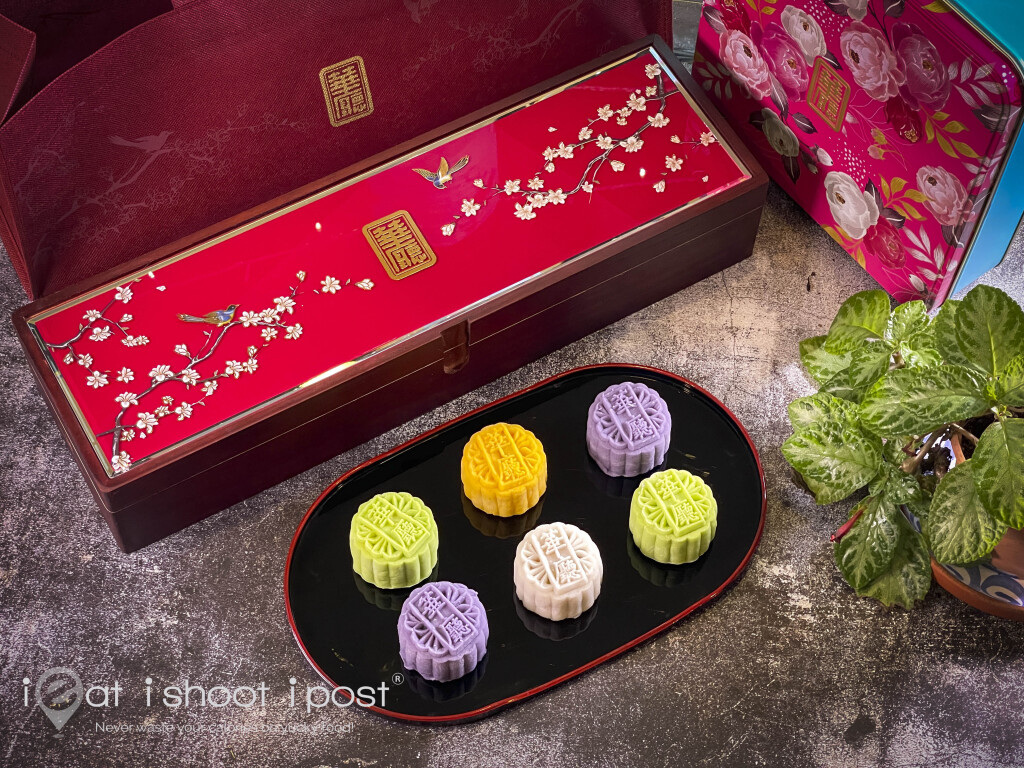 Hua Ting at Orchard hotel has always been creative and innovative with their gift boxes.  There was one year where their mooncakes even came in a standing box complete with lights and music! We really like this year's premium pinewood gift box with chinoiserie motifs. The box is solid and is perfect as a storage box for all sorts of treasures after the festival.
Get 25% off mooncakes until 21 Sep 2021 for all Citi cardmembers.
JW Marriott Singapore South Beach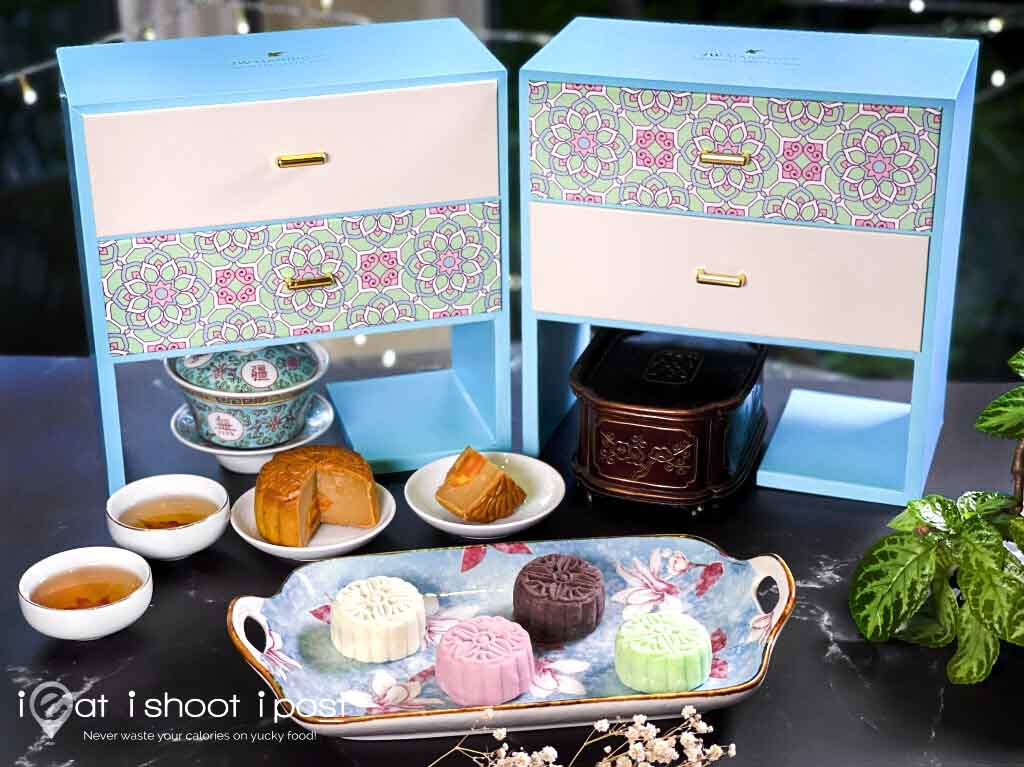 While on the subject of gift boxes, the award for this year's most creative gift box goes to JW Marriott Singapore South Beach! We were wondering for the longest time, why was there a "void deck" at the bottom of the gift box! After reading the press release then we realized that the beautiful Peranakan Teal box is designed as the Chinese Character "yue", which means moon! And when you place two boxes together, they form the word "Peng", which means friendship! What a meaningful gift this makes! The gift box also comes in Blossom Blue.
The mooncakes at JW Marriott Singapore South Beach are created by the modern Cantonese restaurant Madame Fan. I especially enjoyed their Green Apple with Soju Truffle snow-skin mooncake (light green colour) which was pretty refreshing.
Get 25% off mooncakes during early bird special until 31 Aug 2021 with promo code "CITIMC25", thereafter, enjoy 20% off for all Citi Cardmembers until 21 Sep 2021with promo code "CITIMC20" when you order via https://shopatjw.oddle.me/en_SG/. 
 Xin Cuisine Chinese Restaurant | Holiday Inn Singapore Atrium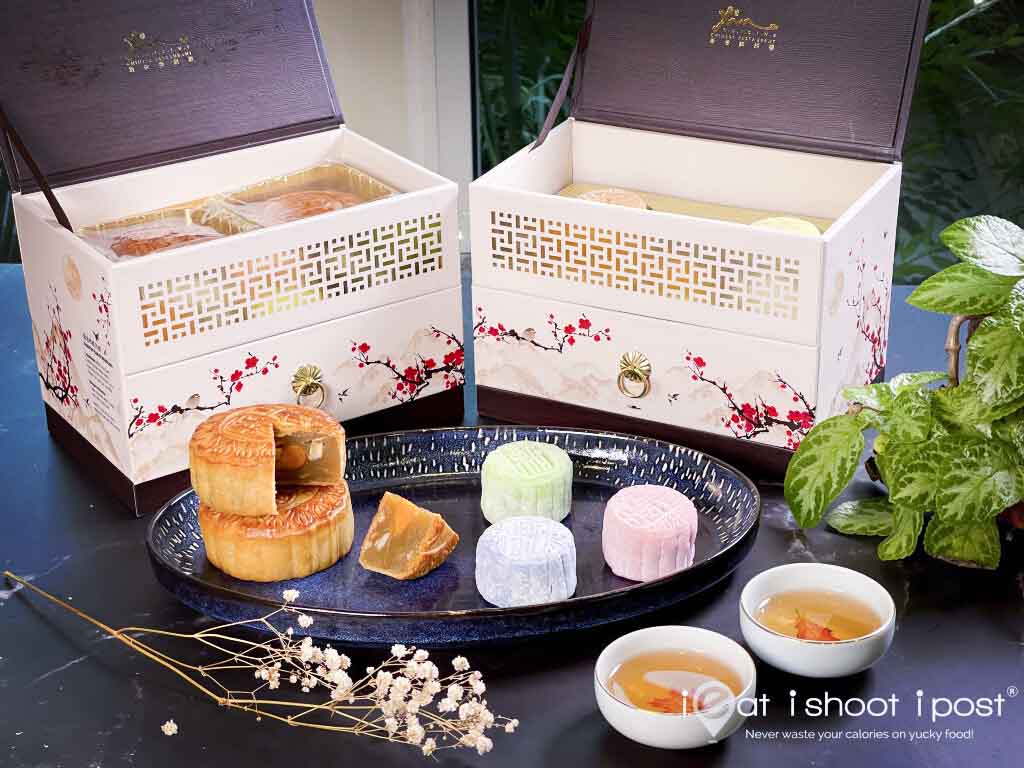 With 40% off their mooncakes, Xin Cuisine Restaurant from Holiday Inn Singapore Atrium has one of the best offers for Citi Cardmembers!
The baked mooncakes are good and they have a nice range of snow-skin mooncakes with alcoholic praline centers like Singapore Sling, Grand Marnier and Champagne.
Get 40% off mooncakes and 50% off delivery fee for all Citi Cardmembers until 18 Sep 2021.
Cherry Garden | Mandarin Oriental, Singapore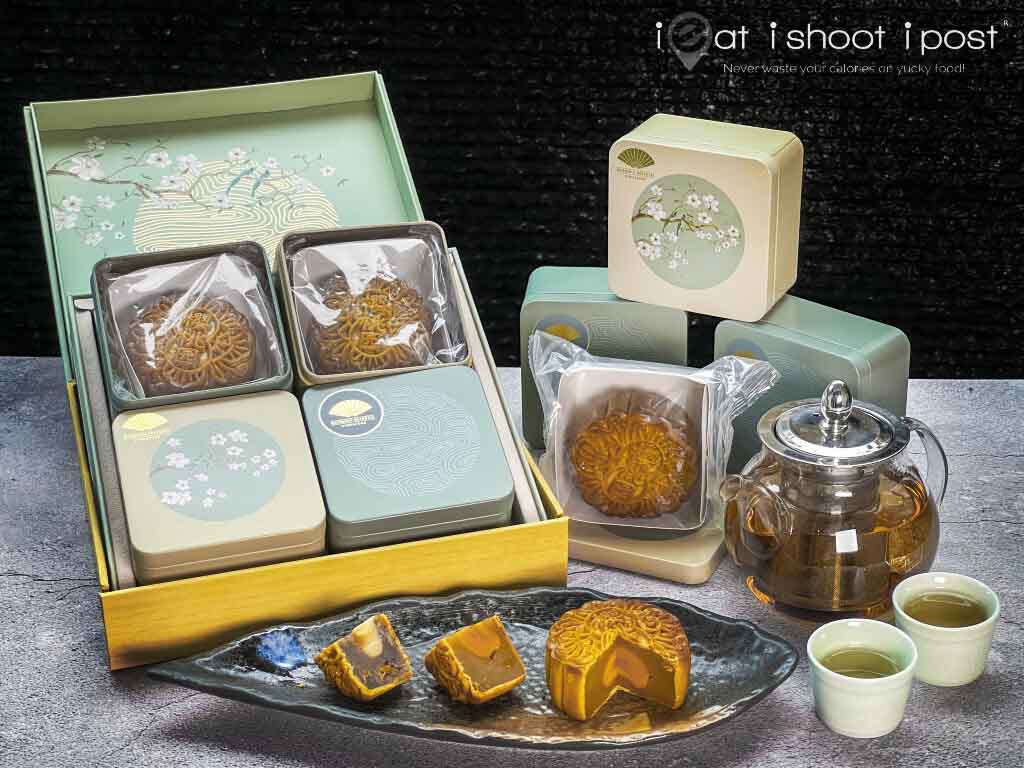 Cherry Garden continue their tradition of placing their mooncakes in beautiful individual tin boxes presented in an elegant wooden box that lifts up the mooncakes as it opens.  The satin material on the top of the box with beautiful paintings of cherry blossoms also adds a touch of class to the gift box.
New flavours this year include a traditional baked Chestnut paste with Hokkaido Milk, apricot and melon seeds and Tieguanyin with Macadamia nuts. We really like the baked chestnut paste with Hokkaido milk while the Tieguanyin was a little strong for us but may sit well with those who like strong tea flavours.
Get 15% off mooncakes with promo code: "Citi15" until 21 Sep 2021 for all Citi Cardmembers.
Grand Hyatt Singapore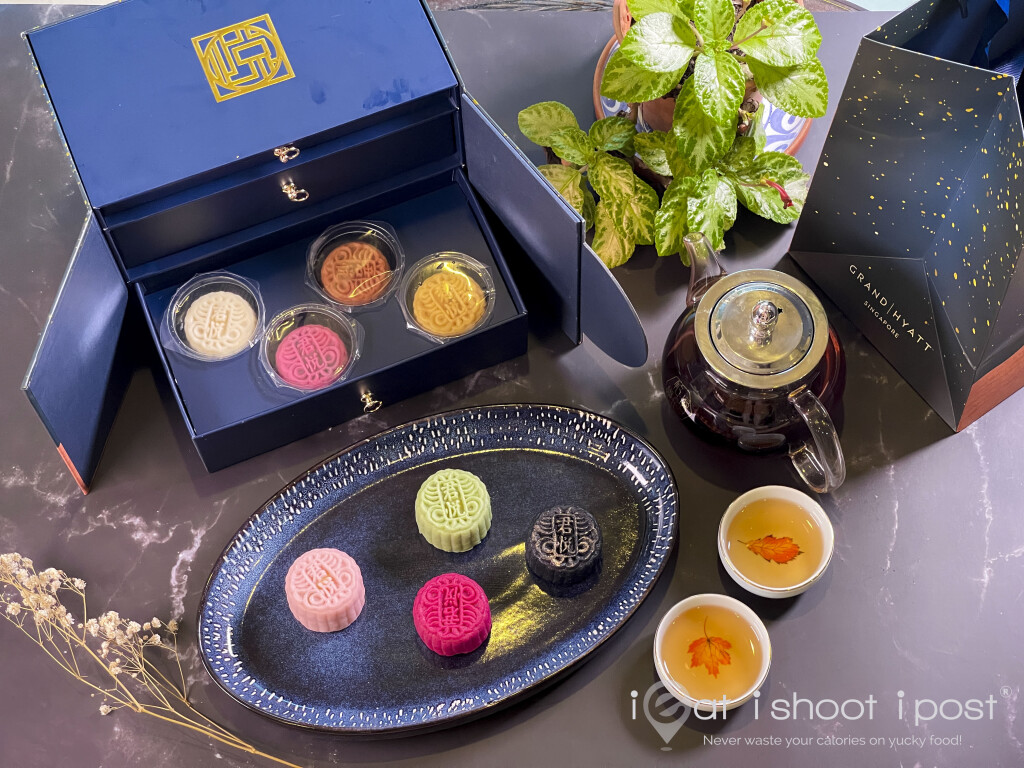 Never judge a mooncake by its colour!  We had little success guessing the different flavours simply by looking at the colour of its skin. Who would have guessed that the green coloured mooncake was a Basil & Trigona Honey flavoured one and the brown was a Walnut Praline?
The chefs at Grand Hyatt Singapore must have had loads of fun creating these unique flavour combinations. They were all pretty intriguing.
The moonscape on the box this year is quite interesting.  It is designed to look like a moon on a starry night.  Very modern and arty!
Get 30% off mooncakes until 10 Sep 2021 for Citi Cardmembers.
Shisen Hanten by Chef Kentaro
The Japanese don't have a tradition of making mooncakes, unless the chef happens to specialize in Chinese cuisine.  Our featured Japanese chef is none other then Chef Kentaro Kenichi, son of legendary Iron Chef, Chen Kenichi of Shisen Hanten at Mandarin Orchard.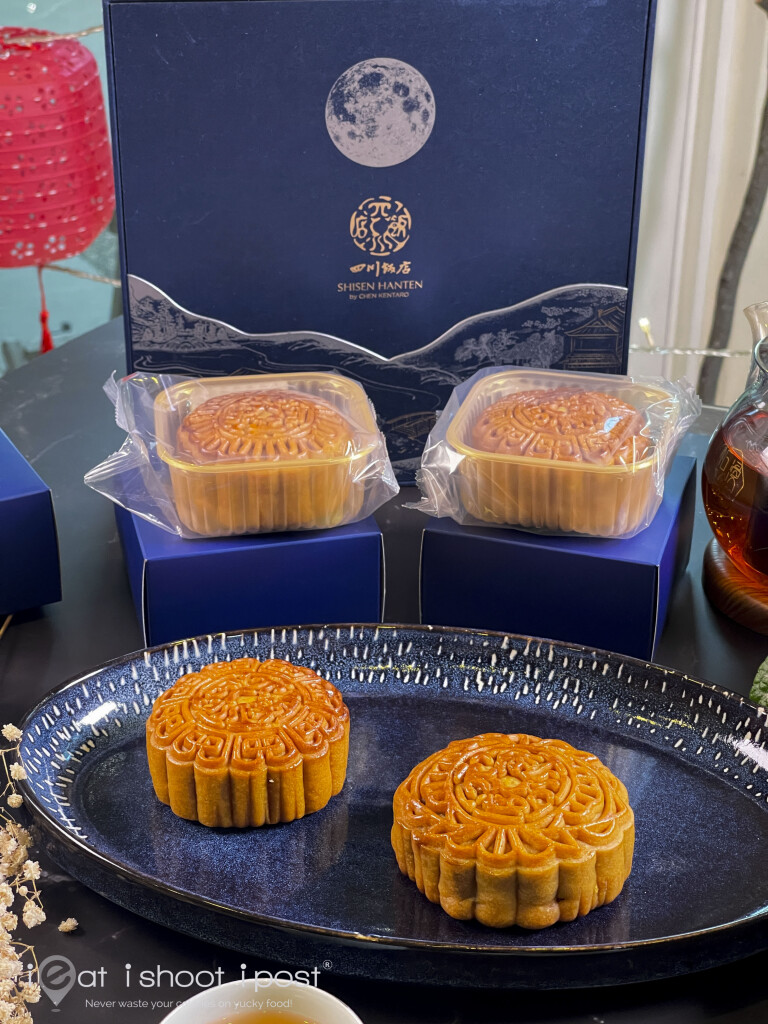 One look at the gift box and you can sense that elegant Japanese touch about it.  The midnight blue box that shows a full moon above majestic hills is Chef Kentaro's way of bringing guests back to his hometown in Yokohama during mid-autumn.
You can just imagine biting into your Japanese Pumpkin with Sakura Petal Lotus paste mooncake, followed by some hot light green tea as the cool autumn breeze blows across your face! Yes, we can only dream until the time when we can freely travel again!
Chef Kentaro replaced the salted egg yolk with Japanese Pumpkin paste, making the overall feel very light. The mixed nuts with Jamon Iberico mooncake was good but we wished there was more Jamon than nuts in there.
Get 20% off mooncakes during early bird until 5 Sep 2021 or 15% off until 21 Sep 2021 for all Citi Cardmembers.
Man Fu Yuan | InterContinental Singapore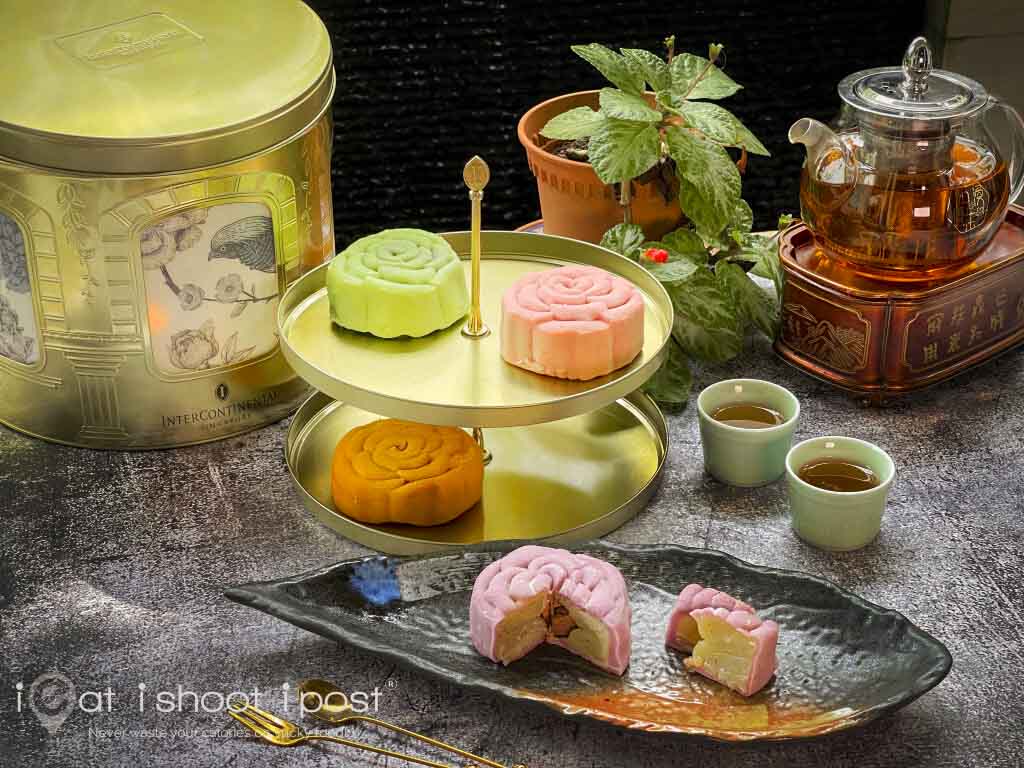 One place I enjoy going for afternoon hi-tea is InterContinental Hotel lobby lounge where you get to enjoy your 2-tier hi-tea in a comfortable and charming setting with live piano music playing in the background.
You can easily recreate the mood with their floral designed snow-skin mooncakes which come on a 2-tier stand. Put some candles or fairy lights in the tin can and see it transform into a lantern and see the motif of flowers and birds come alive! The only thing left to do is to put on your favorite Spotify playlist.
Man Fu Yuan continued with the floral theme with their snow-skin mooncakes with flavours including Japanese Matcha Green Tea with Osmanthus Truffle (green), Rose Flower Tea Truffle with Pistachio (orange), Earl Grey Baileys Cream Truffle (Purple) and Oolong Peach & Black Sesame Truffle (pink).
Get 30% off mooncakes during early bird until 31 Aug, 2021 and thereafter 25% off until 21 Sep 2021 for all Citi Cardmembers.
Conclusion:
This mooncakes season, take the time to put up some lights and lanterns, brew some tea and enjoy mooncakes with friends and family. And why not order mooncakes from different places and have a little mooncakes degustation, just like what we did?
We have reviewed only a selection of mooncakes specials for Citi Cardmembers. Make sure you check out the full mooncakes promotions here.
Happy Mid-Autumn Festival!
Disclosure: this post is written in partnership with Citi Gourmet Pleasures.