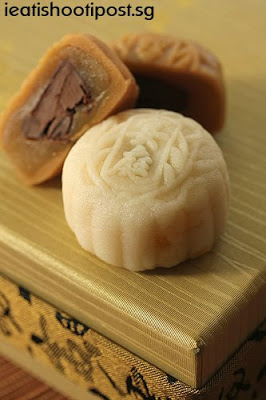 Seven Perfumes Snow Skin with Martell Cordon Bleu Cognac Truffle
with White Lotus Paste $68 for 8 mini mooncakes
Let's be very honest, Mooncakes are a great way to make money. Really. I mean how much does Lotus Paste (Ling Yong) really cost? If you can buy (Ling Yong) pau for 50 cents, why does each Mooncake have to cost $8? And if Ling Yong really costs that much, how come you have to pay like an extra $6 to put 4 egg yolks into the mooncake thus reducing the amount of Ling Yong? And salted eggs aren't that expensive either. It would be much cheaper if you bought some salted eggs and ate them with the Mooncakes.
But culturally, we have all grown accustomed to paying this type of money for something that we buy once every year. If Mooncakes were really all that great to eat, wouldn't some smart entrepreneur manufacture them all year round like what they do with Bak Chang? If that happens than I am sure the price of a Mooncake off-season would be less than $4 each.
That's beside the point. If you think that Singaporeans are all about getting everything cheap and good, then you have missed another equally important characteristic of the Singaporean persona. And that character trait hovers somewhere between "Not losing face" to downrright "Hao Lian" (Show off). Yep, even though we want everything cheap and good, we want other people to think that we bought it expensive, especially when you need to impress someone like your potential Mother-in-Law.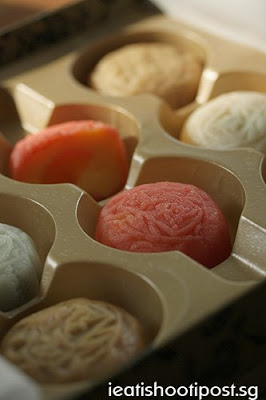 The St Regis Premium Gift Set $98
So for those young studs out there, I think I speak for the older, married guys when I say that in our Singaporean context, one of the secrets of wooing your potential life partner is to win the heart of your Mother-in-Law-TO-BE. Now, of course there are a lot of ways that can be done. The difficult way is to spend many years studying hard to become a Doctor or Lawyer, although nowadays a dotcom Entrepreneur or Banker also can. The easier way is to buy gifts that show that you are a man who wouldn't care less about splurging on something expensive for the all important Mother of your intended life partner.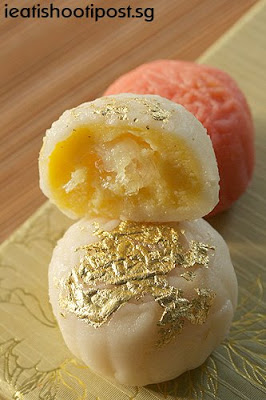 Almond Snow Skin with Premium Bird's Nest and Custard Paste $228 for 8 mini mooncakes
So if you are in that boat at the moment, here is one suggestion for you. For this mooncake festival, forget about the $38 run of the mill mooncakes. You want to really impress the future Grandmother of your kids, go for the $68 Seven Perfumes Snow Skin with Martell Cordon Bleu Cognac Truffle with White Lotus paste. By the time you finish trying to tell her the name of the mooncake, the whole thing might already be ingested, so just make she hears the word "Martell" very clearly.
Now, if you want to be granted immediate permenant residence in your in-law's house, do the Singaporean thing and be a bit more Kiasu. Why stop at $68 when you can go for the ultimate Kiasu gift? For a princely $228, you can land yourself some Almond Snow Skin with Premium Bird's Nest and Custard Paste mooncakes and really send her over the moon. This one sure to score the winning goal since it not only has the word "Bird's Nest" in it, it is also gilded with a leaf of pure Gold to ensure that Aunty will be relating the story of your filial piety to your kids. Rest assured, the words "Bird's Nest" and "Gold" still possess mysterious powers over Mother-in-laws and is as good as saying "Aunty, may I have your daughter's hand in marriage? But before that can I come to your house more often?"
So in order to complete my National Duty of supporting PM Lee's call to "get married and multiply", it leaves me to reveal to you just where you can get your hands on one of these "Bao Nya" (Sure Win) Mooncakes. They are available from St Regis Hotel and if you want to memorize the details of the ingredients, you can log onto their website to read more about it.
Now, coming down to the taste. You really cannot compare these mooncakes with anything else. The taste of Bird's Nest and Gold you all should know right? But then again you are buying this to impress, not really for the taste right? 4.5
Of the eight different mooncakes that Amagada and I tried, the one we enjoyed most was the Almond Snow Skin with Advocaat Egg Liqueur Truffle and Black Sesame Paste. I think the Advocaat Egg Liqueur is a nice variation of the salted egg. It is savoury but not as salty as the salted egg yolk and has a nice smooth consistency and the sesame paste is quite special too. At $42 per box it seems like quite a bargain compared to the other flavours. 4.5.5
Conclusion
Somethings you buy when you really want to impress. This is one of them. Just make sure you subtly attach the order form so that your Mother-in-Law-TO-BE knows how much they really cost. The last thing you want is that she thinks it is only $30 per box. This might be the most expensive box of Mooncakes you would ever need to buy but as the credit card Ad says, the result is priceless. Just make sure you get married quickly or else next year you will have to top this year's feat!

Also available at the St Regis Retail Booth at Change Alley
Mon – Fri 11am to 7pm
Disclosure: My box of Mooncakes was provided by St Regis.