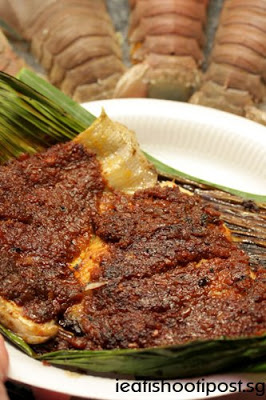 My first introduction to the BBQ Stingray was during my dating days in RJC. I never used to like seafood until I met Amagada. What to do? You want to impress your potential in-laws you need to put in the effort which includes enjoying what the girlfriend's family likes as well as washing the windows before Chinese New Year. Yeah, PM Lee might be Singapore's love guru, but I also have a few tips up my sleeves (besides buying $228 mooncakes) and have two kids to prove it that it works.
Anyway the first, and for me, still the best Stingray, used to be the one at the coffeeshop just below her block of flats at Teban Gardens. For a guy who didn't like to eat fish, the Stingray was quite a revelation. It's too bad that the stall has since moved to who knows where.
The thing about BBQ Stingray is that this seems to be one of the very few ways people actually eat the fish. Stingray is a very cheap fish if you were to buy it in the markets, but somehow when it gets displayed on the bed of ice at the BBQ seafood place, the value suddenly increases exponentially. Afterall, no one really buys stingray except for the BBQ Seafood places right? Do let us know if your family buys Stingray to cook at home.
<br />Amagada really likes the sambal chilli here and says that it deserves a 4.5/5. Yes, it is one of the better stingrays that I have eaten of late, the chilli is full of Hae Bee and is very fragrant. However, it somehow still doesn't measure up to what I had over twenty years ago.
Conclusion
Very good stingray here but I can't say that it was as good as what I had twenty years ago. I am sure you all can recommend Singapore's no. 1 BBQ Stingray right? And with around 3 BBQ seafood places at Chomp Chomp, which one is your favourite?