This stall is closed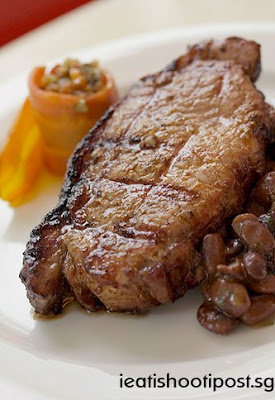 Kurobuta Pork Chops $36
Oh yes, we are seeing more of the good stuff hitting the coffeeshops!
My latest find is this coffeeshop stall which has started selling US Kobe Beef Ribs, US Kurobuta Pork Chops and Wagyu beef done mediterranean style. Now, there are many Western food stalls which are opening up in coffeeshops so I usually have to look out for signs that a particular stall is offering more than just your run-of-the-mill Dory fish and chips, NZ steaks, chicken chops etc.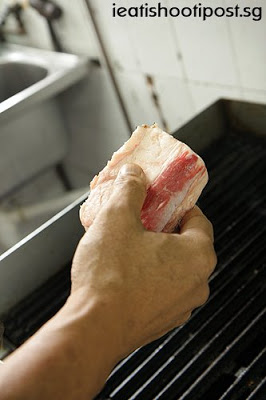 Preparing the grill with beef fat
You know how a lot of times you just get a gut feel about things? In fact, a lot of decisions in life are made based on gut feel. When it comes to people, women tend to have that special ability to size a person up in just a blink of a second. It's the same thing when men look at a BMW and know that they are looking at quality. In fact, it only takes one glance to see quality but it takes time to try to describe what actually makes a BMW look more "solid" than a Geely. (Yeah the Geely has taken over from Hyundai as the budget car)
So it is with Big D's Grill. I had a good gut feel about the stall just within the first few seconds of looking at the place. Then I started listing out the visual cues. Big Eurasian Man wearing a biker T and jeans behind the grill – TICK. Array of different restaurant style pans hanging above the stove – TICK. Big sticker declaring "Angus Beef" – TICK. The words Kobe, Wagyu and Kurobuta, TICK, TICK and TICK. Big D (Damien) oiling the grill by rubbing a piece of beef fat on it, TICK times ten plus an A*! It is quite obvious that Big D is really serious about providing good food!
Another obvious cue is the standard of the side dishes. Coleslaw and French Fries are dead giveaways for the run-of-the-mill "Hawker" western food. Thankfully, Big D's provides a wonderful selection of sides with a heavy Mediterranean influence. The Pinto beans and Spiced Sweet Potato and Pumpkin Mash were excellent and really got my tastebuds tingling. And the Kurobuta Pork Chops did not dissappoint either. They were wonderfully tender and had that charred mediterranean spice taste. The pork was flavoursome without that "porky" smell that pork can sometimes have. Now, $36 might be a little pricey for a Pork Chop but it is cheap for "Kurobuta" which are usually more than $40 in restaurants. 4.5/5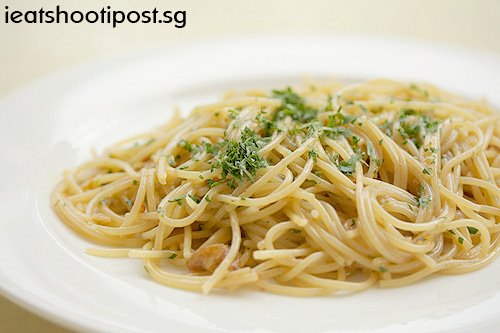 Pasta with Anchovies $17
Big D's pastas are also well worth a try. His Pasta with Anchovies is a relatively simple dish but very well executed. The pasta was perfectly Al Dente and the freshly chopped herbs are again a pleasant departure from the usual "McCormick" dried italian herb mixes that most Western Food Stalls (and even some restaurants) would use. I am not a big fan of Anchovies, so I did not appreciate this dish as much as someone who is. But judging from the way it was presented, I would be coming back to try the other pastas that they are offering. 4/5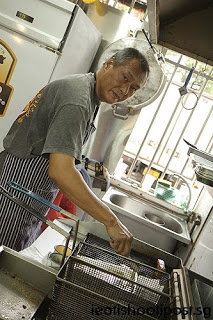 There is a good reason why Big D's is called Big D's. That's because owner and chef, Damian D'Silva looks like the kind of Cowboy you wouldn't want to mess around with. An Ex-Aeronautical Engineer, he flew off on a whim (at age 42) to spend 2 years working in kitchens around Southern Europe in order to pursue his interest in cooking before coming back to Singapore to work at several European restaurants before he opened the now defunct Soul Kitchen at Purvis St.
I am telling you all this because it is not easy to find a chef-owner who is passionate about food that is willing to open a stall in a coffeeshop. And the best thing is that since he is in a coffeeshop, he can keep rental cost down and serve quality food at great prices. He is quite fussy about using only chilled meats and freshly chopped herbs and doing stuff from scratch, such as his steak fries which double fries himself. This is a man who really cooks rather than just another person hired to grill a piece of meat and serve it with re-heated veggies.
The only thing I am concerned about is whether he is able to churn out the food quick enough for a crowd and controlling escalating food costs since he is insistent of only using imported stuff like Spanish Anchovies. Apart from that, I think you can be assured of getting something quite special out of his kitchen.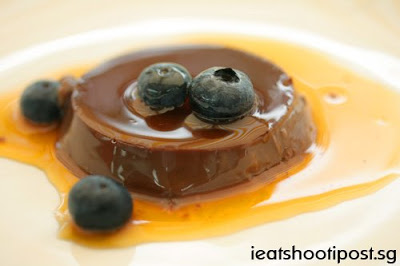 Bonet $4
Don't miss out on Big D's homemade desserts. Bonet may be a simple homestyle Italian Chocolate Pudding with Caramel Sauce poured over it, but simple things executed well can be marvellous, just like a perfectly cooked omelette. For someone who isn't really that big on desserts, I actually enjoyed this very much. It's almost like a Chocolate version of Creme Caramel and is so smooth that it slides easily down the throat leaving a wonderful chocolate aftertaste at the back of the palate. 4.25/5
Conclusion
Big D's has that maverick Roadhouse Pub kinda of character and my first impression is that it could easily have been set up in an old shophouse somewhere in Siglap. We did not managed to try a lot of their other stuff like the Beer Battered Fish and Chips made from Snapper fillets ($8.90) or the US Kobe Cross Rib ($40 for 200gm) but judging from what I had, I'd say that Big D's Grill is well worth checking out if you are hungry for some excellent European Food cooked with character and passion without the +++.
Special Promo for ieatishootipost readers:
Mention ieatishootipost and get a free dessert (Bonet) for every $30 spent!