When I wrote about Heaven's Indian Curry in 2011, I spoke with the stall owners about my dream of eating freshly made Putu Mayyam in Singapore. At the time, Letchmi told me that it was certainly possible and all they needed was a good location for another stall.
Fast forward to Nov 2012.
I was approached by my friend Didi about reviving the defunct food centre in Simpang Bedok (above Shop n Save). She had the vision of running a different type of food centre where stall holders were selected based on their passion and social needs and she wanted to have a food court where all the stall holders embodied the old kampung spirit of working together as a community.
Didi had never run a food centre before. She was, in fact, a doctor who had been one of the founding directors of Hyflux. Now in her retirement, she was simply helping a friend to re-launch the defunct food court. Her idea is to run it food court like a social enterprise where instead of simply renting the stall to the hawkers for a fixed rental and collecting rent every month, they would offer the stalls to passionate hawkers who might need some help to get their stalls up and running. So they came up with a few models for suit the various needs of the hawkers. Some worked on a profit sharing model while others the management helped to connect with angel investors. Another emphasis was on preserving the traditional recipes of the past and encouraging hawkers to produce artisanal dishes.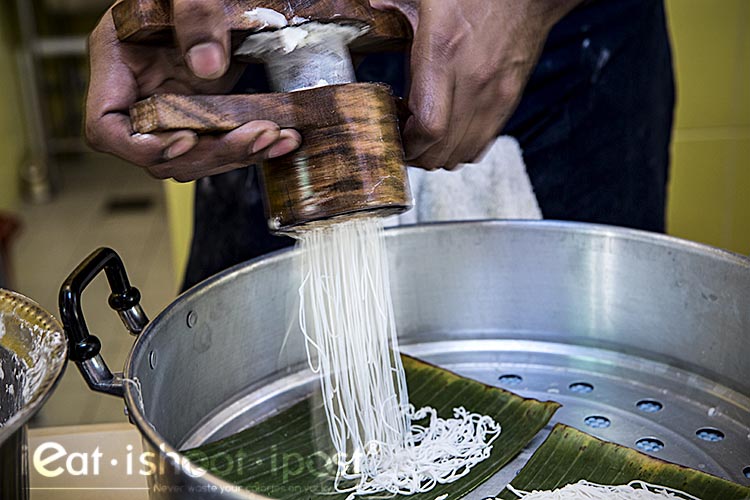 I jumped at the opportunity and gave the owner of Heaven's Indian curry a call. As it turned out, the timing was perfect as her son Suren was just looking for shop space to start another branch of her famous Heaven's Indian Curry. I told Suren about my dream of seeing the resurrection of freshly made Putu Mayyam in Singapore. I know that this is a dish of nostalgia which most of us Gen Xers (and the Baby Boomers) would really love to be able to eat it fresh instead of from a plastic packet. Suren saw it as a great addition to his mother's already famous Appam and Thosai recipes and immediately got to work on it.
Suren tells me that as a kid, he used to help his aunt at her Kachang Puteh stall and one of the things he used to sell was Putu Mayyam. But even in those days, the Putu Mayyam was not freshly made. He started researching the dish and made a special trip to India to sample the Putu Mayyam there and also to buy the molds. After weeks of experimentation, he finally managed to get the Putu Mayyam to the right texture. He even made a few modifications like steaming it over banana leaves to give it extra fragrance!
To me, this was more than just being able to eat fresh Putu Mayyam. It was a powerful symbol of resistance to the chronic decay towards commoditization of so many of our hawker foods!
Having said that, I want to moderate your expectations a bit by saying that the difference between the freshly made Putu Mayyam and the packet variety is not as stark as heaven and earth. It's more like the difference between a Volkswagon Golf and a Suzuki Swift, if you know what I mean. The texture is excellent and the fragrance of the banana leaves gives it that extra lift. But I think it is just the romance of being able to eat freshly made Putu Mayyam that will get most foodies making a beeline to the stall! 4.25/5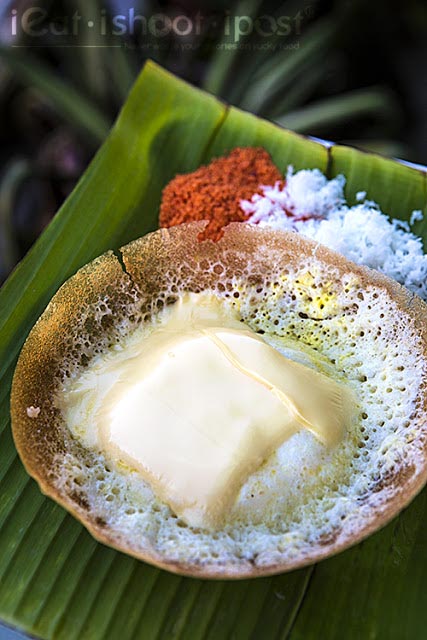 Suren's mom makes some of the best Appam at her stall in Ghim Moh and I am glad to report that you can now get the same Appam in the East! I tried their Princess Appam which was Appam topped with egg, cheese and butter and fell in love with it immediately!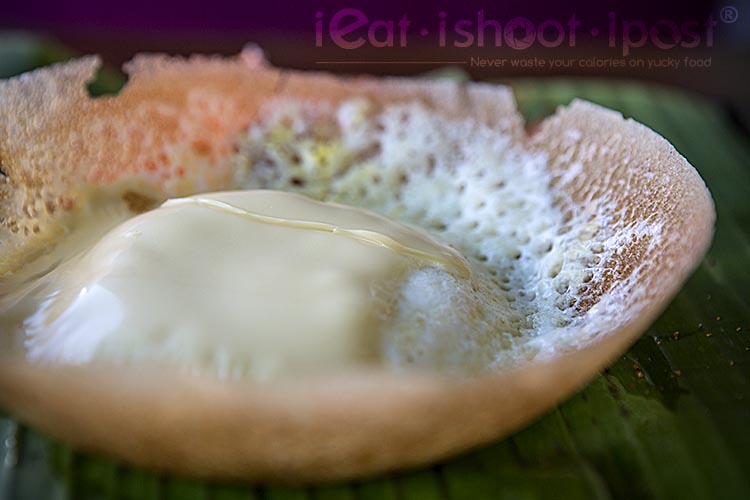 This was the first time I had eaten Appam with this topping and it was excellent! The real beauty of the Appam is that they managed to get the edges really crispy while the middle is still soft, fluffy and creamy. But the addition of the egg, butter and cheese really put this onto my list of top 5 breakfast items of all time! 4.5/5
Now, I wonder if I can convince Suren to add a slice of smoked ham to it and transform the princess's Appam into one that is fit for the king? Seriously, I would choose this over Eggs Benedict any day, especially since I can have about 4 of it for the same price.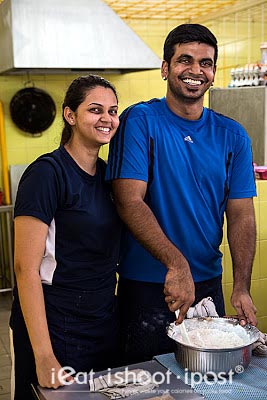 It is so good to see this young couple embracing the hawker profession as their career! Jessie had previously been working in a bank while Suren was working at a bar. Both of them decided that they wanted to quit their well paid and comfortable jobs in order to start their own enterprise. I am so encouraged to see them so passionate about making their dishes in the traditional way! If we want to see a revival of our Hawker culture in Singapore, then we need more young people like them to enter the hawker profession. I hope you can join me in encouraging them in their endeavor!
Conclusion
I have dreamt of seeing Putu Mayyam made fresh in Singapore since I saw it being made along the roadside in Penang several years ago. It is now a reality and this young couple at Simpang Bedok are putting their hearts and souls into their new business. The Putu Mayyam is excellent and their Princess Appam is a really must try. Your trip to Simpang Bedok will well be worth your time and calories.
When you are at Simpang Bedok, do check out some of the other newly opened stalls there too. The chicken rice made by the uncle from Sin Kee at Margeret Drive Food Centre and is pretty commendable. Just opposite Heavens is another young couple who are working on a wet vesion of Char Kway Teow which I think has lots of potential. I am still helping him put the final touches on the dish, but it is definitely worth a try. Gina's Vadai is also now back at the food centre.
Kampung at Simpang Bedok really does live up to its name and there is a wonderful community spirit amongst the stall holders there. The place is still pretty new, so it still looks very make shift and some stalls have yet to open. More importantly, they still don't have enough customer traffic, so stall holders are still holding back on the amount of food they are cooking. But it is early days yet as they are still ramping up to their Grand Opening next month. I really like the way they are doing things here and I hope it will become a viable model for other food centres in the future. In the meantime, if you are looking for somewhere a little different to go for your next meal, do check it out!
Update 16 Oct 2013
The stall at Simpang Bedok has closed. They now have outlets at T3, Sengkang Square and NUH.