This stall is closed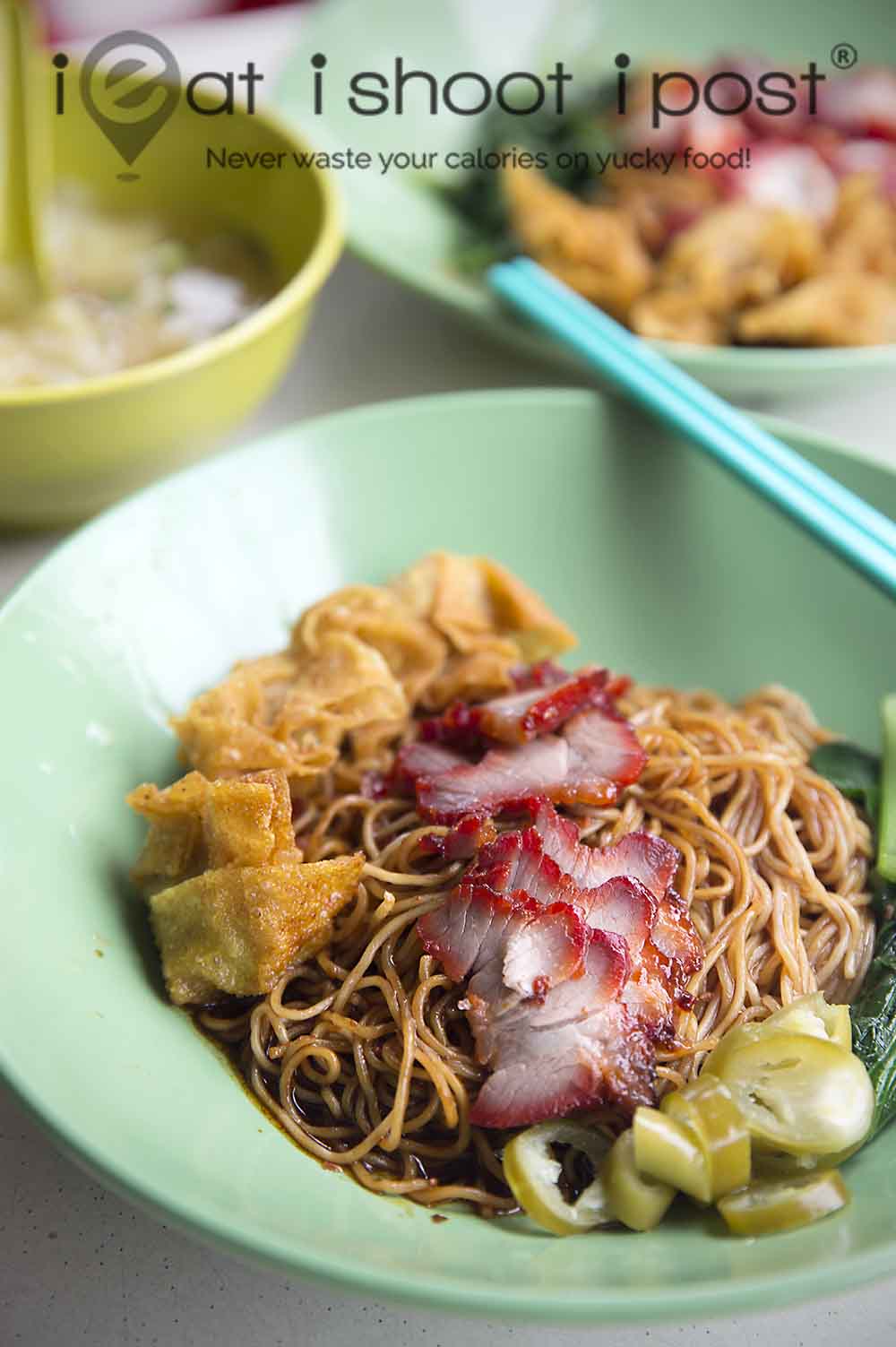 Would you like to try some crabmeat wanton mee?
Who wouldn't?
I bet you must have walked pass many a wanton mee stall without batting an eyelid.  But "Crabmeat Wanton Mee"? Now that is worth at least a second look.
On closer inspection, you see that each plate has got nice plump wantons as well as freshly fried crispy wantons and a deep ebony sauce reminiscent of Malaysian style wanton mee.
Now, who wouldn't be tempted to try?
And after trying, you find that the wantons are crispy on the outside, juicy and springy on the inside with a satisfying chew interrupted only by the refreshing crunch of water chestnuts.
Now, who wouldn't start telling all their friends about this new wanton mee stall?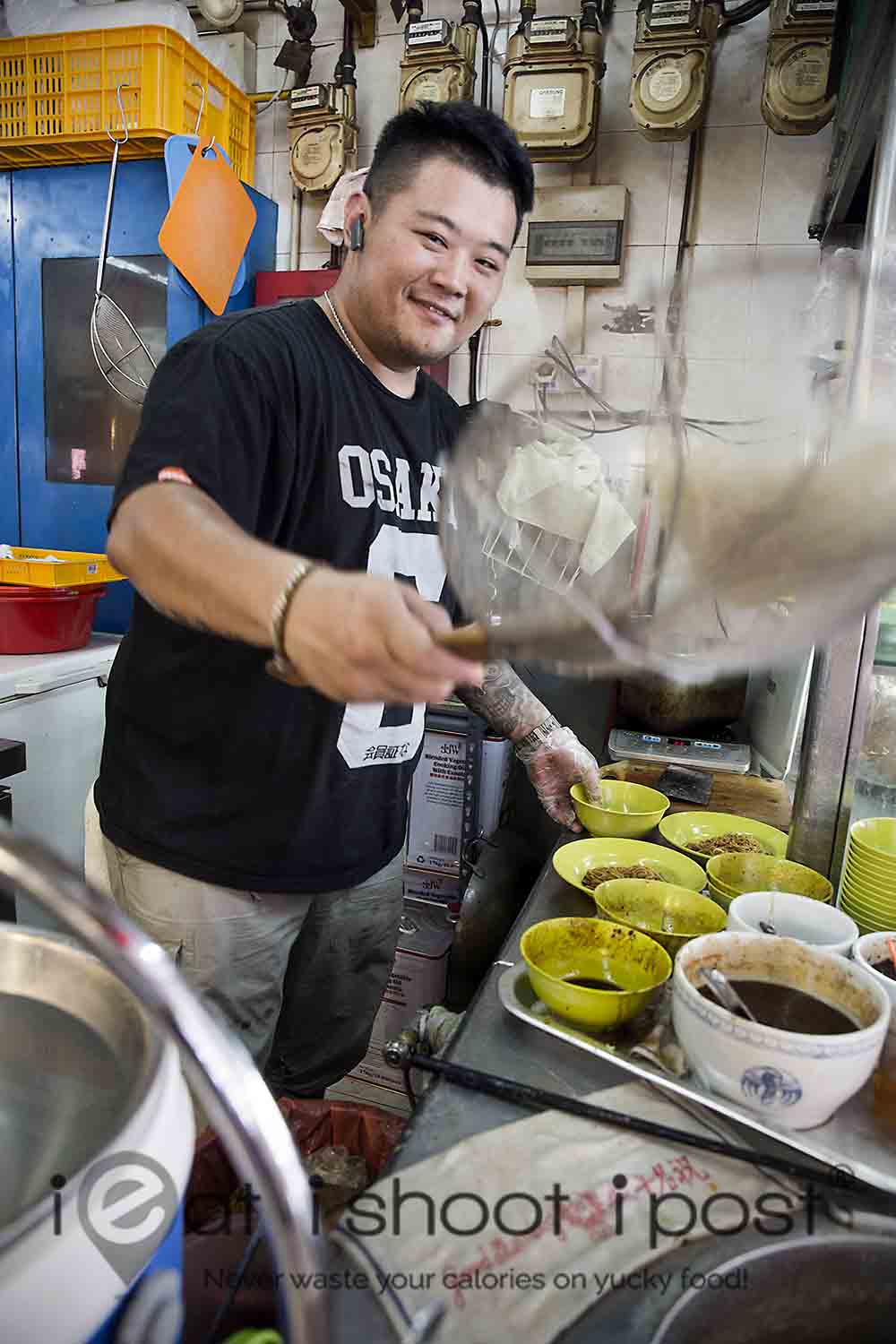 Well, I didn't.
At least not after the first plate.  The wantons were excellent, but I felt the the sauce still lacked that special something.
That was when I started to talk to Raymond and was pleasantly surprised to find a 28 year old hawkerpreneur who had picked up his wanton mee skills from youtube. You wouldn't have guessed from the way he so meticulously cooks his noodles!
I was impressed with the amount of passion that he has put into his new found craft.  He was telling me about his search for quality whole egg noodles and how he worked out the mechanics behind poaching wanton noodles with that perfect bite.  Cooking noodles is more of an art than a science.  You can't just put the noodles in, start the timer and get perfect results every time.  The noodle quality differs from day to day and expert noodle chefs will adjust the timing accordingly.  Over time, he would develop the skill to be able to tell if the noodles are perfectly cooked just by inspection.  Our friend is not quite a master yet, but he is sure making quick progress!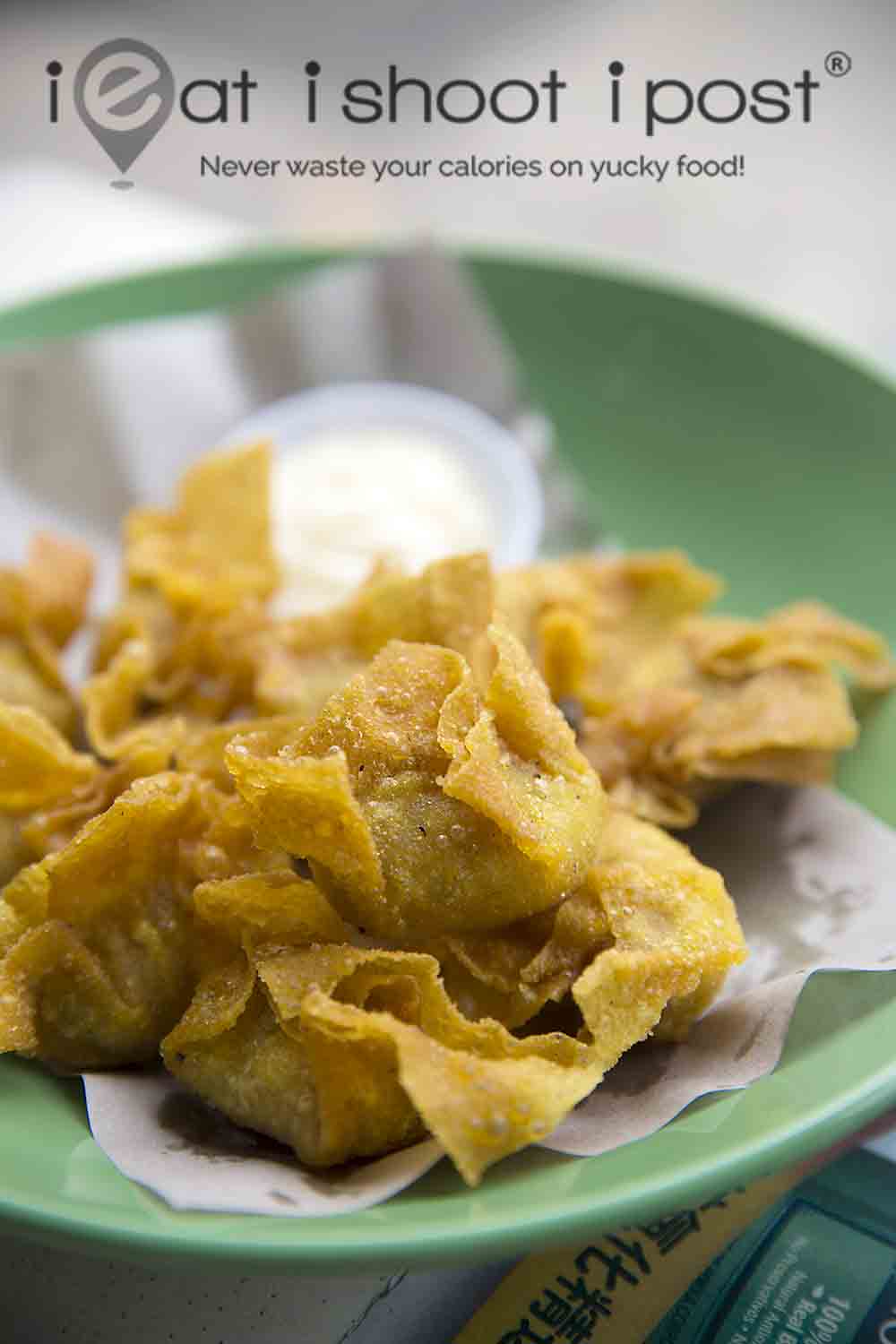 I was also impressed by the fact that his wantons are plump and neatly folded and the proportion of filling to skin is just right.  The filling is made of half crabmeat and half minced pork with delightful little cubes of water chestnuts to give it a nice crunch.  To ensure freshness, he only starts frying and boiling the wantons when you order. The fried version is quite addictive and it's definitely worth ordering an extra plate of fried wanton to accompany your noodles.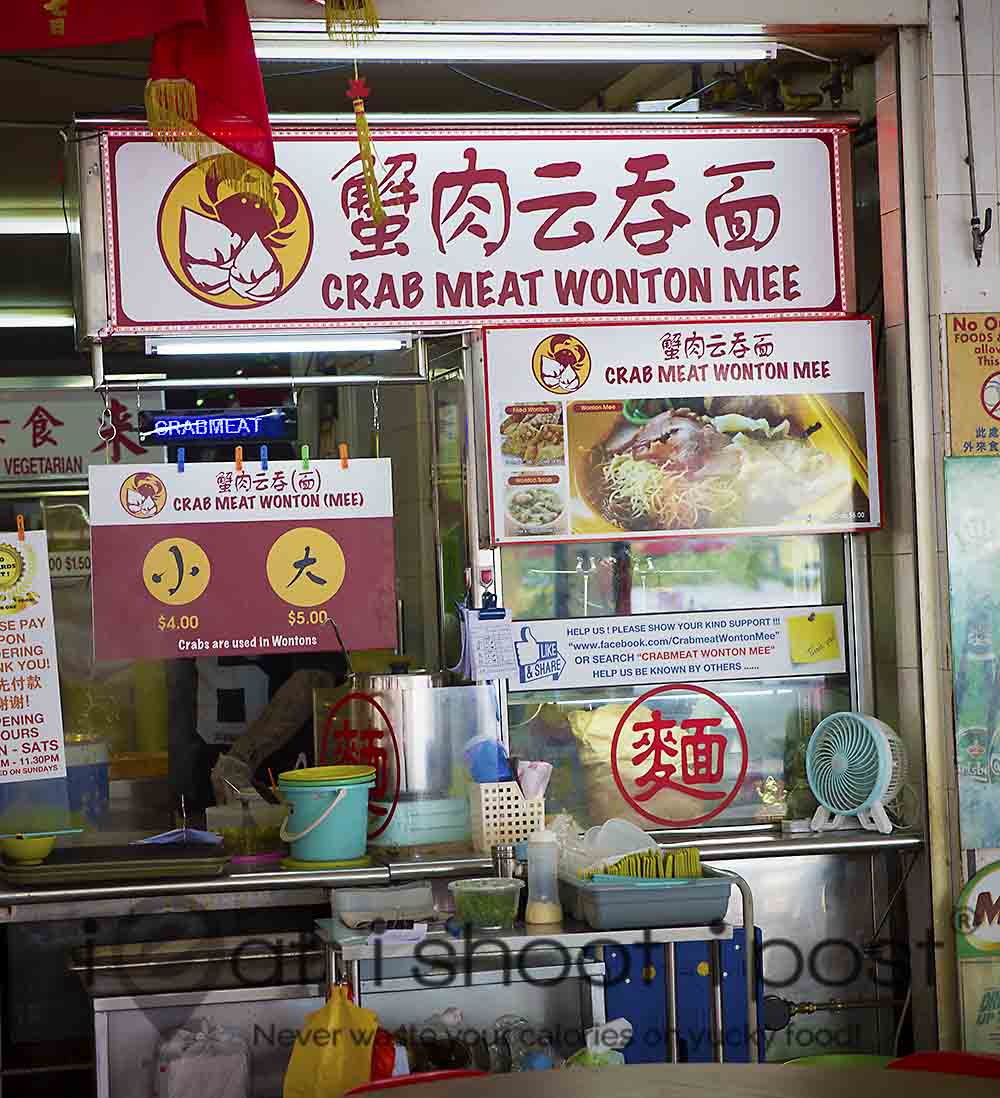 The stall is quite close to where I live and I really like the wantons, so I spent the next few weeks helping Raymond with the sauce. I even got some of my kakis to go and give him feedback.  He has been very receptive and with every suggestion, he would try it out the next day to see if it works!
I have been back several times and he has been able to make incremental improvements each time.  He has just added another boiler with a special vent so that the water can be kept at a rolling boil which is critical for the texture of the noodles.  The technique for poaching the noodles has also been refined so that it is now more lively and QQ.  He has also started making his own pork lard everyday.  We have suggested many different ways of giving the sauce more kick.  My friend Allan even shared that the secret of one famous Mee Pok uncle was to add sio bak to the sauce!  Raymond tried it but it didn't work for his noodles.  Then he started adding crabmeat to the sauce and that seem to do the trick!  So now the noodles and sauce are much better.  It's not at the level of Nam Seng or Kok Kee yet, but it's very good.  For me, the highlight of the meal is still the crispy crabmeat wantons which are some of the best around!   4.25/5
Conclusion
There is a funny signboard that is hung up in the front of the stall that looks like some sort of an award.  But on closer inspection, it reads "No awards yet!  Hoping for one soon!"  Well, with the progress that he has made, this burly 28 year old, should soon be the latest poster boy for Generation Y hawkers! I would go as far to say that his wanton mee is already better than some of the more established stalls around.  There is still room for improvement of course, but with the tenacity and determination that he has shown, it's only a matter of time before he gets a real award!
NB: The $4 portion comes with 2 boiled and 2 fried crabmeat wantons, charsiew and a few pieces of crabmeat.  The $5 portion comes with three of each.
Update 19 Sep 2017
The stall was shut for a while and is now under different management.