Update Apr 2022: This eatery has reopened in Toa Payoh!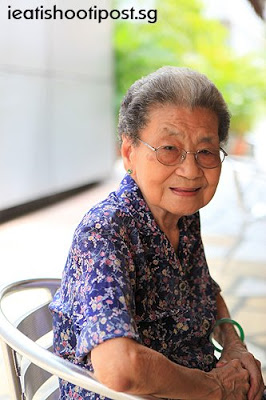 Mdm Leong, 80, founder, owner and operator of Nam Seng
Usually I would put the photo of a dish as my first picture, but as I started to write this post, I began to feel that this story is more about Madam Leong rather than the Wanton Mee which she has been dishing out since 1959. At 80 years of age, I think she is the oldest working hawker that I have met. Amazingly, she still comes to the stall at 6am in the morning to prepare the ingredients for the day.

You might have heard about this stall, which is the famous Wanton Mee stall at the old National Library. You might also remember that SM Goh recounted his early dating days at the National Library. What you might not have heard is that according to Mdm Leong, besides using the National Library as a dating hotspot, he also went there to get his foodie fix back in the days when he was Minister for Trade and Industry. Aside from SM Goh, Mdm Leong also rattled off a few other Ministers and VIPs who had frequented her stall. I guess, you can say there she is quite a living legend in the hawker scene.
When they moved out of the National Library premises about 14 years ago, they relocated to Joo Chiat where they stayed for a while before being invited to open a stall at Far East Square. It turned out that one of the Directors there is also a fan of the stall and wanted to make sure that this stall's legacy lives on. So, as you can see there are a lot of VIPs who grew up as fans of the stall in their not-yet-so VIP days!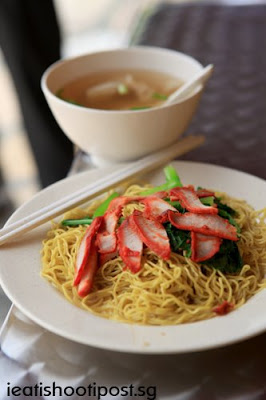 Wanton Mee $4
So if this stall has survived for 41 years, it must be good right?
Right!
If you are a Wanton Mee lover, then this is certainly one stall to add onto your list. Now, my taste for Wanton Mee has been evolving. When I was younger, the Char Siew was the main thing for me. As I got older, I am beginning to appreciate the noodles more and more. But I would say that there are several styles of Wanton Mee and each can be appreciated in its own right. You really cannot compare a KL style Wanton Mee with black sauce with a Singapore style Wanton Mee with tomato ketchup. I think each has its own merits and should be judged in its own category. But of course we can all have our own preference for a certain style.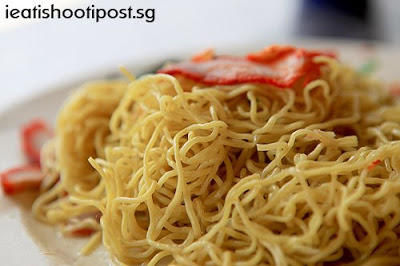 This Wanton Mee is one where the noodles take centre stage. This is in the same style as the popular and controversial Kok Kee at Lavender Food Centre. When you look at the Wanton Mee, you will not be impressed because the noodles nook quite plain and the fluorescent red charsiew, dry and unappetising. However, when you take your first mouthful of the noodles, you would be rewarded with a great tasting noodle and a secret sauce which will make you stop and wonder. I tried very hard to find out more about her secret sauce, but only managed to guess correctly that there is some dried scallops in it. The noodles and sauce alone deserves a 4.6/5.
I have always rated Wanton Mee based on the whole package and quite often, stalls don't get a 4.5 unless their Char Siew and Wantons are also of a certain standard. The Char Siew here is not the juicy charred type which I like, but I think that traditionally, this type of dry fluorescent red char siew might resonate with some readers. The wontons are very good, but I have tasted better. However, despite the lack of good charsiew, I still find myself thinking of the noodles the day after I ate them and find myself wanting to go back again. So for that I feel that it is justified that they get a 4.5/5.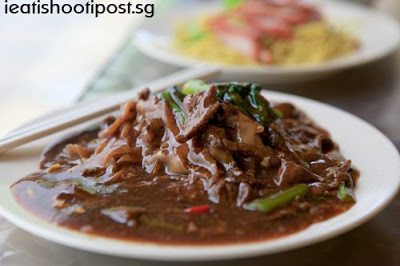 Venison Hor Fun $4
Besides Wanton Mee, there are two other dishes that are also very famous. The first being the Venison Hor Fun. Now, the sauce for this Hor Fun is really really good. It is quite addictive and very satisfying. However, I was less enthusiastic about the Hor Fun as it lacks the smoky Wok Hei flavour. I highlighted this to Madam Leong but was told that unfortunately, the landlords do not allow them to use a gas stove in the premises and so they have to use an electric hotplate to cook the Hor Fun. I can only imagine what it must have been like previously. Still, it is one of the tastiest Beef (in this case Venison) Hor Fun around. 4.25/5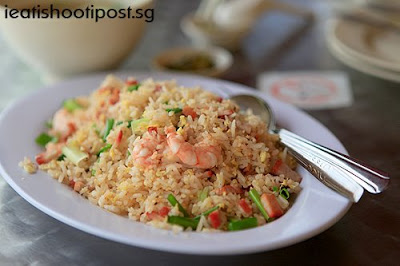 Fried Rice
Since Madam Leong had been serving their fried rice since 1968, she wasn't going to let a small detail like not having a gas stove to stop her from serving the fried rice for her customers. I felt that the Hor Fun could still make it because the gravy did not really need a hot wok to cook. But for fried rice, a hot stove is essential. So for me the fried rice was quite ordinary. It was a bit dry and not something I would order again. 3.5/5
But, she still has fans who have been eating this rice for the last 50 years who would raise a ruckus if she stopped selling it. And remember what I said before? Some of these guys are now VIPs, so we won't want to dissappoint the VIPs would we?
Conclusion
I reckon Madam Leong is the oldest working hawker around. The 2nd oldest would probably be Mr Liang of Ah Hor Mee Pok Tar. But of course, those are the only ones I know. If you know of any older hawkers who are still selling the same dish for the last 40 or more years, do write in so that I can blog about them! Let's see if we can find Singapore's oldest living Hawker Legend.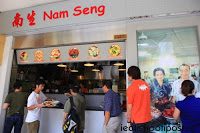 What to do next:
Pop by next door to try another Hawker Legend: Hock Lam Beef Noodles
Then hop, skip and jump to Nanyang Cafe for some Kopi and Kaya Toast