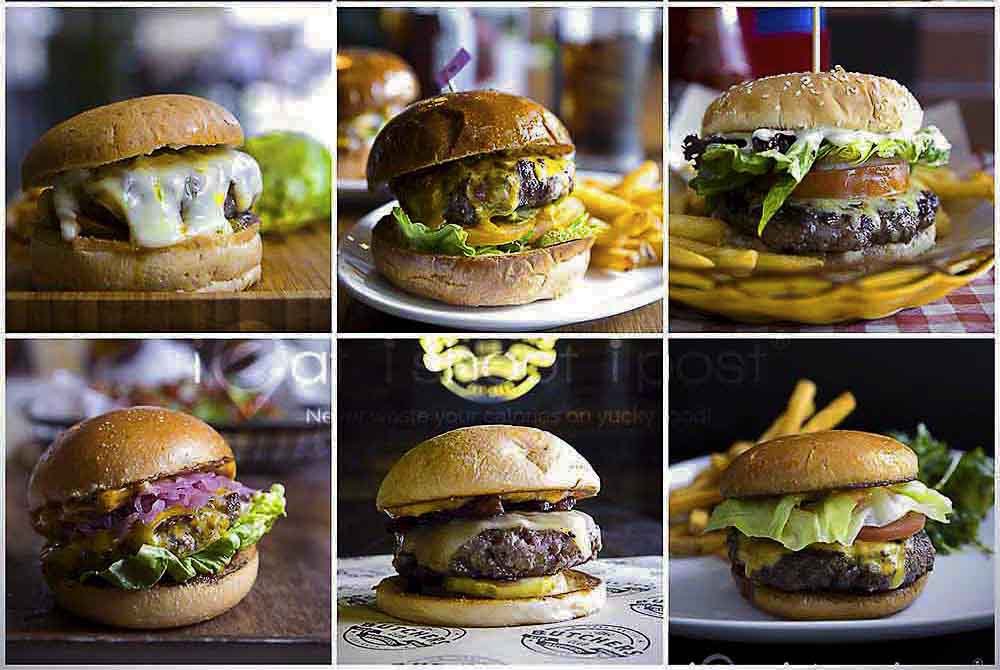 Updated:  23 Dec 2020
The shockwave of the burger boom in the US has reached our shores with many new burger joints opening up to capitalize on this most iconic of American comfort food.
Burgers have come a long way since I first wrote about the ieat Superburger in 2006.  My vision of what a perfect burger should look like a decade ago has evolved somewhat over the years.  Ten years ago, what I wanted was a BIG burger with all the trimmings –the bigger the better.  Now, I am more focussed on the basics, ie the quality of the beef patty and the bun that accompanies it.  This change in preference reflects the current trend in the philosophy of burgerology.  Nowadays, here is a lot more talk about the cut of beef that goes into the pattie and how it is ground, shaped, moulded and cooked.  One of the latest craze is the smashed burger patty made famous by Shake Shack where a ball of beef mince is "smashed" directly on the hotplate which results in a beautiful crust.
In this survey,  I take a look at some of the best burgers that are currently available in the market.  I try to be objective by going into details about the patty; how big it is, the type of beef that is used, how it is made and cooked and how much it costs.  Because the beef patty is the most expensive part of the burger,  this should give readers an idea of the value of the burger as a whole.  The other major component is the bun which has to play its supporting  role well. The bun's main role is to be able to enable one to hold the burger comfortably by absorbing all the juices and sauce while adding that comforting carbo rush without stealing the limelight. The new burgers in the market now use a range of artisanal buns ranging from specially made buns to mahogany coloured brioche buns and even wheatmeal buns.  In my opinion, these artisanal buns may not be necessarily superior to your usual McD or BK Buns, but they do give you that impression of being trendy and artisanal.
The "Alpha" by Wolf Burger
Pasarbella, Suntec City
Wolf Burger is a new local burger joint started by Chef Sarah Jane from Carvers and Co.    Their single pattie wolf burger is just $9.90 and it quite satisfying.  But for the best burger experience, I would recommend their "Alpha" which which is made of two 100g Aust Grass-Fed beef patties sandwiched between light brioche buns. At $14.90 nett, this burger has struck a good balance between quality and value. The beef is very flavorful and the they use a cut of beef for the Alpha which is different from their entry level wolfburger.  If you are not used to the robust flavour of grass fed beef, you might find its flavour a little gamey.  It can also be a little on the salty side for some palates.  The buns are nice but the crust is a tad dry. Otherwise for less than $15 nett, you get 200g of quality beef which is hard to beat. 4.25/5
Update:  Dec 2020
Unfortunately, our last few visits to Wolf has been less than exceptional.  The quality has not been as good as when we ate it the first time.  So we are revising the rating to 4/5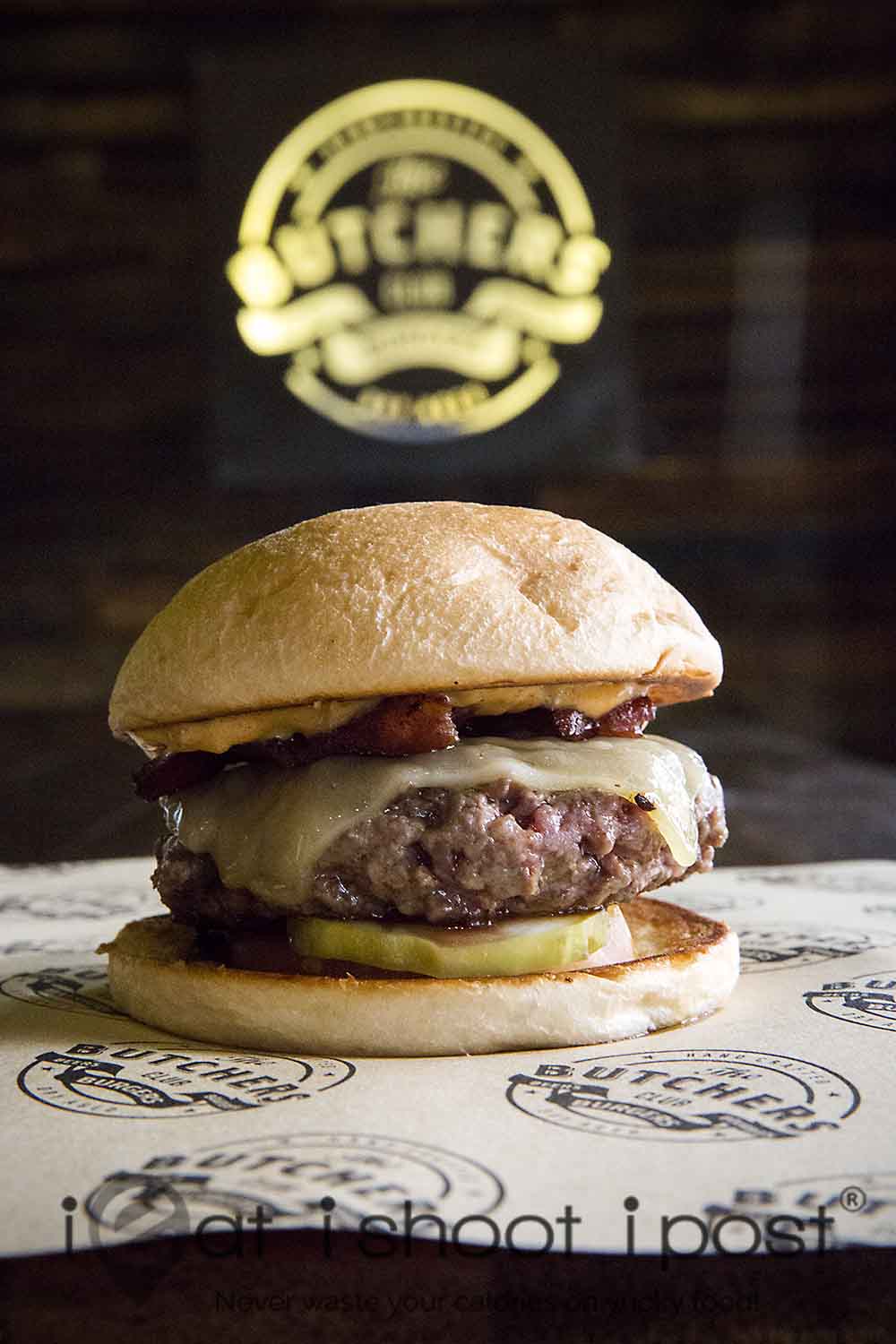 The Butchers Club Burger (Closed)
3A River Valley Road, #01-01B Clarke Quay,
There is no doubt that the basic burger from Butcher's club is good. They use 160g patties made from Australian corn fed 28-30 day dry aged chuck, brisket and rump which are ground on the premises, shaped and and seared on the griddle. The buns are also custom made and are the best burger buns I have come across so far in my survey. They are soft but able to holds its structure and soaks up the juices nicely. I feel that $20 +7% for their standard burger with bacon and cheese is a little on the expensive side and had expected the beef flavour to be a little more intense given that they age the meat. Otherwise, it is one of the best burgers around. 4.25/5
Disclosure:  My first burger was a media tasting.  Follow up burgers was on my own expense.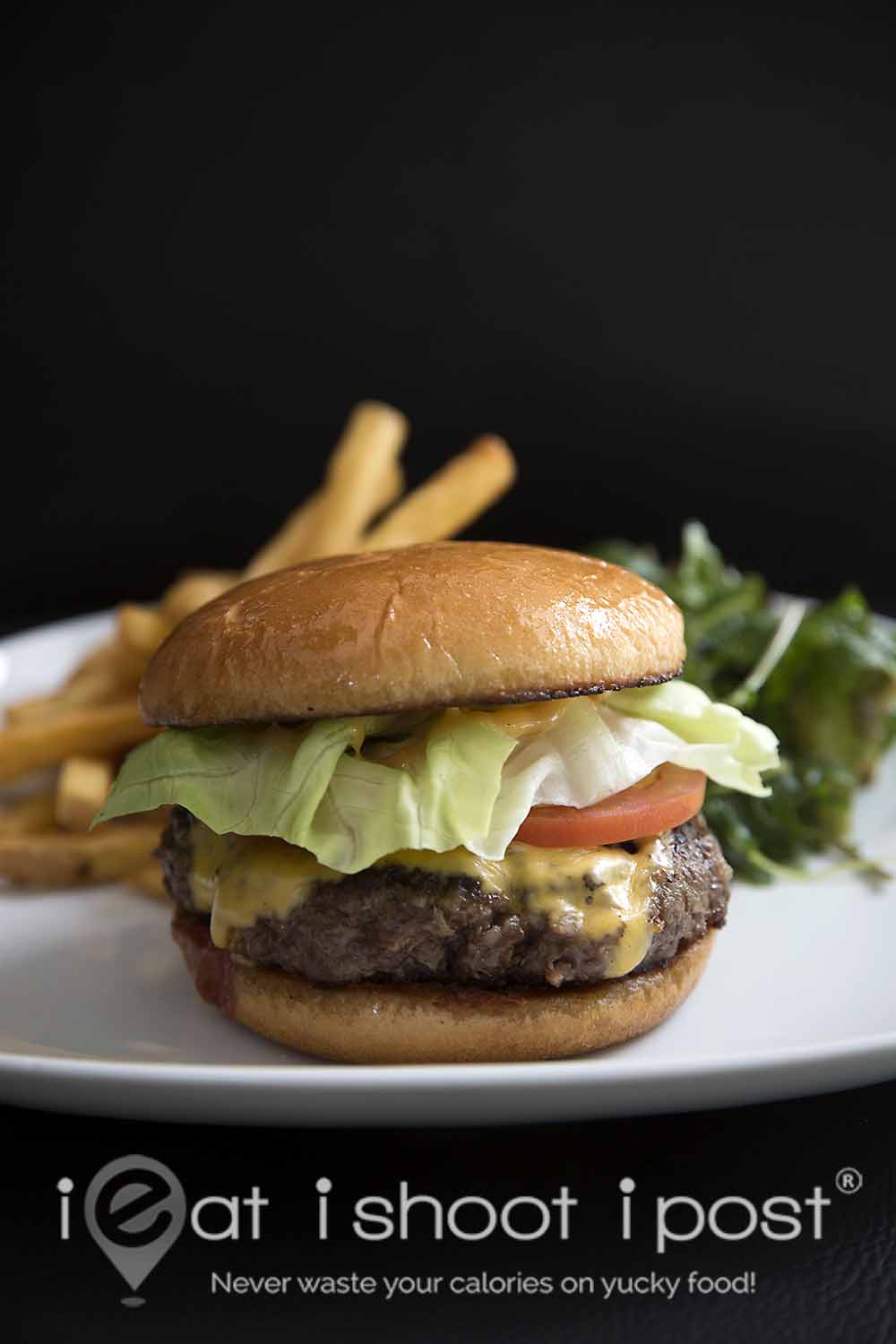 Naked Finn Burger
Block 39 Malan Road, Gillman Barracks

This is the burger that my friend Ken Loon developed for his two restaurants at Gillman Barracks.   After months of trials using different cuts of beef from around the world, he has settled on a 170g pattie made from Aust grassfed beef neck with Japanese Toriyama Wagyu Chuck sandwiched between soft, Fillet-O-Fish style buns.  For $15++ for the burger at Nekkid and $20++ with fries at Naked Finn, it's the cheapest burger using Japanese Wagyu that I have come across so far. There is a wonderful beefy aroma when the burger arrives and the pattie has a nice crust while still juicy on the inside. This is just a straightforward cheeseburger but done very well!  When you unwrap the burger, just enjoy the aroma for a while before biting into it! Not every burger will smell as good!  4.25/5
Disclosure:  I have been involved in the development of the burger over the last few months.
Wildfire Burger (Closed and reopened)
80 Bencoolen Street, 189655
Unlike the other burger joints which cook their patties on a griddle, Wildfire cooks their patties in an Inka oven over binchotan and hickory wood.  Their basic cheeseburger is made from  150g patties made from 120 day Grain-fed Australian beef.  At $16 + 7%. with fries, they are quite good value.  Their Wagyu burger is noticeably beefier and is made from Blackmore 100% fullblood Wagyu but costs $26 +7% which is a lot to pay for a 150g beef pattie.  The bun are attractive but a bit of a let down as the crust is a tad dry and is quite distracting.  I do like their location at Evans Road with easy parking and ulu surroundings!  4/5
Update:  Dec 2020
After a period of closure Wildfire reopened again at NAFA along Bencoolen St. The menu has changed.  Now they are offering a 120g US Angus patty cheeseburger for $9!  The quality of the beef patty is very good and the brioche buns are soft, yet able to hold all the meat juices.  Tastes really good and with the lower prices, we are revising our ratings to 4.25/5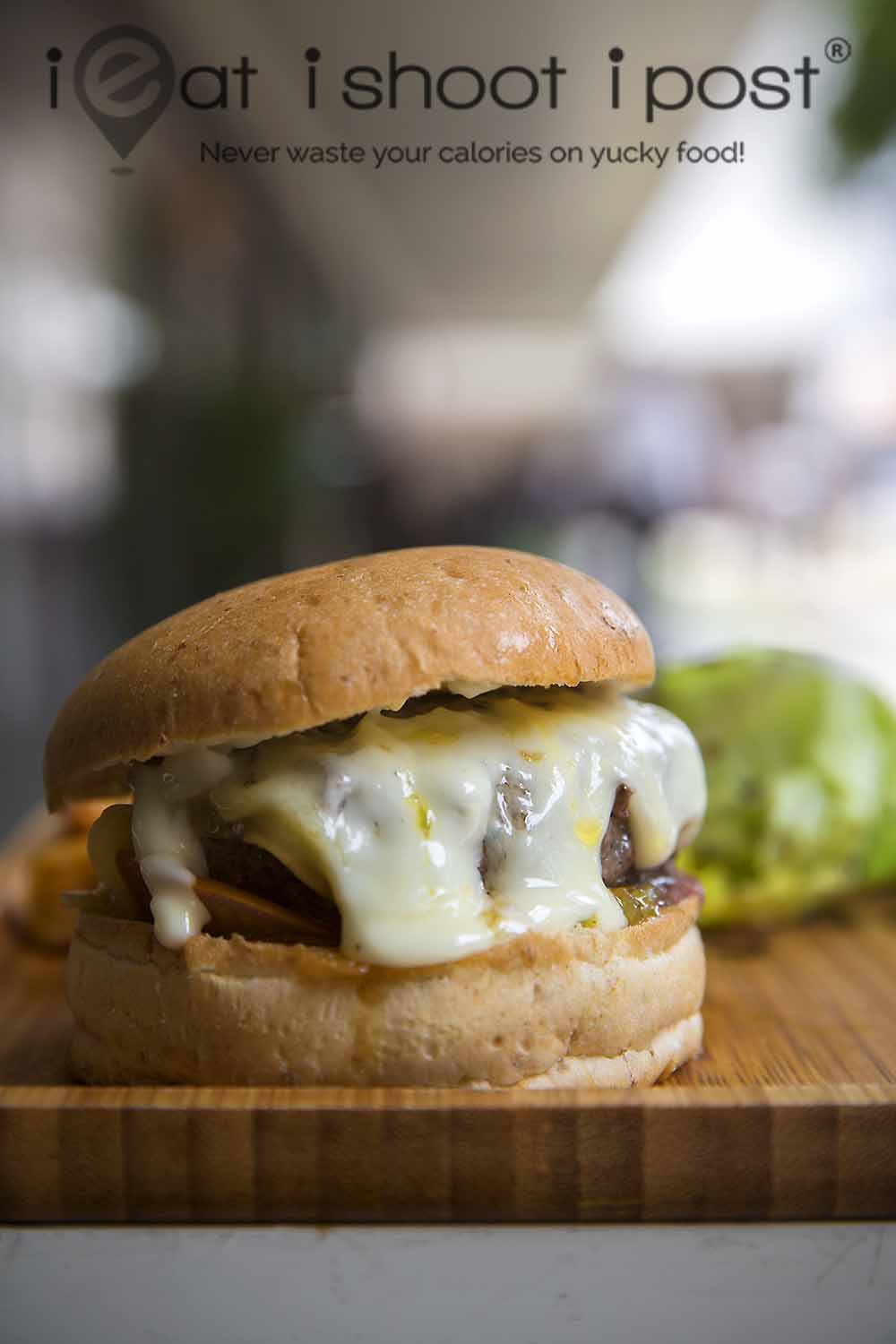 Two Blur Guys
1 Tras Link, Orchid Hotel #01-13
The "Blurger" at Two Blur Guys is one of the juiciest in town.  The 150g patties are made from US prime topside and have a very nice beefy flavour.  They use a proprietary light wholemeal bun which is not much to look at but manages to play its role very well.  At $15.95 +10% with fries and salad, it is actually quite good value, given the quality of the beef pattie.  My only complain is that they tend to be over generous with the truffle mayo which steals the limelight away from a great beef patty.  4/5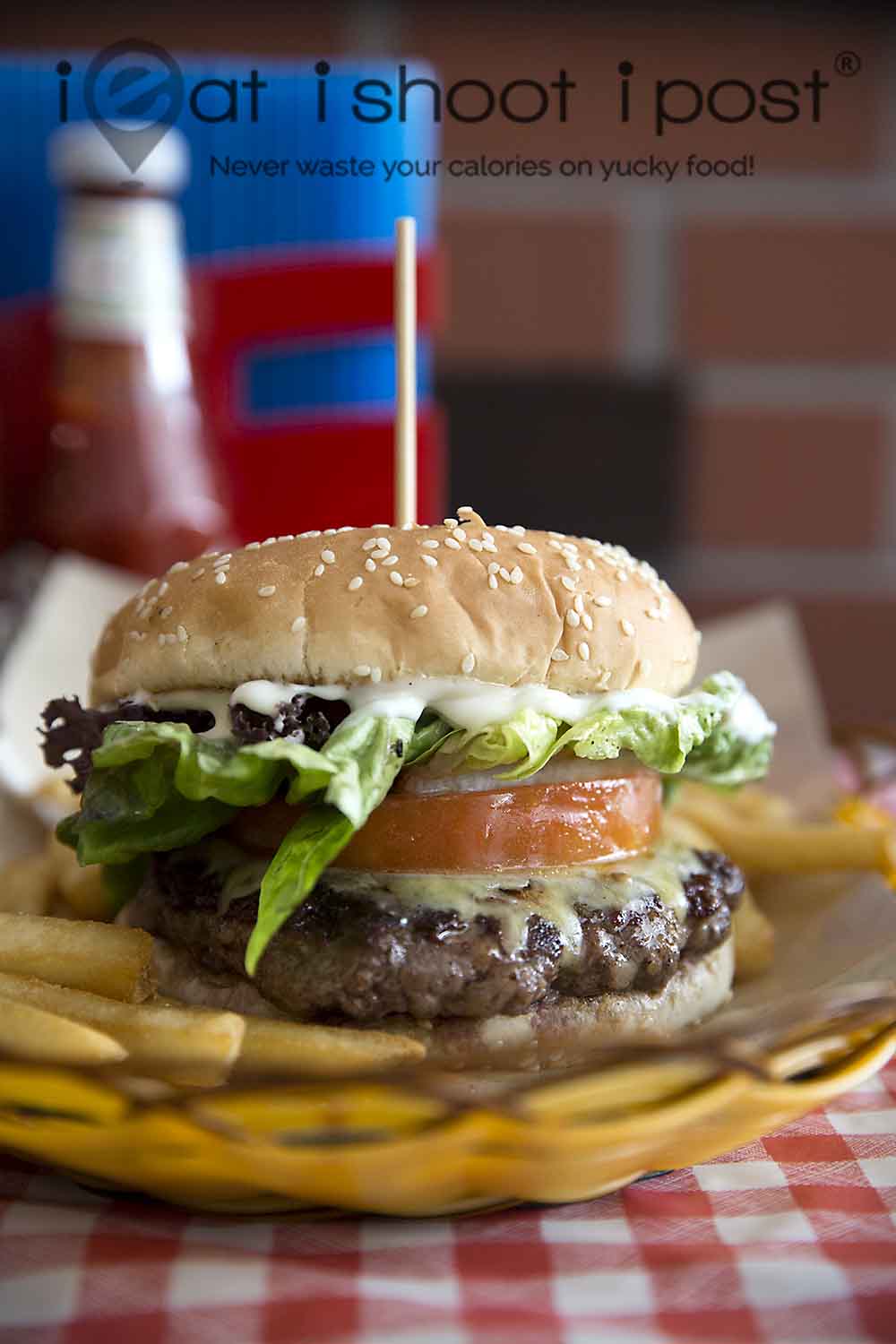 De Burg  (Closed)
CT Hub, 2 Kallang Ave
If you are looking for a burger meal that would satisfy a big appetite, then De Burg would be your first choice.  For $18.50+7%, you get a 200g Australian grass fed striploin beef patty sandwiched in a 5 inch (Whopper) burger bun and all-you-can-eat fries!   De Burg has been around for a while and its owner, Andrew is still very passionate about burgers.  De Burg is the only one in town that uses only striploin, a cut usually reserved for steaks for their patties.  The meat is passed through the grinder only once so that it still retains a good bite, although I did find the odd bit of sinew.  It's still holding its own amidst the fierce competition and their current location in a quiet complex can be a challenge. 4/5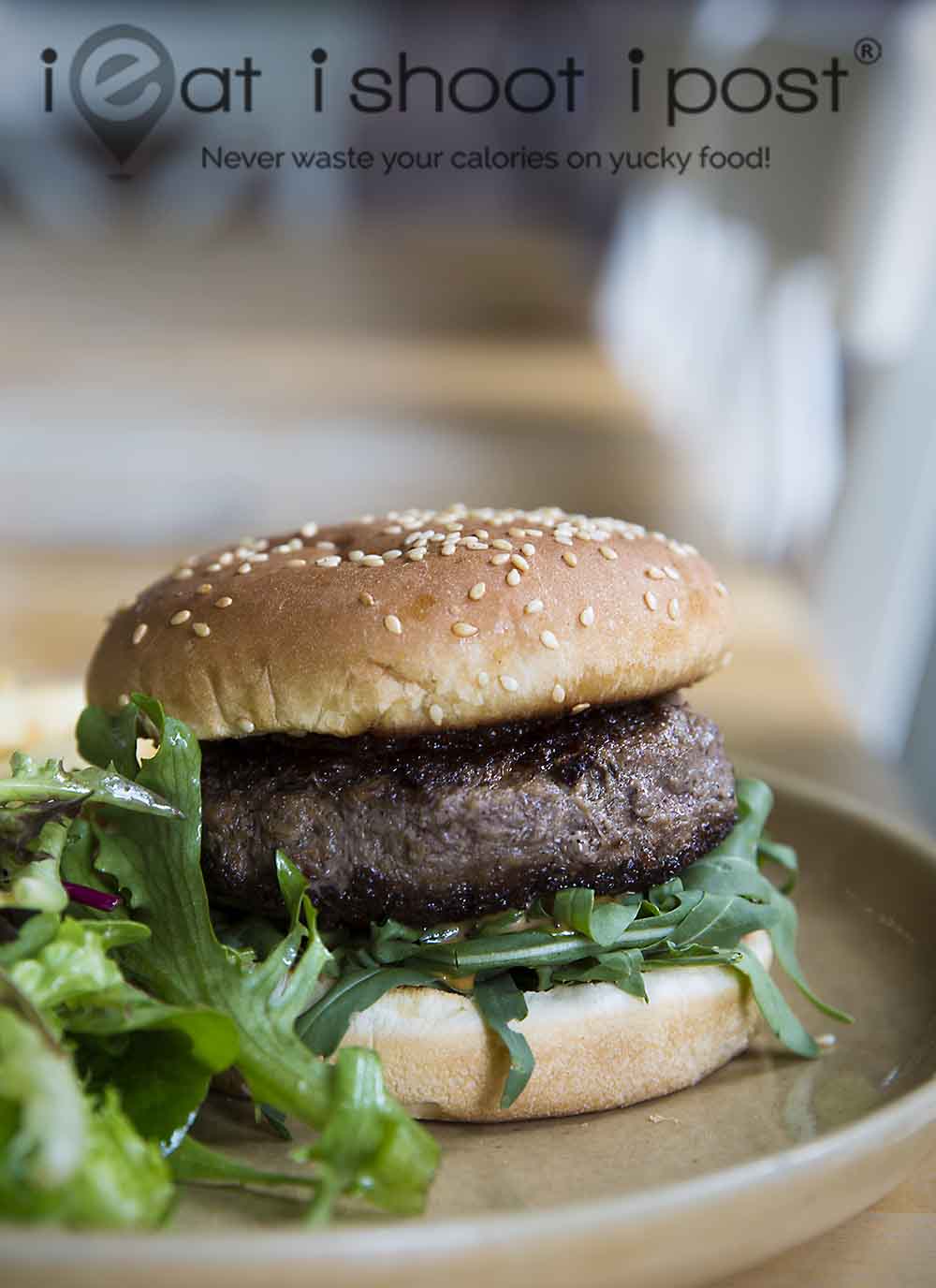 Wild Rocket Beef Burger
Cluny Court, 501 Bukit Timah Rd
Celebrity Chef Willin Low created the Wild Rocket Beef Burger back in 2006 at Wild Rocket.  It proved to be such a hit that he opened Relish, a casual place for burgers with his brand of "Mod Sin" twist. The Wild Rocket burger is made up of a 180g Aust beef pattie with rocket salad, creamy Sarawak pepper sauce and tomato relish.  The pattie is nicely charred and has a nice bite but could be a little more beefy.  The Sarawak pepper sauce and the tomato relish is very good and is what this burger its character.  I was a little disappointed with the buns which were a tad dry and over-toasted.  The burger costs $19.20++ and comes with a choice of salad or fries or both. 4/5
Disclosure:  Chef Willin Low is a good friend of mine. Burgers on my own expense.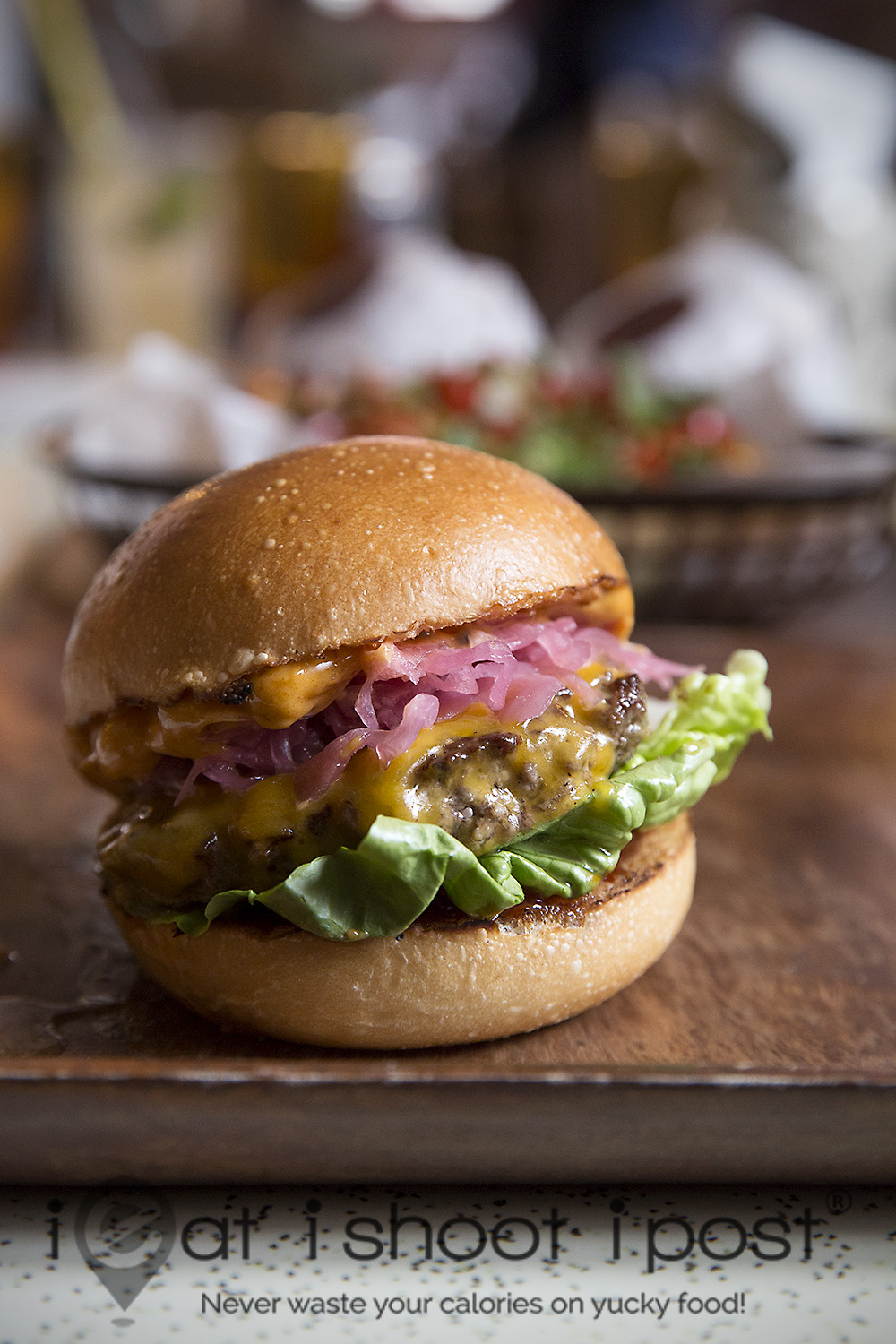 Three Buns (Potato Head Folks)
36 Keong Saik Road
If you are looking for interesting burgers flavours, then Potato Head Folks would be your best choice.  Even their "basic" Baby Huey burger comes with 'Notorious T.O.M. sauce' and spiced mayo .  Their 120g pattie is made from aged grass fed UK beef which is pre-molded and seared on a griddle.  What I like about Three Buns is that they actually pair different buns with different combination of flavours and they do have a series of pretty wild combinations like a foie gras and truffle burger.  At $18++ for a 120g pattie, it is a bit on the expensive side.  4/5  On a side note (pun intended), the naughty fries are well worth ordering.  Topped with spiced bearnaise, and chilli beef, they are mooreish to the max!
Disclosure:  My first burger was on my own expense.  This was followed by a media tasting and interview with the chef.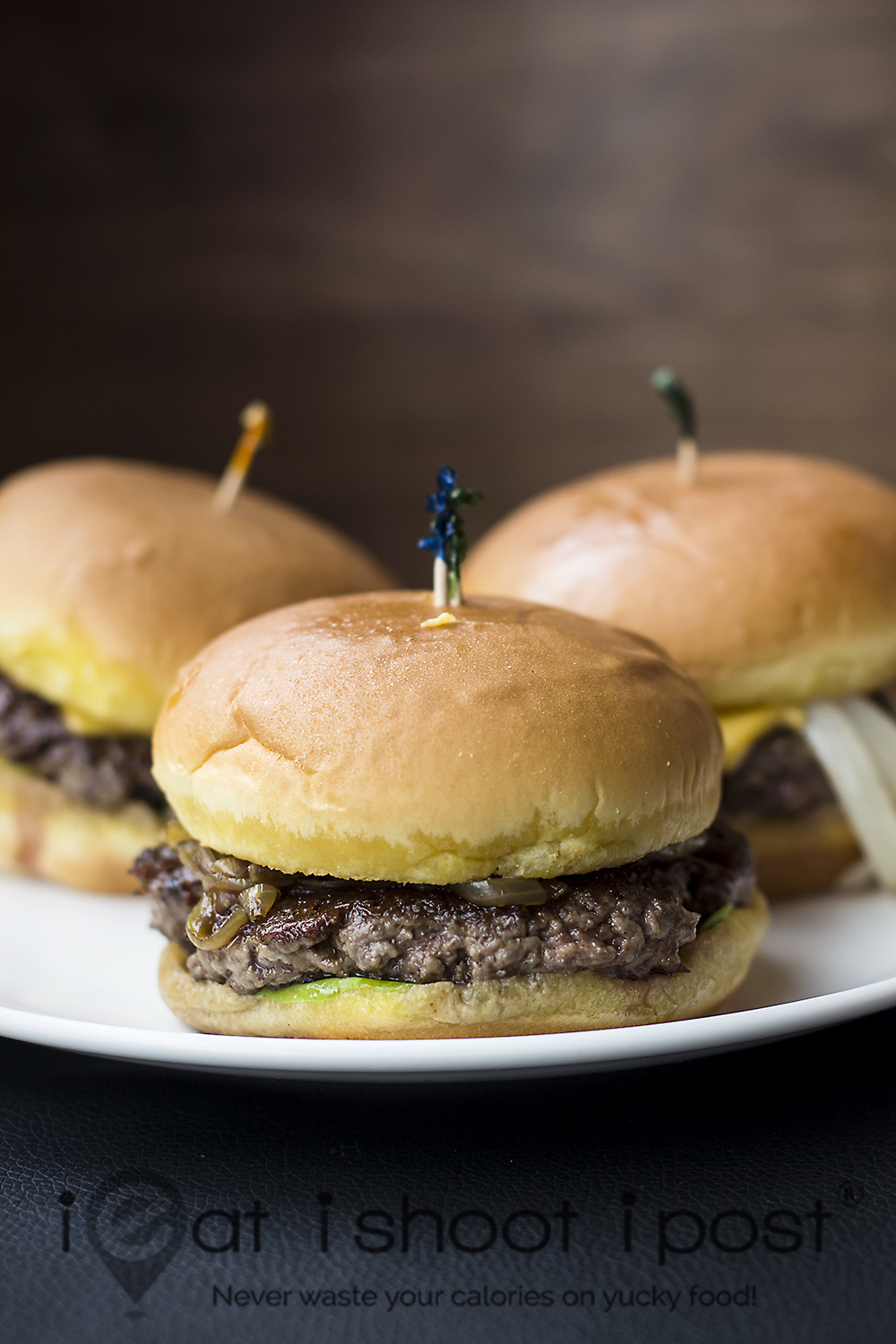 Omakase Cheese burger
200 Turf Club Road #01-05
There are prominent foodies who regard this to be the best burger in Singapore.  I am not one of them.  I do think that their 130g USDA choice patty made with a secret blend of cuts has got a good flavour, texture and juiciness, but I have never been impressed with their buns.  Their old one was way too soft and the new one is far too stiff and doesn't meld with the beef patty.   At $14.90 nett, it doesn't quite fill you up and you go away feeling you need to eat another one. Much like Mos Burger, no? 3.5/5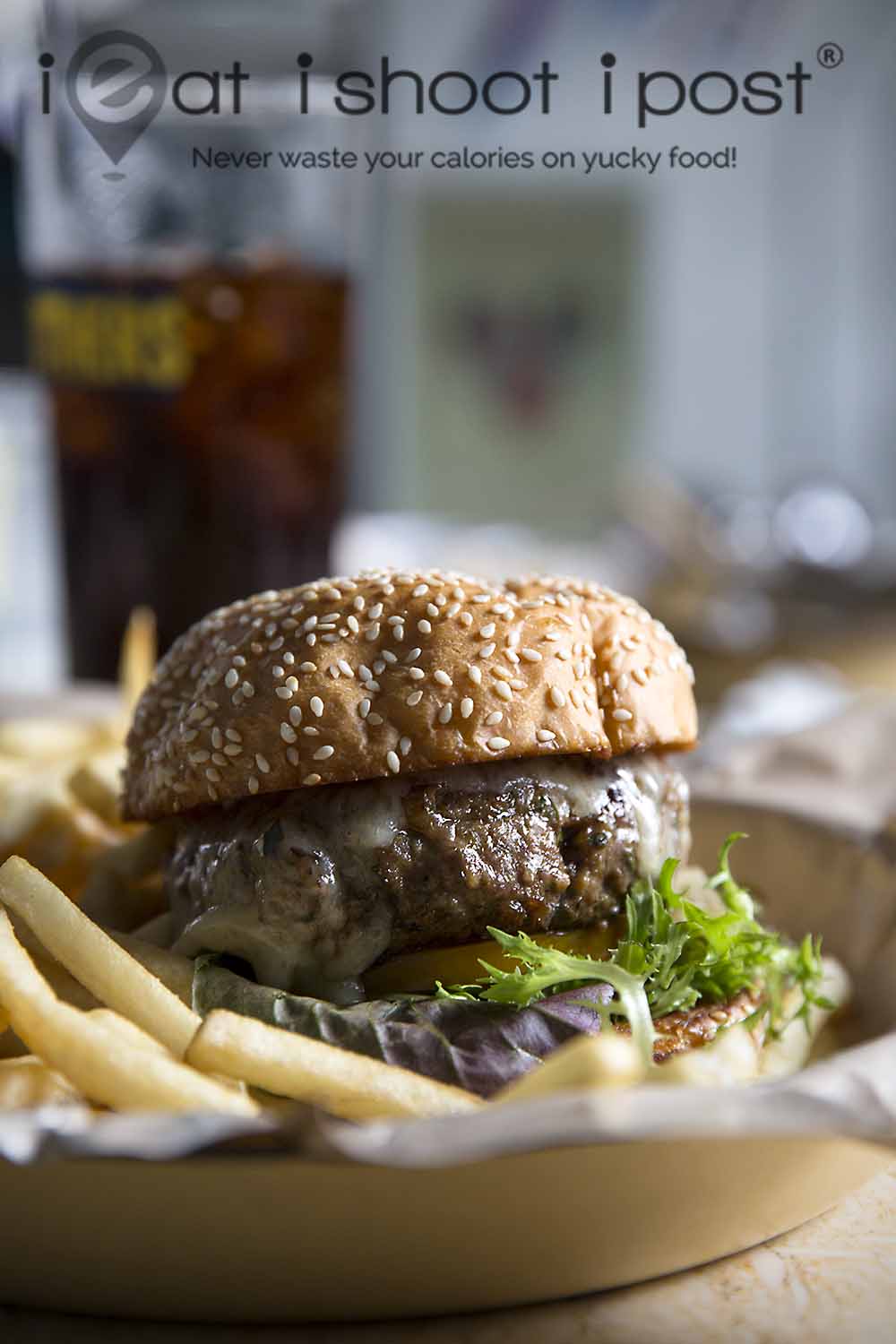 Suprette Burger (Closed)
Kam Leng Hotel, 383 Jalan Besar
This quaint little cafe is the place to go if you are looking for an old school burger.  They are still marinating generic Australian mince with caramelised onions to give it that familiar flavour that my mom used to make. The 220g pattie is big and it costs $20++ with all you can eat fries.  The buns are the standard Burger King variety which I guess must have been covered while they are toasted on top of the griddle.  Subsequently, the buns are steamed on top and becomes just a tad too soft. Good for people looking for that old familiar taste in a cafe with an old school atmosphere.  3.5/5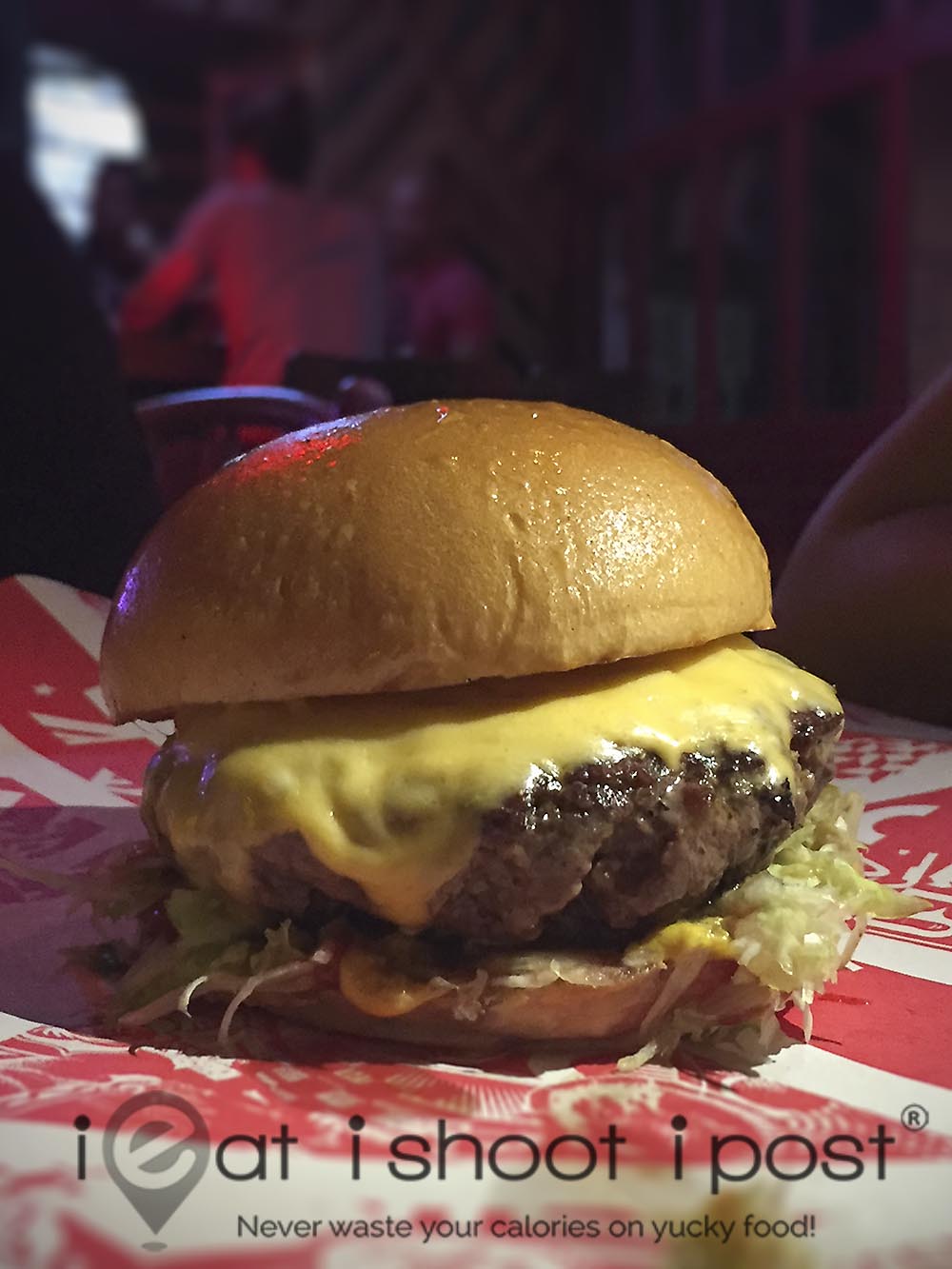 Cheese burger by Meat liquor (Closed)

Meat Liquor opened with quite a fanfare as the burger is regarded as one of the best in the UK.  They use a 180g  pattie made from USDA rump which they mince themselves. These are molded into balls, flattened and fried on a hot plate.  The soft buns reminded me of McD fillet O fish buns.  It is a good burger but did not quite live up to expectations.  The beef pattie has a nice crust and has a good bite but lacks the beefy flavour. At $19++, it's one of the more expensive burgers in town.  Their signature burger, the "Dead Hippie" $22++ is a little better.  It's made from two 100g mustard fried patties with a special sauce which gives it a unique character.  The place is quite hip and if loud music and neon lights helps to enhance the enjoyment of your burger, then this is the place for you! 3.75/5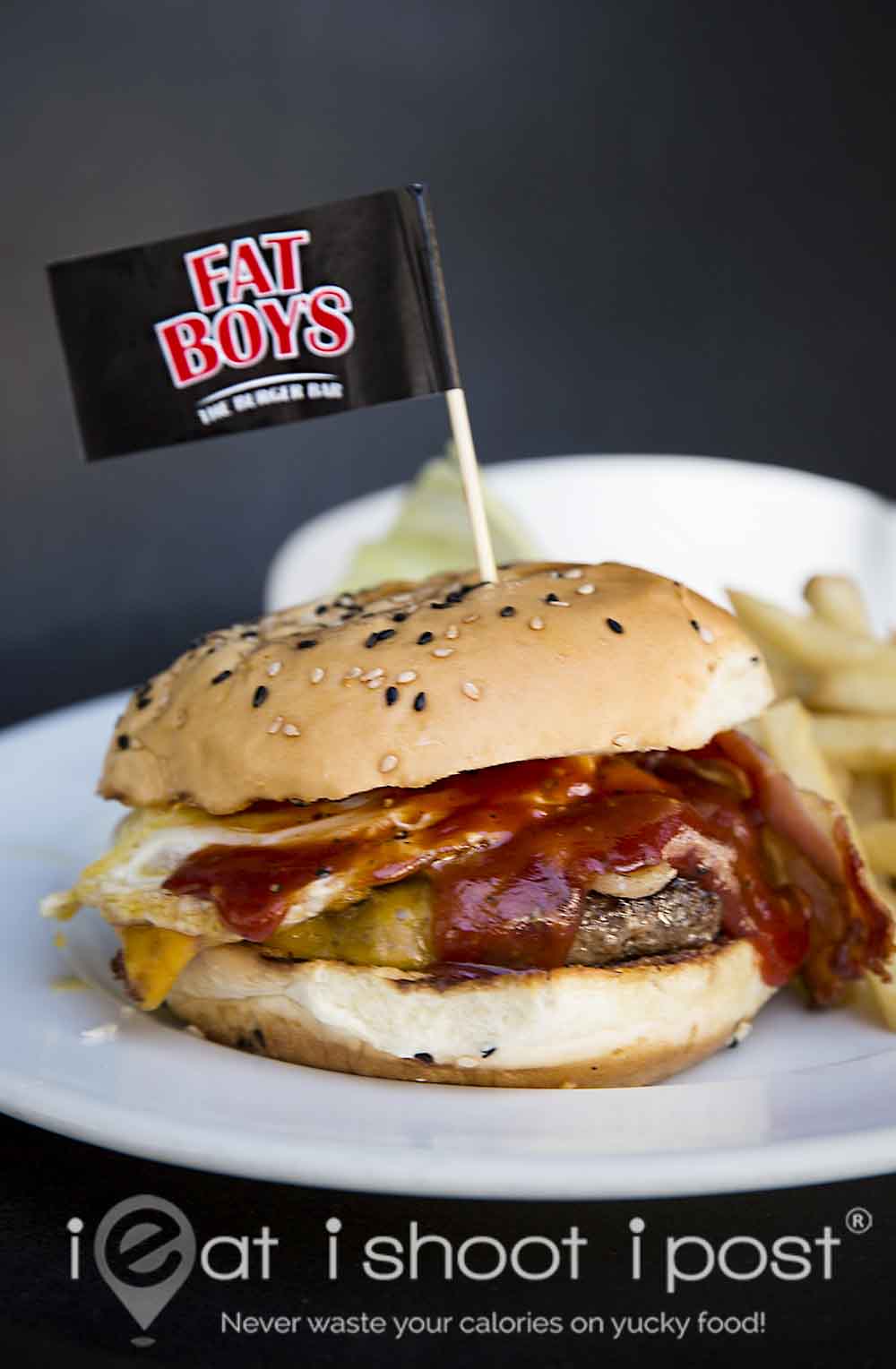 Fatboys has been around for a while now and there are a few branches all over Singapore.  Their "Wimpy" Burger is $15 +7% for a 180g patty made with Aust Chuck patty, breadcrumbs, raw onions and seasoning together with runny sunny side up egg, cheese, bacon and fries.  Their signature "Fat Basterd" is the Wimpy with an extra patty and goes for $19.80 +7%.  It's a bit dated, but Fat Boys does deliver a decent burger at a reasonable price and their 9 branches all over the island make it a good alternative to the fast food burger. 3.5/5
"ieat" Superburger by Astons
I can't possibly leave out the burger which was named after me, can I?
The "ieat" Superburger will turn 10 this year on 29 Sep 2016.  This was the burger which I asked Aston to make for me when he had just opened his first restaurant at East Coast Road.   When I described my dream burger to him, he immediately went to the kitchen, took out a sirloin steak and chopped it up with a knife and made a burger with crispy fried onions, bacon, cheese and BBQ sauce.  Those were the days when bigger was better and the ieat Superburger is big and affordable. Over the years, the price had increased from $12.50 nett to $14.90 nett and most outlets are still making their own patty from ribeye and sirloin beef.  However, it is a little dated and I have asked Aston to come up with a new version which better reflects the current burger trends.  In the meantime, the ieat Superburger is still one of the best value for money burgers out there which will definitely fill you up! 4/5
Disclosure:  Aston is a good friend and this burger is named after me!