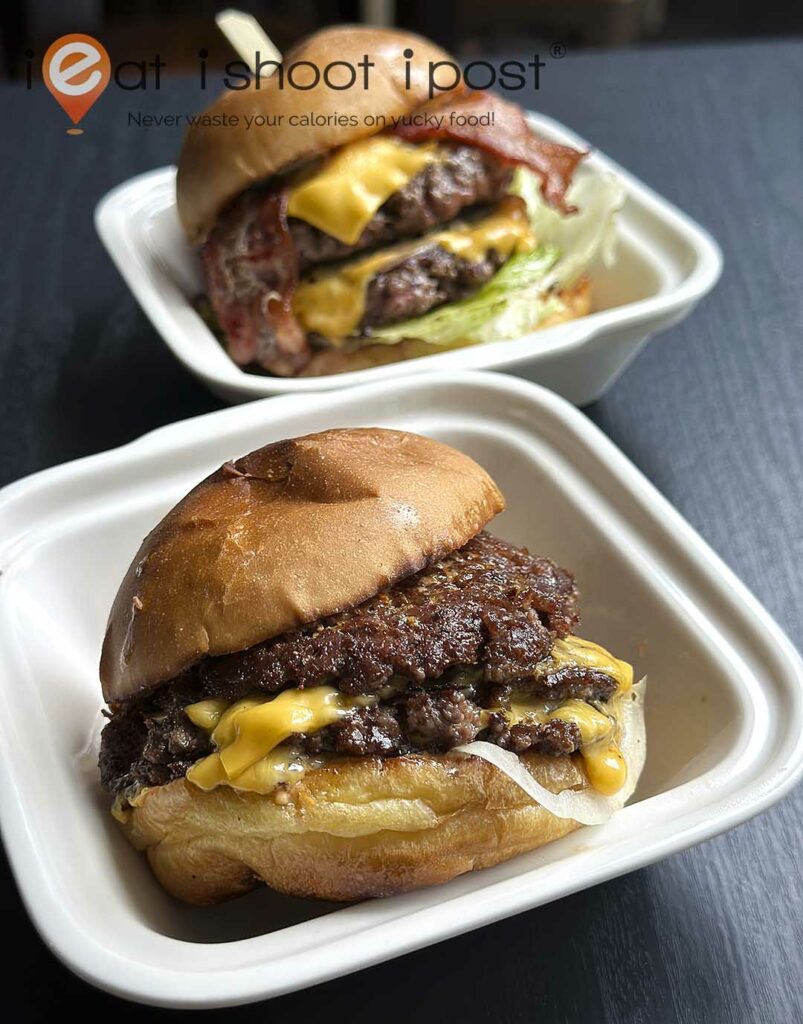 The Burger Trend in Singapore
I have been following the burger trend in Singapore since 2006 when I first collaborated with Aston to create the ieat Superburger. The burger is still on the menu after all these years! I think he keeps it on the menu more for nostalgia because the burger trend has shifted quite a bit since. In those days, it was all about a big juicy patty and piling it up with other toppings like bacon and deep-fried onions!
In those days, size really mattered. The bigger the burger, the better. So everyone was building a bigger burger until Roadhouse (now defunct) came up with a 1 kg burger challenge. After that stunt, no one else tried to make a burger with so many patties. I think it dawned on everyone that a burger should not be so big that you have to dismantle it to eat!
By the time I did my Burger Survey in 2016, the trend was shifting towards the gourmet burger where the emphasis was on quality rather than quantity. The following year, gourmet burgers started making an appearance in our hawker centres. That made gourmet burgers more accessible to the masses with prices starting at $4.50 with fries!
Enter the Smashburger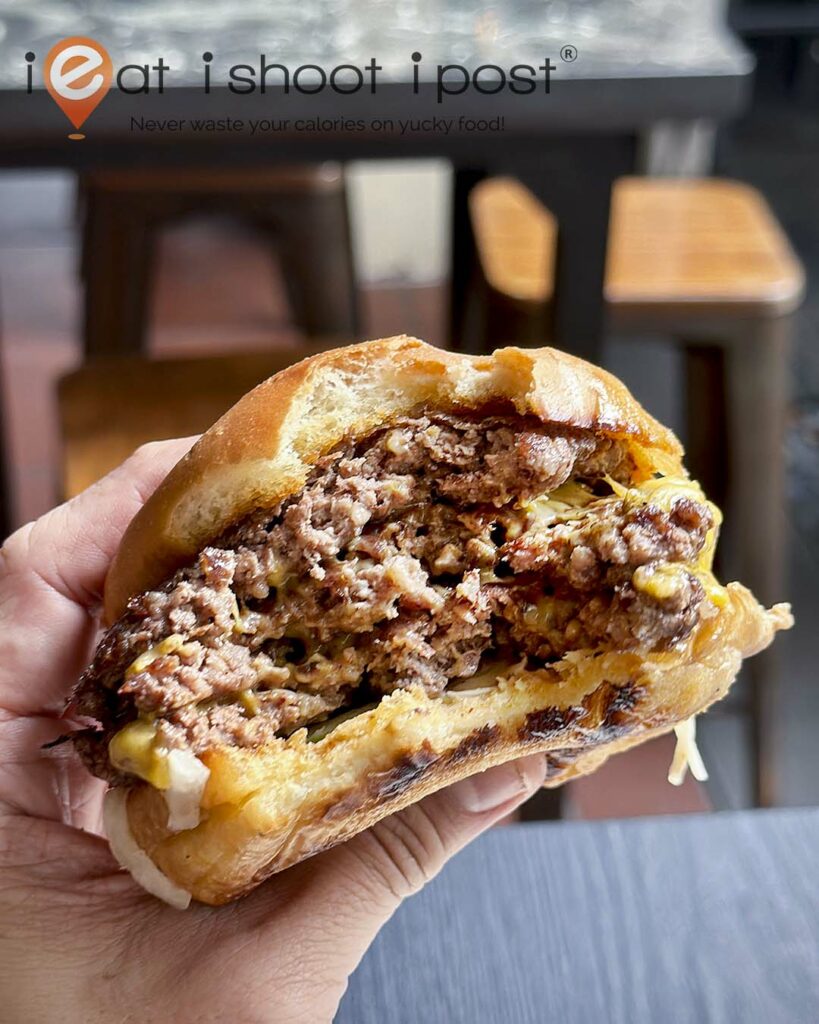 In 2019, Shake Shack arrived in Singapore, riding on the global trend of the smashburger! I thought that their debut would have ushered in the age of the smashburger. And that soon someone would make a smashburger with overhanging crusted edges like the rings of Saturn. But, no one seemed to have caught the smashburger bug like me. Surely I can't be the only one in Singapore who finds love handles on a burger sexy? There have been a few joints that do a smashed patty style burger. But so far, none has really caught our imagination like Perth's Bad Luv Burger.
Hong Kong Burger Chain Comes to Singapore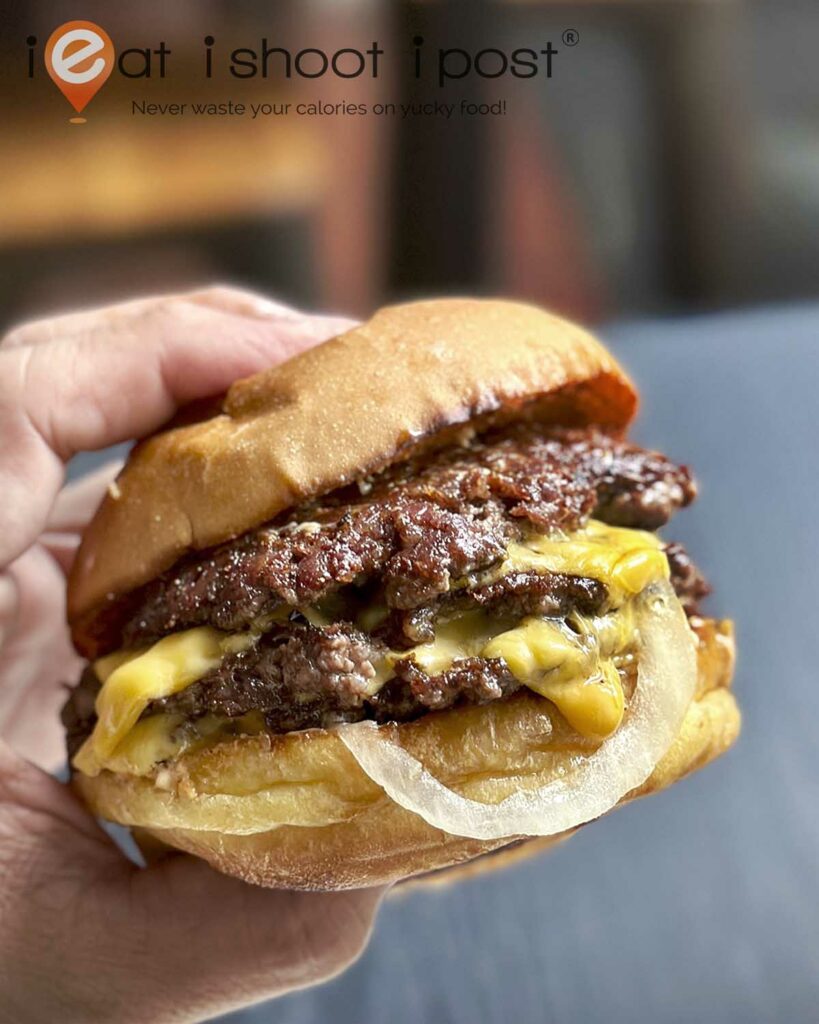 When I heard about Honbo's smashburger, I was hoping that they would finally fulfill my dream of having a messy, badass, smashburger. Unfortunately, they did not. BUT, they are certainly one step closer to my dream burger!
What I like about Honbo is that it strips the burger down to the basics. This is in line with my current burger philosophy. All you really need in a good burger is quality smashed beef patties with a nice crust, sandwiched between good buns with melty cheese and a tangy sauce and pickles to cut through the fat.
The potato buns which are made by a local baker according to their recipe are one of the best I have come across. They are soft but still sturdy enough to absorb all the meat juices. The meat patties, which are ground in-house from a mix of chuck and brisket are very good. Although, they didn't quite meet my expectations.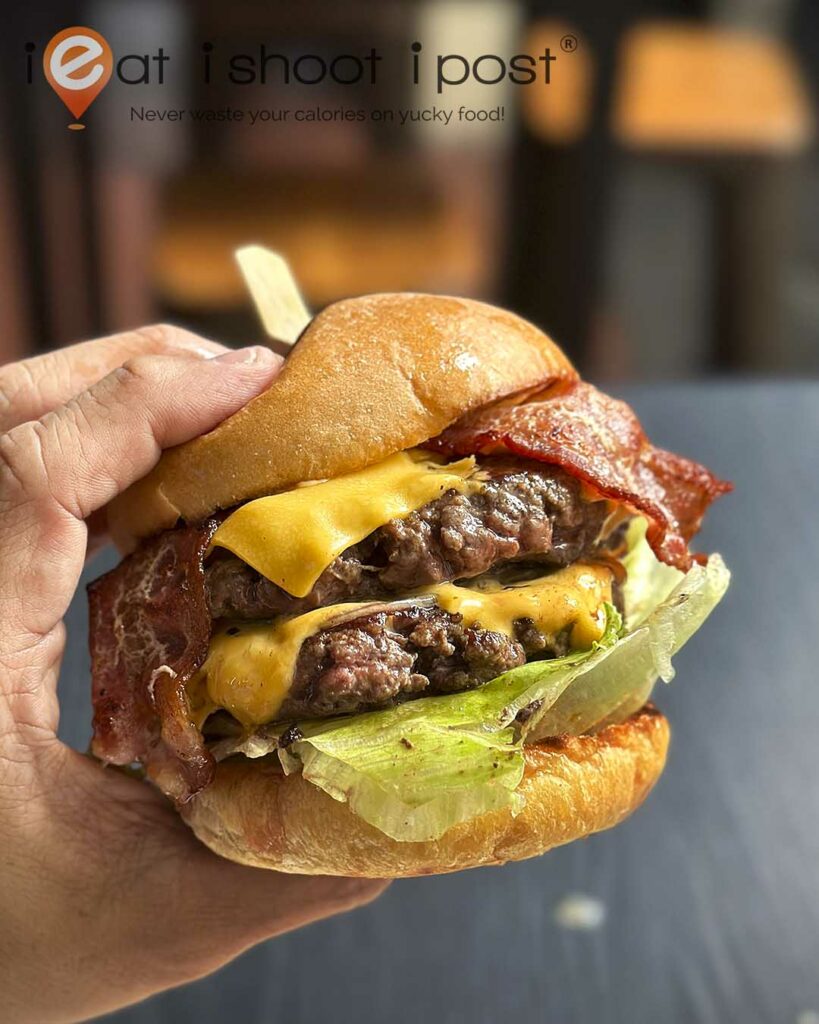 Don't get me wrong, they are very good, but my expectations was very high. I mean they were touted to be made from Double Gold American beef from Wisconsin which they specially import themselves. I also felt the American cheese could be a little tastier. Having said all that, as far as smash burgers go, they are probably the best that I have tasted in Singapore. 4.25/5
If you are still unconvinced that a smashed burger patty is the best way to make a burger, they also offer burgers with classic thick patties. Interestingly, they call their bacon double cheeseburger the "Gold Standard" even though they claim that:
"We smash our patties and sear them on a flat top griddle. It's the only way to go if you ask us."
Having tasted both, I feel that the Honbo 1.5 had more beefy flavor than the Gold Standard and would be the one I would order again. 4/5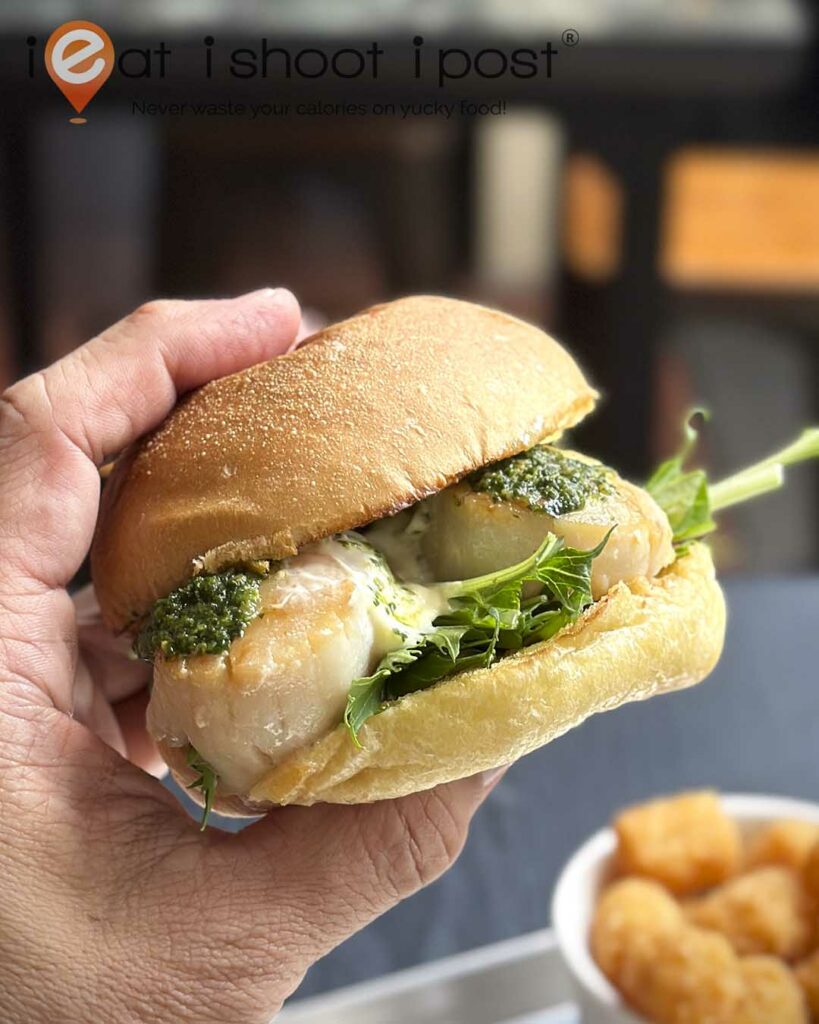 If beef burgers aren't what you're looking for, they offer some alternative protein options. Among these, we sampled their scallop burger which features three jumbo size sashimi-grade scallops squeezed within a bun, accompanied by a combination of mayonnaise and pesto sauce. This sandwich aligns perfectly with their commitment to utilizing top-notch ingredients while keeping things simple.
While it's definitely a step up from a conventional deep-fried, breaded seafood patty, I can't see myself making a special journey there just to eat it. We still prefer to have sashimi Hotate sliced and topped with konbo and truffle oil. 3.75/5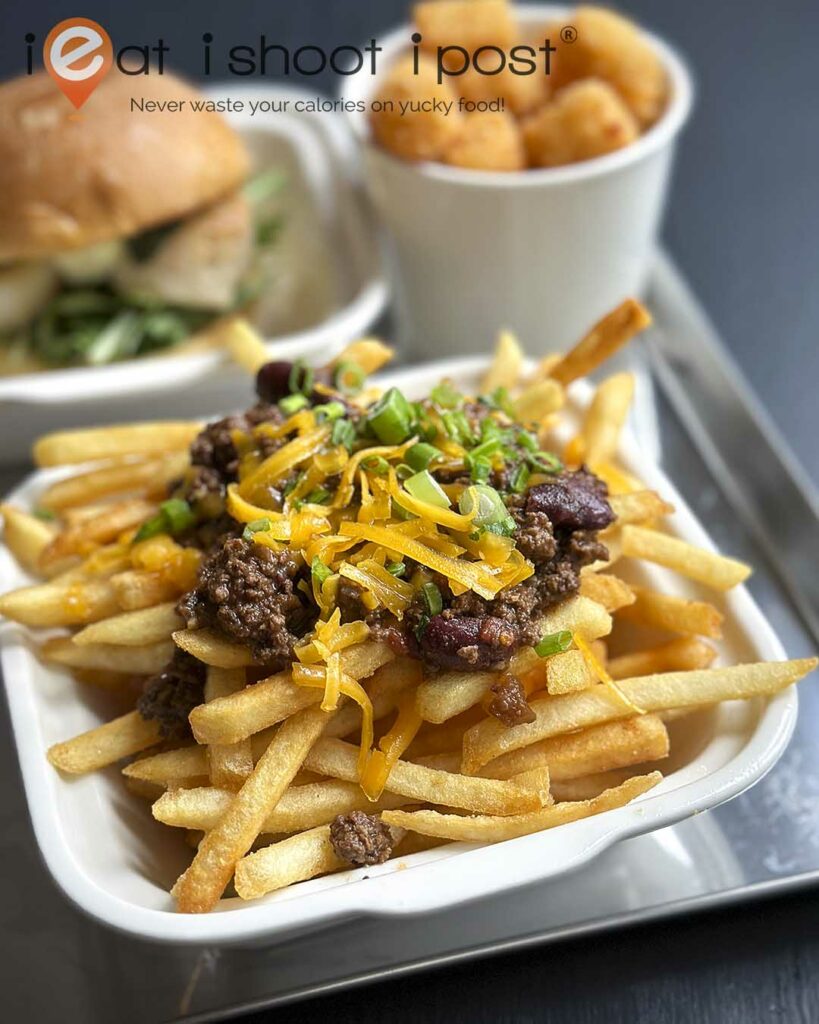 Their loaded fries were a big disappointment. For me, loaded fries should be a wild, cheesy, and gooey mess. The one that Honbo serves is just too well-behaved. 3/5 The best loaded fries are still the ones from three buns!
American Diner Concept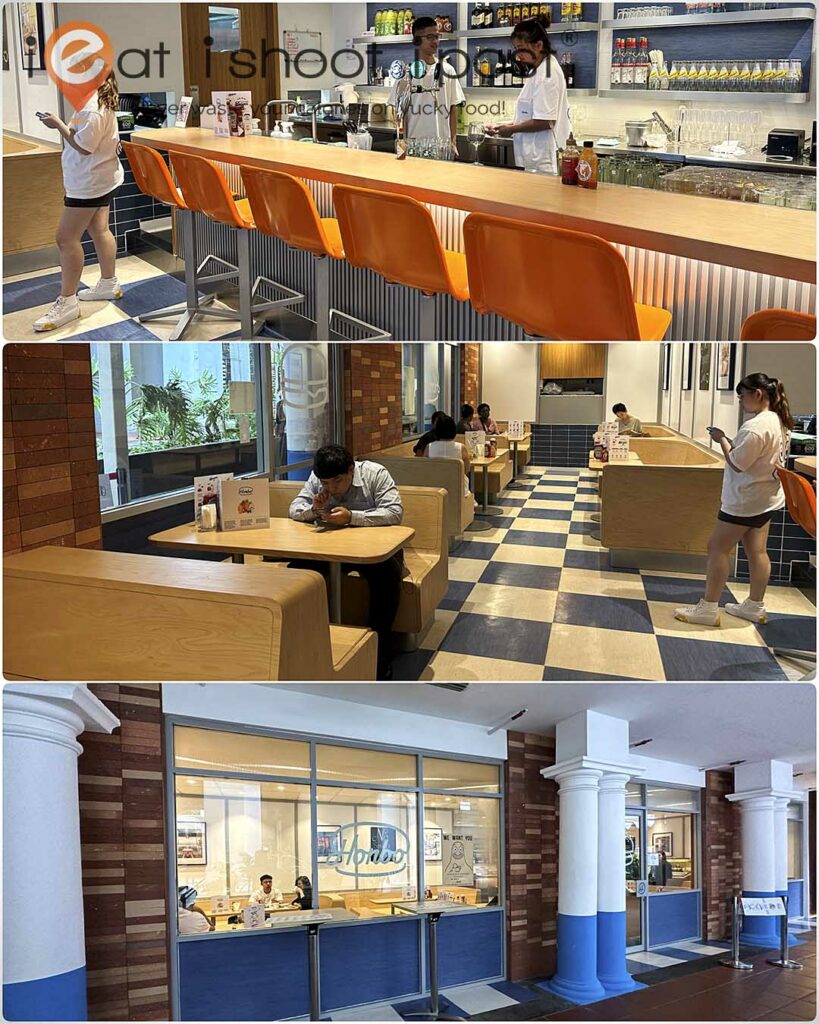 Do note that Honbo is set up like an American Diner (complete with a juke box), rather than a fast food joint. So, they'll take your orders and provide table service. At the moment there is still no service charge which is good since their burgers are not exactly cheap.
A standard Honbo with two smashed patties and cheese will set you back $18 without fries. If they were to add a service charge eventually, the burger would be nearly $20! That would be hard to swallow given the competition. In addition, the atmosphere and the fairly simple menu really do make it feel more like a fast food joint than a proper diner.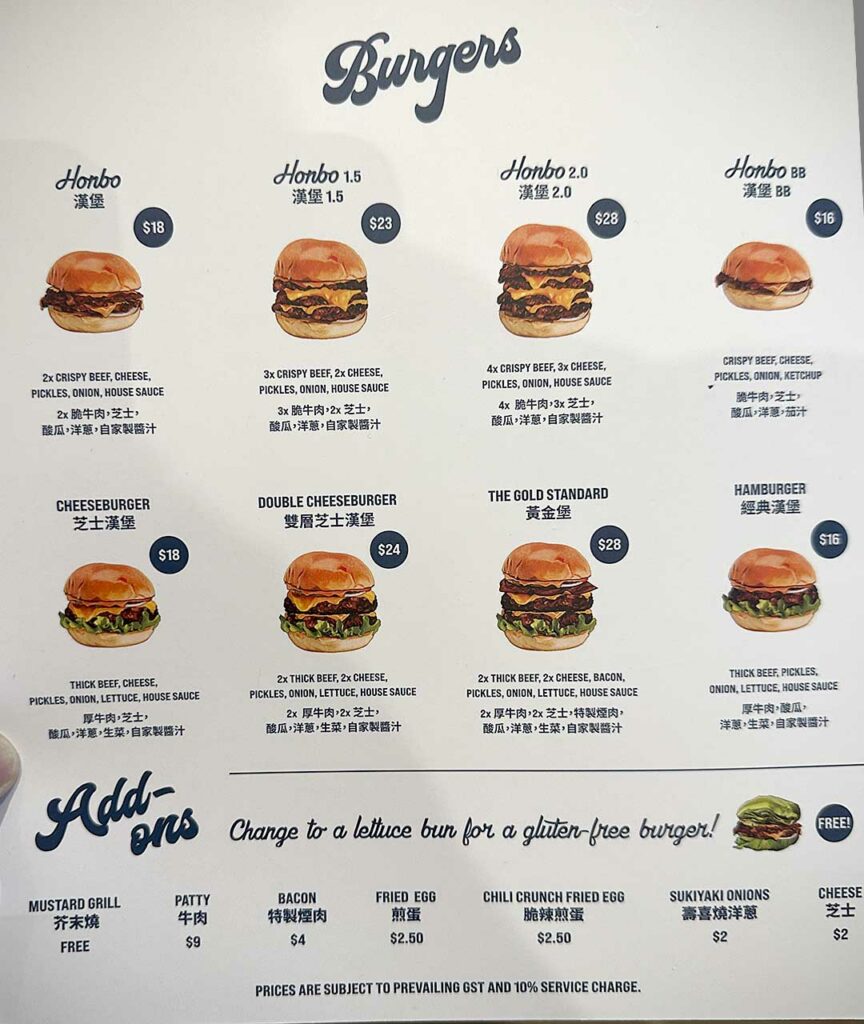 Conclusion
Honbo is the place to go if you are in the market for a gourmet smashed-patty burger made with quality beef and artisan potato bun. They are a welcome addition to our already crowded burger market but I am still holding out for the smash burger of my dreams!
Disclosure: This was a media invite