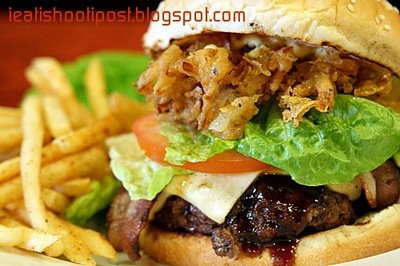 Updates at the end of the blog
Great News! Due to the constant demand for the Astons Super Shiok Burger which I featured in my earlier blog, (Click This) Aston has decided to stock all the ingredients to make this most magnificent of Burgers. From 3 October 2006, this marvellicious Burger will be available anytime you step into Astons.
In this follow up blog, I want to take you behind the scenes to show you just how much love and dedication go into making a humble Hamburger. After this, I am sure I won't have to tell you "not to try this at home", cos it is much more comfortable to let Aston sweat over the hot stove while you enjoy a ice cold can of Diet Coke (Have to save calories mah!). Believe me, the Burger tastes better if you are not sweaty and greasy when you eat it.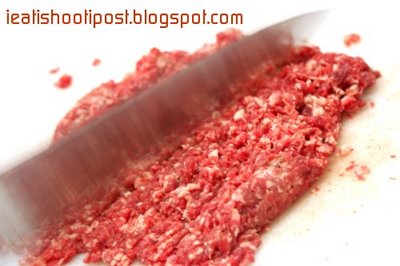 The first step in creating the World's 2nd Best Burger (Leave room for possibilities) is to chop up 200gm of sirloin steak, (Well if you want to be pedantic, the first step is to slaughter the cow) making sure that you have an adequate amount of fat in it so that the pattie is really juicy and full of Beefy flavour (You have to save up your calories for a few days for this Burger!)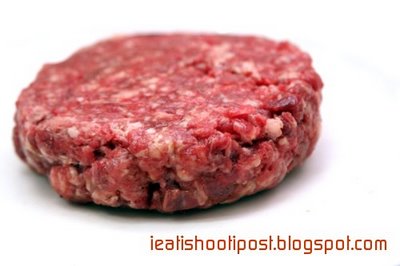 The chopped steak is then molded into a thick pattie, with barely any seasoning except for a dash of salt and peppar.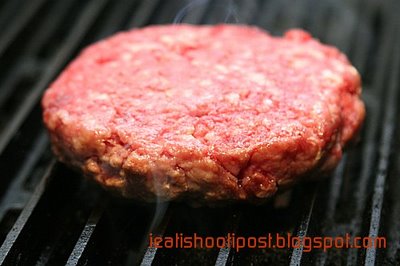 Pop it over a open grill to sizzle while you get all the other stuff ready. Now you might be wondering why the steak is not falling apart since Aston did not put any eggs, flour or binding agents in it. The secret is in chopping the beef just before molding it. The protein strains being freshly bruised still have ability to bind each other. (So if someone where to chop up your thigh, quickly mold it all back and hold in place with tight jeans)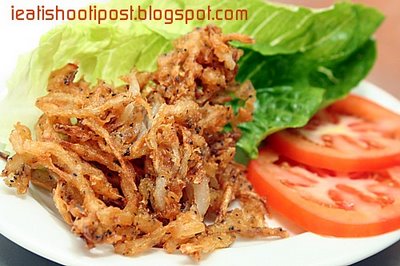 In the meantime, take some finely sliced onions and coat in secret batter with black sesame seeds and deep fry it. Ok don't cringe. This stuff is just heavenly. You will notice that Aston does not use the el cheapo iceberg lettuce. He uses crisp Romaine Lettuce and nice big tomatoes to ensure you get a balanced diet. See, you are getting three proteins and three veg! Balanced.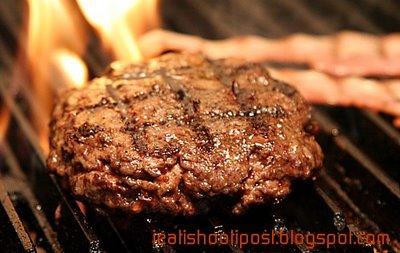 Meanwhile quickly check back at your pattie and at the same time pop 2 rashers of streaky bacon on the grill. The bacon is there so that you get a balance of 2 different types of meat yah? Remember, don't ever press the meat down with a potato masher (like they do with Ramly Burger). You want all the nutricious juices from the meat to stay INSIDE the pattie.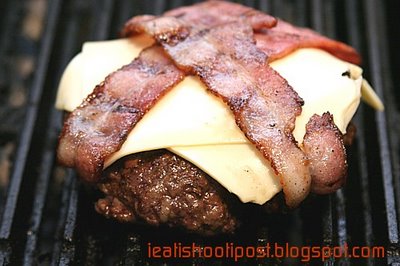 Now, just before serving, brush the pattie with Astons Hickory Smoked BBQ sauce and lay 2 slices of Kraft cheddar cheese and the 2 aforementioned slices of bacon on top and let the cheese gently melt and mold to the pattie, holding the sauce in.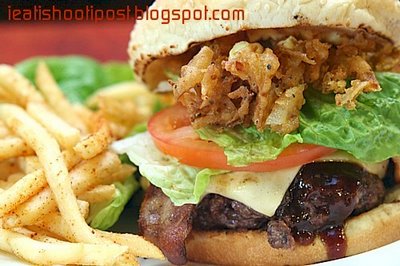 Thada!! Aston has decided to name this burger in honour of the psychologically challenged blogger who first instigated him to create this over-the-top burger. So when you go to the restaurant, ask for the "ieatSuper Burger". Bit embarrassing, but I would like to share the honour with my fellow makansutra makankakis and all the ieatishootipost blogsters who came down and pestered Aston till he decided to add it to the menu. Guys, YOU made this burger possible. And by the way, if you have any crazy idea, do make it known to Aston through his blogsite, AstonSpecialties.blogspot.com and if enough people want it, he'll name the creation after you too!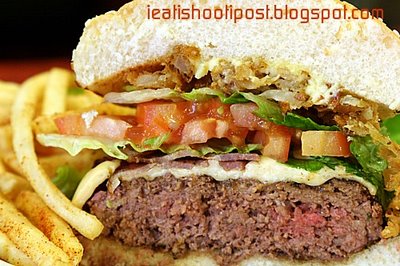 What is there to say? Phwaa Sayah! Don't worry about the meat being medium-well, it was left on the grill a bit longer because an inexperienced photographer was taking an inordinate amount of time taking a simple shot.
Taste wise, this pattie is hard to beat. Juicy and Beefy, one bite and I feel like a cowboy. YeeeHah! Combined with the crispy onion frost, BBQ sauce, Aston Secret Special Sauce (not shown – secret mah), crunchy lettuce, tomatoes, bacon and cheese this is easily the best tasting, value for money Burger in town. One piece of advise, ask Aston for extra BBQ sauce if you still feel something is missing.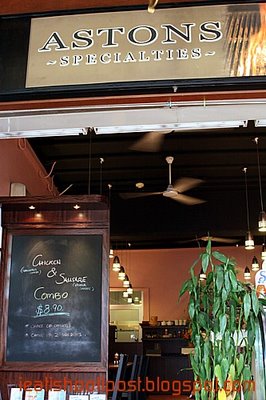 Conclusion
Aston is quite a perfectionist and he puts a lot of effort into the little details. I am almost going to give this burger a perfect score. OK, I admit I am a bit biased for obvious reasons, so please don't believe me, go try it yourself.
Shiokness Score: 4.75/5
Overall Score: 9/10 (T4+V3+S1+E1)
Update: 1 Oct 2006: Aston now has his own blog where he will keep you updated on the special promotions. Watch out for the upcoming Wagyu Ribeye! Click This for Aston's Blog
Update: 8 Oct 2006: Forummers have noted that the burger comes without fries, but my pics show fries. OK, to be very clear $12.50 only for the burger, no fries, no lettuce, no +++