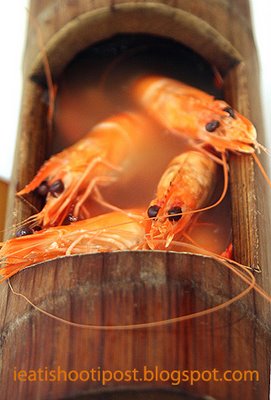 We chinese are blessed with such a diversity of different cuisines unique to the myriad of dialect groups. In the old days, our forefathers came from most of the southern coastal provinces, thus we have grown up with Teochew, Cantonese, Hokkien, Hainan etc cuisines. Nowadays there is an influx of chinese migrants from all over China which has resulted in many new restaurants offering what is still recognisable as chinese cuisine but with enough twist in it such that it gets you excited when you look at the menu.
The Heng Hwas are also in the Fujian province (Same as the Hokkiens) but in Singapore they form a minority dialect group. There are only four restaurants in Singapore offering Heng Hwa cuisine and many of them have been opened only over the last decade or so. The owner is himself Heng Hwa and so are all the chefs, so be assured that you are getting authentic Heng Hwa cuisine.
So without much ado, let me take you through my virgin experience with Heng Hwa cuisine.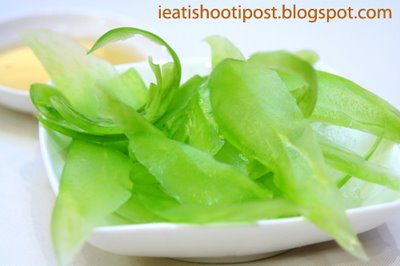 We started off with this icy cold strips of bittergourd which is eaten with a honey based sauce. A bitter-sweet experience to say the least. Been there done that. Good to try but will try something else next time. $3 3.5/5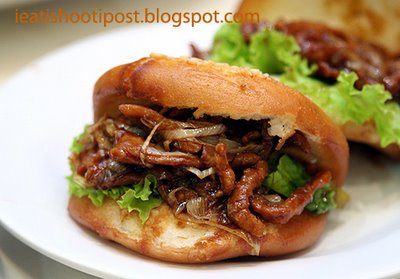 The Heng Hwa variation of the Kong Bak Pau has got shredded pork and cabbage filling instead of the familiar 3 layered pork. This is shiokadoo!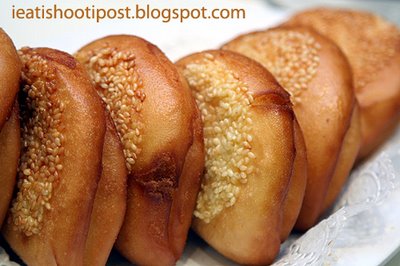 Plus they even have sesame seeds on top of the buns. Highly recommended. $2.50 per pc. 4.5/5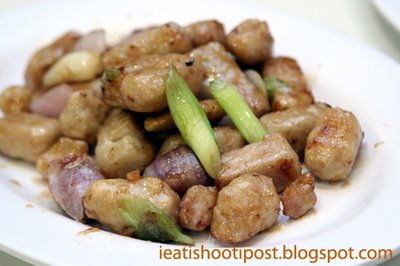 Don't let the look of this dish deceive you. The stir fried yam is soft on the inside and has a nice caramelised crispy outside. I could eat a whole bowl of this! $8 for the small plate is a bit expensive though for a vegetable dish. 4.5/5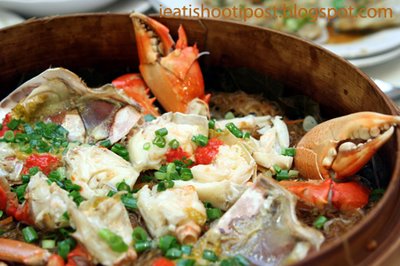 The Steamed Crab with Tang Hoon looks better then it tastes. It makes for a very pretty picture. The tang hoon is ok and you can imagine what steamed crab tastes like. $36 is a bit expensive for what is maybe a 500g crab. No next time. 3/5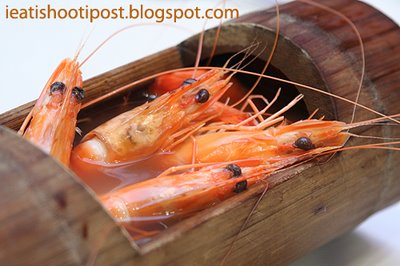 This is another dish that is more presentation then taste. The prawns are very fresh and it is steamed in bamboo with herbs in it. Tastes almost the same as drunken prawns sans XO, novel only in presentation. $18 for about 10 prawns – you are paying for the bamboo thingy that you can't even bring home. At least I got a pic of it. 3.5/5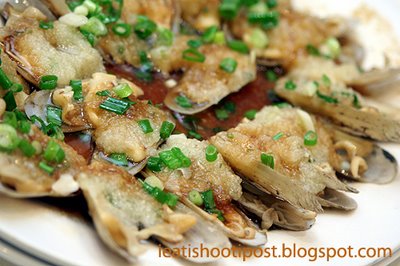 Bamboo clams with garlic sauce is quite shiok. But I am curious why these bamboo clams are so short? Sweet and tasty and even thought it is smothered with garlic it does not overpower it nor leave you with the ability to kill Dracula. 4/5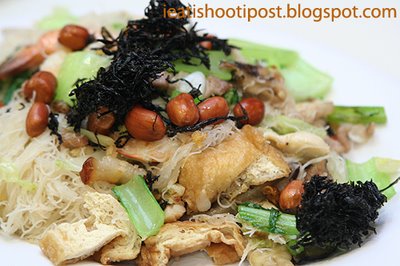 This is their superfine bee hoon which was highly recommended. Alas it looks better then it tastes. Found it a bit dry and not enough flavour. Give this one a miss. But it sure looks nice and it is cheap. $4 3/5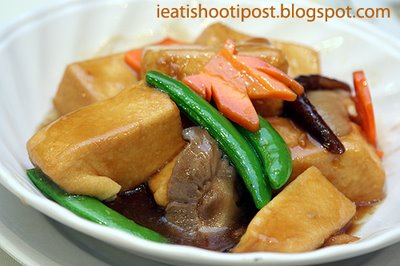 Braised Tofu was also highly recommended, tastes good but not exceptional. $8 3.5/5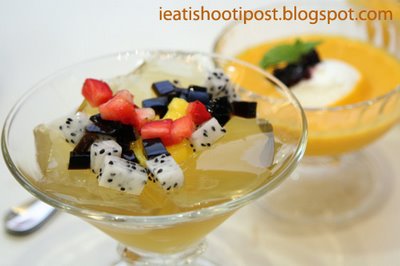 What you must try is the pumpkin puree with ice cream in the background. That is something I tried for the first time. Imagine a sweet pumpkin soup that has been chilled and served with ice cream. Yum! 4/5 The ice jelly with mix cocktail is pretty ordinary, better off buying this at the hawker centre. 3/5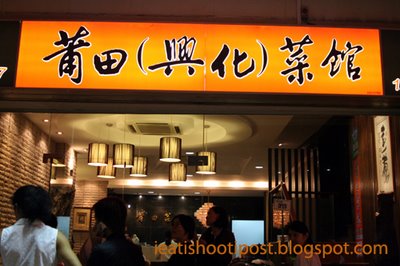 Conclusion
There are some shiok items and enough curiosity about the other items on the menu to get me back again. If you stay away from the seafood items, you can actually get quite a good feed for very little as they have many items that are less then $10. I found the seafood prices are a little inflated.
All in all a very good experience. Word of warning though, it is very crowded during the weekends so be prepared to wait. They have a valet parking service at the front of the restaurant. Next month, they will be opening another branch at Vivo City.
8/10 (T3+V2+S2+E1) More novelty in presentation then taste per se but the food is good enough to recommend.
Acknowledgements
Thanks to makansutra's venerable makanguru, eslim for this great recommendation