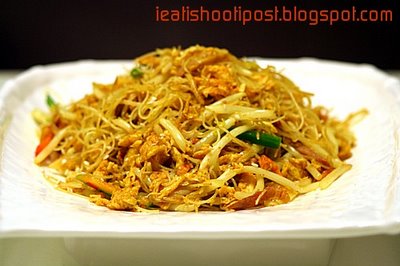 Have you ever had a HongKonger look at you funny when you tell him that what he is eating is a a plate of Hong Kong Mee? They will vehemently insist there is no such thing in Hong Kong. Well, the time has come to get one back. Now you can head down to the Hong Kong Tea House and let him order you a plate of Singapore Bee Hoon (Xin Zhou Chao Fen) and return him the favour. Yep, the famous Singapore Bee Hoon which originated in Hong Kong can now be found right here, where it is supposed to belong. Funny, I still find the taste a bit hard to get used to. The yellow colour of the bee hoon is due to the use of a blend of mild curry powder (The type used to make Ang Mo Curry). Maybe the HongKong Chefs were trying to imitate our Mee Goreng. Alas, they lack the most critical ingredient, a true blue (dark brown really) Indian chef!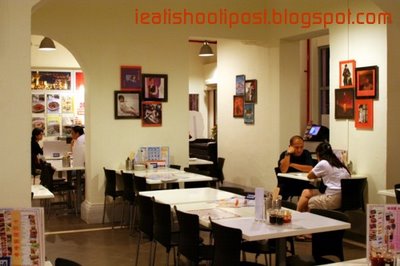 There is a touch of real authenticity in the Hong Kong Tea House, a brainchild of two Hong Kongers who just miss Hong Kong street food from the 70's. They've set up this restaurant in the old Joo Chiat Police Station whose heyday was also back in the 70's. (The colonial architecture really adds to the nostalgic feel) They probably also raided their old storeroom to find LPs of Hong Kong Pop Stars to adorn the walls. So get ready to see some really young "old" faces adorning wide collars and showing off their lack of chest hair. You'd also chuckle when you see all the "Sheena Easton" hairdo on the ladies.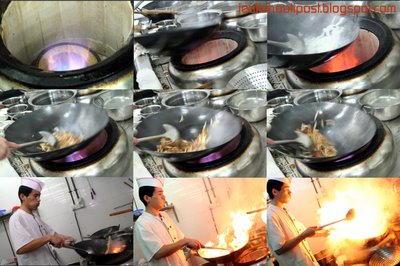 The tea house offers over 300 items that reflect the fusion of British and Cantonese cuisines. What happened in the 70's was that the British set up lots of restaurants offering Western cuisine that was out of reach for the Hong Konger on the street. So the locals set up Tea Houses that offered their interpretation of Western Cuisine. As a result, you can find stuff like french toast, spaghetti, baked rice on the same menu as Hor Fun, Fried Noodles, Dim Sum and so on. What's really interesting is when you see them cook spaghetti in a wok. And, all the spaghetti dishes also have a stir fried version! (Spaghetti with Wok Hei! Mama Mia! Chee Xin Liao!) The real reason they have so much food is because the owners just sat down and listed all their childhood favourites and insisted the chef put it on the menu!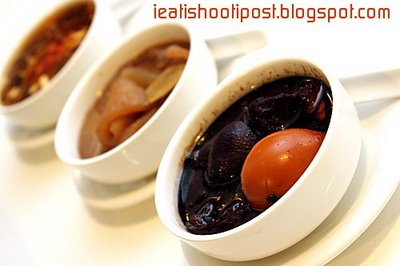 I have never been to a real Hong Kong Cafe in Hong Kong, so it is hard to say how authentic this is. But the owners insist that the food is exactly what it tastes like in Hong Kong. Well, if that is the case, then I must admit that Hong Kong food is a lot less spicy and robust then Singapore food. That is not to say it is bad, it is just different.
One of the dishes that I really like is their version of Pork Trotter in Vinegar. Theirs is a bit sweeter then the ones we get here, but I love the taste of the blue ginger infused into the creamy sweet and sour sauce. The sauce really gets your salivary glands working. Best thing is they give individiual servings. $3.80 per bowl. Shiokness Score: 4/5
I also sampled the SzeChuan hot and sour soup, which I found a little bland. Like I say, the Hong Kongers don't like it as robust as we do. $3.50 per bowl. 3/5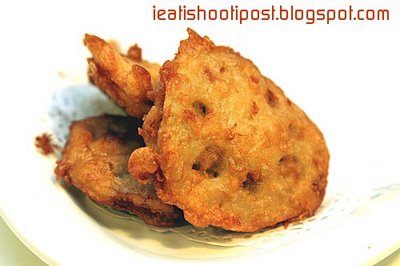 I like this Crispy Fried Lotus Root with Pork. First time I am having this. Really tasty and gives you that umami rush. $3.50 for 3 pieces – a bit expensive to eat a whole bunch but definitely worth trying. 4/5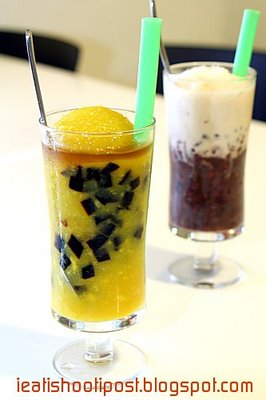 The full name of the restaurant is Hong Kong Tea House and Dessert Paradise. So expect some serious desserts. The Mango Smoothie with Black Chin Chow is very refreshing and is made from fresh mangoes. $5.50 3.75/5 The house speciality is the Red Bean drink which you can have with or without ice cream $3.80 and $4.80 respectively. I had the one without ice cream and found it was not sweet enough though I like the generous serving of soft and mushy red beans. 3.5/5 The one with ice cream should be really good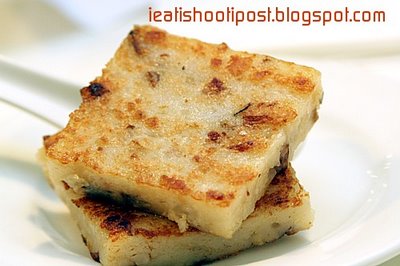 The turnip cakes are pretty good. You can really bite into strands of turnip (or are they radishes?) and there is a nice amount of chinese sausages and dried prawns. As good a turnip cakes go. $3 for 3 pieces. 3.75/5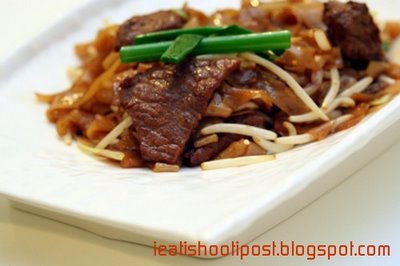 You must have spotted the Wok Hei (Flambe) in the earlier montage. Hor Fun is No Fun without Wok Hei. The Hor Fun was good especially with the crunchy bean sprouts but hei, Wok Hei no enough! (I expected more when I saw the explosion in the kitchen) Otherwise this could have been a winner. $6 per plate. 3.75/5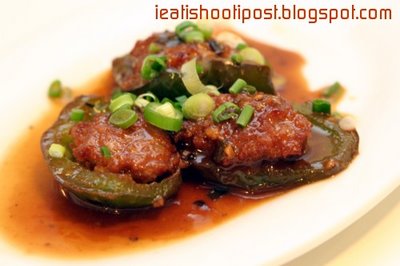 The really good thing about the Hong Kong Tea House is the fact that they offer so many varieties of Siao Chi, (Small dishes) that you can sit down and eat with a cup of Hong Kong Milk Tea (Teh Si – $2). I particularly like the Capsicum with minced pork. And for $3 a serving with no service charge, gst and tax it is actually quite good value given that each dish is prepared fresh. 4/5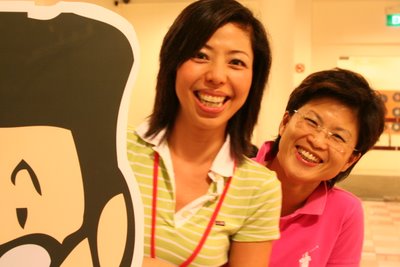 Owners Elaine and Victoria infuse the place with their cheery personalities. They basically set this up because they felt nostalgic for 70's Hong Kong Street Food. (Isn't it cheaper just to fly to Hong Kong and eat all you want?) But we are thankful they have chosen to share their passion with us Singaporeans.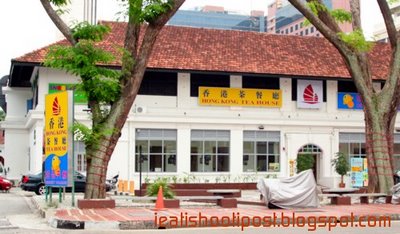 Conclusion
With so many Hong Kong Cafes around why choose this one? Well, the ambience is fantastic, the parking is easy, it is opened 24 Hours and it is close to my home. The food is good though I have not had anything that is "die-die-must-try". But there are so many interesting things offered that I just have to go back to try the rest. Plus for me, it is much better then the alternative which is to sit in a cafe and drink latte and eat cheesecake. (So boring).
8.25/10 (T2.75+V2.5+S2+E1) Nice alternative to Starbucks, enough novelty to keep you coming back, and, where else can you go eat a nice Dim Sum at 12 mn without +++?