Nothing satisfies like a nice bowl of hot porridge on a cold rainy day — sign of a real chinaman. Anyway, there are two types of porridge generally available. Taiwanese porridge and Teochew porridge. Both are fine with me when I am seeking comfort food. Imagine my joy when I realise that there was a Taiwanese Porridge shop near my place which opens till late at night. And this one cooks your dishes on the spot (Cze Char) style rather then having the dishes ready prepared (Economic Rice style – Don't know why they persist in calling it Economic Rice – doesn't sound too tasty, does it?)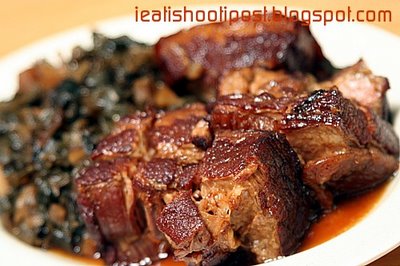 As with most eating places, there are shiok dishes and dishes that you rather not order. So let's start with what I found really shiok. Stewed Pork with Mei Chai is one of my favourite and this one, though not the World Best, still deserves to be commended. The pork is deep fried first so that the skin is nice and wrinkly. The meat is soft enough and they use pretty lean meat so you don't have to feel guilty later. Its got enough of the "Kong Bak" flavour to get me thinking about it after I came home. At $4, you will not regret having this on your table. 4.25/5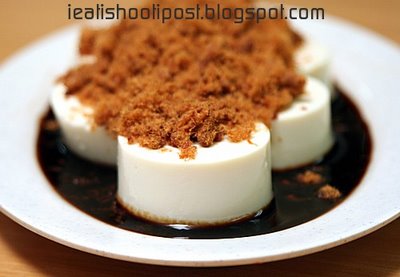 Another porridge favourite is the cold tofu. The sauce is just right and the pork floss is quite good quality. Very nice with porridge. $3 4/5 Worth having it on the table.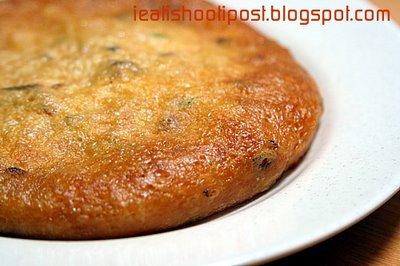 The Chai Poh Omelette is one of their signature dishes. This is done very well. The egg is fluffy one inside and crisp on the outside. If they change to a better chai poh supplier, this could be even better. $3 4/5
This is one novel dish that I quite enjoy. It is the Indonesian Butter Chicken. Chilli and Curry Leaves are first fried in butter till fragrant then Kecap Manis is added. The smooth, sweet and spicy gravy is then used to coat freshly deep fried middle wings. Since I like sweetish foods this is one of the dishes I will order when I come back. $6 4/5 (Word of warning: Other members of my family did not seem to enjoy it as much as I did. They let me finish half a plate all by myself!)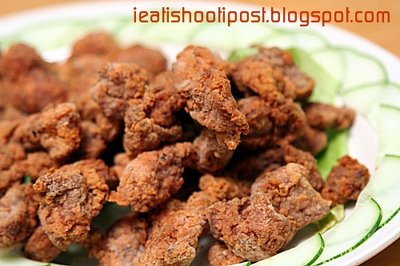 The family loved the fried pork, though I thought it was only ok. The batter was not amazingly tasty. It was just nice savoury, crispy morsels of protein. The main ingredient in the marinade is fermented bean curd. I will give this a miss and order something else next time (unless my family is with me). $6 3.5/5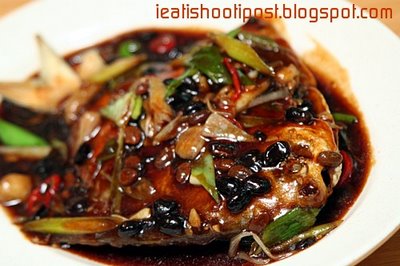 The sauce on the pomfret is quite good, but the fish was not fresh. As a Teochew Ah Hia, I like my pomfret fresh and steamed. Not so good. $10 2.5/5 To be fair it still tastes better then the ready prepared ones but for $10 a small fish, I expect better.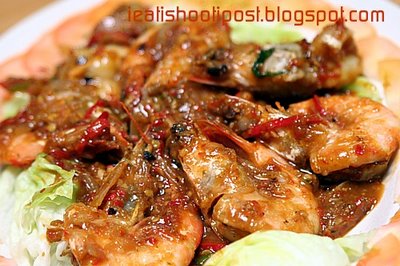 Feeling adventurous, I tried their 3 colour prawns (Not on the menu). This combines sweet, sour and spicy flavours. Not good, no no no, not good. $12 2/5 Frankly, the seafood here is not very fresh, so better off avoiding the seafood here.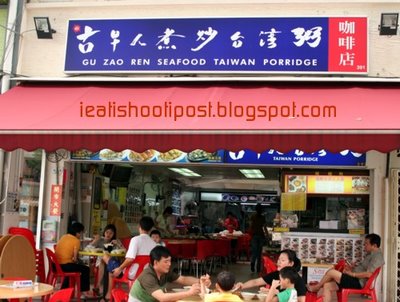 Conclusion
This place has certainly won my vote as a place for Taiwan Porridge, especially since porridge should be enjoyed with the simplest side dishes (eg, lup cheong, kong bak, cold tofu, luncheon meat, omelette, salted egg etc) and their simple dishes are excellent and reasonably priced. There is free carparking in front of the shop, it is still relatively quiet, its opened till 11.30pm, so it is great as a night haunt. If you are going to treat it as a Cze Char, you may be dissappointed.
Oh, you might be interested to know that this is actually a branch of their main stall known as ABC Cze Char which is located in the new ABC Food Centre.
7.5/10 (T3+V2.5+S1+E1) Great to satisfy a late night porridge crave. I'd simply order the Kong Bak 2X, Tofu, Omelette and 2 bowls of hot watery porridge to satisfy the rumbly in my tumbly.