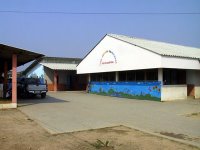 I would just like to take some time out from food to highlight the plight of orphans in Thailand. In Singapore, the problem of orphaned children is not common, so most of us may not realise what is happening in places like Thailand. Unwanted children are the fault of their parents, sometimes justified, oftentimes not. When you see an orphaned child in Thailand of mixed blood, you KNOW what must have happened. One nights pleasure for some becomes a lifetime of suffering for another.
Orphans are rounded up from the villages in Big Trucks by some very evil people and sold into the sex trade. We are talking both boys and girls here. The Care Corner Orphanage is run by a Singaporean, who shared with us his heart for these kids. He told us that his heart breaks whenever one of these trucks would pass by the orphanage and the men would try to sell the kids to him for 1000 Baht ($40). His dilemma is not knowing which one to rescue.
The orphanage is very well run and has excellent facilities for the children to study. The vision is to have the children grow up to be a contributor to society. Not all are orphans. Some of them have parents, but some parents cannot afford to put them into schools, so they just run wild. These kids usually grow up to be delinquents.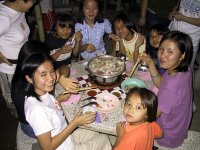 The picture on the left is a group of ophans enjoying a free flow steamboat that our Mission Team sponsored. This was held at a local restaurant in Thailand and costs only 40 Baht per child ($2). What a joy it was to see smiling faces!
The orphanage also runs a Rainbow Centre for HIV children. This is perhaps the most disheartening of all the orphans in the centre. Because unlike the normal kids, these children actually know of their own condition and that they would die young. It wasn't their fault that they were born with HIV. Yet they have to live with the knowledge that they will not be able to live a normal life like the other kids.
One of these children is little Kootee pictured above. A year before this picture was taken, Kootee was on on her deathbed, but through a miracle she recovered and actually put on some weight. Like all other children her age, she just wants to have some fun and enjoy living.
We Singaporeans are really blessed. We enjoy good food and live in relative prosperity. Sometimes it is easy to forget the suffering that people in other parts of the world face. Do visit the Care Corner Orphanage Website to hear some of the success stories of the kids. It will really warm your heart and put some spiritual food in your soul. And if you feel that you can help in any way, please do. When you click on an interesting ad on this blog, you will be directly contributing to the Care Corner Orphanage. Thank you very much for taking the time to read this.