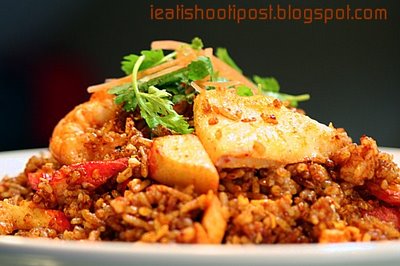 Spice lovers rejoice! I stumbled upon this restaurant whose owner must have a tongue made of leather. The food here is hot. I mean HOT! So hot, I felt that my breath could cause a sunburn on your face when I talk to you.
But seriously, I am not into real hot food. So when they told me that their signature dish was Vocano (sic) Fried Rice, I was apprehensive at first. But they promised to tone it down for me. Phwaa, if this is the tone down version, what is the original like? The guy frying the rice really has a mean streak in him. He's putting a whole handful of chopped chilli padi in the fried rice. After the first mouthful, it does not matter what the rice actually tastes like cause your tongue is seared. $5.50 2.5/5 Too hot for me but spice lovers might just love this.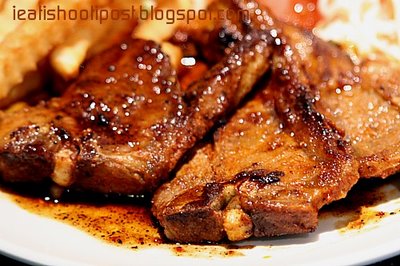 I quite like the black peppar sauce which was quite diffferent from the usual black peppar sauce. This one has got some curry powder in it and is also a little sweet. It went well with the lamb, though I would advise you to try the black peppar sauce with other meats. I found the lamb a bit tough, but can you expect a nice tender lamb for $6? 3/5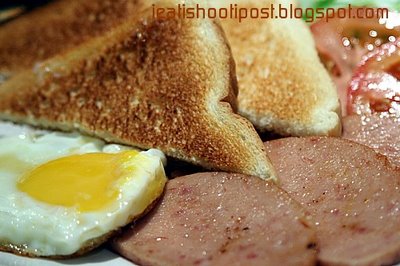 This is the luncheon meat sandwich. I really don't have to tell you how it tastes like. 3 slices of luncheon meat, fried egg, toast, tomatoes and lettuce. For those too lazy to do it at home, get Pang's to do it for you for $2.50. No butter or mayo provided, so it was really dry. I think it would work if they just slapped some mayo on it and actually construct it into a sandwich with maybe some lettuce and tomatoes. 2.5/5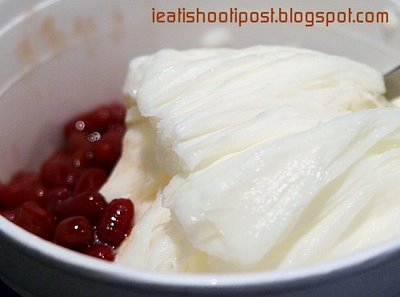 Ah at last something to rave about. This milk ice with red beans is very nice. A whole block of creamy, sweet ice is shaved really finely and it just dissolves immediately in your mouth. The red bean is very good. Each bean is still whole, but the inside is soft and sweet. Now that takes a bit of skill to do. $2.50 4/5 They should just charge $3.50 and give a more generous portion.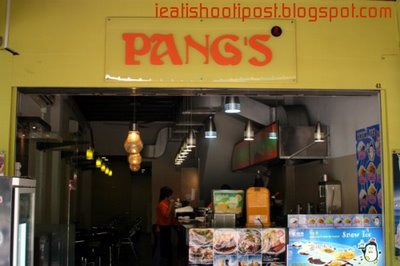 Conclusion
I think spice lovers and students would like this place. It has a nice interior and the price of the food is reasonable. However, the menu is rather confusing. I guess it is best described as a Hong Kong/Portugese Cafe. It has potential and could work if they would rethink their menu and offer some really good signature dishes.
6.5/10 (T2+V2+S1.5+E1) Everything hot hot. A spice lover might give it a higher rating.