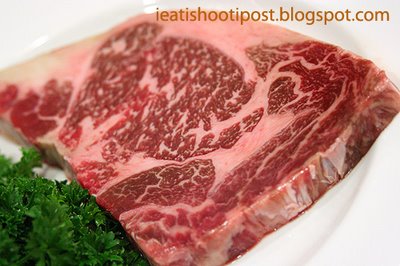 I finally realise what the big fuss over Wagyu is all about. The last time I had Wagyu beef steak was at a Japanese BBQ place where I paid $40 for a piece of Wagyu Sirloin. The steak was not so great and I almost gave up on Wagyu. But Astons has done it again. Done what again, you ask? Well, he has made available good quality Wagyu steak at a very affordable price.
You can see from the marbling on the beef and its bright pink color that this is a very good piece of meat. It is grade 5/6 and easily worth $80-$100 for 200gm in some restaurants. Astons is charging less then half of that price, $38.90. So for a guy like me who finds it difficult to fork out more then $50 for a piece of meat, this is a dream come true!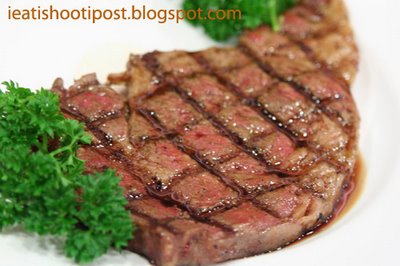 You can buy Wagyu Ribeye from Espirito Santo at Parkway Parade at $15 per 100gm but I think that is a lower grade Wagyu. The other thing is cooking it. Aston stresses that he will not be able to cater to large orders because each steak is lovingly seared on both sides and care is taken not to overcook the meat. If the meat is overcooked, all the fat drips out of the meat and all your money is literally dripping down into the grill. So even if you can buy the meat at Espirito Santo, cooking it properly is another thing. For $38.90, I'd let Aston slave over the hot grill for me.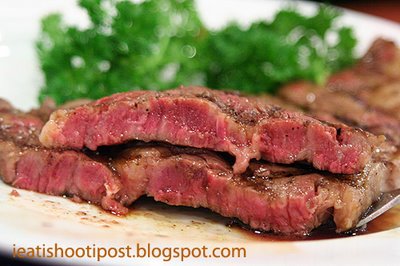 When the beef is served, don't just cut into it immediately. Admire it first. Smell the wonderful sweet aroma of the beef. Take a few pictures so that you can go home and reminisce on how your optic, (sight) olfactory, (smell) buccal (touch) and glossal (taste) nerves were teased and titillated.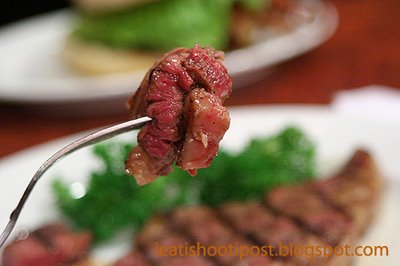 Make sure you don't rush, cos each mouthful is pure enjoyment.
Conclusion
Why the fuss over a piece of meat? If you never had Wagyu before because it was just too expensive, now is your chance to try and make up your own mind. Aston tells me that he has stocked up only a few days worth of Wagyu, so you better call up first to reserve your piece of the action. 4.5/5It did not achieve a perfect score only because I know that there are exists some legendary Japanese beef whose meat I may never partake in my lifetime.
Overall Score
9/10 (T4+V3+S1+E1)
Check out Astons Blog for the latest by clicking THIS. You can even leave feedback and suggestions on what else you would like to see at the restaurant there and who knows, you might just get to eat it next time.