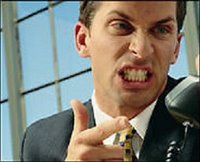 Recently there has been some problems with the food at e.BlackBoard. This is due to the supplier of beef being inconsistent. As a result, some readers who have made the effort to go down to try the beef came away dissappointed.
The last thing I want is for you to go all the way down to a certain food establishment only to find that the food is a waste of calories. Some of the initial feedback was reported in the makansutra forum. Feeling responsible, I went down to e.BlackBoard to see for myself. As a result, I added an update as a postscript in the blog warning everyone about the quality of the beef. I had two updates over the last week to notify foodies that the beef problem has not been solved. So the bottomline is: Please lookup the blogsite to get the latest info!
I do believe in the adage: "One man's meat is another man's poison" (OMMIAMP) but only to a certain extent. Because "Your poison may be my meat, but I wouldn't want to test my luck". What I am saying is this, if something is poisonous to one person, it is quite likely to be poisonous for others and similarly, if something is deemed good by someone, it should be considered good for the majority. Or else why do we have "die-die-must-try" stalls with people queueing up for food, right?
So, when I say that the food is shiok and you find that it sucks, there may be something wrong. Rather then just attributing this to OMMIAMP and "agree to disagree", (Another lame excuse for not wanting so sit down and solve a dispute) let's try to get to the bottom of it. ie Let's try to come to a consensus before we "agree to disagree".
So if you disagree with me on the rating or the quality of the food, several issues may be at hand. Either the food quality has changed from the time I tasted it, or I was just too happy that day. Whatever the reason, we will only know if you make your feedback available to me. So I encourage you to write in your comments. If the majority of people disagree with me then I will put an update in the blog so that others will be forewarned that my tastebuds were not functioning optimally that day.
Look forward to hearing from you and thanks for visiting this blogsite!
If you prefer that your rants not be aired for the world to see, please write to [email protected]
Sincerely,
ieat