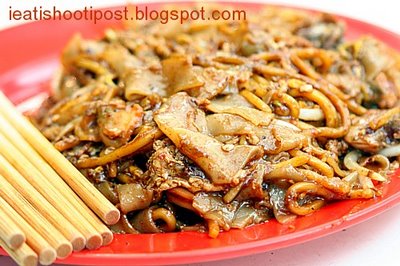 I have received suggestions that I should blog foods from the various Food Centres so that when you all are heading towards a certain Food Centre, you can have recommendations on what to eat so that you will not "waste your calories". I thought it was a good idea, so I visited Margaret Drive FC (Ok, you guys who complain I always blog food from the East, hey, I am listening!) yesterday and tasted some of the famous hawkers there. Over the next few days, I will post the few more notable stalls there. Today, I am excited to report on the famous Char Kway Teow (CKT) on the ground level of the FC. I haven't had CKT for a while because I did not know any good ones and rather not "waste my calories" on lousy CKT. But this one had a long queue at 4.30pm!! So die, die, line up and try.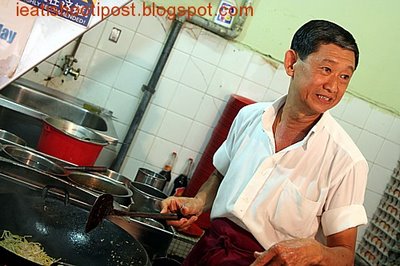 This Teochew Ah Chik has been frying CKT for 30 over years. Day in, day out. "Mai Hiam! Mai Ham! See You Joi! Mai Mee, Mai Ter Lah! (no chilli, no cockles, more black sauce, no noodles or pork lard). Phwa, talk about repetitive stress disorder! But this man seems to be enjoying himself quite a bit. So I asked why his CKT is so good. "I don't know" he says. You see, the conundrum about CKT is that the ingredients are very basic. Put in the lard oil and fry some garlic. Add kway teow, noodles, bean sprouts, fish sauce and stir fry. Add some water, stir fry some more, add black sauce and chilli, stir fry some more, add cockles (oops, you don't want cockles ah?) and serve. What secret is there? I joked with him that it must be his special kanabee (body odour).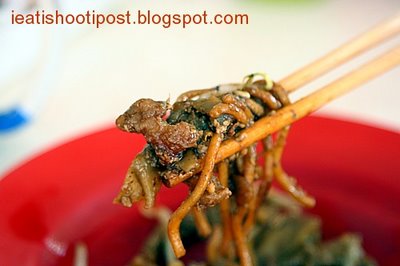 No wonder people line up. This is be BEST kway teow I have eaten in years. (OK hold your horses, I only ate about 5 plates in the last few years). The taste is just right. Its got that nice savoury flavour mixed with a tinge of sweetness and just the right amount of fish sauce that you can't taste the fish sauce itself. A mouthful of noodles plus the occasional lard bit (Please read disclaimer), Phwaa Sayah! I die a happy man.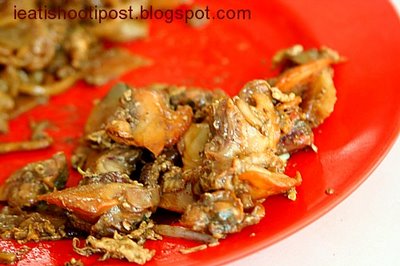 For those who love See Harm, see the amount I got for $2.50! Too bad I don't take See Harm. Conclusion Good enough to spend some precious calories and cholesterol points on! Eat it before the government decides to upgrade the FC. Once he is transplanted into a new environment I am afraid he would lose that "I have be here for over 30 years" taste! 4.5/5 Shiok! www.haikee.com.sg