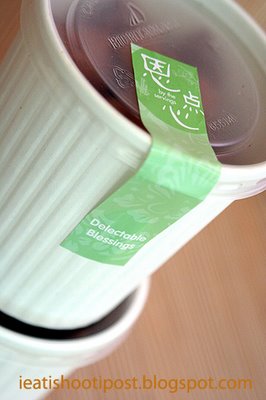 Healthy desserts!? If only we can discover some way to surmount this incontrovertible oxymoron! Come a little eatery by the name of "by the servings" to the rescue! With the caption, "Dessert Boutique of Delectable Blessings", how can you not be drawn in to be blessed?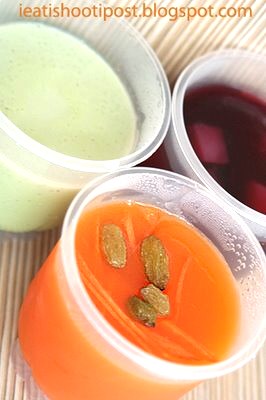 So while your brain is still trying to unravel the mystery of the true meaning behind the caption, you walk in to be greeted by a lovely, cheerful young lady. Ah! The revelation suddenly sinks in — "Delectable Blessings" indeed. But seriously, let's get down to business. So what is this dessert shop all about? Certainly the menu board reads like the proverbial Eastern Western fusion cuisine or the way I see it, Bugs Bunny meeting Sun Wu Kong (The Monkey King – Chinese Mythological Character – who's going to outsmart who?)
The first item on the menu was Bugs Bunny which is described as Carrot Raisin Jelly. A carrot dessert? Isn't carrot supposed to be healthy? What it really is, is carrot juice in koniyaku jelly. Actually quite nice and refreshing. $1.80 4/5. The pale green stuff behind Bugs Bunny is their "Popeye's Pudding" which is a spinach pudding. Yes, a spinach dessert. Mom would be proud of me. It tastes like a spinachy version of creme caramel but not as sweet. Not so robust in taste, but hey, if your boss is on your back and you need some extra power…… "Popeye's jingle" $2. 3.5/5 The purple color stuff is their "Purple Petals" which is Hawthorn Roselle Nata De-Coco Jelly. Bit on the tangy side for me, but I am sure it will be a hit with the pregnant ladies. $1.80 3/5 (Joking only lah, please don't start cyberslapping me)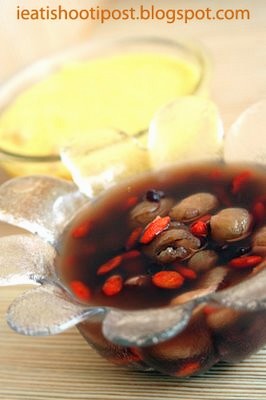 Aside from their cold desserts, they also have a range of hot stuff. The dessert above is "Wild Blossoms" and it's described as Red Bean, Lotus Seed, Glutinous Rice with Wolfberry. (Actually its Cheng Ting with Red Bean and Glutinous Rice!) It just was not sweet enough for me, but hey, this is supposed to be healthy right? $3.50 3/5. (The health conscious would definitely rate it higher). What I liked was the "Red Scarlet" (no photo), which is Red Bean, Yam, Sago with Milk. Thick creamy and full of Yammy goodness with my favourite mushy red beans! I would take this home and add some sinful coconut cream in it and it would have a perfect score. $2.80 4/5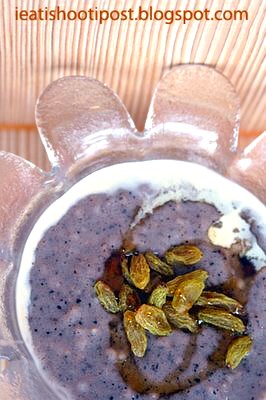 For those who just been to a big makan session the night before and suffering from guilt, you will be glad to know that they serve a list of healthy breakfast alternatives. Pictured above is the Black Oats, which is piping hot black sesame oatmeal with raisins. Quite nice and certainly affordable redemption for the guilty soul. They also serve a selection of takeaway dried fruits and cereals. The Chocolate Farm is quite delightful and I will bet you'd finish a whole cup all by yourself in one sitting.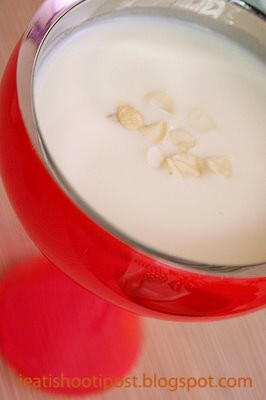 Aside from the very innovative East/West, Bugs/Sun Wu Kong fusion desserts, they also have a few all time favourites like the Oriental Beauty $3 above which is their name for Almond Cream. Quite nice 3.5/5 They also serve peanut soup which they call "Oh Nutz!" and Pink Balls which is Ah Balling but in a Rose Bud soup. $2.80. Oh, and before I sign off, I just have to let you know that their hot favourite is Mango Tango, which is chilled Mango Sago with Pomelo & Watermelon. $3.50 3.5/5
Conclusion
It's novel, it's innovative, it's healthy, it's interesting enough for you to pay them a visit if you are working in the CBD area. And it can be addictive if you are the health conscious type. For me, I would go back for the Red Scarlet, cos that is only one close enough to be called sinful. No die-die-must-try here, we're talking healthy desserts! So go in and get Delectably Blessed!

Alert! Fans of HK artiste Nnadia Chan listen up! She will be there at their official launch on October 11 from 12pm to 2pm.
Note: This is a take-away shop and there are no seats. They do delivery within the vicinity of the Market Street Car Park area.
by the servings
(Guys, I am not going to give you Geraldine's mobile no.– you'll have to ask her yourself!)
www.bytheservings.com