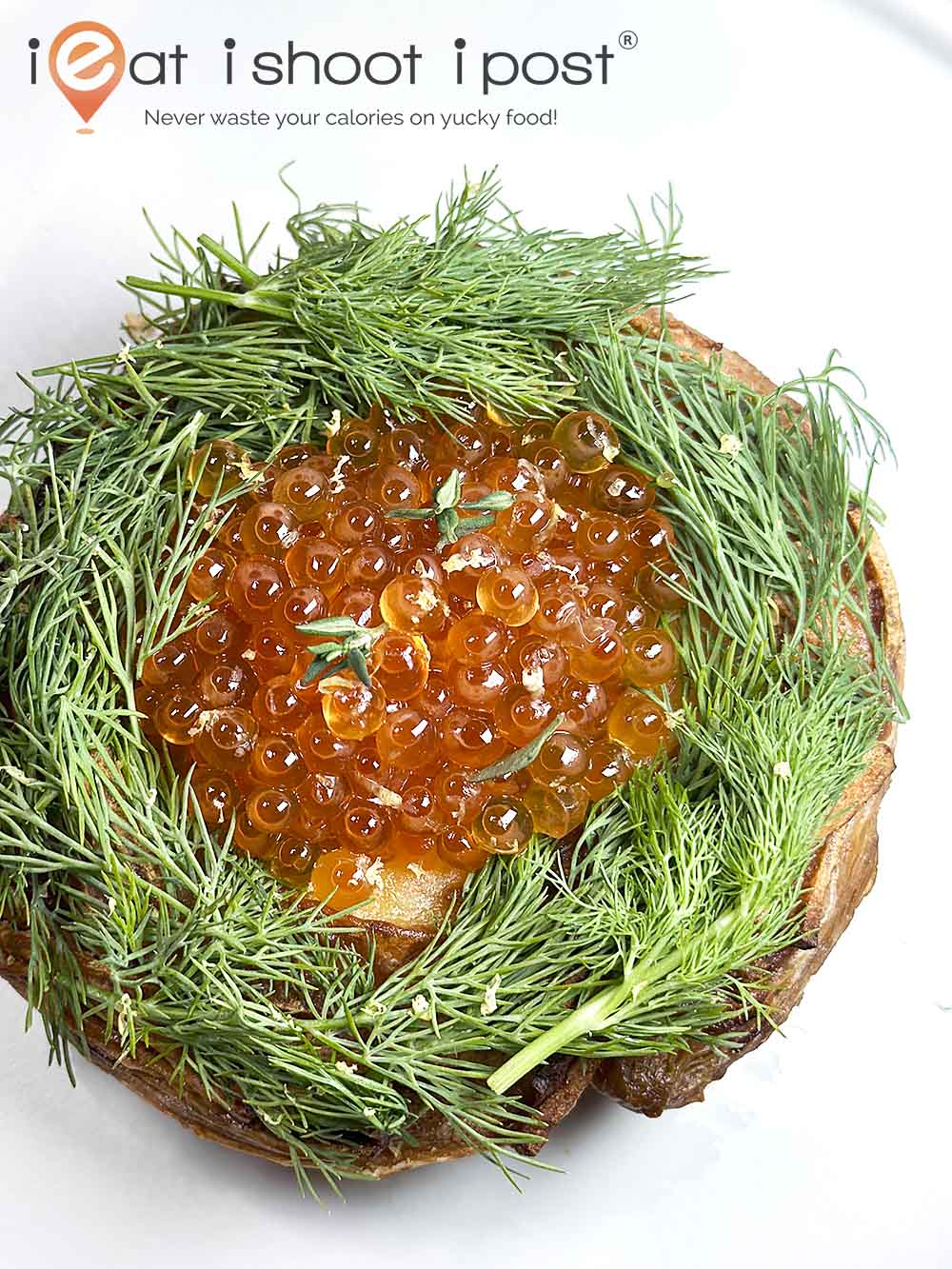 Chef Mohamed Al-Matin
Le Matin – the latest cafe buzz in town is Chef Mohamed Al Matin's elegant Parisian patisserie that had just opened its doors at Ion Orchard. Chef Martin had worked with several world renown chefs including Adriano Zumbo (Adriano Zumbo Patisserie), Christopher Thé (Black Star Pastry), Peter Gilmore (QUAY) and Andre Chiang (Restaurant Andre). Just prior to returning home, he was the pastry sous chef at the world's #1 restaurant, Noma.
Le Matin, which means "the morning" in French was started modestly in 2020 as a pop-up stall along Paragon and Raeburn Park and soon gathered rave reviews amongst the netizens. Now you get to taste his creative desserts and pastries in an elegant but casual setting in the heart of Orchard Road!
The menu can be broadly divided into ala carte brunch and dinner dishes and ready-made pastries available at the counter all day.
Here is a breakdown of some of the items we tried:
The Best of Brunch
Wed – Sun 11am to 3pm (Comes with a side of house salad)
Chef Al Matin's speciality is the pâte feuilletée which is French for "puff pastry" and you will see it featured in many of his creations. A variation of this is his brioche feuilletée which is similar to the puff pastry but made by layering brioche dough (which already has a load of butter) in between more layers of butter. The brioche feuilletée is used in place of a burger bun for some of his sandwiches. You can imagine just how rich and buttery these sandwiches will be!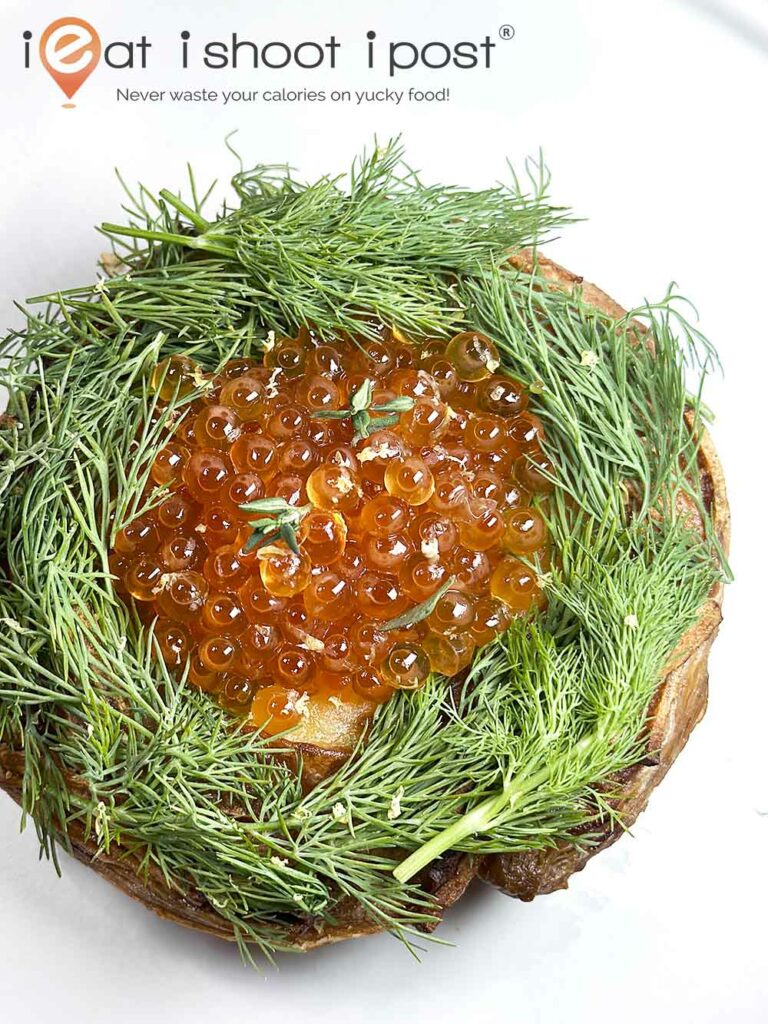 One of the dishes we really enjoyed was the Seafood Pot Pie ($24). A veritable seafood stew made from salmon belly, snapper, tiger prawns, green mussels, clams and scallops is placed on top of puff pastry with a base of bechamel sauce, mashed potatoes, and garlic rosti. The pie is then topped with trout roe and fresh dill. The whole thing came together very well and was delightful. If anything, it seems that the variety of seafood was a little over the top, but I am not complaining. 4.5/5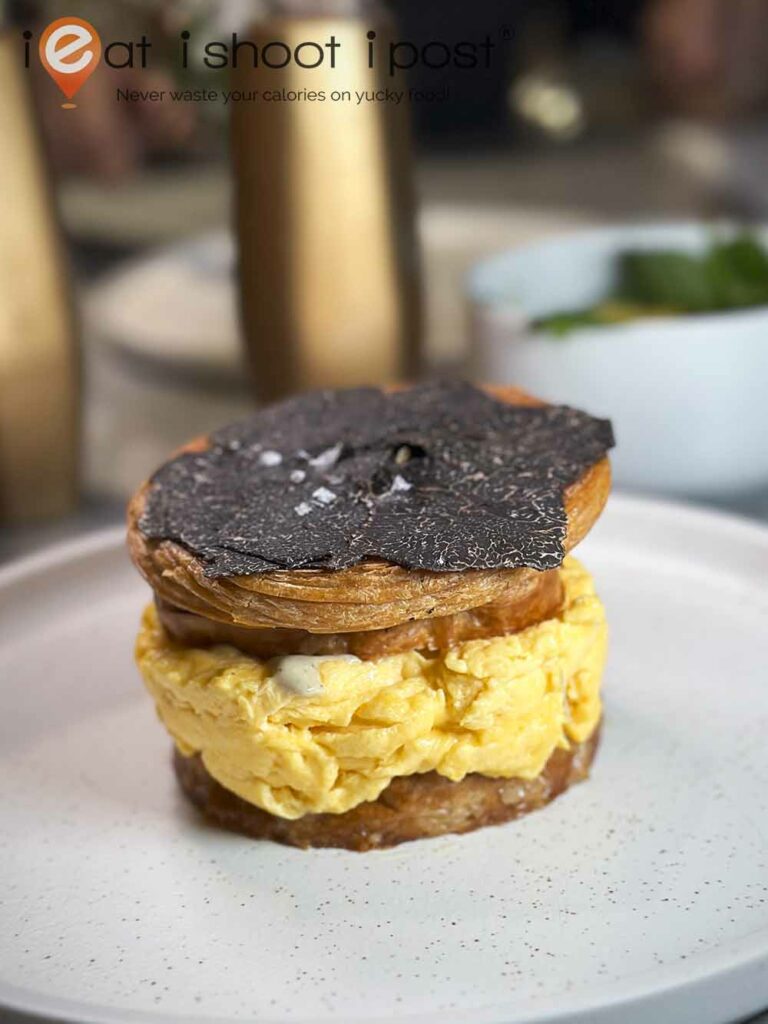 The Black Truffle Scrambled Eggs Croissant, $36 is a little more straightforward. Chef serves up some fluffy and velvety scrambled eggs between crolls ie circular croissants topped with black truffle aioli, truffle paste, and tops it with 8g of sliced black truffles. Not something you can usually find in a casual cafe setting, for sure. The classic combination of egg and truffles goes very well with the buttery croissant. The only problem I have with it is that it is really messy to try to eat it like a sandwich! Most people end up eating it with a knife and fork which make one wonder about the practicality of using these round croissants as burger buns! 4.25/5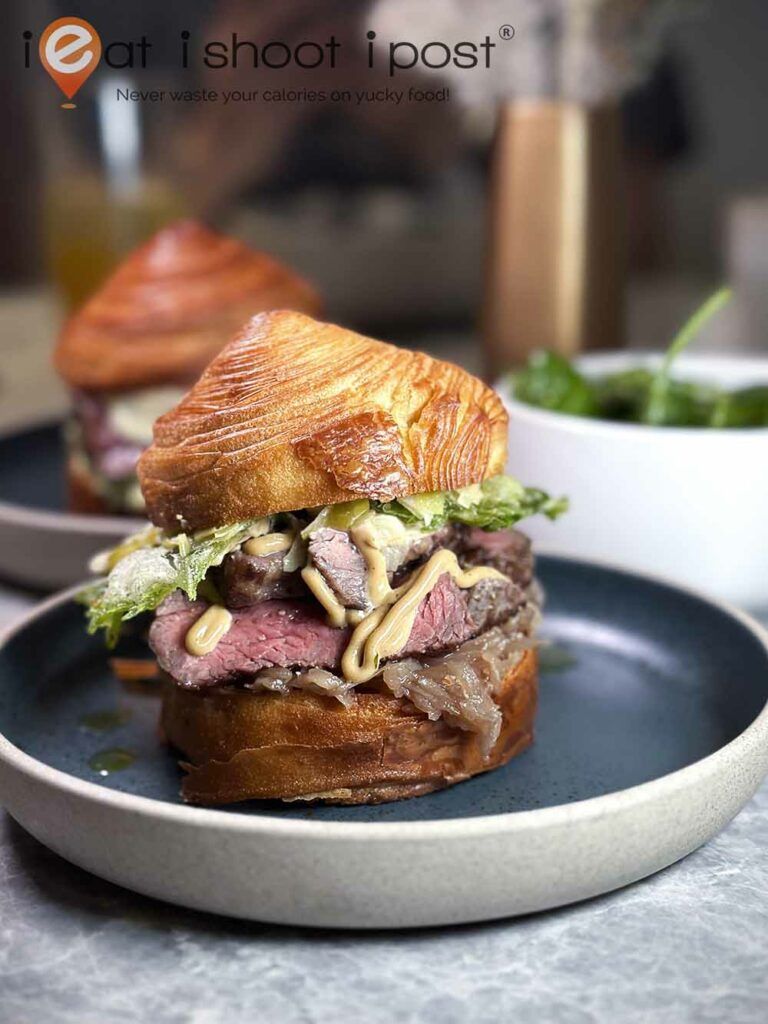 The Wagyu Brioche Feuilletée ($44) has generous slices of wagyu ribeye seared with smoked duck fat, served with onion marmalade, brown butter leek, crispy shiso fritters, yuzu salt and black garlic aioli, sandwiched between the aforementioned brioche feuilletée. Again, the flavours meld together really well, but when I tried eating it like a burger, I had flakes of pastry all over the plate and my fingers got really oily! Presentation-wise, it looks really impressive, but I think there is a reason why burger buns are made with normal brioche. Setting aside its practicality, this is one heck of a sandwich. The wagyu steak is tender and the sweet onion marmalade contrasts so well with the yuzu, crispy shiso fritters and the buttery brioche feuilletée is lovely! 4.25/5
The Sweet End of Desserts
Wed-Sun 6pm to 10pm (Savoury items are being planned for the future)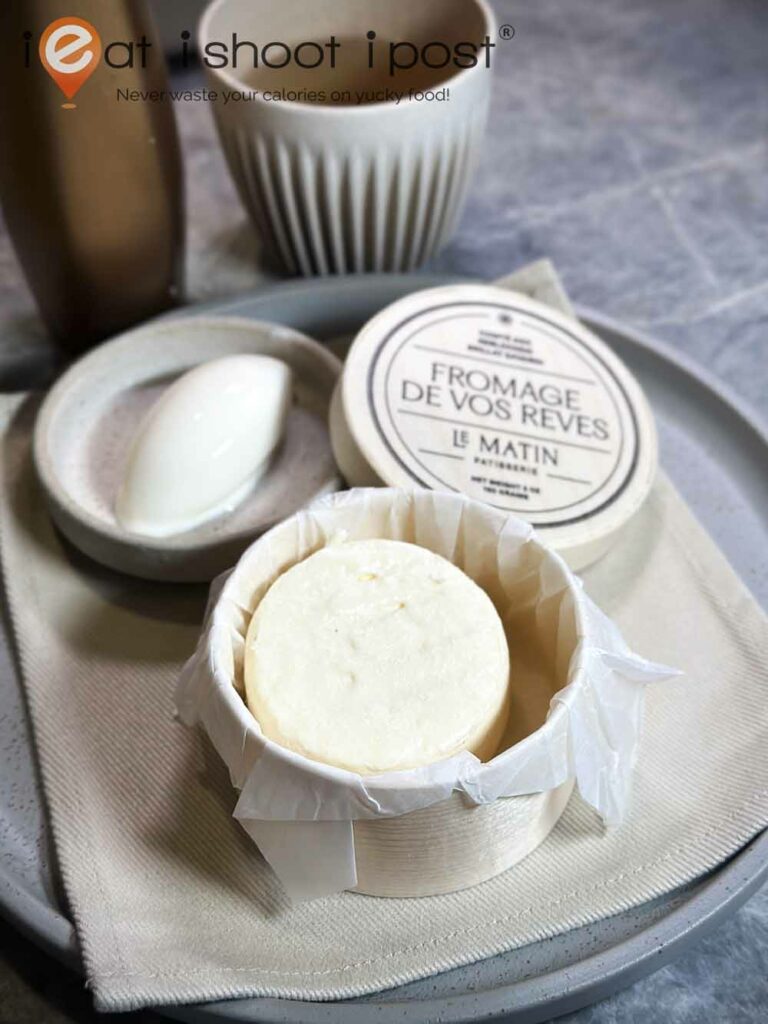 Fromage de vos Reves ($21) is the kind of dessert you would expect at the end of a 10-course degustation in a fine dining restaurant. It is a very elegant cheesecake disguised to look like a mini brie cheese. When you cut into it, you will find a combination of Brillat Savarin mousse, reblochon creameux, and a mildly savoury sponge made with Comte cheese. I am quite sure a variation of this must have been served at the many Michelin Star restaurants Chef Matin had worked at. 4.5/5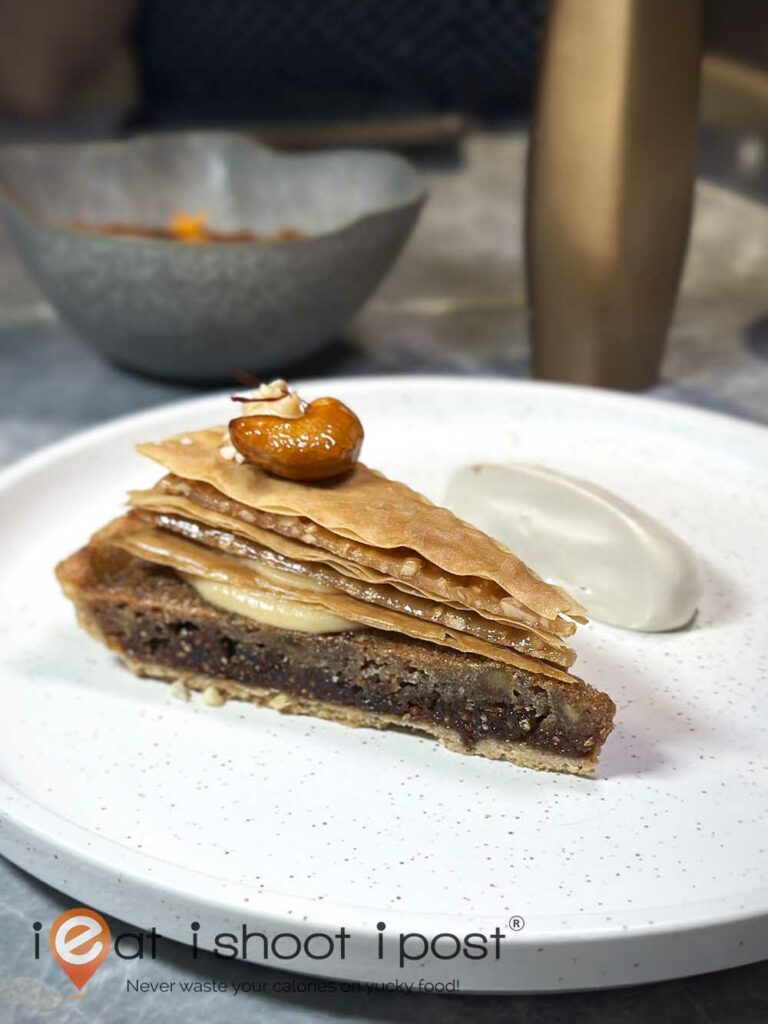 The Tarte Aux Noix de Cajou ($20) is made with cashew custard, cashew nougatine and filo pastry, topped off with orange blossom-scented mulberries and Pedro Ximenez cream. The problem with cashew nuts is that I always found they don't work so well in desserts as the flavour of the cashew doesn't really come through as compared with peanuts or hazelnut. If I didn't mention it was cashew nut, you wouldn't know. 4/5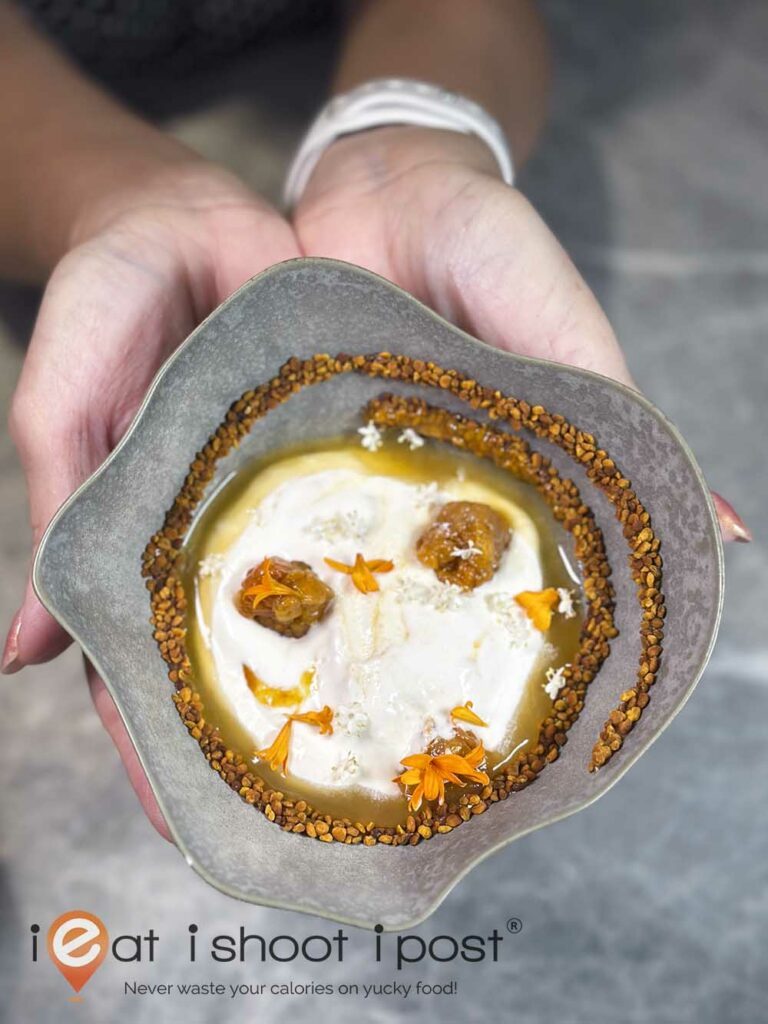 The Bee Pollen dessert is a little too esoteric for me. It's one of those things that just looks rather pretty and mystifying which should appeal to the ladies. Here's the list of ingredients that I don't pretend to know about. Bee pollen paste, beeswax cream, cloudberry jam, elderflower sorbet, semi-dried cloudberries, sea buckthorn sauce. According to Wikipaedia, bee pollen is made of pollen which bees gather while collecting nectar that is subsequently mixed with bee saliva and nectar. Sounds similar to bird's nests but with more nutritive (but unproven) properties. 4/5
Cakes and Pastries (Sweet and Savoury)
Available All Day from the counter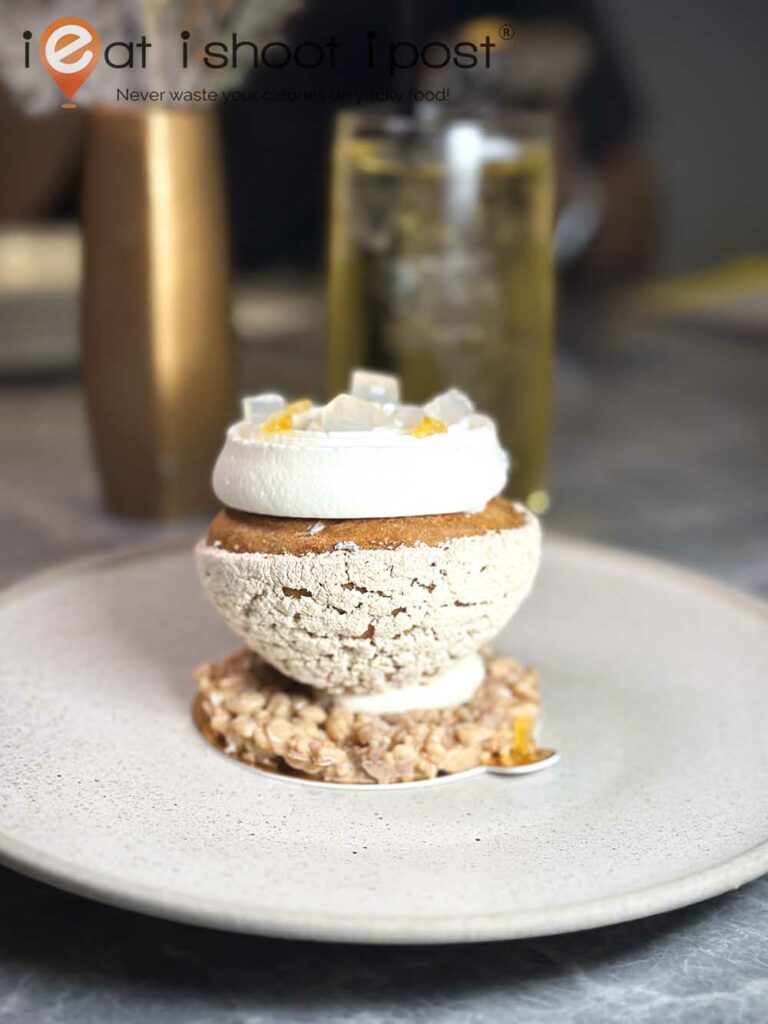 Sake Lees & Macadamia, Choux Bun ($14) takes the humble cream puff and adds layers of sophistication to it. A delicate choux bun baked with a crunchy white sable is filled with Sake Lees mousse and macadamia praline centre and placed atop a macadamia yuzu crunch base. It is then topped with Sake Lees jelly, yuzu and silver flakes. It is a feast for the eyes and an Instagrammers dream, and not easy to comprehend, which is what fine dining is all about, isn't it? 4.25/5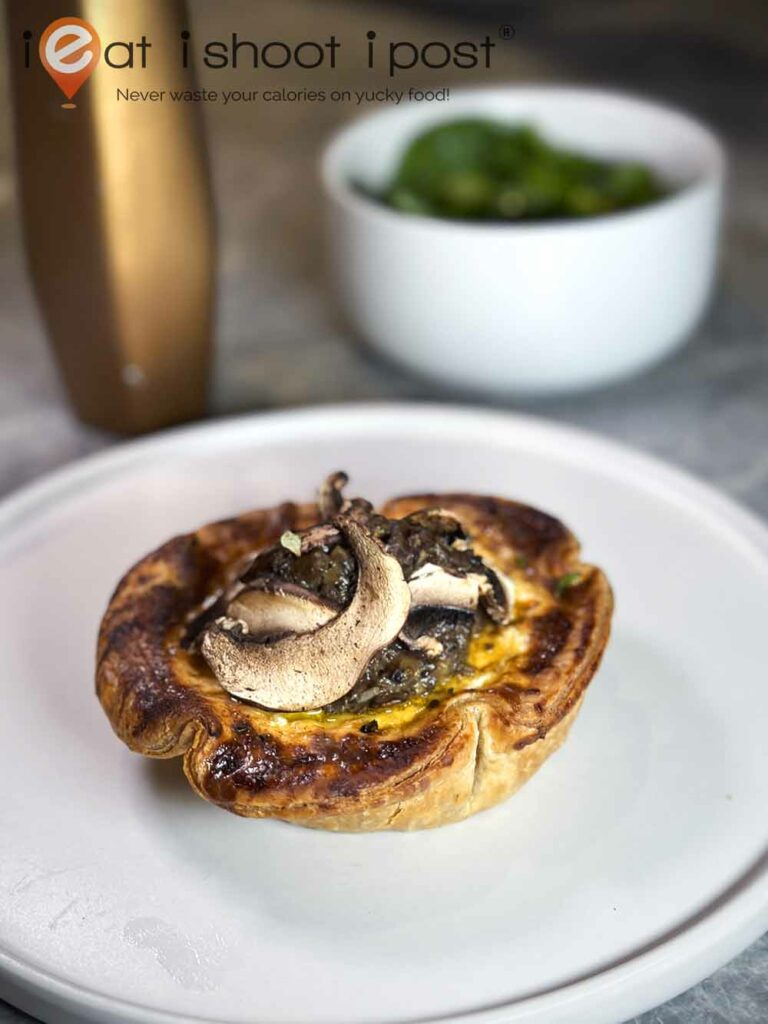 Chef Matin levels up his pastry offering by using fine dining ingredients and techniques such as lacto fermentation, so don't be expecting to find a simple quiche there. The Fermented Mushroom Quiche, which I really enjoyed, is made with his lovely puff pastry as the base and filled with Dashi custard, lacto- fermented Porcini mushrooms, Smoked Celeriac and topped with thinly sliced mushrooms. The lacto fermentation adds a slight tang to the dish that balances out the rich savoury flavours. 4.5/5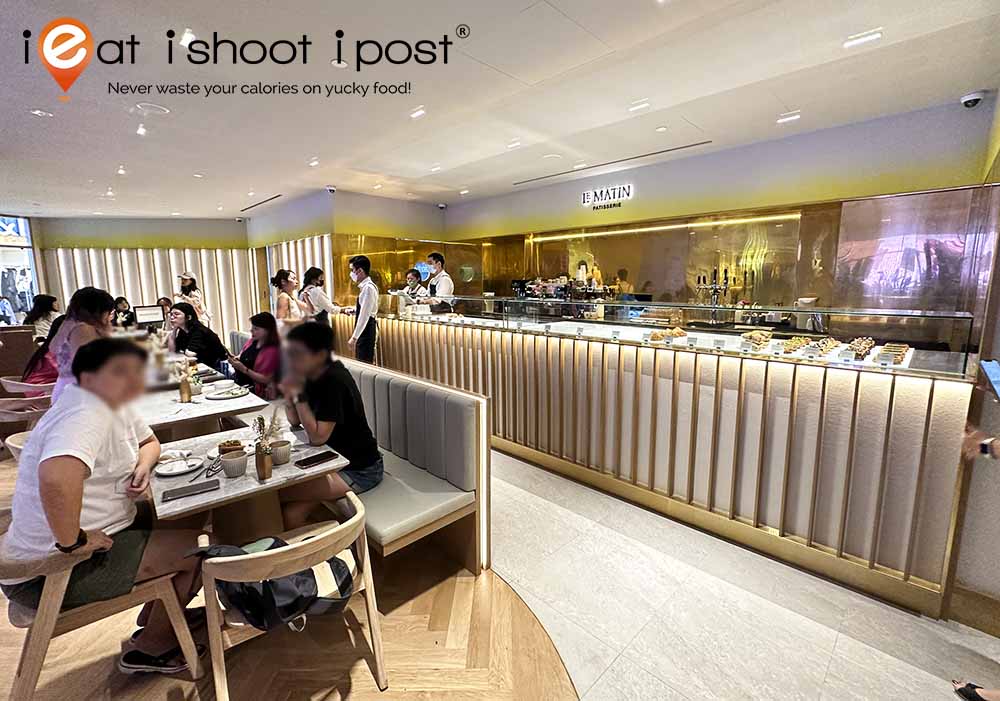 Conclusion
Le Matin takes the French patisserie up to another level. Its a place where you can enjoy fine dining level pastries like pies, sausage rolls and quiche in a casual cafe setting. With his brunch and dinner ala carte items, you can now skip the 8 courses of fine dining dishes and just get straight to the desserts! A must visit place for dessert lovers!
Disclosure: this review is written as part of a media invite.