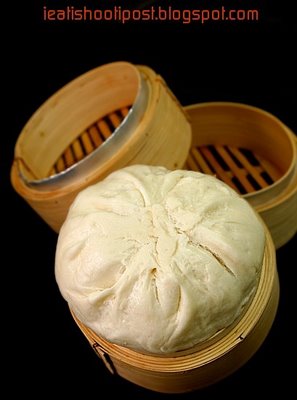 Update: 2 Apr 2007: Godzilla Da Pao Returns! Now at G C Food Court at Elias Mall. Click Here to link to the latest Blog Update: 24 Jan 2007: The previous owners of Godzilla Da Pao are no longer there. But the stall is still being operated under new owners. They still sell a big Pao but it is nothing like what is blogged here. The original Godzilla Da Pao owners are still looking for a new location. Will update you all as soon as I know! NOTICE 15 Jan 2007: Godzilla Da Pao has ceased operations at the current location because there is a change of management of the coffeeshop. They are currently in the midst of relocating. We will keep you posted on the new location.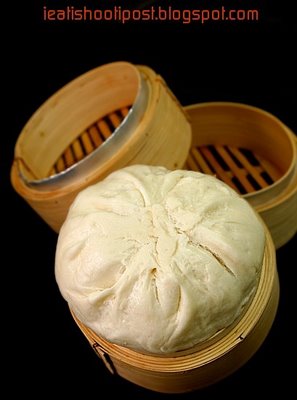 Who says size doesn't matter? This "Godzilla" sized pau was, until recently, only found along the highways of Malaysia, though some have spotted it in parts of China and Yokohama. Now you can get this in Singapore!
There is a recent welcomed resurrection of the handmade pau after a distressing period of time when it looked as if the factory made paus have all but eradicated this local favourite. But thankfully the Generation Xers (ie my age group) have rekindled the industry after being fed up with eating poorly disguised protein molasses wrapped in a synthetic skin. In order to differentiate themselves from the number of new handmade paus shops springing up everywhere, this unassuming little Pau Shop in Tampines started to make these XL sized pau three months ago. At first it was only made to order, but it proved so popular that now it is a standard item in their store. It's not the most beautiful pau in the world but it never fails to impress the first time you behold one. You will invariably get two types of response. The food lovers can hardly wait to sink their teeth into one. More petite ones would be frightened/disgusted/appalled by the size of it. (This reaction is well worth the price of the pau) I call this a social pau. It's meant to be shared. Imagine ordering 5 of this for an extended family picnic. Everyone gets to fight over who gets the salted egg, the sausages, mushrooms and egg. Ah….. family bonding.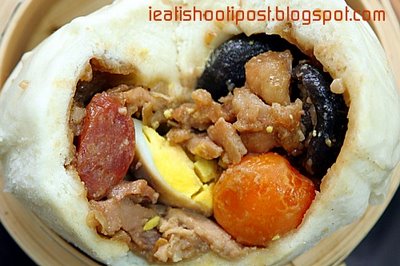 When you break open the pau, you are immediately greeted with the savoury bouquet of juicy chunky meat, salted egg, mushrooms and chinese sausages. There is one whole egg and a whole salted egg yolk in each pau. Each pau is roughly equivalent to 8 standard sized char siew paus. The meat tastes very fresh and the salted egg, mushroom and chinese sausages combines very well with the meat. Its almost like a mobile claypot chicken rice sans rice. Unless you have a Godzilla sized appetite, this pau should comfortably feed 2 people. It costs $3.50 each. Considering the amount of special ingredients and the number of people it can feed, this is very good value for money. Shiokness Score 4/5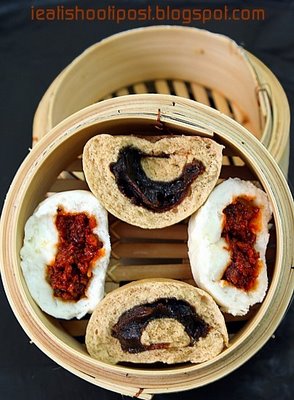 They also offer a novel Coffee Skin Tau Sar Pau (50 cents) which has quite an unique flavour. The Char Siew Pau (60 cents) is also quite good. The unique feature of this Pau shop is that the skin tastes very homemade, (its made from yeast rather then bicarbonate) much better then commercial type that you always get with factory made paus. Shiokness Score: 3.5/5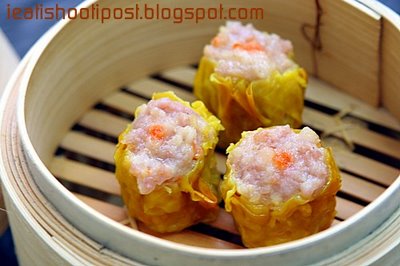 The Siew Mai is definitely tastier then your factory produced one. Don't expect real roe on top for 50 cents each, but still worth trying. Shiokness Score 3.5/5 Conclusion What's there to say? If you have not eaten this before, go get one and watch your family/friends'/colleagues' jaw drop. It's worth $3.50 even if you just use it to scare someone.