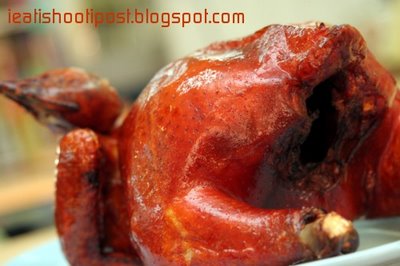 Had lunch at one of my regular haunts. This shop is little known outside of Simei, but serves one of the best "Roast Chicken" in Singapore. I put Roast Chicken in inverted commas because it is not actually roasted, but deep fried, very much like the crispy skin chicken that you get in resaturants.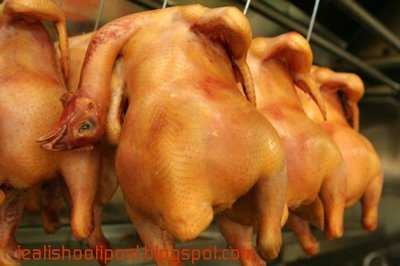 After the chicken is soaked in a secret mixture of herbs and brine for about 2 minutes, it is left to dry for about one to two hours before deep frying.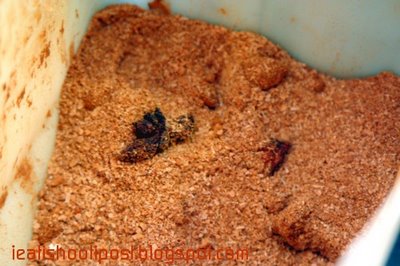 Just prior to deep frying, a handful of this five spice mix is rubbed into the inside of the chicken. Then the whole bird is put in a vat of boiling oil. If you look closely, you can probably make out the MSG crystals. This powder is really tasty!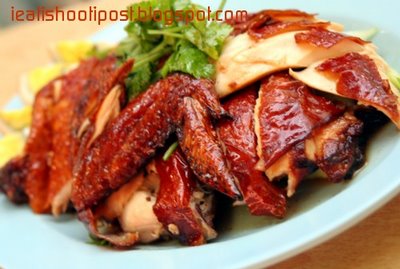 Crispy fried chicken. Almost as good as the ones you get in the restaurant but at a fraction of the price. A whole chicken is $18 and half chicken $10.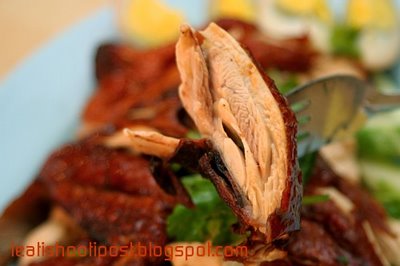 The meat is usually succulent and mixed with the five spice powder in the inside of the chicken. Pow! Chicken Heaven. Unfortunately today, I think the chicken was a little overdone and not a juicy as it was before. I have eaten here for the last 9 years and on the day I decided to blog it, the standard dropped! I hope this is a one time thing. But even with the chicken overcooked, it still beats most of the other roast chicken I know. Shiokness Score: 3.75/5 (normally 4/5)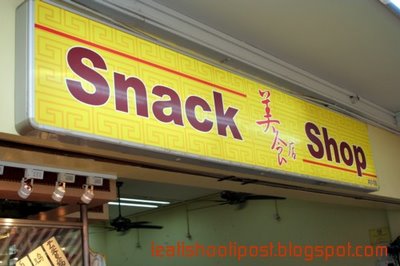 Conclusion
Crispy skin chicken at hawker prices! Still not as good as the crispy skin chicken at some of the five star restaurants, but still very tasty. If you are allergic to MSG you have to be careful though.
7.5/10 (T3 + V2.5 + S1 +E1) Good enough to give it a try!