This Stall is Closed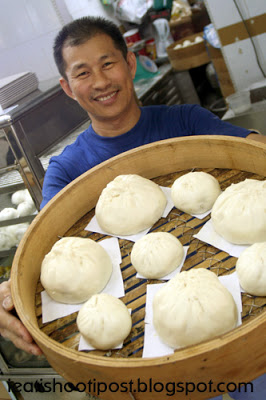 Fans of the Godzilla Da Pao can rejoice once again as their favourite "Social" Pao has found a new home at Elias Mall. If you remember, I called this a "Social" Pao because it is not meant to be eaten alone. This is a Pao that is meant to be brought back to the office to scare your colleagues! You will never fail to elicit some sort of response from unsuspecting friends and family when you whip out a Pao that is as big as your brain. (Ok, that depends on how big headed you are)
So you are probably wondering what happened to the Godzilla?
The concept of the Godzilla Da Pao was birth sometime back in September 2006, when I asked Mr Cheng to make a Super Big Pao like the ones I saw while driving along the highways in Malaysia. I then took a picture of the Pao and posted it on the forum for everyone to see. At the time, the Pao was made to order, so you have to ring up a day in advance. As word of the Super Big Pao circulated in cyberspace, the demand for the Pao became so good that they decided to put it on the menu. (It's the same thing that happened for the ieat SuperBurger)
Then tragedy struck! Just when their business was getting to the stage where they could take a day off every fortnight, the coffeeshop they operated out of was sold and the new owners demanded an increase in the rent that would make the business non-viable. An ominous fog had suddenly descended upon our Dim Sum Duo.
So for the next three months, Mr Cheng had been busy looking for another stall to rent while his wife took on a temporary job to keep the family going. Life in Singapore can be tough for small time hawkers like Mr and Mrs Cheng. They are constantly at the mercy of stallowners who would increase the rental rates unexpectedly. So do spare a thought next time before you begin to complain about the price of that bowl of Mee Pok. Some hawkers are working very hard just to pay off their landlords.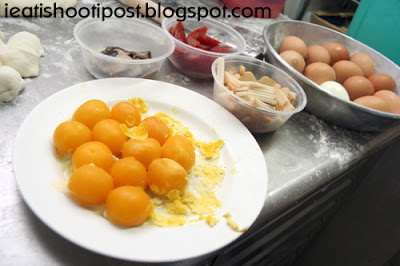 Anyway, the Godzilla Da Pao has found a new home in Pasir Ris and I am sure fans of the Pao are relieved that they can once again buy a Pao that is big enough to satisfy even a NSF (soldier) who has just finished a 20km road march. I was pleasantly surprised that they even chose to adopt the name "Godzilla" for their new stall!
For those who have yet to meet the Godzilla Da Pao face to face, it is not just an extra large Big Pau. Aside from the tender marinated pork, the Pao also packs extra goodies like lup cheong (Chinese Sausages), mushrooms, salted egg yolk, boiled eggs and sliced abalone inside. The pao skin has got that rustic homemade quality about it and is more substantial than delicate.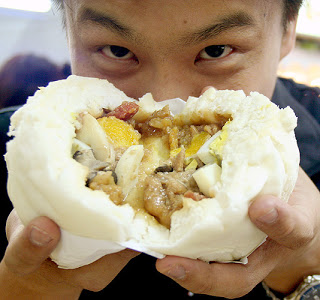 How big is the Godzilla Da Pao? Cup E Size says iwatch_ueat. $3.50
Conclusion
The Godzilla Da Pao is the kind of thing that you just have to experience at least once in your lifetime. This is one of my regular Pao shops. I wouldn't say that it is "die die must try" but it certainly has a quality about it that gets me back to the shop at least once every month.