This stall has relocated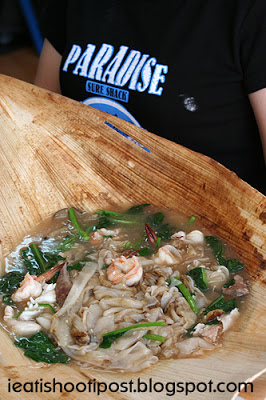 This was at one time THE hor fun of the East. Fei Lao (Old Fatty) used to be famous for his charcoal fired wok and incredible Seafood Hor Fun wrapped in Opeh leaf. Unfortunately, Fei Lao passed on after 40 years of delighting Singaporeans, so late-blooming foodies like myself will never get to experience the magic of his wok skills.
On top of that, the NEA is also not helping since they restrict the use of charcoal in enclosed spaces. Arrgh, the cost of development and progress! I guess in the fine balance between tasty food and environmental safety, the authorities have to err on the side of environmental safety. We all want to be safe and enjoy the food rather that have to contend with fire hazards. So, if we want to live in a safe environment BUT still want to eat really shiok food, one of the solutions is of course, to get into your car, bring your passport and take a drive up North…….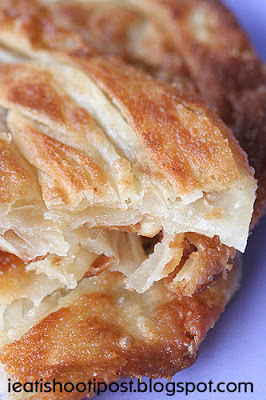 But for those of us who are too lazy or too scared to have our spanking new car stolen, driving to Joo Chiat may be a good compromise. Yes, though Fei Lao may be resting in peace, his legacy lives on with his nephew helming the wok. He tries to emulate everything his famous uncle used to do but is limited by the lack of a charcoal fired wok, 40 years of wok skill and the need of modern Singaporeans to cut down on their cholesterol. Just what is the big deal with a charcoal fired wok? Does the charcoal somehow permeate the wok to flavour the kway teow or is it just all in our minds?
The new Fei Lao explained that with a charcoal fire, the whole wok gets really hot, whereas in a gas fired wok, only the bottom of the wok gets hot. It makes a difference when you are trying to sear the kway teow. Searing kway teow to get it just burnt but still soft and slippery is a skill that differentiates the experts and the wok wannabes. It does not even require pork lard. Simply a hot wok, oil, kway teow and skill. Some use soy sauce to darken the kway teow, but that is cheating.
The wok hei flavour on the Hor Fun was good and the sauce was also tasty. Overall, one of the more memorable Hor Funs around though I suspect that it is not as legendary as the original Fei Lao's. But given the standard of Hor Fun's nowadays, I think this would be one of the best ones around. 4.25/5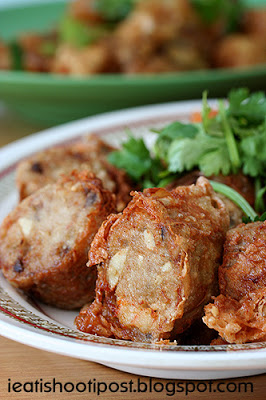 But Hor Funs aren't the only dishes to try here. The Heh Zhor (Prawn Fritters) is a dish you should order to accompany the Hor Fun. Crisp on the outside and full of crunchy waterchestnuts and savoury minced prawn, pork and liver. It was great with the plum sauce and quite addictive. 4.5/5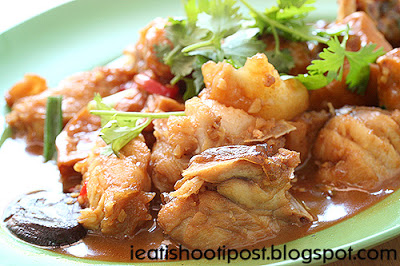 The Stir Fried Fish Head with Tau Kwa was a bit of a dissappointment that day. I felt it did not have the "Ooommph" that it was supposed to be legendary for. 3.5/5
Conclusion
There are not many Cze Char restaurants which have Seafood Hor Fun has their signature dish, so this Hor Fun is a little more special then the your friendly neighbourhood version. My son certainly loved it. He said it was "die die must try" and finished 2 whole bowls of it. For me it was good enough to recommend it to others since I have yet to find the ultimate Hor Fun in Singapore.