With liverpool, smart, Amagada, Laplace, Caesium, eastcoastlife, EdAltis, sorjourner, SCS Butter, Happi Mummi, neuros neuros and friends still thinking about their pen names.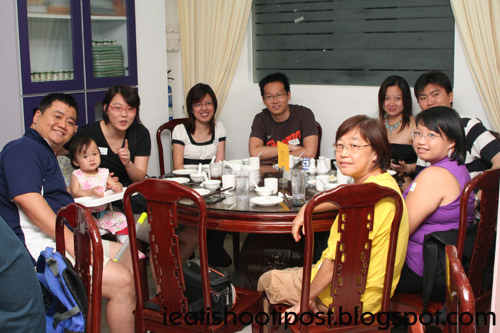 Phew! After a month of planning we finally had the very first ieat-weMeet-weEat session. Here is the report and pics for those who could not make it. The ieat-associates have all rated the food and the results are in. So I am not going to comment on the food, but instead I will just post the pics and let the ieat-associates write their individual reviews instead.
The evening started with the ieat table quiz where everyone got their brains churning by trying to identify pictures of different foods from the blog. After 2 rounds of intense, appetite stimulating brain work, tables 1 and 2 were tied. It was eventually up to Caesium to break the deadlock with his brilliant answer to the question: "What is ieat's favourite lens?" (Canon 60mm f2.8 Macro)
The ieat-guru honours went to Happi Mummi after several rounds of intense brain wringing questions. She was deadlocked with liverpool in the naming of foods that have yet been blogged. Eventually she tipped liverpool with her strategic answer to the question: "How many hits does the blog get daily on average?" Liverpool, due to poor strategy and lack of self control, blurted his answer point blank — 1200, to which Happi Mummi immediately quipped 1201! She won because the blog currently gets around three times that number of hits.
The final surprise of the evening was the arrival of our special guest — The Butcher, who had just finished a hard days' work experimenting with possibly a first in Singapore and probably in Johor and Batam. He had finished his very first batch of Wagyu Sausages and whisked down to let the ieat-associates give their feedback on his new creation!
All in all, I think we all enjoyed the evening (me especially)and it was great to eventually put a face behind the pen name.
Here then are the pics of the 9 course meal we had and the aggregate ratings that were given. OK guys, time to Zhor Gang! (Do some work) Over to you to give your review of the dishes!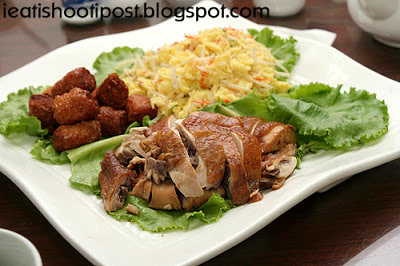 Cold Dish – Shark's Fin Egg Fu Yong, Braised Chicken, Heh Zhor 3.5/5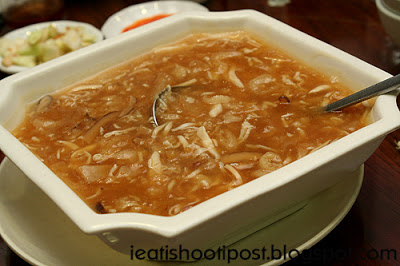 Special 4 Flavour Soup with Sliced Abalone 4/5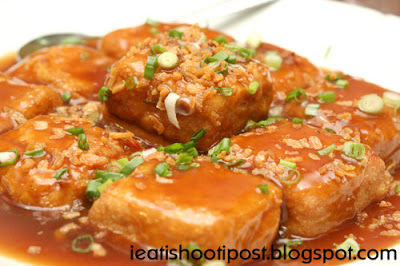 Home Made Tofu 4.5/5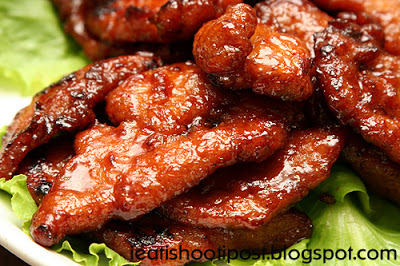 Pork Rib King 4.5/5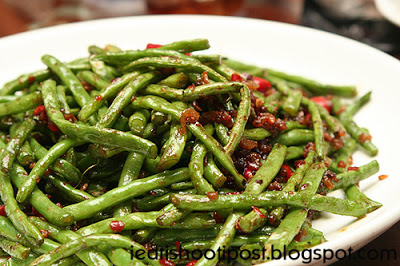 French Beans with Sambal dried prawns 4.25/5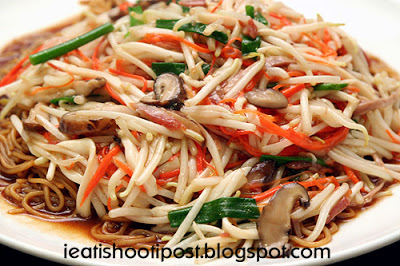 Special fried La Mien 3.5/5
Wow! This is the very first time I have come across Wagyu Sausages. Unfortunately the Wagyu Sausages were cooked by the Zi Yean Chef who simply blanched the sausages and served them. They should rightly be grilled so that the Wagyu fats could sizzle and release their aroma. Anyway it was still a real novelty and left a nice beefy aftertaste on the palate.
Acknowledgements
Butcher Chia for providing the Wagyu surprise and the Sausage Samplers for everyone
SCS Butter and Happi Mummi for organizing the games and sponsoring the table gifts and prizes
iwatch_ueat for calling everyone up, registering and collecting the money
Smart and Liverpool for encouraging me to stage the event
Everyone who turned up and their support for ieatishootipost
Apple and Lao Ban Niang from Zi Yean Restaurant who were extremely helpful with the organization of the event
Ha! eastcoastlife has already beaten me to the report! Hers came out on the night itself! Click here