With PowerAunty, ArtyMary and iwatch_ueat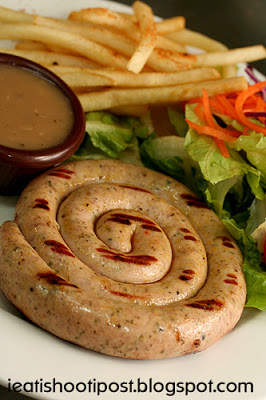 The Round $9.50
I have been learning to appreciate various types of sausages since I blogged about Butcher House and I thought that it would be great if these gourmet sausages could be available perfectly grilled and ready to eat. Luckily, I know a guy by the name of Aston who just happens to run a restaurant.
Aston is always looking for new stuff to wow his customers. As always, he offers quality stuff at really competitive prices. These Butcher House sausages are not your normal everyday sausages which use all the leftover meats, innards and gristle that have fallen onto the floor of the butchery. These are sausages that have been made with quality cuts of meats and have limited preservatives since they are made fresh at the factory everyday.

The Grand Sampler $12.50 From top: Kielbasa, Chicken n Cheese, Bratwurst and Snail
The Grand Sampler is just what it is, a sampler of 4 different kinds of sausages which is great as a side dish if you are dining with several friends. The Chicken and Cheese is made from seasoned chicken thigh meat and Gouda Cheese and is really juicy and savoury. The melted Gouda sets this Chicken and Cheese apart from others that I have tasted 4.5/5
The other sausage that was really good was the Kielbasa, which is a smoked Polish sausage made from roughly chopped pork and beef with majoram, mixed spices and lots of garlic. 4.25/5 You probably have seen the Snail sausage before at Marche. It is a pork sausage that has lots of italian herbs. 4/5

Last of the sampler is the Pork Bratwurst (Brat – finely chopped, Wurst – Sausage) which is a German sausage made from chopped pork and spices. This one was good but we thought that perhaps it would be nice to offer something a little more different from the Snail. So tomorrow onwards it will be replaced by a Spicy Italian Sausage.
Conclusion
If you are a sausage lover, I think you will agree that Astons has pulled off yet another value for money deal. The great thing is that the alliance between Astons and Butcher House means that they are going to rotate through the almost 50 different flavours of sausages that the Butcher House produces. The Butcher House is also able to custom make boutique sausages for its customers. Who knows? One day they might even do a Uniquely Singaporean Super Duper Die Die Must TrySausage. Any suggestions, anyone?