With damien, iwatch_ueat, liveyrdreams and holydrummer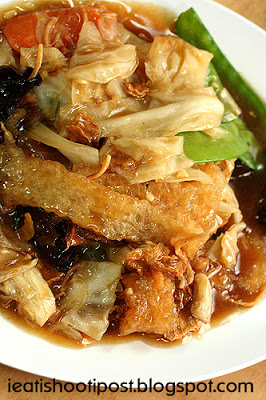 Hainanese Chap Chye $6
For me, the hallmarks of Hainanese food are 1. Chicken Rice, 2. Pork Chops and 3. Chap Chye (Mixed Veg). Yes, of course the Hainanese have more dishes that they cook traditionally, but these are the three dishes with which I use to gauge standard of the restaurant.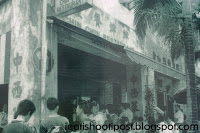 So after tasting the food from Yet Con, we hopped across to road to another Hainanese Institution to compare the same three dishes. For those who are old enough to remember, Chin Chin has been around since 1934 and they used to occupy the corner coffeeshop along the main road. It started out by offering Toast and Kopi and only introduced food in 1959. Those that were fortunate enough to have tasted their Pork Chops never fail to recall the yummy Pork Chops in the good old days. Chin Chin closed its doors for almost 2 years when the owner migrated to Australia. But luckily for us they decided to return and reopened the stall at its present location about five years back.
I have been a regular at Chin Chin since its opening and I quite like the food. But I have to admit that I never had the good fortune to eat at the original stall, so I cannot tell you what it was like before. When I asked friends who had experienced the original Chin Chin, the story is about as predictable as who would win the next elections. "Oooh, the pork chops back then where so much better……..". So poor guys like me can only imagine what it must have tasted like.
Well, when it comes to the Hainanese Chap Chye, I really don't care what people say. I think this is the best Hainanese Chap Chye I have every tasted. The sauce is so shiok! It has got lots of dried cuttlefish fish strips that gave the sauce that "I have just got to eat more rice" quality to it. Can it really get better than this? 4.5/5 Word of caution though, I have eaten there a few times, sometimes it is not that great. It really depends on who is cooking it that day!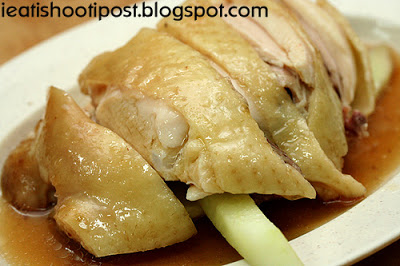 The chicken rice is more Cantonese than Hainanese style which is what most younger Singaporeans are used to. The chicken is blanched in cold water after cooking which results in a smoother, crunchier skin texture and then showered with a fragrant sesame and soy sauce. I personally prefer it this way. The chicken here is quite nice and does not have the strong "farmy" flavour as Yet Con's. Not the best chicken in Singapore, but certainly a very good one. 4.25/5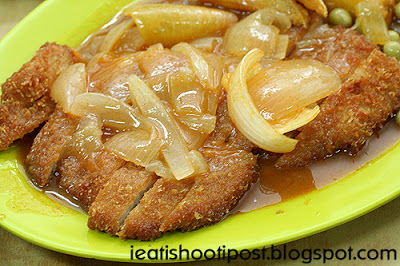 Finally we come to the Pork Chops. They were very good but not what I imagine a legendary pork chop to be. The sauce was a straightforward tomato ketchup based sauce which I feel I cook myself at home. Nice to eat, but if you want die-die-must-try Pork Chops, I think you should head across the road to Yet Con. 4/5
Conclusion
A less traditional Hainanese Institution which has modified its cuisines to suit the trends. Whether it is good or bad is for each individual to decide. For me, I still come back here to eat the Chap Chye, Sliced Fish with bittergourd soup and yes, I will still order the Hainanese Pork Chops. Of course, the Pork Chops could be better, but there is just something about the whole place that draws me back regularly.