With iwatch_ueat, liveyrdreams, damien and holydrummer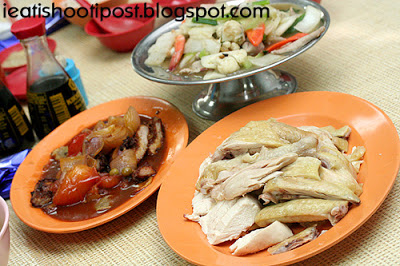 This is truly the last bastion of Hainanese cuisine and if you have never been to Yet Con yet, I suggest you quickly do it before this Hainanese institution disappears for good. The elderly Hainanese man in his pajama pants (I jest) sitting at the counter will be the last in the family line to sit behind the register. There is not going to be a next generation.
Founded in 1940, the shop sort of looks like how it would have looked when the Japanese invaded Singapore. Heck, maybe some Japanese soldiers even came in here to have Hainanese chicken rice! Who knows? This restaurant has been faithfully preserving the Hainanese traditions without compromise. When you walk into the restaurant, there are so many elderly Hainanese men enjoying their cups of Kopi and Kaya Toast, that you might think that you have walked into a Hainanese Clan Meeting.
Whilest most chicken rice sellers nowadays would soak their chicken in cold water after cooking, Yet Con has defied the trend and stubbornly stick to the age old Hainanese recipe. As a result the chicken skin is dry, not very fat and has a very strong "Chickeny" flavour. The flesh is also cooked to the bone, so it is a bit tough but flavourful. In traditional Hainanese style, no soy sauce is added to the chicken. I personally found the taste of the chicken to "farmy" to me. It tastes like the chicken that has just been running around you in a Kampung. Bit too strong for me, but Damien loved it. 4/5 I liked the rice here. It had a great texture and was very savoury. People who don't like salty food may find it a tad on the salty side.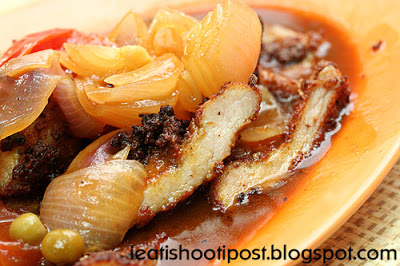 Their Hainanese Pork Chops were undoubtedly the star of the show for me. Perfectly marinated and fried till it's crispy on the outside but still juicy on the inside. Their sauce has tomato ketchup in it but rather than tasting like plain old tomato ketchup, it has been transformed into a very tasty sweet and sour sauce. Best Hainanese Pork Chops I have ever tasted! 4.5/5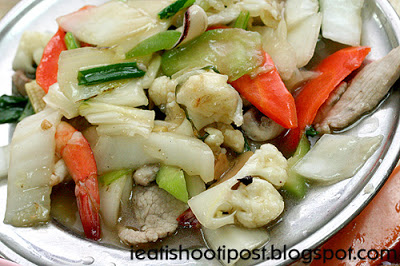 The Hainanese Chap Chye (mixed veg) here is also pretty good. I always thought that Chap Chye Chye had to be stewed till everything is mushy, but being the only Teochew Ah Hia sitting in the midst of the Hainanese Clan meeting, I thought I'd better not make an issue out of it. The vegetables were crunchy and there was a good wok hei flavour about it. 4/5

Conclusion
Traditional….. NO…. Historical Hainanese Cuisine. It don't get more Hainanese than this! And the food is shiok too. If Hainanese food can be this good, why aren't there more similar traditional Hainanese restaurants in Singapore?