With the ieatfamily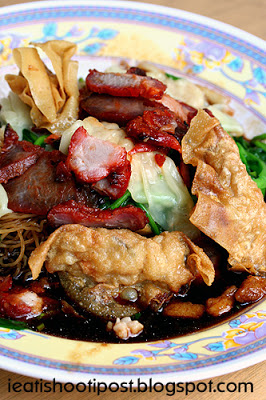 $5 portion with extra ingredients
If I asked you where you can find the best Wanton Mee, Little India would probably be the last place you would think about. But hidden amongst the maze of spice shops, restaurants and colourful textile shops is a rather old and run down coffeeshop that serves a mean Wanton Mee.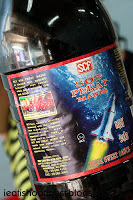 This is one Wanton Mee that is anything but simple. Every plate is chock full of roasted char siew, fried sui gao, fried wanton, boiled sui gao, boiled wanton, lard bits and watercress. Yes, you heard right, they use Xi Yang Chai (Watercress) instead of the usual Chye Sim and I really enjoyed it! The sight of the black sauce with all the ingredients bathing in it looked so good, I really had to struggle to take the pictures while everyone else were busily tucking into the noodles. In case you are wondering, the sauce is made up of a special stock, Lee Kum Kee Oyster sauce and this special Thick Black Sauce (pic right) that is only available in Malaysia. Phwa Malaysia really Boleh!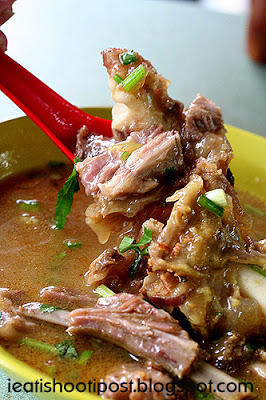 The noodles are specially ordered from a Hong Kong Noodle maker and were excellent although I still felt that Fei Fei's were better. The charsiew is also procured from a "famous" but secret charsiew stall and was also very good. The most enjoyable bit for me was the freshly fried Sui Gao. The Sui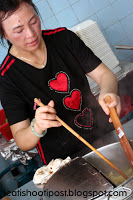 Gao is made from pork, prawns, wood ear fungus and water chestnuts and were substantial and juicy. Soak it momentarily in the rich dark sauce and eat with a mouthful of noodles and the familiar Berlinda Carlisle song would start ringing in your ears: "OOooooh heaven is a place on earth!" $3 4.6/5 What is very interesting is that the Lao Ban Niang is Taiwanese! Now, how come it takes a Taiwanese to teach Singaporean how to make Malaysian Wanton Mee? She took over the stall from a Malaysian lady 8 years ago and learnt the ropes from her.
Conclusion
Almost there. I have finally found a Wanton Mee that I can rave about. If you asked me, the perfect bowl of Wanton Mee would have the noodles and wantons from Fei Fei, the sauce and fried sui gao and watercress from this stall and the char siew from Foong Kee. At this moment though, this would be the one Wanton Mee I would bring Anthony Bourdain to if he wants to try Wanton Mee in Singapore. (In your dreams ieat…in your dreams!)
Update: 26 Feb 2012 This stall has now relocated to Jin Hock Coffeeshop at the corner of Upper Serangoon Road and Rowell Road.