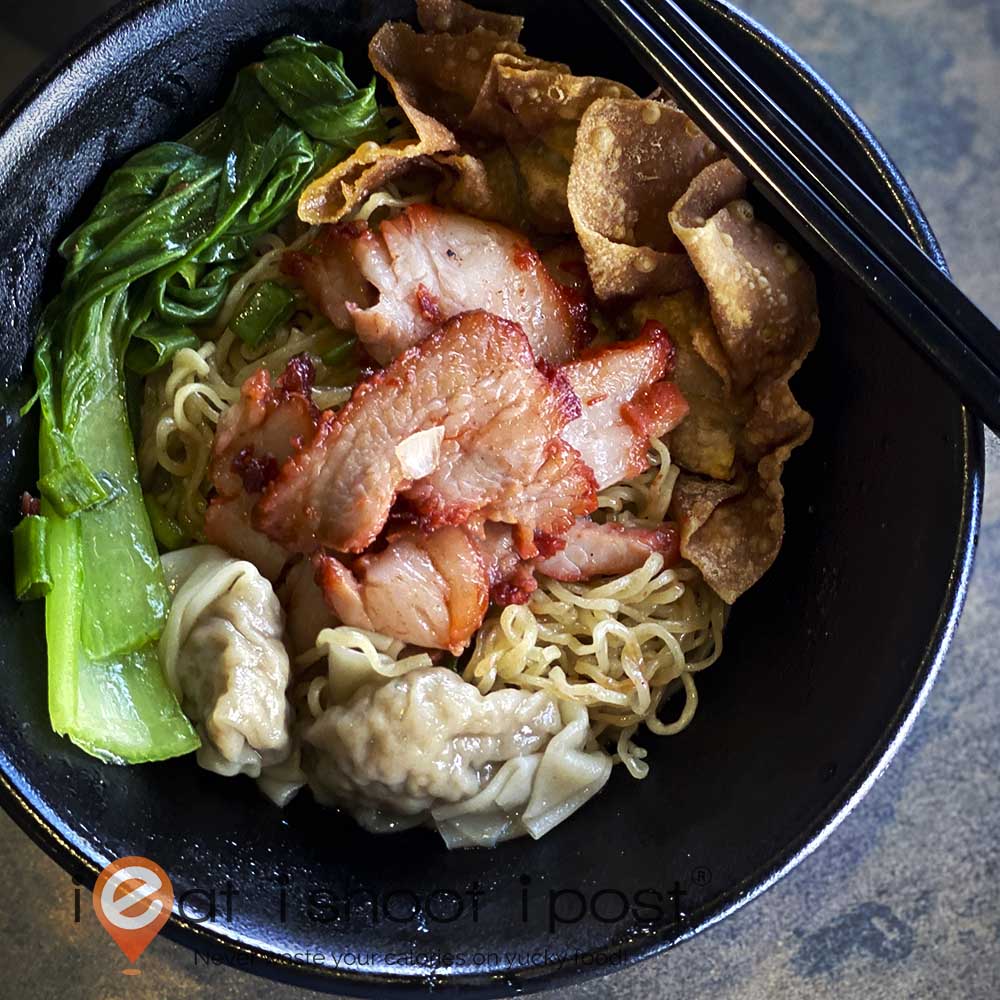 You might recognize Raymond if you have been reading the blog for a while. I first met him back in 2016 when he was the selling "Crabmeat Wanton Mee" in Macpherson. He did quite well, but decided to pass the stall to his uncle while he switched to become a mobile auto repair mechanic. But he has always been drawn to food, (it's obvious, right?) so in 2021, he opened Reimondo Seafood Congee where he introduced the concept of Wok Hei Seafood congee. It quickly became an overnight internet sensation and the internet was abuzz with the sight of the "Michelin Man" behind a flaming wok.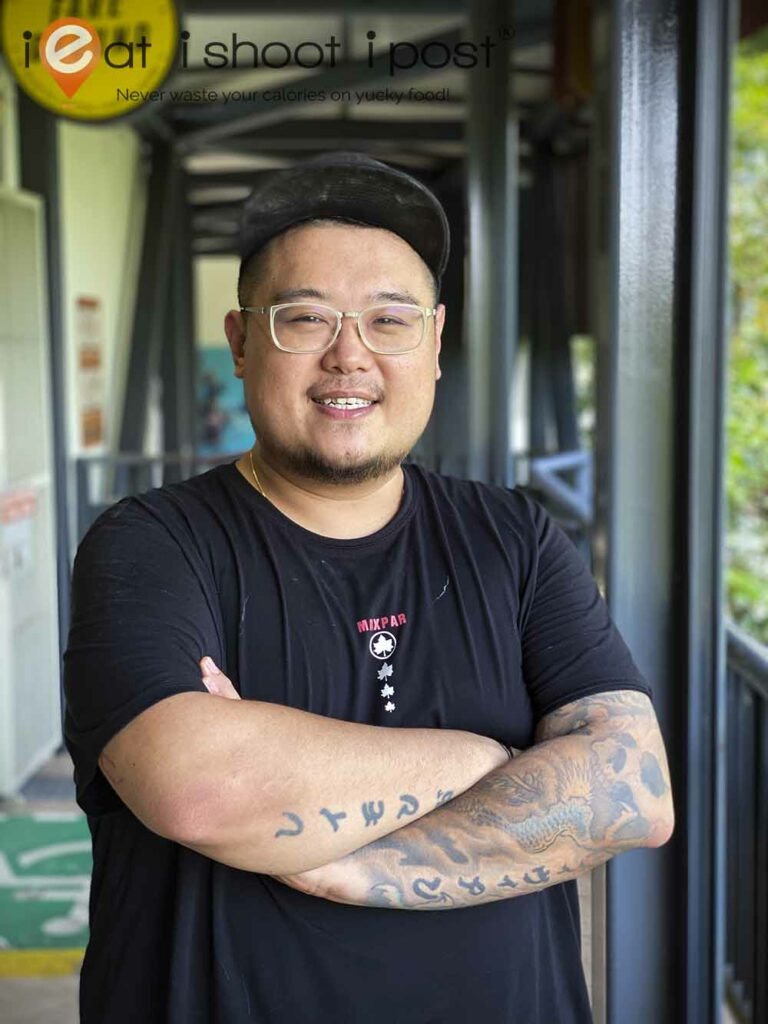 The instant success prompted Raymond to open a 2nd branch at Timbre within a few months. Unfortunately, the timing was not good and Singapore imposed a lockdown soon after opening. With everyone working from home, the business at Timbre didn't quite take off as expected. Undeterred, he thought he would open another eatery, Super Supper to make up for the losses. It's a move he now regrets as he looks back at his brash decision. The food was good, but the concept didn't quite fit with the location and it was closed just after 5 months.
Now burdened with business losses, Raymond returned to doing what he knows to do best – Wanton Mee. Reimondo seafood, which is located at the other end of the hawker center, is still doing ok, although the long queues have waned after the initial wave of interest.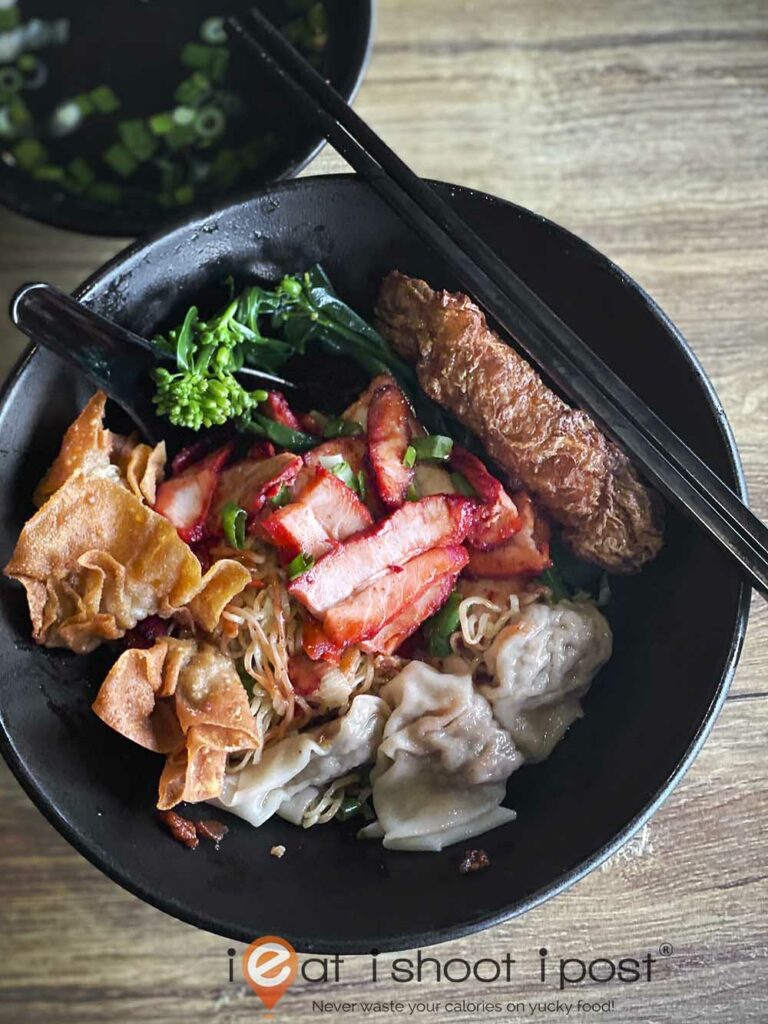 Raymond knows that in order to be successful, his Wanton Mee has to stand out from the rest. With Crabmeat wanton mee, he filled his wanton with crab meat. It made the wanton tastier but the cost was high. It was, however, a great marketing strategy. This time around, he is differentiating his Wanton Mee by using a specially imported duck egg noodle, wood-smoked charsiu, a special chilli sauce and two types of wantons!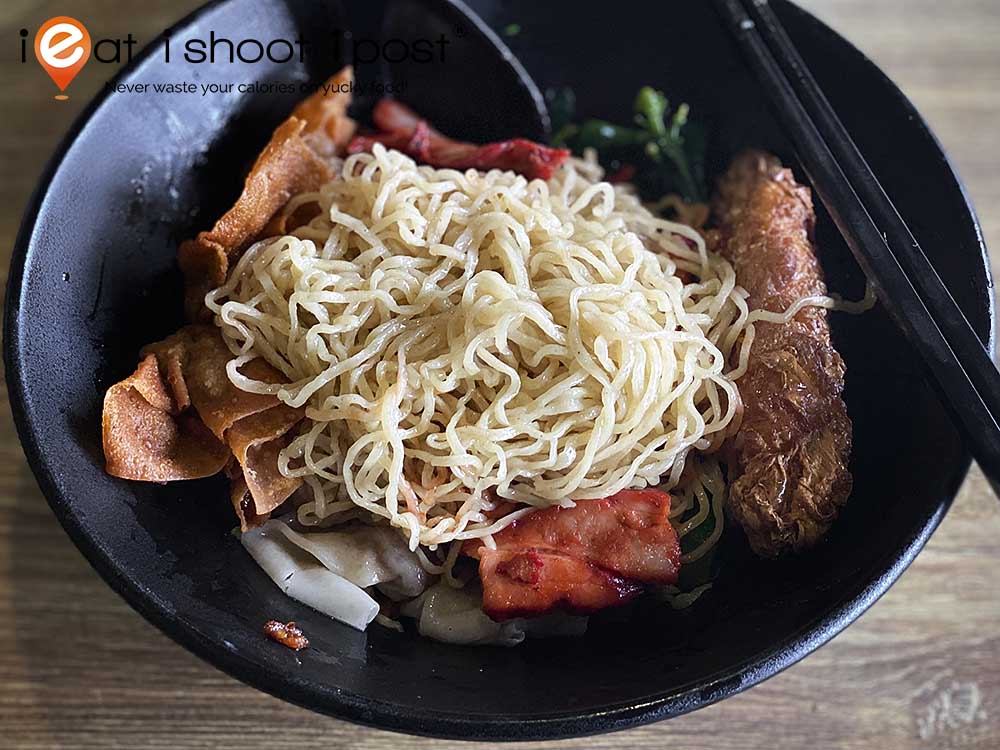 The duck egg noodles were the main factor that re-ignited his interest in Wanton Mee. While he was sourcing for ingredients in Johor, he chanced upon a noodle supplier making duck egg noodles. When he tasted it, he knew he could make a really special bowl of wanton mee with the noodles. They were different from the usual noodles found here. Light and springy, they absorbed the sauce really well and had a delightful bite.
For the sauce, he concocted an umami-rich sauce using dried bonito and other secret ingredients. It isn't overpowering and serves to really bring out the flavour of the noodles. The chilli sauce is also from Johor and is different from those found locally. I am not a fan of chilli, preferring to have my noodles plain, but those who have tried his chilli tell me that it is quite special.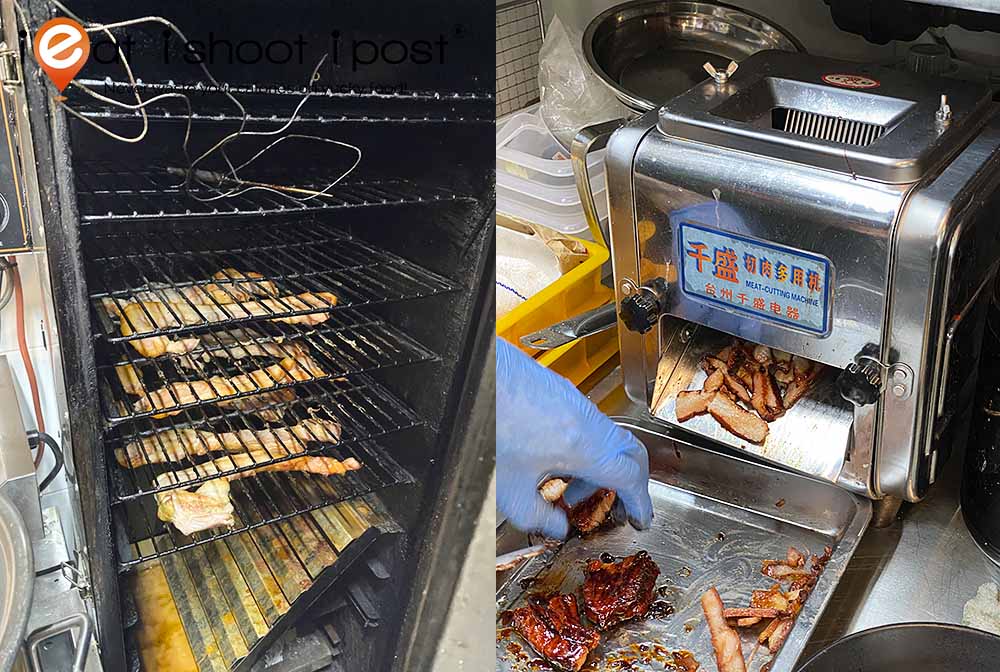 The other component which is special is his charsiu. Instead of the usual charsiu, he makes his in a smoker, giving the pork an earthy wood-smoked flavour. This idea evolved from the smoked pork belly that he served at Super Supper. After smoking, the meat is then put into a rotary wok fryer to be coated with the sauce and caramelized! The result is a tender and juicy charsiu with a very unique flavour not found anywhere else in Singapore.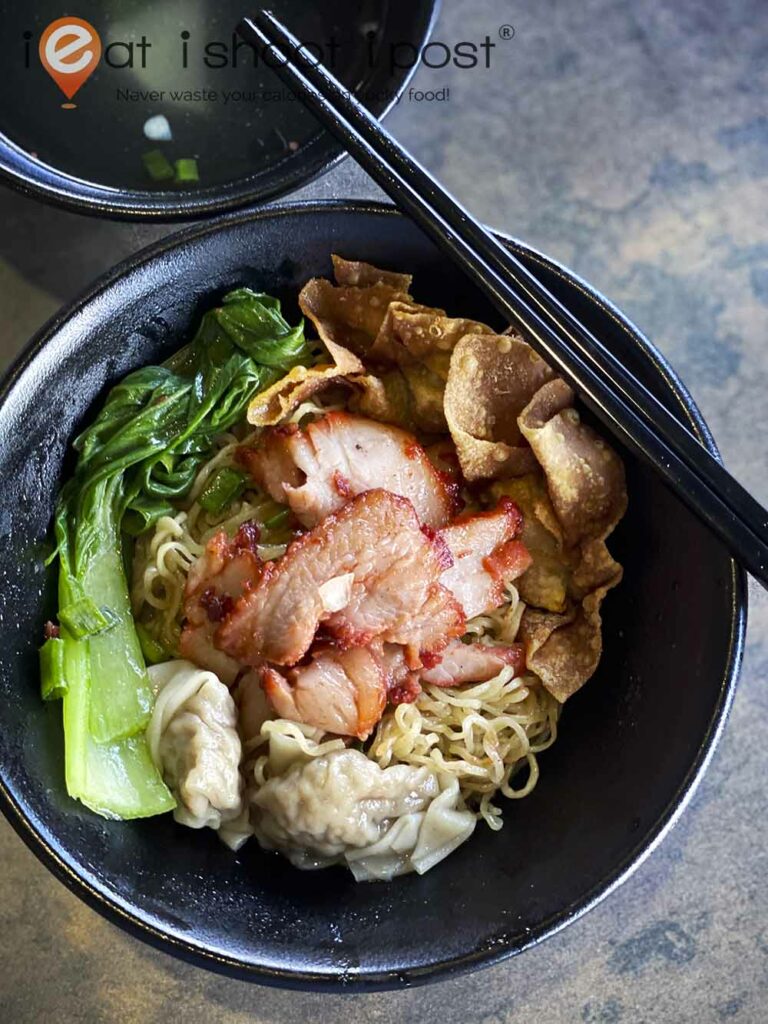 The standard $5 bowl also comes with boiled and fried wontons. He makes the extra effort of making each version different. The boiled version has a little more salt than the fried version because of the way it is cooked to ensure that both taste just right in the mouth. The wontons are good but can still be improved.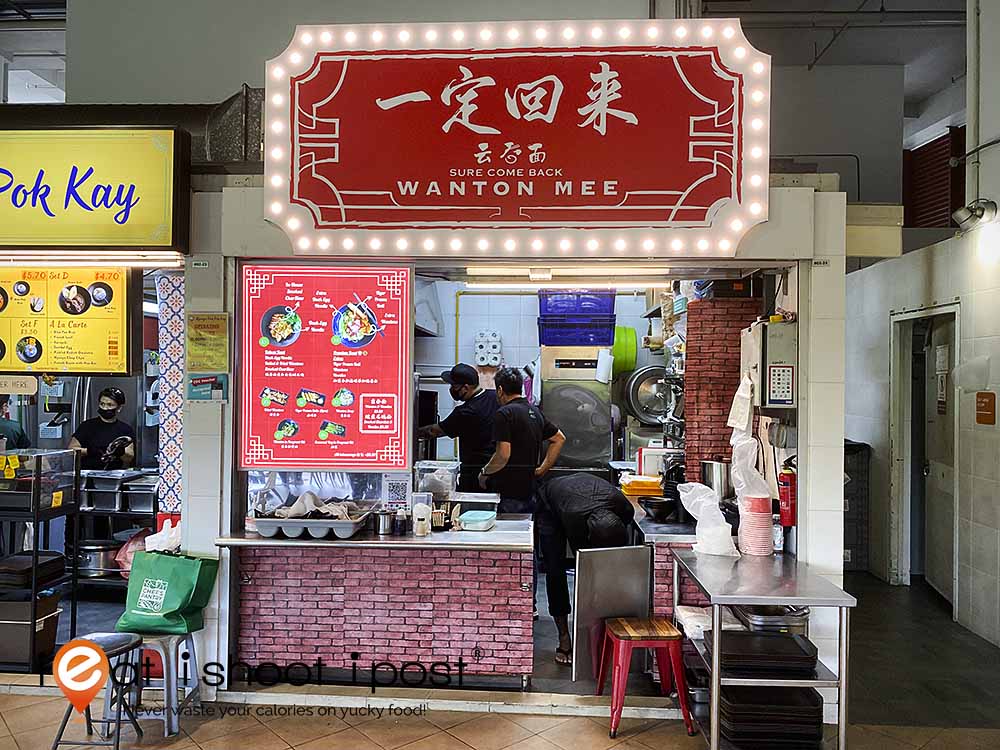 Conclusion
A very good bowl of wanton mee that stands out from the rest because of the duck egg noodles, special sauce, wood smoked charsiu and combination of both boiled and fried wanton. As the name suggests, if you try once, you will "Sure Come Back" for more. 4.25/5