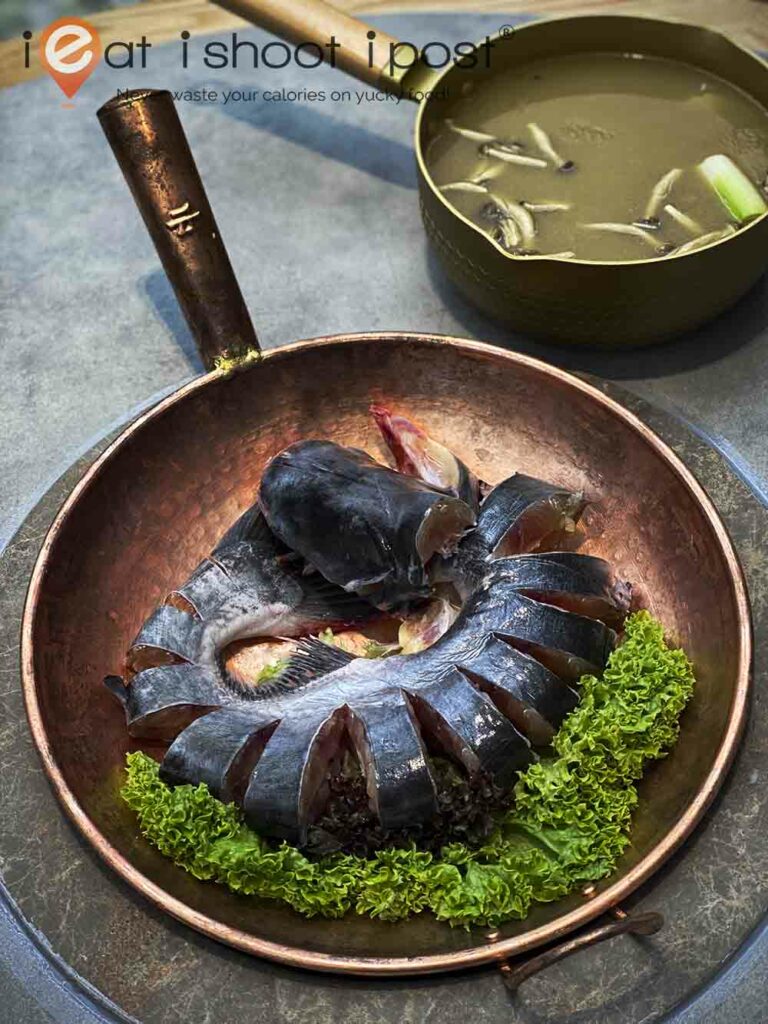 Stonepot fish is poised to be the latest food trend in Singapore. In a nutshell, it's live fish cooked in a heavy granite pot with pressurized steam bubbling up from a network of pipes under the floor. The steam gushes through the broth like how milk is frothed from an espresso machine, and is trapped underneath a straw hat to quickly cook the fish. The resulting flesh is tender and juicy while the fats are emulsified in the soup, giving it a velvety mouthfeel. It's fish head hotpot brought to the next level!
The whole idea of cooking fish in a heavy granite bowl covered with a straw hat is not new. It has been practiced in Yunnan for over a century. Of late, it's been modernized by using some serious tech to produce pressurized steam that is released from the bottom of the bowl like a geyser!
Traditional Pressure Steamed Hot Pot gets a tech boost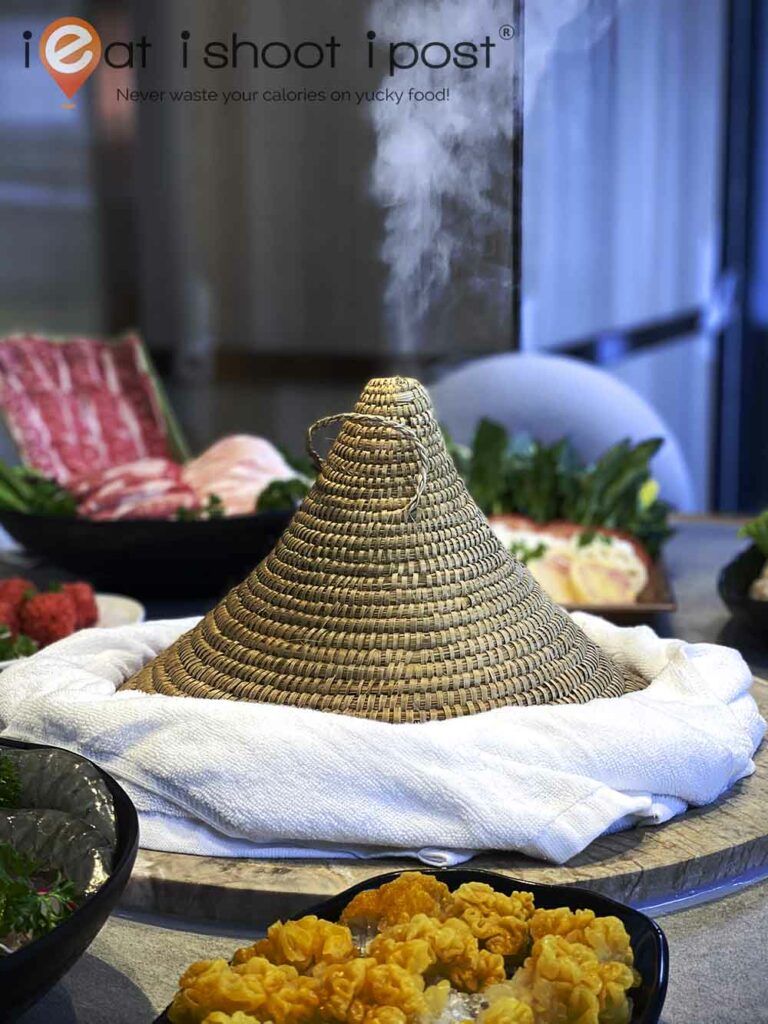 Reuben Chua, the owner of the Singapore franchise, shared with me that they use custom built steam machines to produce this unique cooking method. The steam is pumped through an intricately designed network of pipes buried under the floor to power each granite pot. It isn't as easy as it might seem, as the trick is to ensure that the pressure is evenly distributed so that everyone gets the burst of steam they need even when everyone else is also using steam simultaneously!
Popular Concept comes to Northpoint Singapore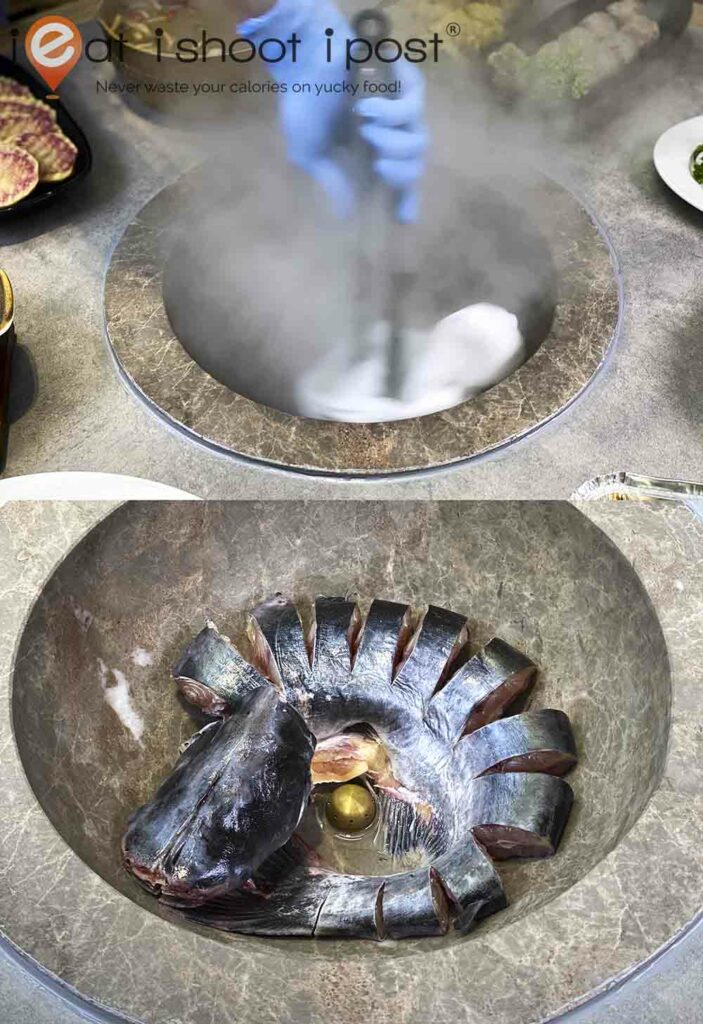 Yun Nans parent company introduced the concept in China 2 years ago and it was an instant hit and soon 4 hour queues were forming outside the restaurant as patrons wait patiently to experience the concept. They now have more than 30 stonepot fish restaurants in China and counting.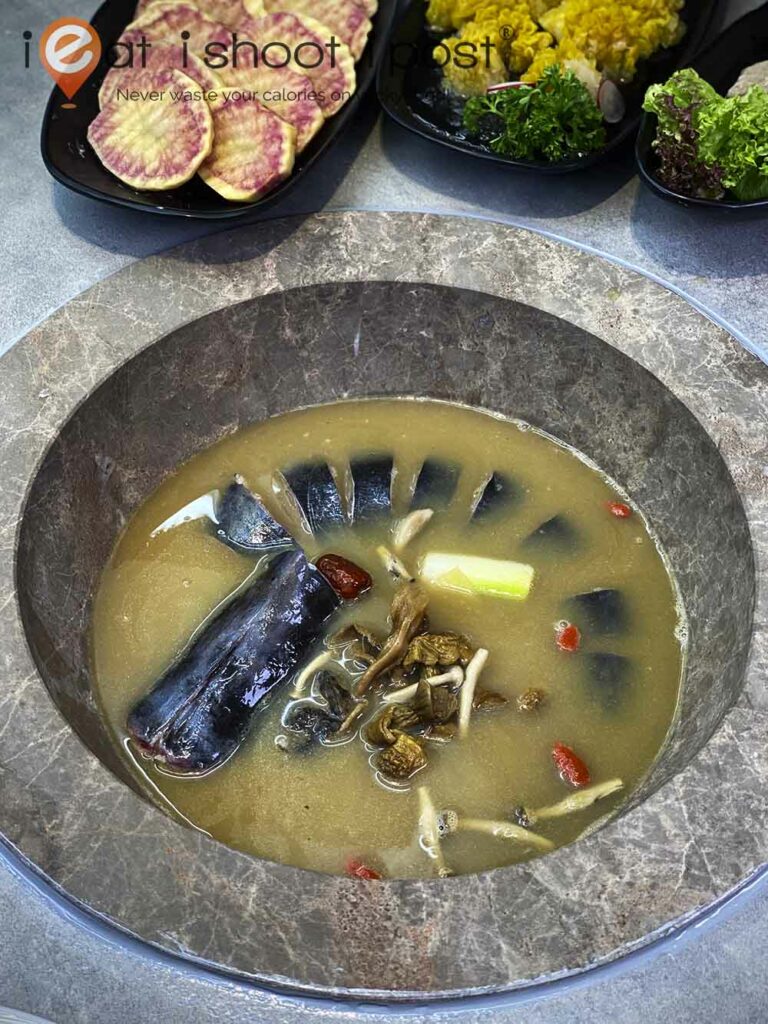 Yun Nans has opened its first stonepot fish restaurant in Singapore at Northpoint City. They have three live fish to choose from; locally farmed Barramundi (Kim Bak Lor $42.80++ each), Marble Goby (Soon Hock – $8.80++/100g), and Patin ($5++/100g). They also offer fresh Seabass ($28++ onwards) You can choose from two soup bases: Collagen Fish Soup ($18++) and Wild Mushroom Soup ($15++). Between the two, I preferred the mushroom soup base as it is more unique, being made from four different types of mushrooms sourced from Yunnan.
Once you have chosen the fish, the attendant will steam clean your granite pot before adding the fish, ingredients, and soup to the pot. The pot is then covered with a straw hat, sealed with a towel and the steam turned on. The sound of the steam gushing through the soup is like what you hear when your barista pulls your espresso! A mere 4 mins later, the straw hat is lifted and, voila, you got a bowl of perfectly cooked fish in a tasty broth.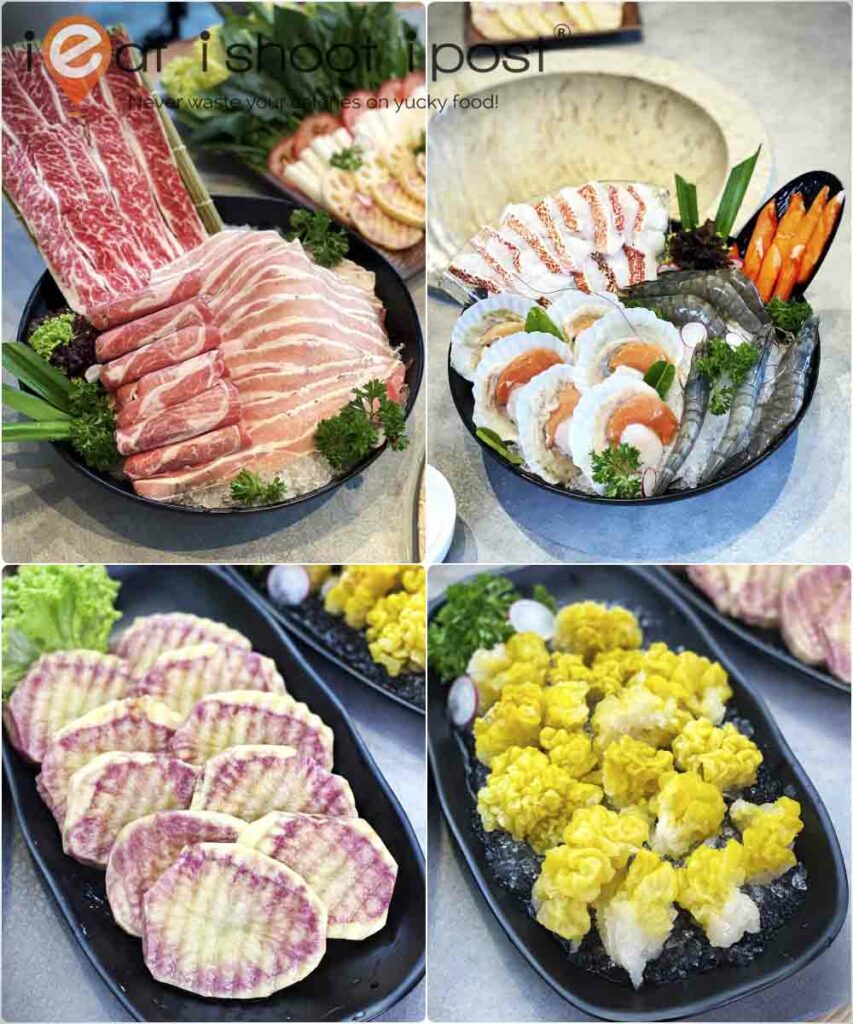 Once you are done with the fish, it's time to cook some other ingredients in the soup. You have a choice of meat, seafood, and vegetables. Yun Nans import quite a few ingredients from Yunnan, like the Lijiang Purple Heart Potatoes, Golden Fungus and various mushrooms which are well worth ordering. With the meat platter, aside from the usual suspects of pork belly and beef short rib, they also have sliced mutton which is a little unusual. One might think that the combination of mutton with fish soup sounds a little odd, but Reuben was quick to point out that the Chinese character for "fresh" 鲜 is made up of "fish" 鱼 and "sheep" 羊, so there might be some ancient Chinese wisdom to the combination! Personally, I still haven't really gotten used to the flavor of mutton in fish broth.
Specialty Side Dishes
Aside from the hotpot, Yun Nans offer many side dishes that are worth ordering.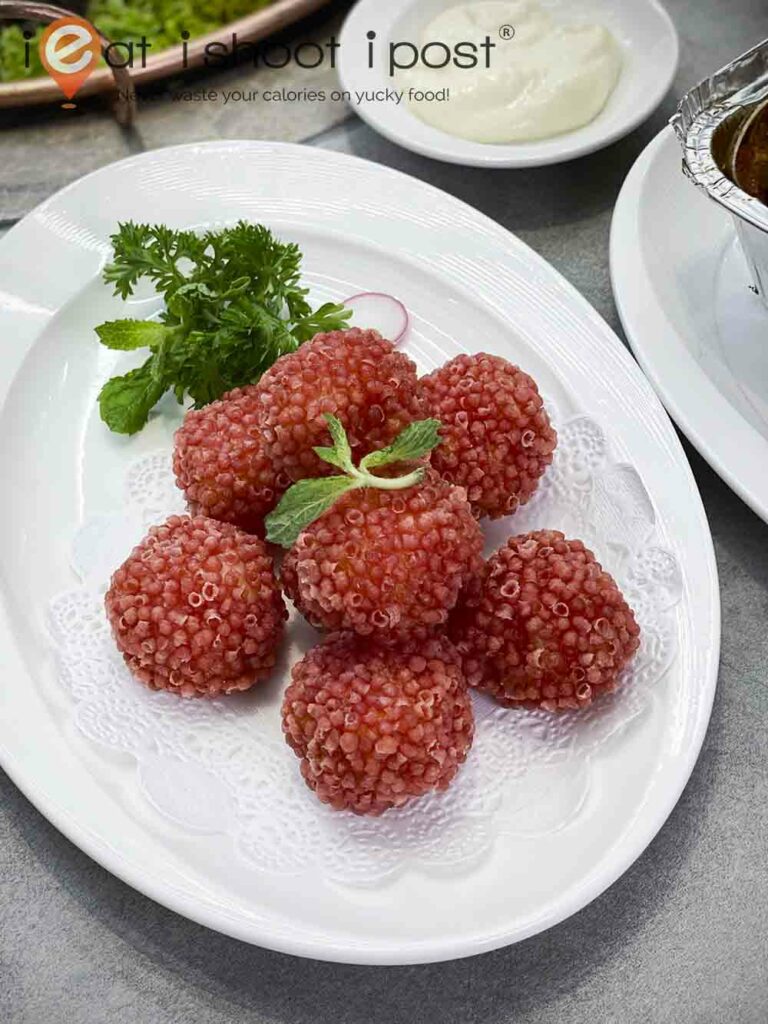 For starters, the Lychee Prawn Balls are really nice. They are basically prawn paste that is made into a ball that resembles lychee by coating it with rice crisps dyed with dragonfruit. We also enjoyed their Crispy Barramundi Collar ($9.80++) that is crunchy on the outside, yet moist on the inside. It's a relatively simple dish with little seasoning so you can taste the freshness of the fish.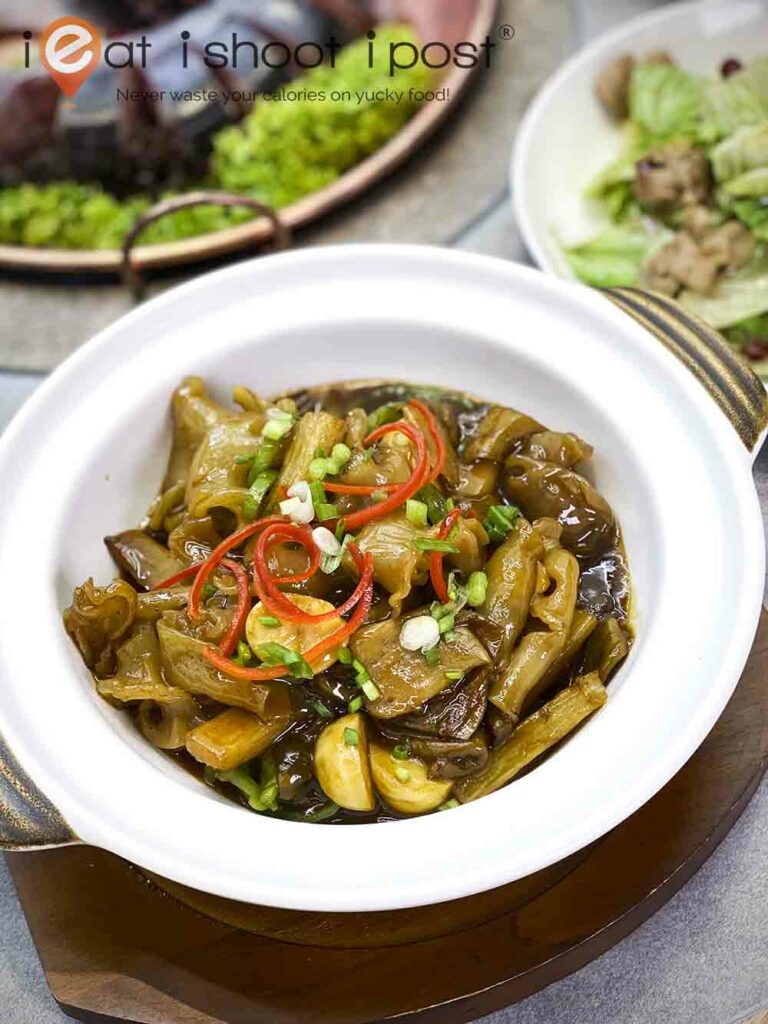 For mains, their Braised Fish Maw with Porcini Mushrooms is excellent. Fresh Barramundi fish maw from Kuhlbarra is stewed with fresh porcini mushrooms and mountain yam. The fish maw has a great texture, almost akin to beef tendons that have been stewed for hours and the porcini mushrooms give the dish its distinctive, woodsy flavor.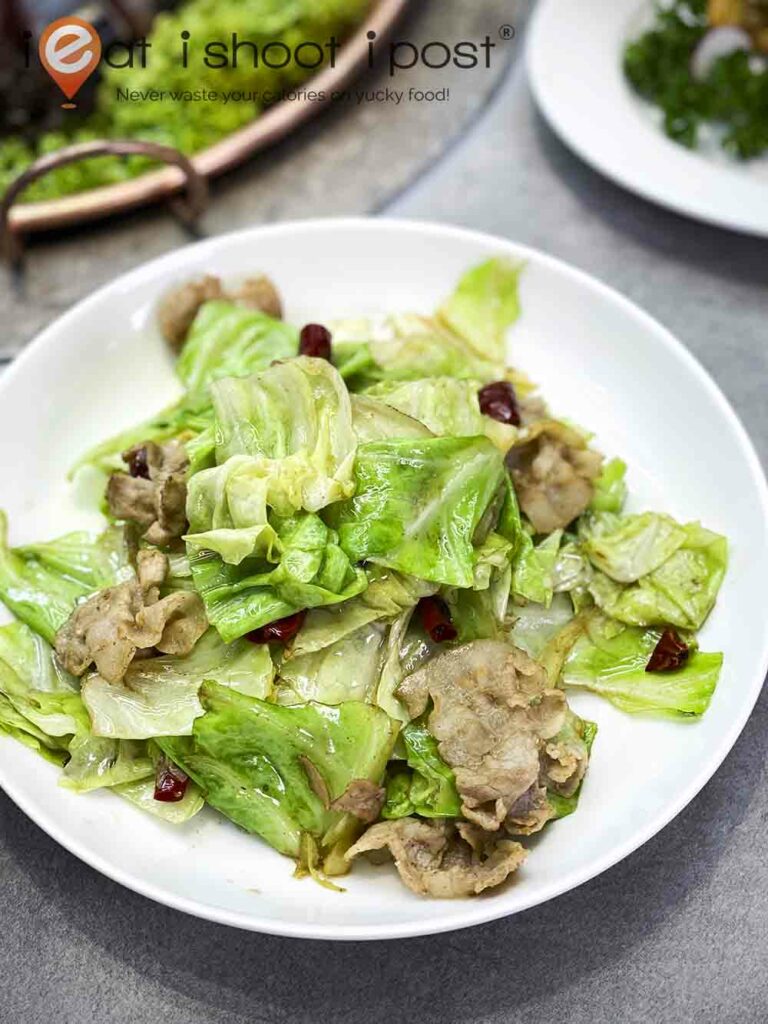 I can also recommend their Sauteed Cabbage with slivers of pork belly. This seemingly simple dish was done really well. It was full of wok hei which made the dish quite addictive. Another interesting ingredient is their special tofu (Crispy Bursting Tofu – spicy, $9.90++) imported from Yunnan. These are made with natural mineral water instead of gypsum powder and the smooth jelly-like texture of the tofu was quite enjoyable. If you are looking for some carbs to accompany your meal, their Fragrant Scallion Rice (茺油饭, $3++) is lovely.
Cosy Ambience inspired by Baishui Terrace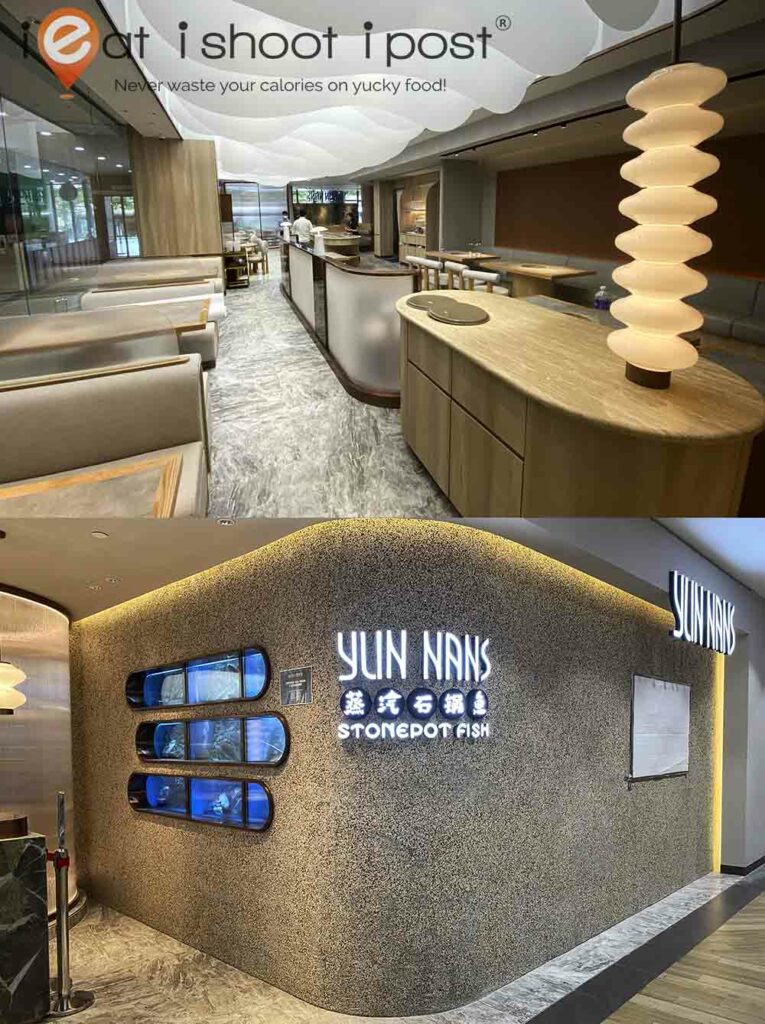 This restaurant deco is inspired by the beautiful water terraces of the Baishui Terrace region in Yunnan with use of marble, stone and water bubble shaped light fixtures. There is even a white wavy ceiling installation to conjure a sense of the misty, cloudy Yunnan highlands. The 124-seater restaurant has plenty of booth seating, each equipped with a stonepot, one 10-person private room and two 6-person semi private rooms.
Conclusion
This fascinating new concept will certainly draw a crowd initially, but in the long term, the quality of the ingredients, its unique flavors, comfortable setting, and family-friendly prices which will ensure that you would soon see a branch nearer your neck of the woods!
You may be interested to read our review on Yun Nans Restaurant.
This post is written in partnership with Yun Nans