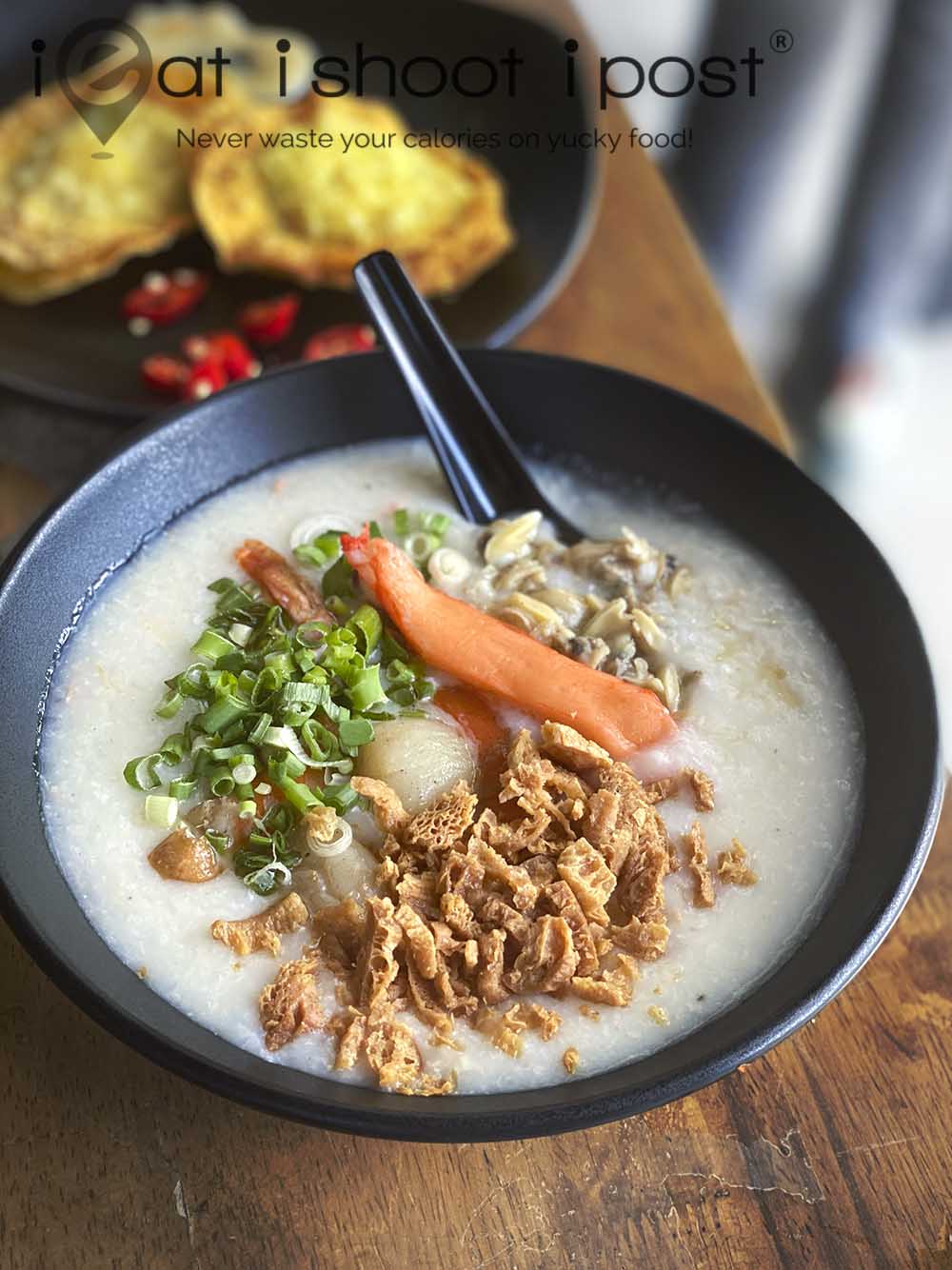 This eatery is closed. The original Reimondo at Pasir Ris Hawker Centre is still in operation selling the wok hei seafood congee.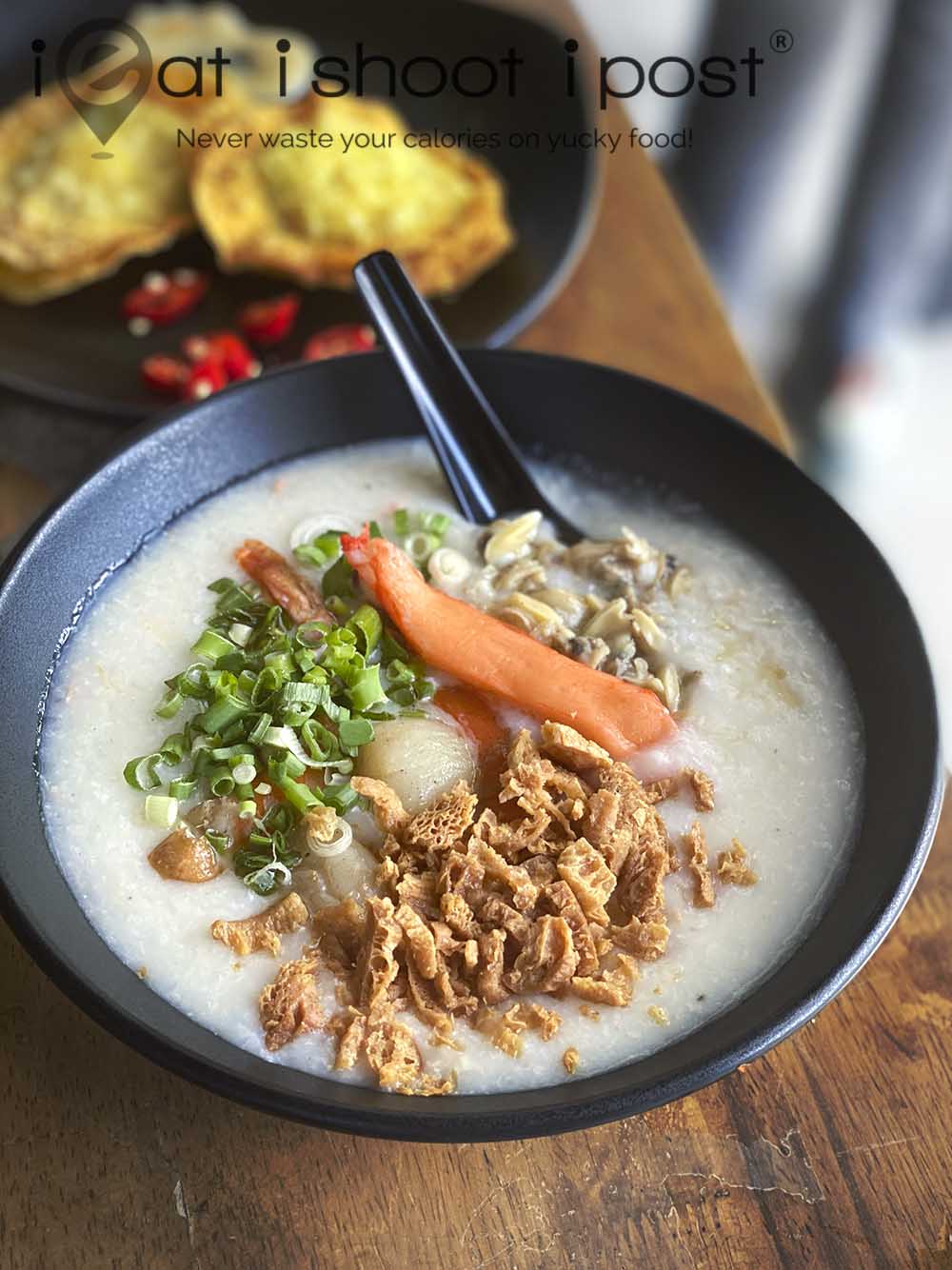 The success of Reimondo's Seafood Congee is nothing short of a miracle. Birthed during the Covid pandemic earlier this year, no one would have ever thought that Raymond would be opening a 2nd stall at Timbre+ so soon! I first wrote about his stall the week he opened in Feb and by the end of the month, he had joined the ranks of hawkers with hour-long queues, thanks to the power the Social Media.
Reimondo's Seafood Congee would make a great case study for any business course. Just how did this young man, who had been working as a vehicle recovering mechanic, go from zero to hawker hero in such a short time?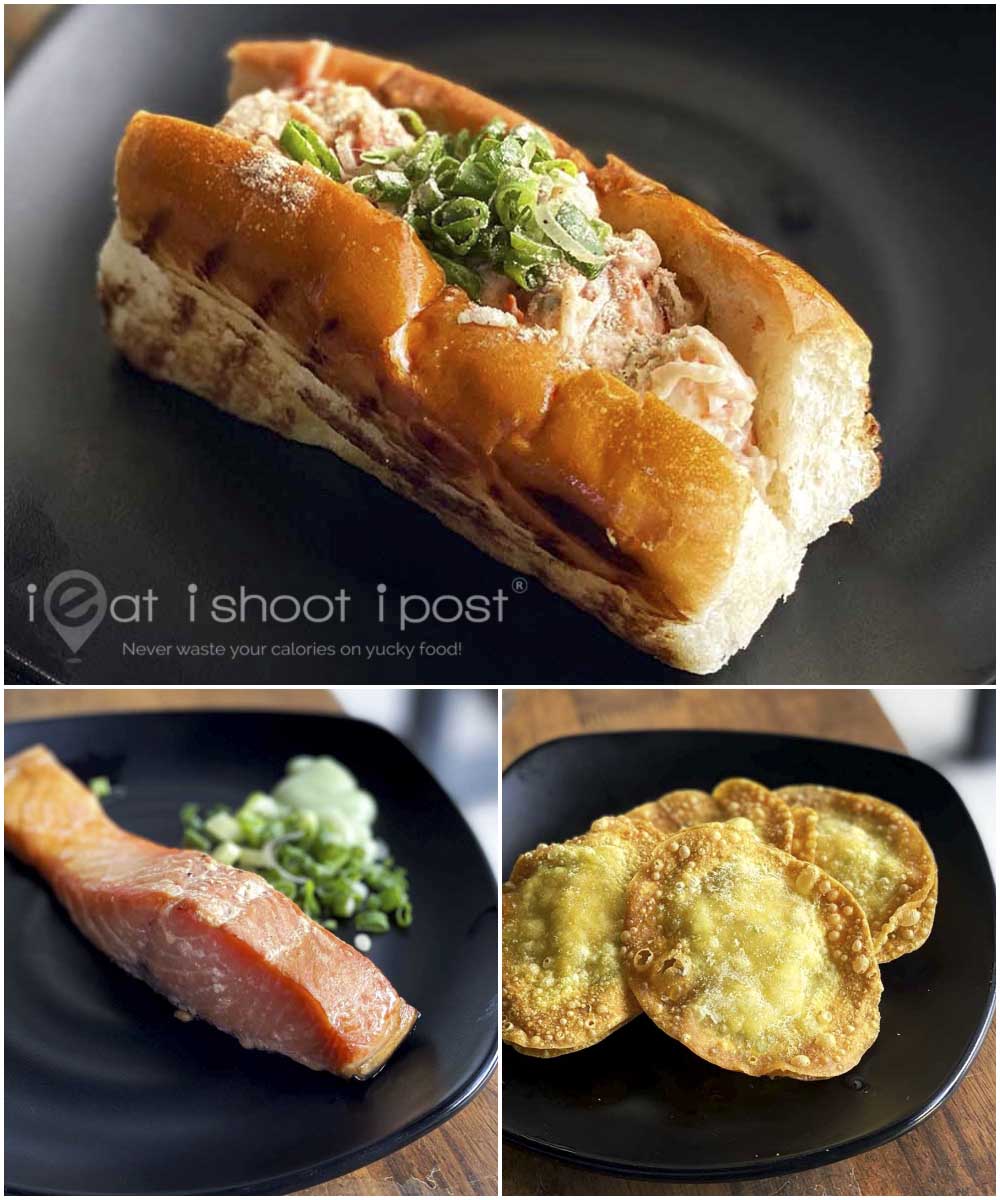 Well, there are several factors. I will just give an executive summary here and leave it to the business school students to do a proper write up:
1. He had a unique offering. No one else was giving their seafood the Wok Hei treatment before adding it to the congee.
2. No one else was making smoked salmon in a hawker centre.
3. He had a pretty colorful backstory, being an ex-millionaire who had lost all his money in his twenties through gambling.
4. He knows how to treat his staff well.
5. He has good business acumen (that was how he became a millionaire in his early twenties, albeit through dubious means — he has since mended his ways)
6. He listens to his wife. (It wasn't always like that)
7. According to Raymond himself, the real secret lies in faith and prayer.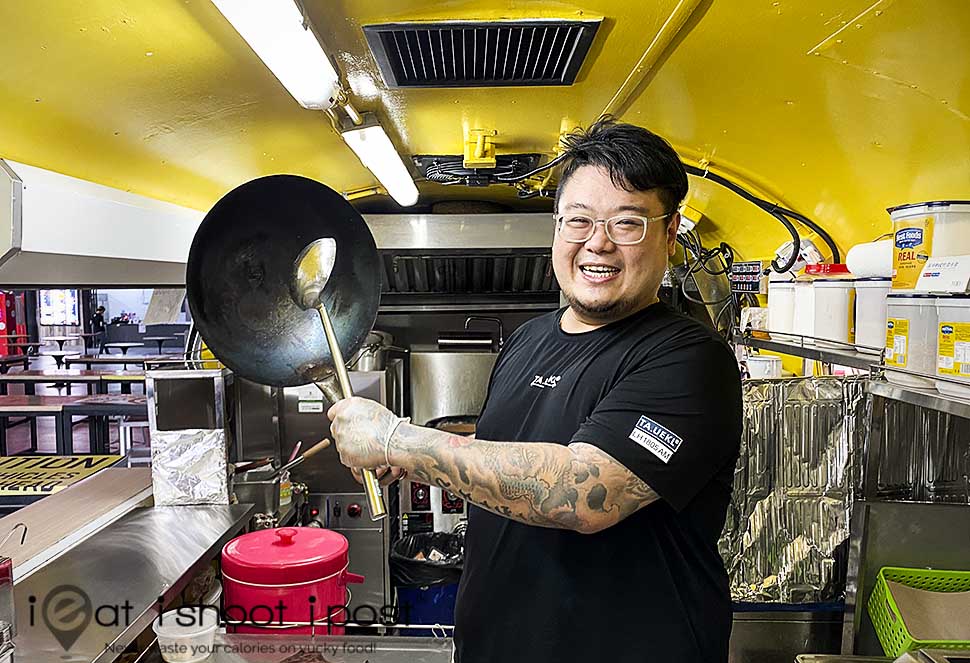 I have known Raymond since 2016 when I wrote about his Crabmeat Wanton Mee. (Jolt anyone's memory?) Since then, we have become friends and I meet him quite regularly. His Crabmeat Wanton Mee did cause a bit of a stir in the foodosphere but it soon fizzled out and Raymond switched to running a vehicle recovery service for the last five years. But, the foodie spirit in him (you can tell he is a foodie, right?) kept calling out to him till he eventually relented and opened Reimondo Seafood congee earlier this year.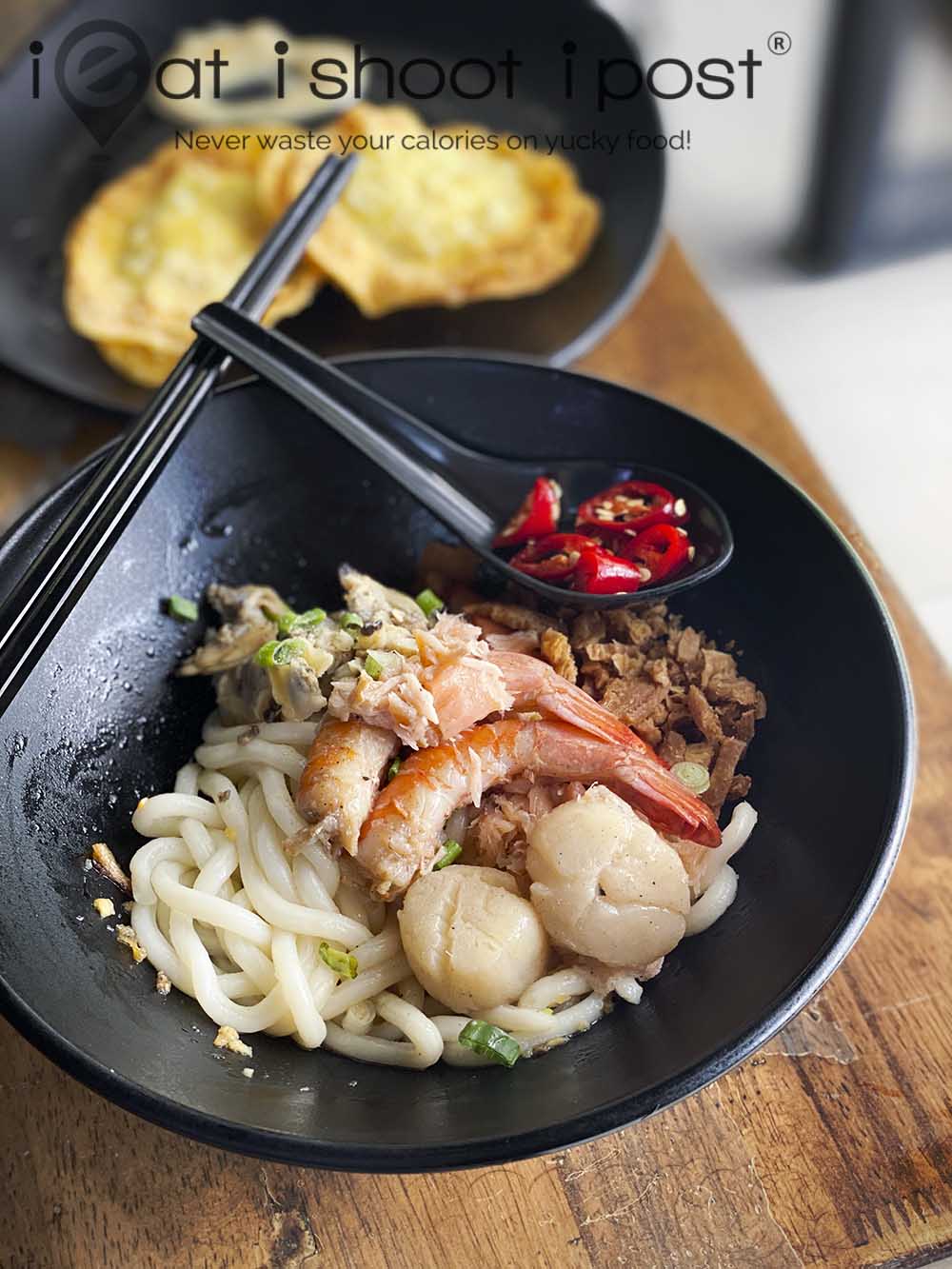 Raymond knew that if he wanted to succeed, he needed something that would grab people's attention. Inspired by my Tea Smoked Salmon recipe, he decided to do smoked salmon at his first stall at Pasir Ris Central Hawker Centre. It was a steep learning curve, but he eventually worked out how to do a pretty decent smoked salmon at hawker prices. The smoked salmon was also added to his congee to give it another layer of flavour! So, not only do you get wok hei in the congee but wood smoke as well!
He has expanded his menu at Timbre+ to include Seafood Udon, as well as a Seafood Roll, both of which has his signature fire kissed prawns, scallops and crab sticks and flaked smoked salmon. I particularly liked his seafood roll, which, at $6.90, is an affordable alternative to a lobster roll. You still get your creamy seafood sandwiched between a freshly toasted New England style buttered roll but with that indelible smoke flavour! 4.5/5

His signature seafood congee $6.90 is the kind of hearty comfort food that one can eat regularly, which might explain his success at Pasir Ris. I like that he uses good quality prawns which has the bite of real prawns instead of ones that have been chemically treated such that they are extra bouncy but flavourless. To add texture, he deep-fries youtiao until it is crispy, mixes it with fried shallots and uses it as a garnish. To top it all off, he drizzles prawn oil over the porridge for yet another layer of flavour. 4.25/5
The seafood udon $7.90 is another dish that is making its debut at the new stall. The original idea was to serve the seafood with egg noodles, but it was subsequently changed to udon. (The signboard still shows egg noodles). The chewy, slippery udon is a much better accompaniment to the seafood, and the quality is on par with those served at Japanese restaurants for $12. 4.25/5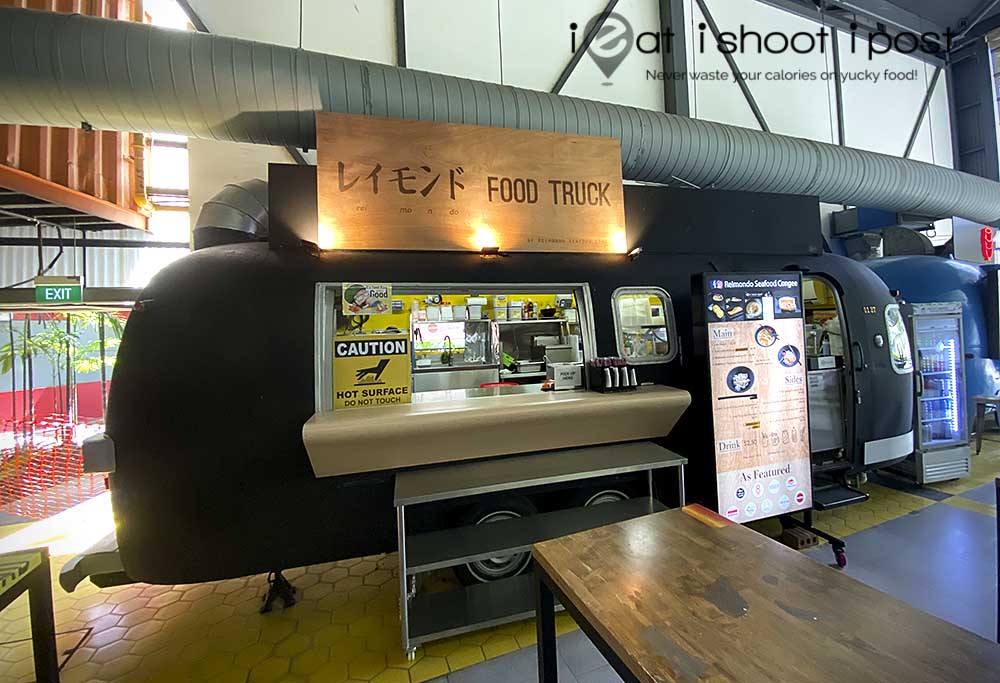 Conclusion
Wok and wood-smoked seafood which you can have with congee, udon or in a buttery seafood roll! Well worth a try!
Disclaimer
I have known Raymond for the last 6 years and have been helping him fine-tune some of the dishes featured in this article