Recipe Revised and Updated 16 Aug 2021
First published Feb 19 2016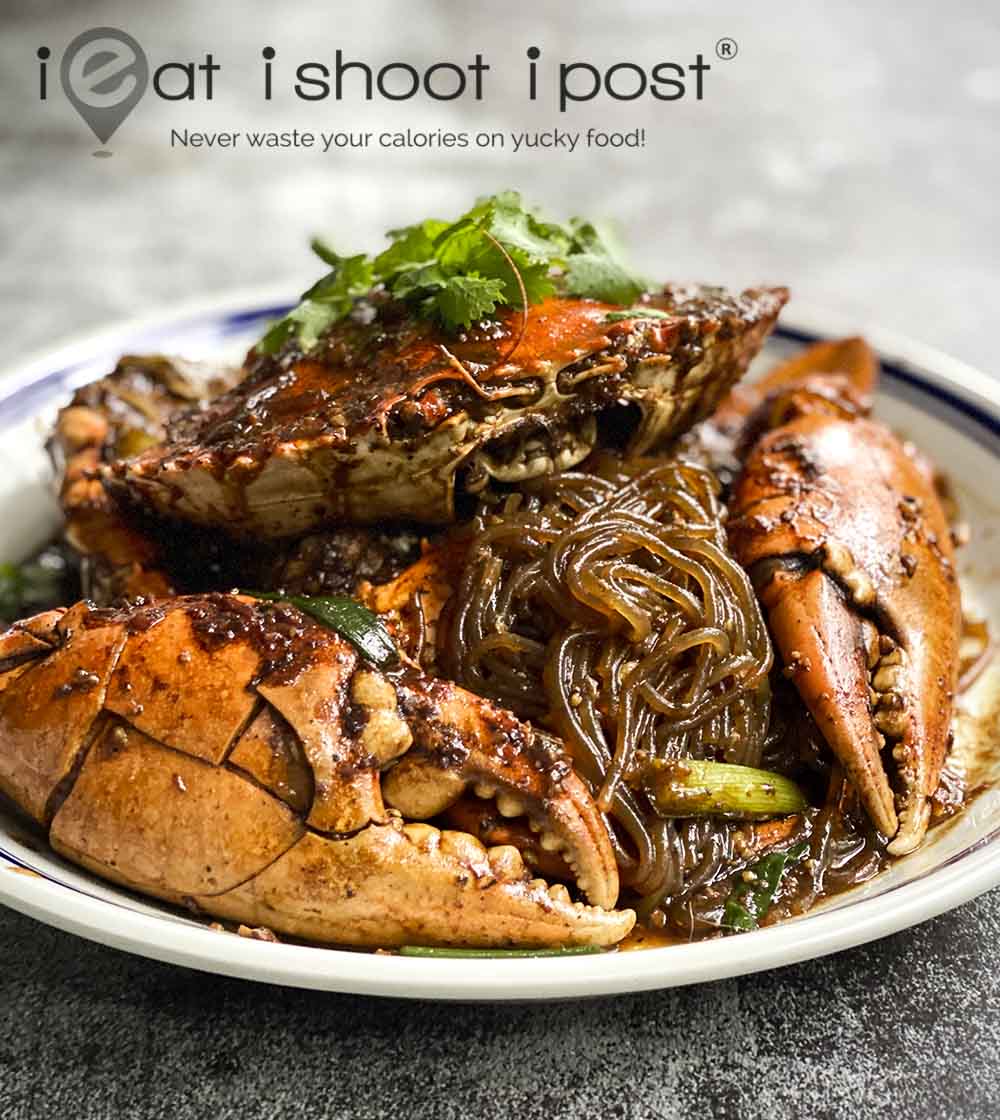 Behold, my black pepper crabs recipe! After watching the video, you might be wondering, "is it really so simple?"
Yes it is.
Some people have suggested that I should have deep fried or steamed the crab first, then melted the butter and fry the shallots and garlic etc etc.  Well, there are many styles of black pepper crabs but the one that my wife likes most is the one from Eng Seng at Joo Chiat Place. And since I am cooking this dish for her, I had to make sure that it is as close to theirs as possible.
My reaction is the same as yours the first time I saw the way they make this dish.  Theirs is an open kitchen, so on the way to the toilets, you can observe how their crabs are cooked.  Everything just goes into the wok and it is cooked until the gravy is reduced.  This makes a lot of sense when you think about it, as all of the crab juices goes into the gravy, giving it that crustacean sweetness and flavour!
This way of cooking also means that you can easily replicate it at home.  You can even cook it in a large pot or a saucepan!  So it is a dish everyone can cook at home with excellent results.  I have included a short video on how to prep the crabs as well so that you know how to properly kill and chop up the crabs.
The recipe for the sauce is something which I concocted after several trials.  It might not be exactly the same as Eng Seng, but it was good enough for my wife to say that she wanted me to cook it again soon!  So for me at least,  it's "Mission Accomplished!"
Ingredients
1 Crab  1-1.5kg
Group A
Black peppercorn 15g
White pepper 10g (increase to 15 g if you want more heat)
Shallots 5 (50g) chopped
Garlic 3 cloves (30g) chopped
Group B – Sauce mix 
Oyster sauce 1 Tbsp
Cooking Caramel/Black soy sauce 1 Tbsp
Kicap manis  1 Tbsp
Maggie seasoning 1 tsp (optional)
Hon-dashi powder 1 Tbsp (or chicken stock powder)
Sugar 2 Tbsp (adjust to taste)
Water 1/4 cup
Group C
Butter 60g (1/4 block)  (You can use less if you wish)
Cornflour 1 Tbsp dissolved in water
Group D Garnishing
Scallions
Coriander leaves
Optional Extra
1. Korean Sweet Potato Vermicelli (Soak in boiling water for 5 mins to soften) Leave extra sauce in a bowl or it will soak it all up
2. Red Peppercorns (1/2 Tbsp will give it a floral aroma)
3. Sichuan Peppercorns (1 tsp will give it a numbing effect)
4. XO Brandy (1/4 cup at the end will give it that lux flavour!)
Steps
1.  Place your crabs in the freezer for 1 – 2  hours to anaesthetize them. Alternatively, you can place them in an ice water bath with salt for 10mins. Once they are dormant,  clean and chop up the crabs.
2.  Toast and grind the black and white peppercorns and set aside.  (You can buy ready ground pepper but it may not have the same punch.
3.Heat the wok and fry the shallots first till light brown and then add garlic and fry till fragrant.
4. Add 500ml of water, butter, sauce and ground peppercorn.  Add the crabs and enough water to cover 80% of the crabs.  Stir to mix well bring to a simmer and cover for the first 10mins.
5. Remove the crabs and set them aside.
6. Add vermicelli into the sauce and simmer for 5 mins.  Once the vermicelli is ready, drain and place on a serving dish.
7.  If not using vermicelli, add some corn slurry to the sauce and simmer to reduce to thicken.
8.  Add the crabs and scallions to the sauce and toss to coat evenly.
9.  Arrange crab on the serving dish and serve!
Here is the video on how to prepare your crabs!
For instructions on how to choose crabs, please see my tutorial on how to choose good meaty crabs!
Other similar seafood recipes to check out:
Salted Egg Sotong
Salted Egg Prawns
XO Har Loke Prawns
Soy Sauce Prawns
Chilli Crabs 
Places to eat Crab:
Roland Restaurant
Ubin Kitchen
Siang Hee Seafood
Majestic Restaurant
Crab At Bay
Check out what to make during CNY:
18 CNY Dishes to Usher in the New Year
Disclosure: Some links above are affiliate links, meaning, at no additional cost to you, a small commission is earned if you click through and make a purchase.