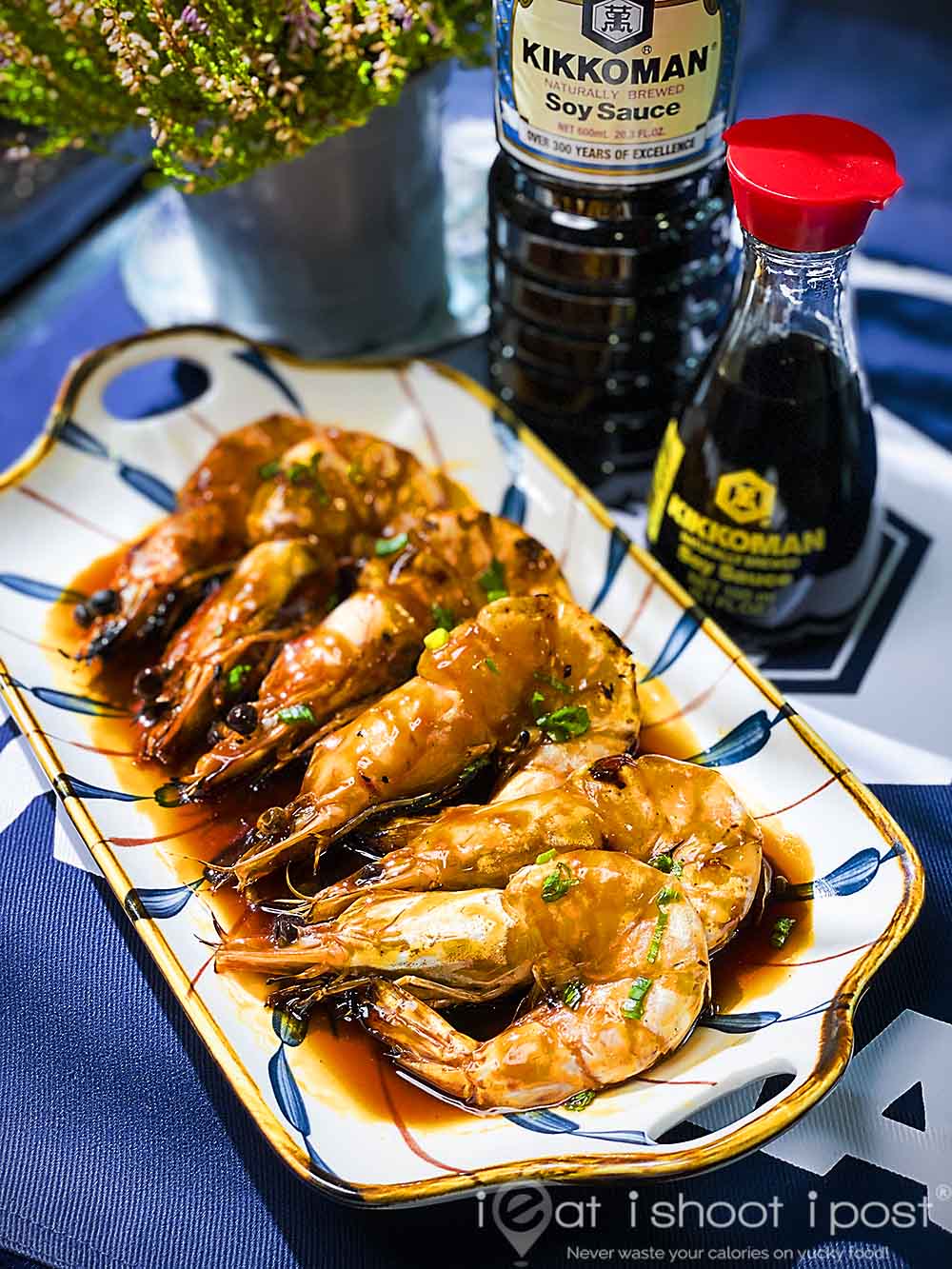 It's the festive season and I am sure some of you will be doing a BBQ with family and friends!  I would like to share with you my recipe for BBQ prawns which has been quite a hit with my friends!  It's based on the classic soy sauce prawns from Roland Restaurant.  At the restaurant, the prawns are grilled in a hot wok and you can certainly do the same at home.  But if you are bringing out the BBQ grill, then take the opportunity to grill your prawns over a charcoal fire for that extra smokey flavour!
There are many light soy sauces in the market.  Kikkoman is a bit different because it is a Japanese style soy sauce that is brewed in Singapore for the Asian market.  The key difference is that the Japanese use roasted wheat to make soy sauce whereas the Chinese used uncooked wheatflour.  Practically, Japanese style soy sauces are darker than the light soy sauce we normally use and the flavour is more rounded.  The locally brewed Kikkoman soy sauce is less salty than the Japanese version and has been modified for local cooking.  The fragrance of Kikkoman is also quite distinct.  In fact, when I started using Kikkoman again, it suddently reminded me of my mum's dishes in the 70's when the Kikkoman soy sauce bottles seemed to be found everywhere!
Kikkoman soy sauce is naturally brewed which means that it is only made from 4 ingredients, viz soybeans, wheat, salt and water and fermented for 6 months to develop that natural soy sauce flavour. And there is no added coloring or preservative.  Some soy sauces in the market use "hydrolysed soy protein" instead of soy beans.  What that means is that the soy beans are broken down into amino acids using industrial processes instead of natural fermentation and it shortens the amount of time needed to make the soy sauce dramatically!
Ingredients
Prawns 1 kg
Sauce
Kikkoman Soy Sauce 1/2 cup
Sugar 1/2 cup
Water 1/2 cup
Butter 50g
Black Vinegar 1Tbsp
Brine
Cold water 500ml
Salt 2 Tbsp
Baking soda 2 tsp
Method
1. Slit the back of the prawns and remove the vein
2. Soak the prawns in brine for 15mins – 30mins.  Rinse and pat dry
3. Add Kikkoman soy sauce, sugar and water together and bring to a simmer.
4.  Stir in cold butter and set aside
5.  Grill prawns till they are slightly charred and 80% cooked
6.  Remove from grill and toss in sauce
7.  Return prawns to the fire and grill till sugar is caramelized.
If you do not want to bring out the barbecue, you may fry the prawns in a wok instead of grilling.
Disclosure
This recipe was written in partnership with Kikkoman
Some links above are affiliate links, meaning, at no additional cost to you, a small commission is earned if you click through and make a purchase.
Check out our other Kikkoman Recipes!
Sukiyaki Potato and Pork Recipe
Thai Prawn Vermicelli
Dong Po Rou
Cantonese Style Steamed Codfish
Other prawn related recipes to check out:
Salted Egg Sotong
Salted Egg Prawns
XO Har Loke Prawns
Soy Sauce Prawns