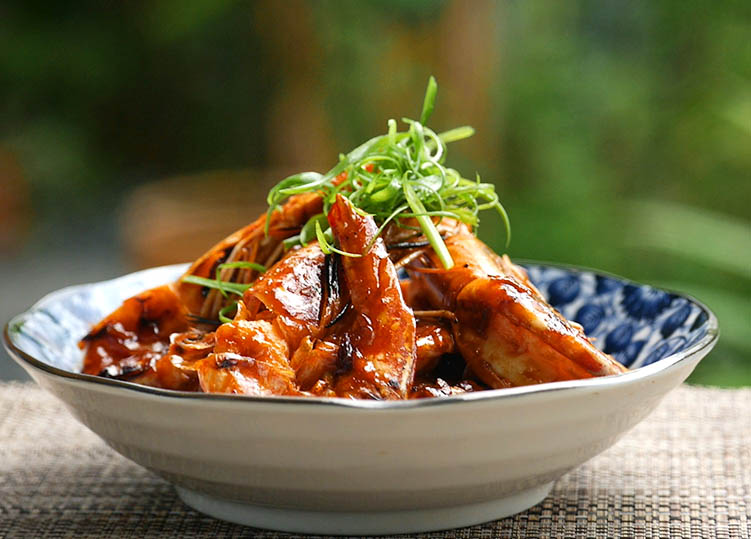 Har Loke Prawns are a really old school Cantonese dish and frequently makes its appearance during Chinese New Year.  It is relatively easy to cook and can be prepared beforehand and kept warm before serving.  I updated the classic recipe by adding not one but two XOs to it.  The first is XO sauce which is a rich scallop and chilli sauce which is readily available at your supermarket.  It is the Hong Kong version of our hae bee hiam.  The second is XO brandy which I flambe at the end to give it that luxurious flavour!   It is Chinese New Year after all, so its time to bring out the good stuff!
The key to Har Loke prawns is to really give the shells a really good char so that the sauce is infused with a smoky flavour.  This is easily done with a non stick pan and uses relatively little oil.  Make sure you dry the prawns thoroughly with kitchen paper as wet prawns will steam instead of fry.  With the Tefal Thermo-spot pan, you will know that the pan is ready when the spot turns uniformly red.  That is when the temperature reaches 190°C which ensures that the shells will start searing when it hits the pan.  It is important to make sure that you give the shells a good char as this will add a smokey flavour to the sauce.
The ideal prawns to use for this recipe is the Indian white or locally known as Ang Kar at the wet markets.  These prawns have thin shells become papery thin when fried.  It is important to remind your guest to suck the sauce off the shells to enjoy the umami rush!
Learn about how to identify Ang Kar prawns here.
Ieat's XXO Har Loke Prawns
Prawns 500g
Group A
Tomato sauce 2 Tbsp
XO sauce 1 Tbsp
Oyster sauce 2 Tbsp
Sugar 1 tsp
White vinegar 1 tsp
LP sauce 1 tsp
Water 1/2 cup
Chicken powder 1 tsp
Group B
XO brandy 2 Tbsp
Sliced green onions for garnishing
Slice back of prawns, devein, leaving the shells intact and soak in 500ml cold water with 1 tsp salt for 30mins. Pat dry with paper towels and set aside.
Heat pan. Once thermal spot is bright red, add a little oil and prawns. Pan fry on both sides till the shells are a little charred and set aside. (takes about 2 mins on each side)
Mix ingredients in Group A in a bowl and add to pan.  Bring to a simmer and reduce by half.  Add prawns to the pan and toss to coat evenly. Lower heat and add XO brandy to the pan and light with a lighter. Make sure you take a good long whiff of the aroma. Serve immediately for the best effect.
Win a Tefal Shallow Pan worth $109. More details at http://bit.ly/TefalSGxDrLeslie2
Be sure to LIKE the TefalSG Facebook page to quality for an entry!
This recipe idea is brought to you by Tefal.
Ponggol Seafood

Disclosure: Some links above are affiliate links, meaning, at no additional cost to you, a small commission is earned if you click through and make a purchase.