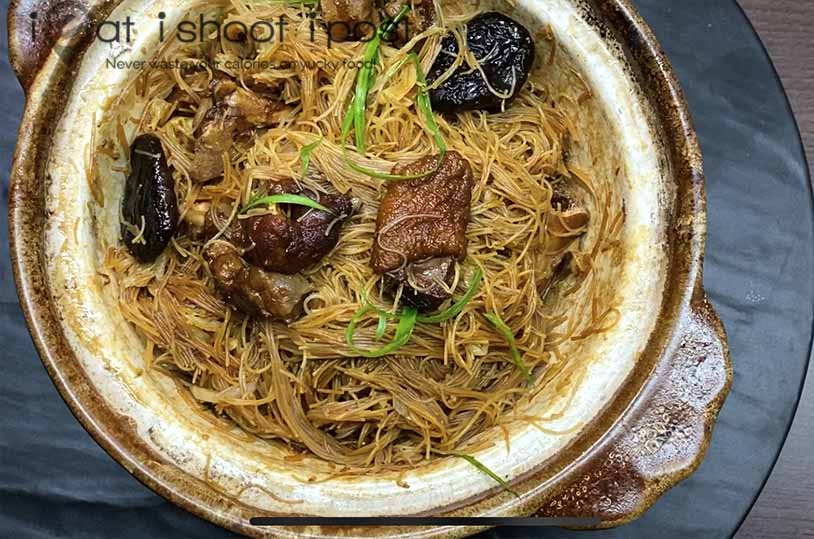 This recipe is the ultimate busy person's alternative to a bowl of instant noodles!  Ter kah (pork trotters) beehoon is a dish which usually involves using a wok to stir fry the beehoon, but this would mean the extra work of cleaning up.  With this recipe, everything is done with a microwave, you only really need one dish and it can be done in 15 mins!
Now onto my Easy Ter Kar bee hoon recipe – ieatishootipost
Ingredients
Beehoon 1 segment from a whole packet
Braised pork trotters 1 can
Shredded cabbage 1 bowl
Dark soy sauce 1 Tbsp
Light soy sauce 1-2 tsp to taste
Method
1.  Soak the beehoon in water (room temp) for a few mins to soften
2.  Slice cabbage, wash and drain.  (You can use a vegetable peeler instead of knife and cutting board)
3.  Place soften beehoon in a microwave proof bowl
4. Top with cabbage
5.  Top with pork trotters
6.  Microwave at max for 5 mins
7.  Remove from microwave, add dark and light soy sauce and toss to mix evenly.
8.  Microwave at max for 3 mins
NB:
If you don't mind using a wok, then you can cook this dish by frying some minced garlic, then add cabbage and fry till the cabbage is softened.  Add beehoon and stir fry till dry then add the can of pork trotters, dark and light soy sauce and enough water to cover the beehoon.  Simmer uncovered for 3-5mins until the beehoon is cooked and the gravy is absorbed, then toss and fry till the beehoon is almost dry.  This will, of course, result in a nicer tasting dish as the wok will impart a bit of char to the beehoon!
Disclosure: Some links above are affiliate links, meaning, at no additional cost to you, we will earn a small commission if you click through and make a purchase.