Updated 20 May 2020
Added video and alternate oven braising method
Original post published on 25 Nov 2014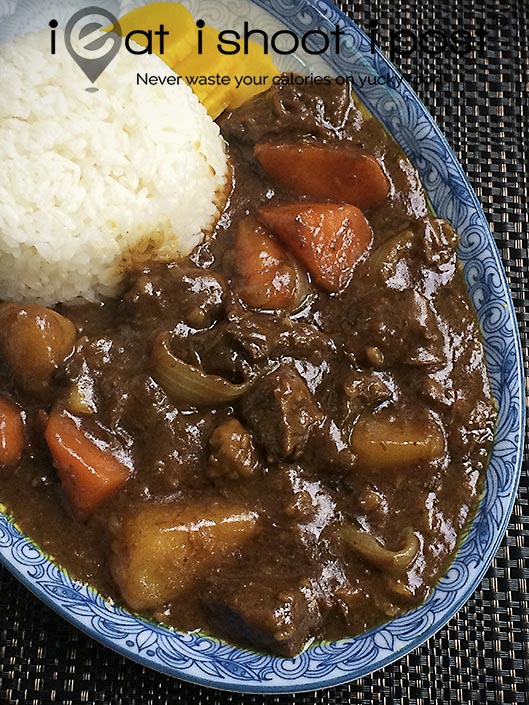 Japanese Beef Curry is one of the easiest, tastiest on pot meal that you can cook at home.  You can put everything in a pot and cook it until everything is soft and it will taste good.  But with a few extra touches here and there, you can really make a meal that you would happily serve to the Queen when she comes a visiting!
I share with you two different ways of cooking this.  The first using a pressure cooker and then also an oven braising method.  Both will yield good results.  The main concept is to cook your beef till tender and then add the necessary ingredients to make the curry sauce.
Here is what you need: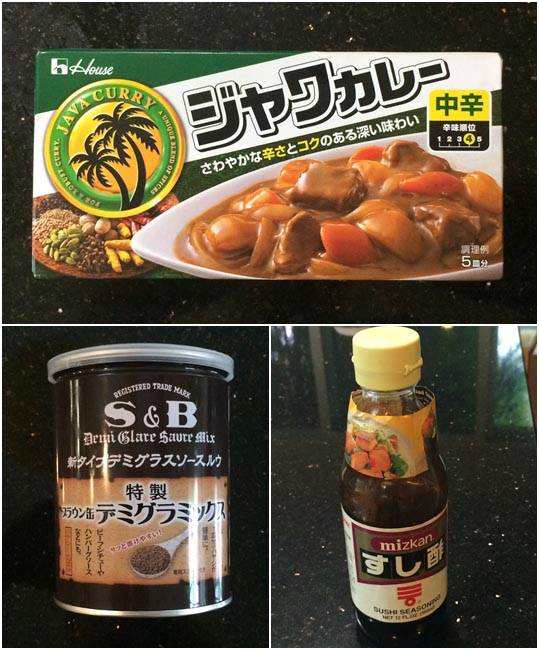 Ingredients
Beef 800g (Chuck, Brisket, Ribs or Shin is good)
Potatoes 3 large (Waxy pototoes like Holland, Bastagi are good but not Russets)
Carrots 2
Large onion 1
Japanese Curry Paste 1 box
Beef Stock (optional) 2 Tbsp adjust to taste (I used demiglaze)
Japanese Vinegar (optional) 1 Tbsp adjust to taste (I used sushi seasoning)
Instant Coffee (optional) 2 tsp
Mirin (optional) 1/2 Cup or to taste
Note:  You can adjust the amount of beef, potatoes and carrots to your own liking.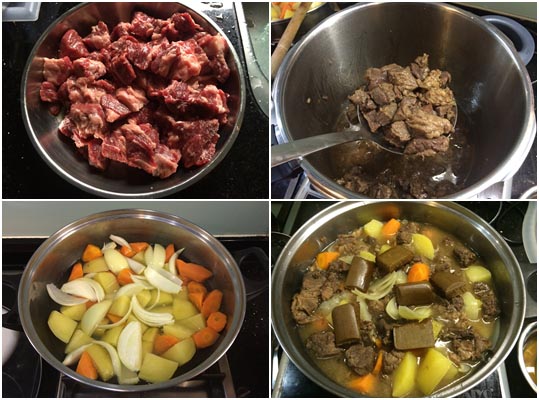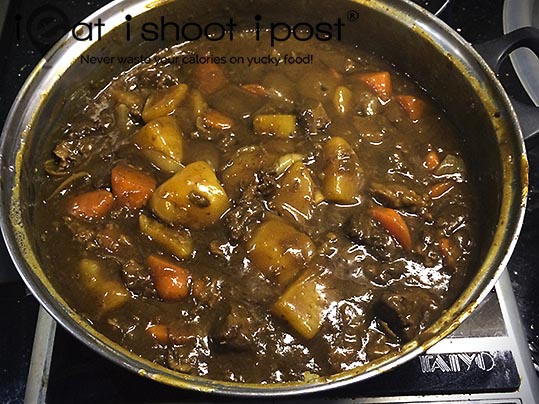 Steps:
1.  Cut the beef into 1-1.5 inch cubes.  Sprinkle with 1 tsp of salt and marinade for an hour then pan fry in small batches till they develop a nice brown crust.
2.  Put the beef in a pressure cooker and add one cup of water and pressure cook for 20mins.  (If you use a normal pot, simmer the beef for one hour with the lid on)
3.  At the same time, cube the potatoes and carrots and place in a pot with enough water to cover, add 2 tsp salt and boil for 20mins.   At the 10 min mark add the onions and 1 Tbsp sugar.  Once cooked, drain and keep the liquid.
4.  Add potatoes, carrots and onions to the beef and add the curry paste and bring to a gentle simmer.
5.  This is the optional step: Add instant coffee, beef stock, mirin, vinegar, sugar, salt to taste and adjust to your own preference.
6.  Simmer till the potatoes are soft and serve with rice!
NB:  This is the quick way of cooking it. If you have the time, you can cook everything in the same pot.  Just cook the beef first and when it is tender (about 1 hour), add the vegetables and when they are soft add the curry paste and seasonings.
Oven Braising Method
Here is an alternative way of cooking this curry.   Instead of using a pressure cooker, you can also braise the beef in the oven!  Alternatively, you can leave the pot on the stovetop and slow cook it for 2.5hrs, but in this case, you will need to stir it occasionally to ensure that it doesn't get burned.
Ingredients:
Beef cheek 1.2kg (Alternative: Shin, Chuck, Short Ribs, Brisket)
Plain Flour 1 cup
Mirepoix
Yellow Onion 1  (diced)
Carrot 1 stick (diced)
Celery 1 stalk (diced)
Beef stock1 litre (Can use chicken stock or just plain water)
Bay leaves (optional)
Japanese curry cubes 6
Apple 1 (grated)
Vinegar 2 tsp
Instant coffee 1 Tbsp
Mirin 2 Tbsp
Liquid Smoke (optional)
Optional
You can add potatoes and carrots if you like (or in case some extra guests turn up in the last min).  In this case,  boil the carrots and potatoes separately and add them to the finished curry.
Method
1.  Fry mirepoix till onions just turn golden brown
2.  Dust beef cheek and pan fry till brown
3.  Add beef to mirepoix together with enough stock to cover the beef.  Add a few bay leaves (if using)
4.  Bring to boil and put in oven (or continue simmering over stove) for 2 to 2.5hrs or until the beef is tender
5.  Remove the beef and discard the bay leaves. Using a hand blender, blend the mirepoix till smooth.  (For even smoother gravy, pass this through a sieve)
6.  Add curry cubes, grated apple, vinegar, instant coffee, mirin and liquid smoke and adjust to your liking.
7.  Return beef to gravy.
8.  Serve with rice and omelette
Other similar Japanese recipes to try:
Japanese Cha Shu Recipe 
Miso Marinated Fish Recipe
Teriyaki Beer Pork Belly
Thin and Crispy Japanese Style Pizza
Chicken Teriyaki Udon
Japanese Cheesecake Recipe
Disclosure: Some links above are affiliate links, meaning, at no additional cost to you, we will earn a small commission if you click through and make a purchase.