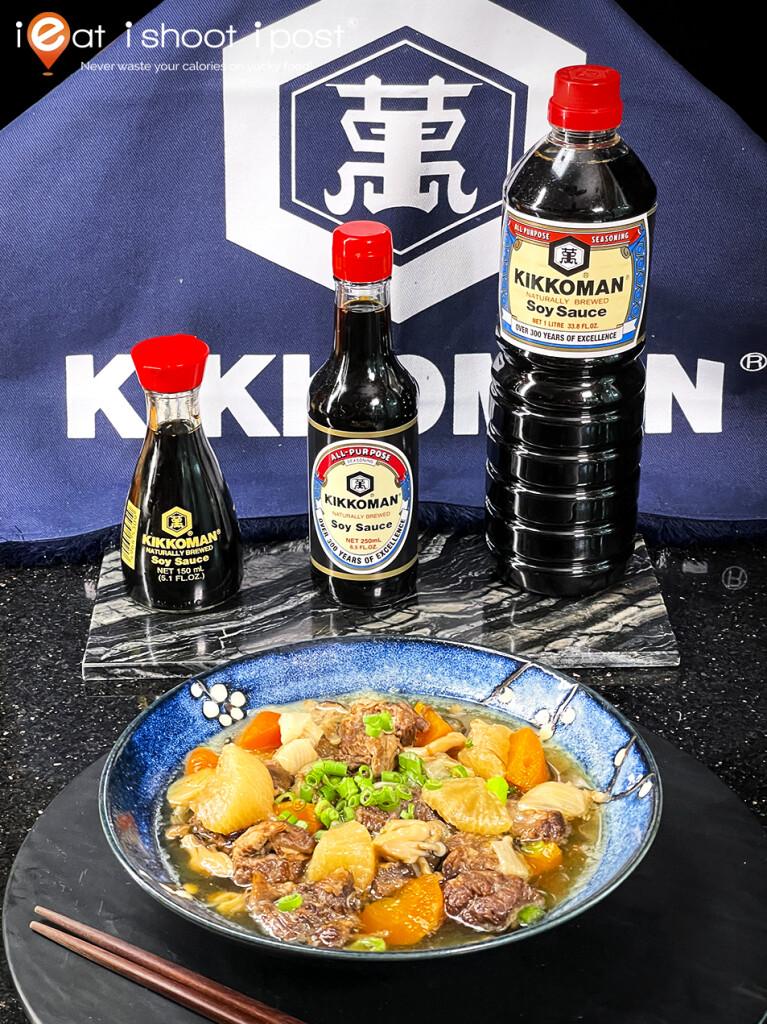 This Japanese style beef stew is modified from the classic gyu suji or Japanese beef tendon stew. The seasonings are kept simple so that you can enjoy the aroma of the soy sauce and natural sweetness of the beef in the resulting broth which has been absorbed by the daikon!
One of the keys to this recipe is to use a good quality soy sauce.  Kikkoman has been brewing soy sauce for over 300 years and is still making it the traditional way with just soybeans, wheat, salt and water.  The aroma is unmistakable.
I am using rib fingers for this recipe as I like this tough cut of beef which has sinews and tendons which, when stewed for a long time, breaks down into a series of interesting textures.
The daikon is cooked separately in the first stage because daikon has a slight bitterness which is removed first before it is added to the beef.  It is not essential and you can certainly just add your daikon directly into the beef together with the other vegetables, but in cooking these are the kinds of thing which differentiate a good cook from a great cook!
Ingredients
Beef rib fingers 1 kg (Brisket or short rib work as well)
Kikkoman Soy Sauce 50ml
Mirin 100ml
Dashi powder 1 Tbsp
Ginger 5 finger length slices
Scallions 2
Daikon 1 medium
Carrot 1 medium
Onion 1 large
Shimeji brown mushrooms 1 pack
Method
1.  Slice rib fingers to 1.5 inch cubes
2.  Pan fry beef still nice and brown on all sides
3.  Add water to beef and wash away excess fat
4.  Add washed beef into pot, add enough water to cover.  Add ginger, shallots, soy sauce, mirin and dashi and simmer for 1 hour or pressure cook for 20mins
5.  Add cut daikon to pot and add enough water to cover.  Bring to boil and simmer for 20mins.  Drain and set aside.
6.  Remove ginger and shallots from beef and add daikon, carrots, onions and mushrooms.  Bring to boil and simmer for 30mins or until the beef is tender and the daikon has absorbed all the broth.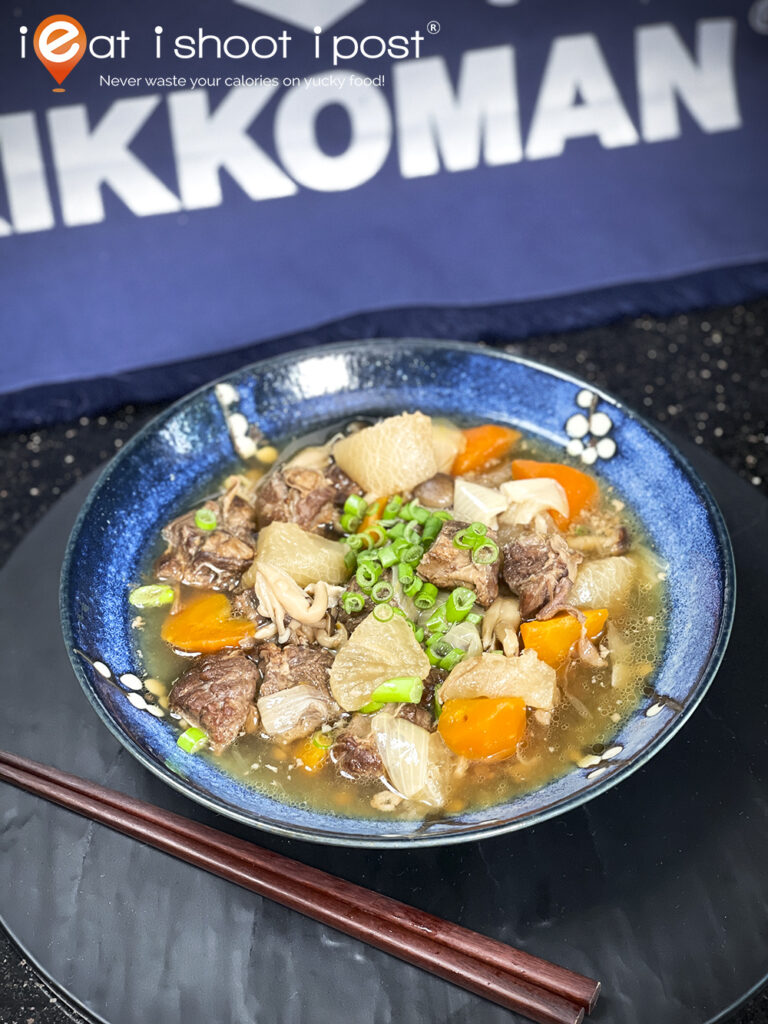 Serving Suggestion
The stew is so good, you can truly eat it on it's own especially since it offers a good balance of protein (beef), carbohydrates (carrots) and dietary fibre (daikon).  Mostly, we would have this with a bowl of steaming white rice to contrast the sweet umami flavours of the stew.
Happy Cooking!
Other recipes using Kikkoman Sauces:
Sukiyaki Potatoes and Mock Pork
Dong Po Rou (Braised Pork Belly)
BBQ Soy Sauce Prawns
Thai Prawn Vermicelli
Cantonese style Steamed Fish
Click here for the Youtube playlist of the all the recipes.
Disclosure: this post is written in partnership with Kikkoman.