It's so hard to find Ngau Lam Meen (Cantonese Braised Beef Noodles) in the food centers these days, isn't it? When I was growing up, it was one of the dishes you could order at that stall that sold wanton mee! Over the years, the rising cost of beef has made it less viable for hawkers to sell it at prices that the public would accept as a hawker dish. So, if you want to eat it, you will need to find a Cantonese restaurant that sells it or make it yourself!
Canadian Beef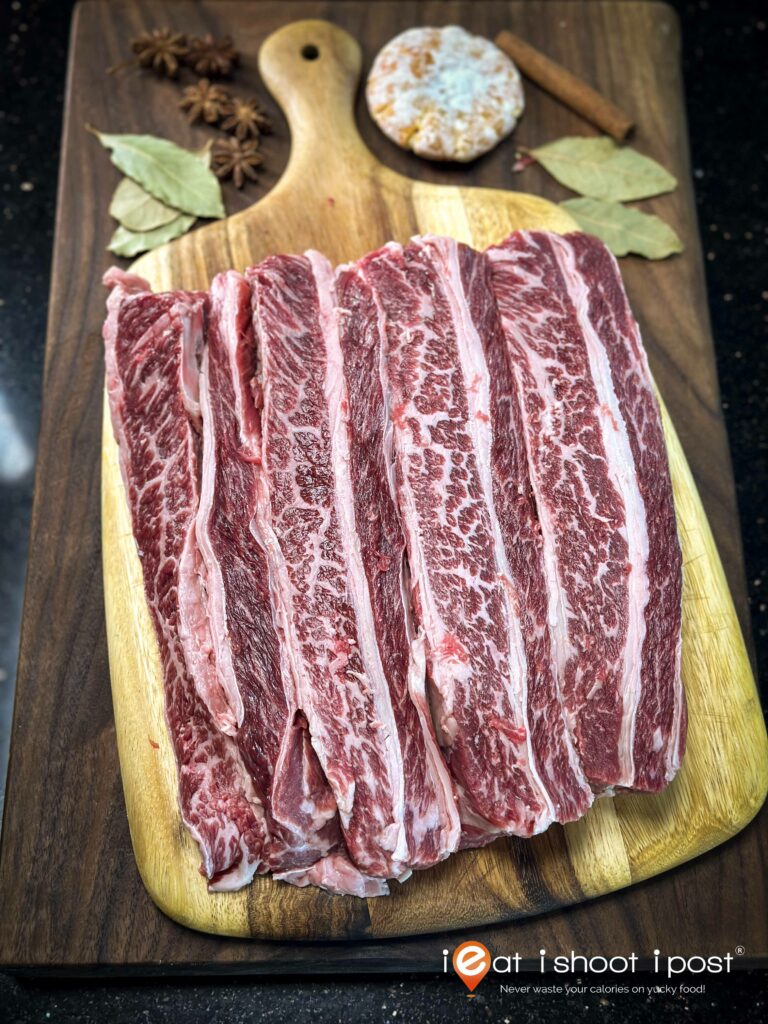 While the original recipe typically calls for beef brisket, we are using boneless short ribs which are more evenly marbled which will result in every chunk of beef having a similar melt-in-your-mouth texture.
Canadian beef is typically produced from cattle-fed barley, wheat or corn. The use of these feed ingredients produces well-marbled, flavourful, and tender beef with firm-white-colored fat. I have been able to get hold of the beef and so far I have found the quality to be excellent. Canada beef will soon be hitting our supermarkets and butcheries, so do give it a try when you happen to chance upon it.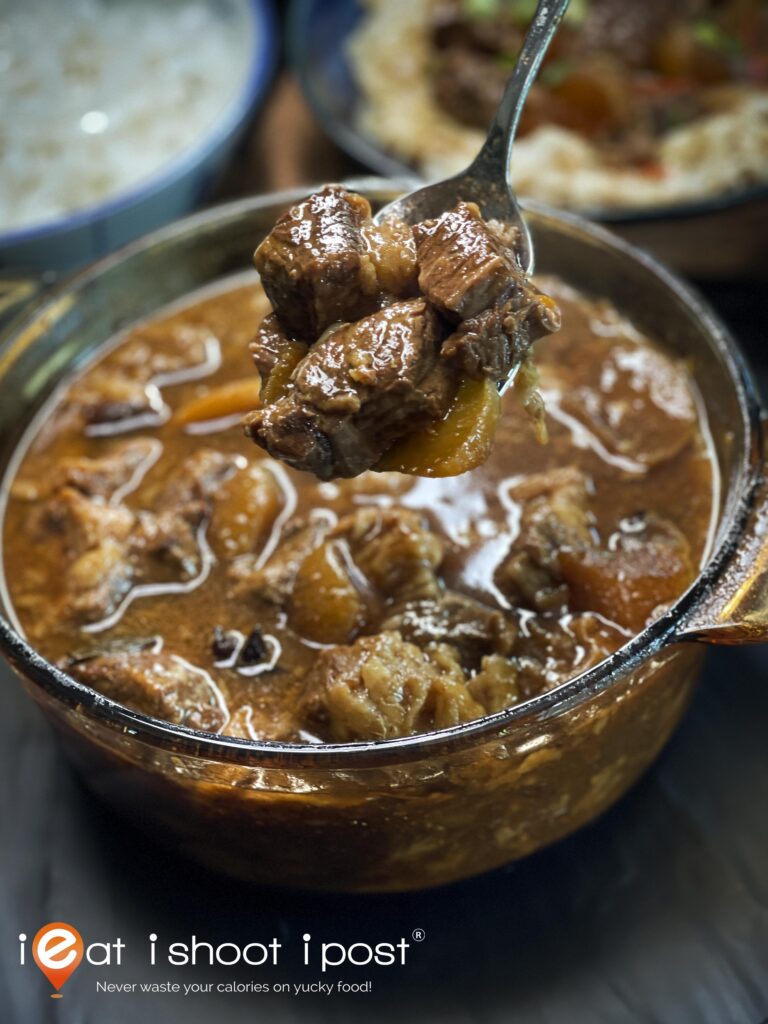 Ingredients
Serves: 10 – 12 portions
Beef Short Ribs 1.5kg
Daikon Radish – 1 large
Spices
Ginger 5 slices
Garlic 4 cloves (sliced)
Cinnamon 1 stick
Star Anise 5
Bay leaves 4
Candied orange 1 Half (optional)
Dried tangerine peel 1 piece (from one orange)
Sauces
Chu Hou Sauce 3 Tbsp
Red Fermented Bean Curd 3cm piece
Dark Soy Sauce 1 Tbsp
Light Soy Sauce 1 Tbsp
Oyster Sauce 1 Tbsp
Hua Diao Cooking Wine 1/2 cup
Chicken Stock Powder 2 tsp
Rock Sugar 2 Tbsp
Salt to taste

Cornflour 2 Tbsp dissolved in water – to thicken gravy
Notes on Ingredients
1. Chu Hou Sauce is a cooked bean paste that you can find at specialty Asian Groceries like Yue Hwa and Kwong Cheong Thye. You should be able to buy Lee Kum Kee brand Chu Hou sauce at the Supermarket or online. If you can't get hold of Chu Hou sauce, you can use miso as a substitute.
2. Candied orange can be found in medical halls. If you cannot find it, substitute with orange marmalade.
3. Red fermented bean curd can be found on your supermarket shelves as well as in the dry goods section at the wet market. You can also buy them from specialty Asian groceries or online.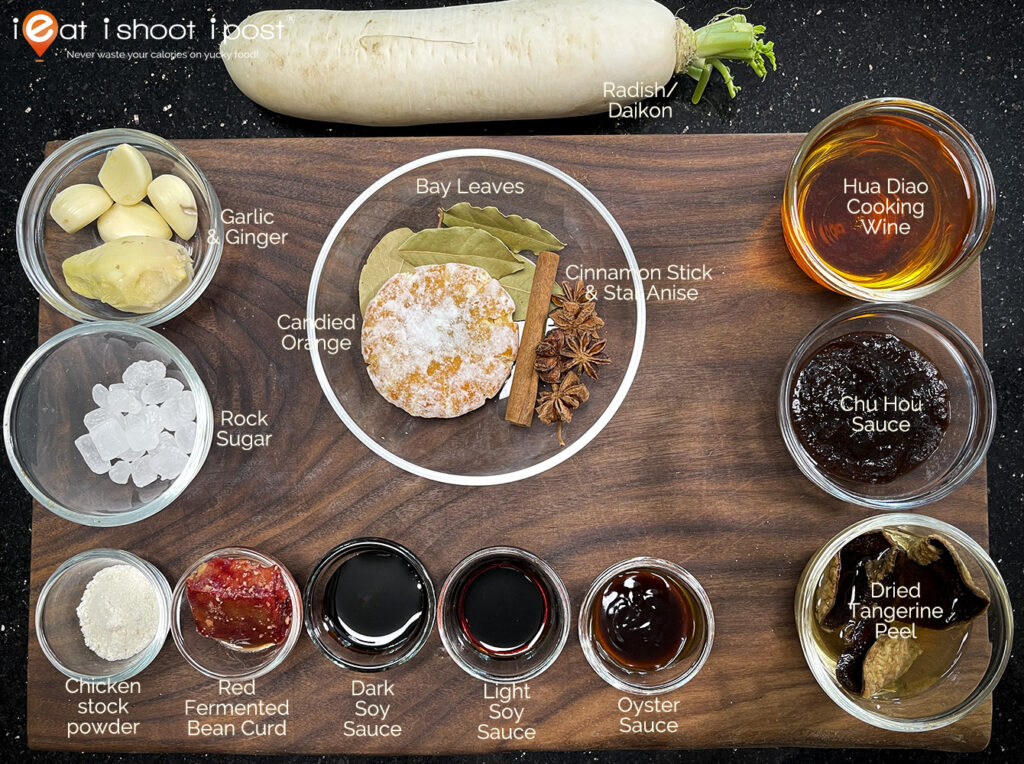 Recipe Steps
1. Slice beef to 3cm cubes and blanch them in water for 5 mins. Drain, wash the beef and set aside
2. Saute garlic and ginger and add the beef. Toss to coat the beef evenly with the oil.
3. Add the rest of the ingredients and enough water to just cover the beef.
4. Cook the beef for one hour on low heat so that the liquid is just simmering
5. Cut daikon and boil for 10mins. Drain and set aside.
6. Add daikon to beef after its been cooking for 1 hour and continue to simmer gently until beef is chopstick tender, about 30mins. The radish should look translucent by now
7. Taste and add additional salt if needed
8. Add cornflour slurry to thicken the gravy.
9. The stew will taste even better if kept overnight.
Preparing the Beef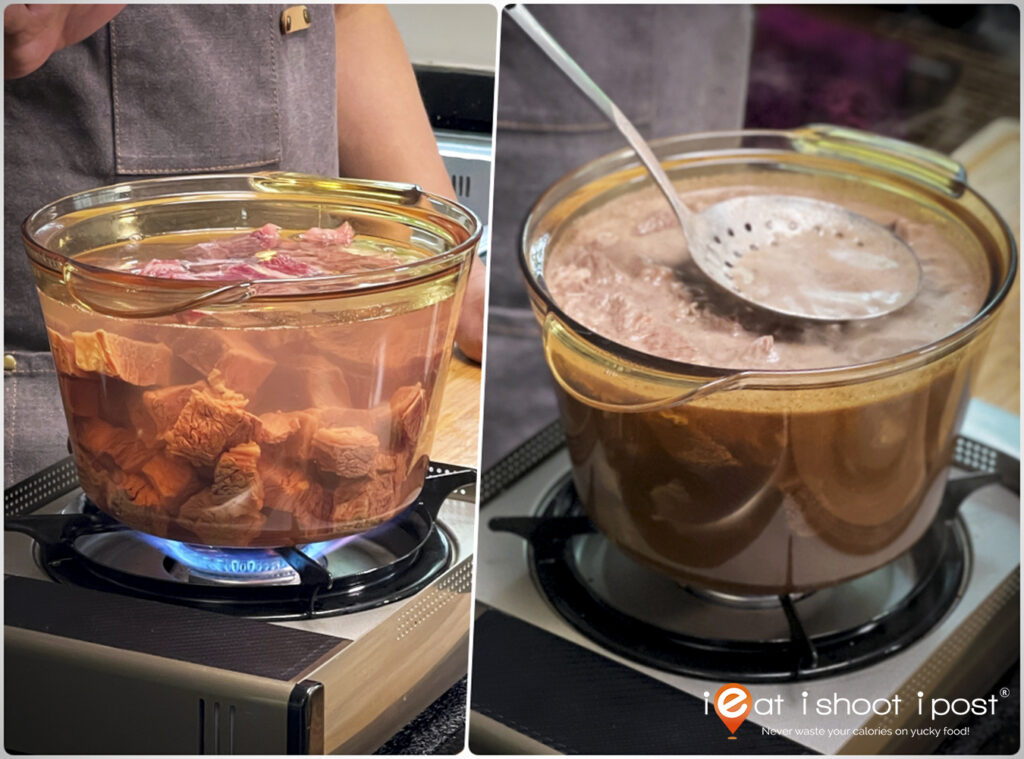 Blanching the beef in hot water helps to clean the beef and get rid of the foam which is the made up of the myoglobin found on the surface of the beef. It will result in cleaner-tasting beef and a better appearance of the final stew.
Cooking the Beef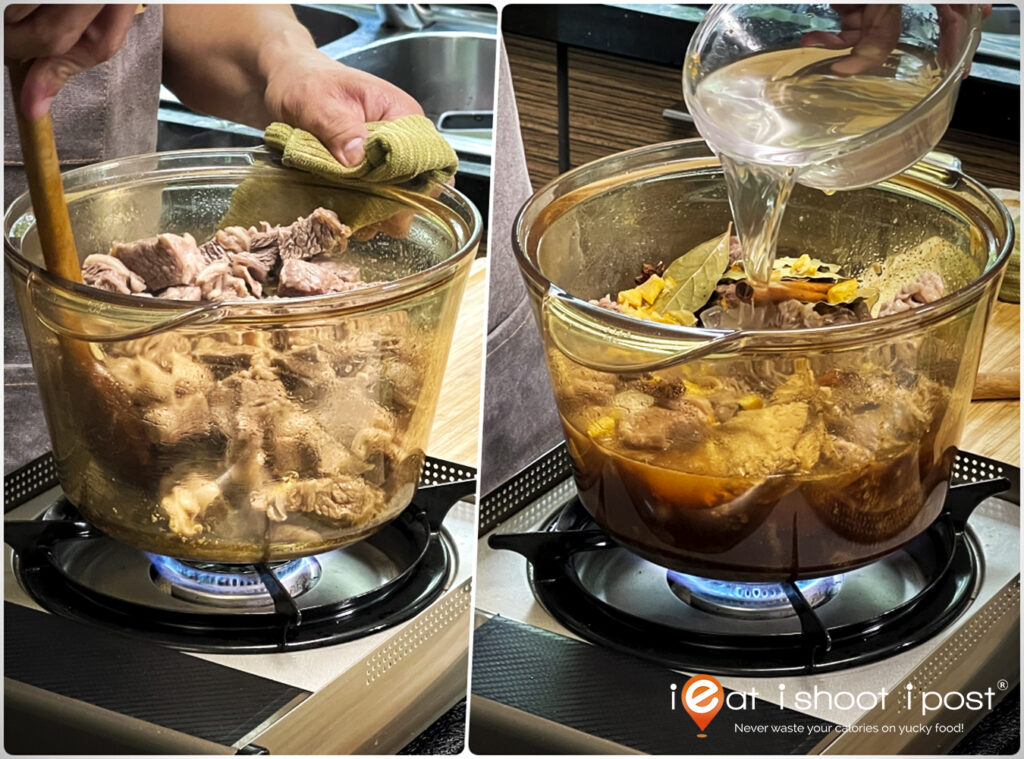 After sautéing the garlic and ginger, the beef is added to the pot, followed by the rest of the ingredients and enough water to cover the beef. Bring the liquid to a gentle simmer and continue to cook at low heat for an hour.
Note:
Instead of leaving it on the stove, you can place the whole pot in the oven (make sure your pot is oven proof) at 130oC. You don't have to stir the beef and it will gently cook in the pot.
If you are pressed for time, you can use a pressure cooker and cook the beef for 20mins at high pressure. Depressurize and add the radish and pressure cook for another 10mins. The disadvantage of this is that the high pressure renders out a lot more fat than the gentle simmering, but you get tender beef in a fraction of the time.
Preparing the Daikon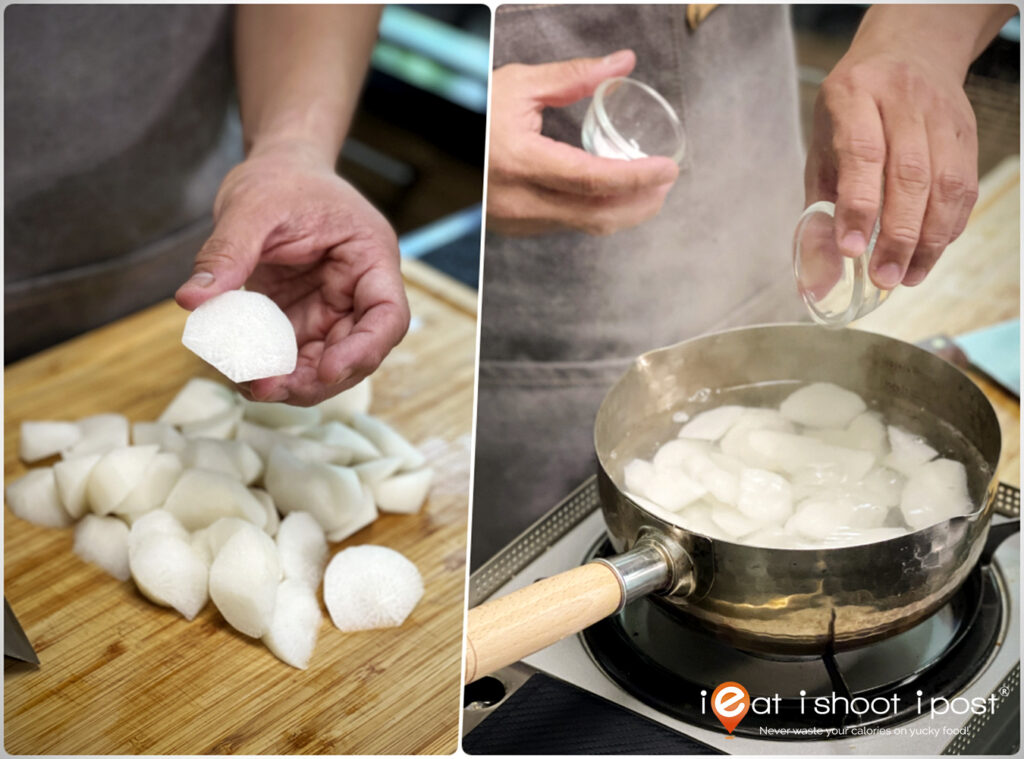 I like to cook the daikon to get rid of any bitterness and also to get rid of excess water which would have diluted the stew, if I had added the daikon directly to the stew. Simply add the daikon wedges into hot water and add 1 tsp of salt and 1 Tbsp of sugar. Once it's cooked, drain the water and add to the stew after cooking the beef for an hour.
Continue cooking the beef until it is chopstick tender.
Serving Suggestions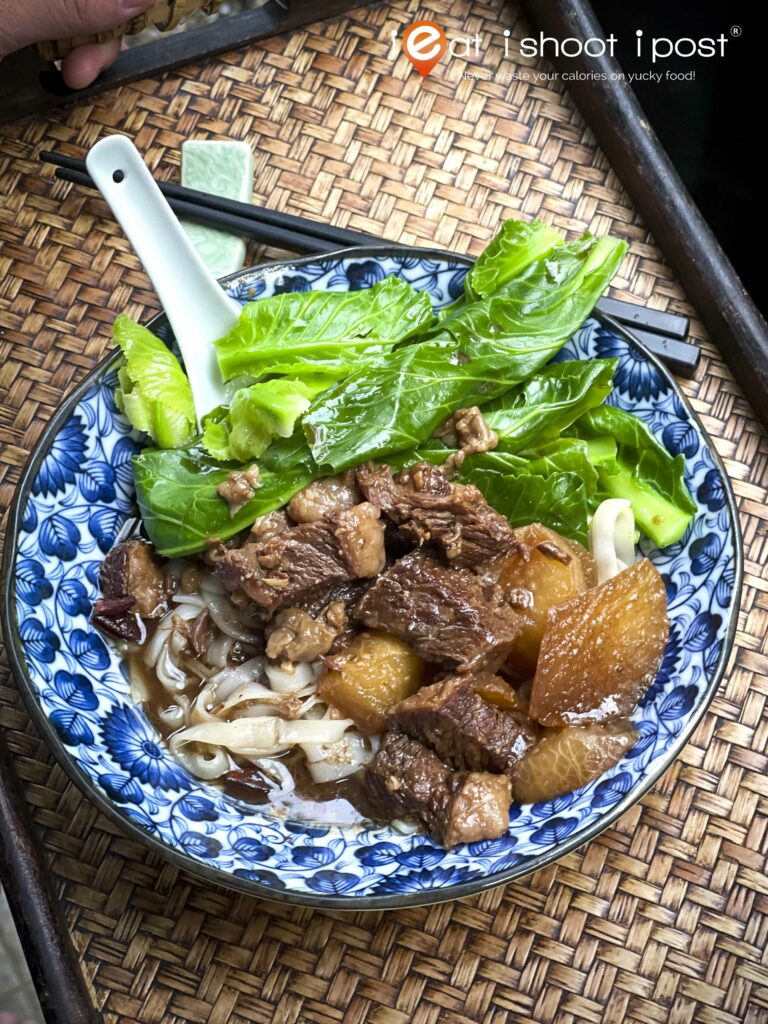 You can serve the braised beef with plain rice, egg noodles, or in this case, we opted to serve it over smooth and slippery hor fun. The best is to purchase fresh Ipoh hor fun from the wet market the same day you're using them. If not, you can easily find pasteurized Hor Fun on your supermarket shelves (not freezer or fridge sections) these days.
Happy Cooking!
This post is written in partnership with High Commission of Canada Singapore and Canada Beef.