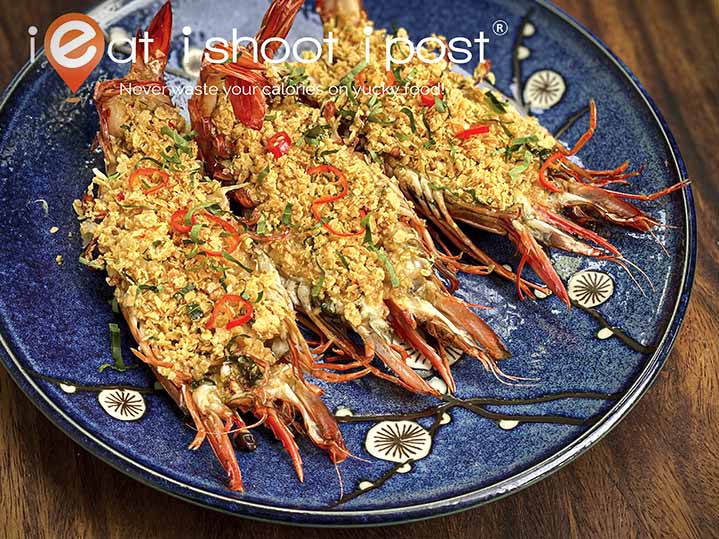 Cereal prawns is a classic zi char dish.  Most people don't make it at home as it requires deep frying the prawns and frying the cereal in a generous amount of butter.  In this simplified version of the recipe, I use the dual crisp function of the Ariston 6-in-1 Combi Microwave Oven, Gourmet Flexi (MWC 339 BL) to grill the prawns from top to crisp the cereal while the bottom is cooked by the crisp plate.  The results are similar to an air-fryer where you get that crisp without having to deep fry.
Ingredients
Large prawns 8-10 pieces
Cereal 1 cup
Butter 50g
Sugar 1 Tbsp
Chicken stock powder 2 tsp
Curry leaves 1 stalk
Chilli padi 1-2
Grated cheese 1/2 cup
Method
 In a microwave safe bowl, add butter, finely sliced curry leaves and chopped chilli padi. Microwave at high power for 1 min.  The butter should be bubbling and you should be able to smell the fragrance of the curry leaves. If then microwave for another 30 secs.
Add cereal, sugar, chicken stock powder to the bowl and mix well.
Prepare the prawns by slitting them into half and removing the vein.
Pat dry, apply a thin layer of oil on both sides of the prawn and place on dual crisp plate.
Sprinkle with salt, then cover the cut surface of the prawns with grated cheese followed by the prepared cereal.
Set the microwave oven to dual crisp mode for 8mins or until the cheese is melted and the prawn is fully cooked.
More information about the Ariston 6-in-1 Combi Microwave Oven, Gourmet Flexi (MWC 339 BL) – here
This microwave oven may be purchased from the online stores of Courts, Gain City, Harvey Norman & Best Denki.
Disclosure
This post was sponsored by Ariston Cooking Singapore
Other similar seafood recipes to check out:
Salted Egg Sotong
Salted Egg Prawns
XO Har Loke Prawns
Soy Sauce Prawns
Cereal Sotong

Where to eat cereal prawns:
Yang Sheng Vegetarian Hub
Arcadia Restaurant 
Ka Soh Bib Gourmand
Keng Eng Kee Pandan Gardens
Han Chu Seafood
Disclosure: Some links above are affiliate links, meaning, at no additional cost to you, a small commission is earned if you click through and make a purchase.