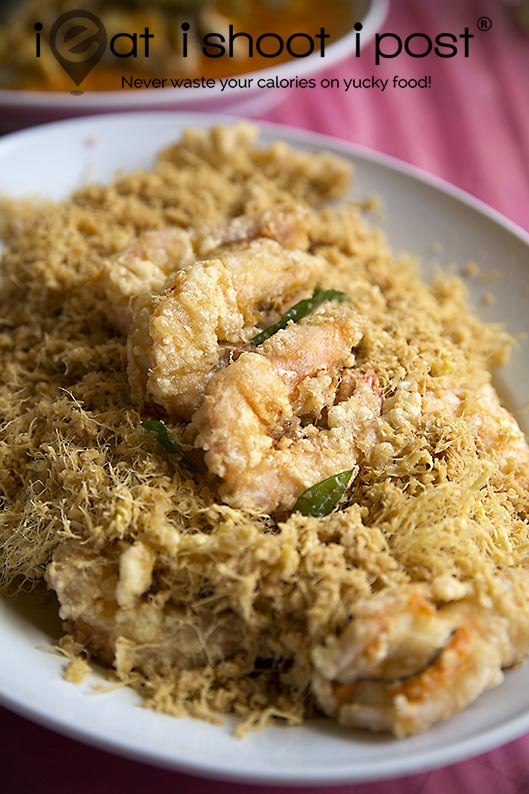 There is nothing more old school than a coffeeshop with a black signboard with carved chinese characters painted in gold.  It's so old school that it is slowly becoming fashionable again!  Coffeeshops like Chop Lian Hin which still have the original black and gold signboard seem to have that kind of positive vibe which sends one's foodie radar a bleeping.
The Cze Char here is called Hau Chu Seafood, but it is popularly known as Chop Lian Hin because of the prominent signboard hanging in front of the shop.  It came highly recommended by Tooth Fairy and I figured that if it managed to be around for such a long time, it has to have a few good dishes!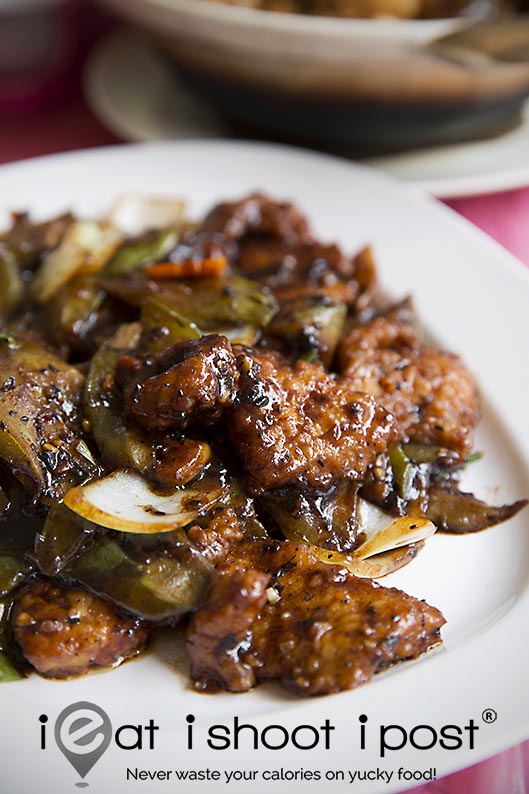 The most outstanding dish that day were the cereal prawns.   Most places can do cereal prawns pretty well since the ingredients are pretty standard viz Nestum cereal, margarine, curry leaves, chilli padi, sugar and chicken powder.  What this place does a little differently is that they added a lot more eggs to produce those crispy egg strands which blended so well with the Nestum flakes!  I have eaten lots of cereal prawns and this one is so far the most outstanding!   4.5/5
Get my cereal Sotong/Prawn recipe here.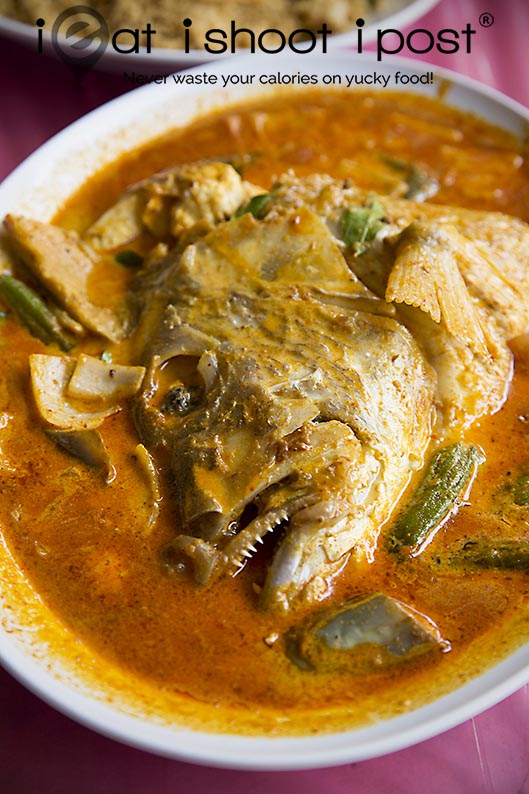 When it comes to Curry Fish Head, one of the key differentiating factors that I look out for nowadays is the type of fish they use.  If you see Ang Goli (There is a few gold bands between the eye and the mouth), then it shows that the stall is more serious about their curry fish head as these are getting harder to find nowadays.  If they use Ang Zhor (red snapper), then you should expect it to be much cheaper as these are farmed and are usually harvested when the fish is about 800g so they are not that big.
As you can see from the photo, they use Ang Goli here and at $25 for half a good sized head, it is certainly more value for money than Cze Char places which serve half a Ang Zhor head for the same price.   The curry gravy is also very good, though not exceptional.  The one thing I was a little disappointed with was that I felt the fish was a little overcooked such that the flesh was a little dry and not quite as tender as it should be.  Hopefully, this is just a one off.  4/5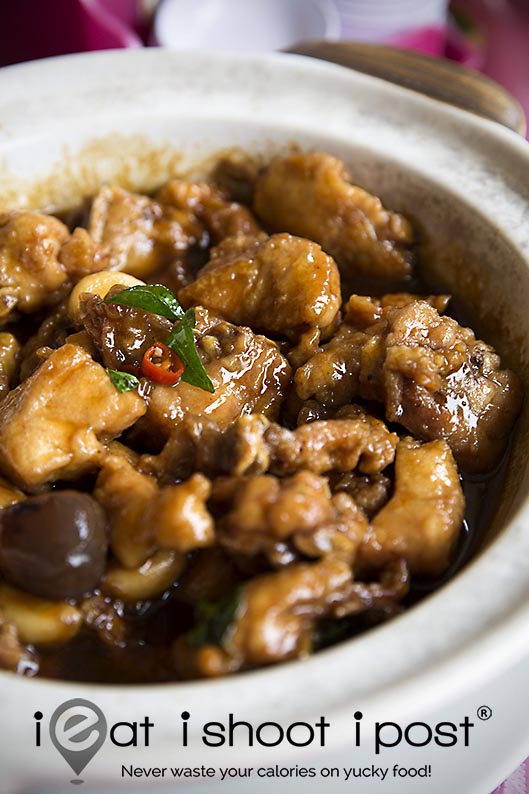 The bittergourd pork ribs are also worth recommending.  The pork is not marinated just right.  It's tender and juicy but they don't over marinate it with bicarb that it has lost it's meaty bite.  The bittergourd, black bean sauce is punchy and quite shiok to eat with rice.  4.25/5
The other dish I would recommend is the san bei chicken.  This Taiwanese dish is made from one cup each of soy sauce, wine and sesame oil, hence the name san bei ji (三杯鸡 lit three cup chicken).  The chicken is well marinated and very tender and the sauce is pleasant.  It is perhaps a little on the sweet side and lacks the kick of a strong rice wine fragrance but it's still quite good and I would order it again.  4/5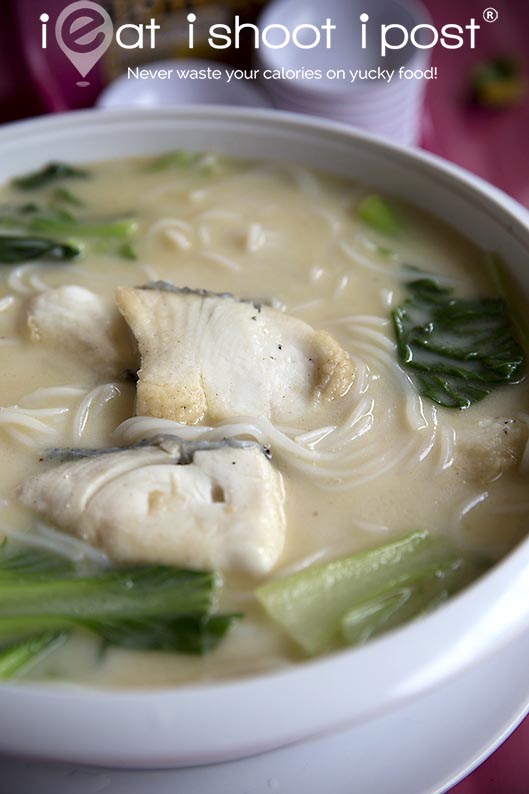 The XO Fish Bee Hoon was a big disappointment that day.  This is one of their signature dishes and was highly recommended, but the soup was so anaemic that it was even overwhelmed by the perfunctory shot of XO.  I find it quite hard to believe because this is what the place was famous for.  I would like to believe that they must have run out of soup stock that day and instead of just refusing to sell it, the chef just added more water and stock powder to the soup.  3/5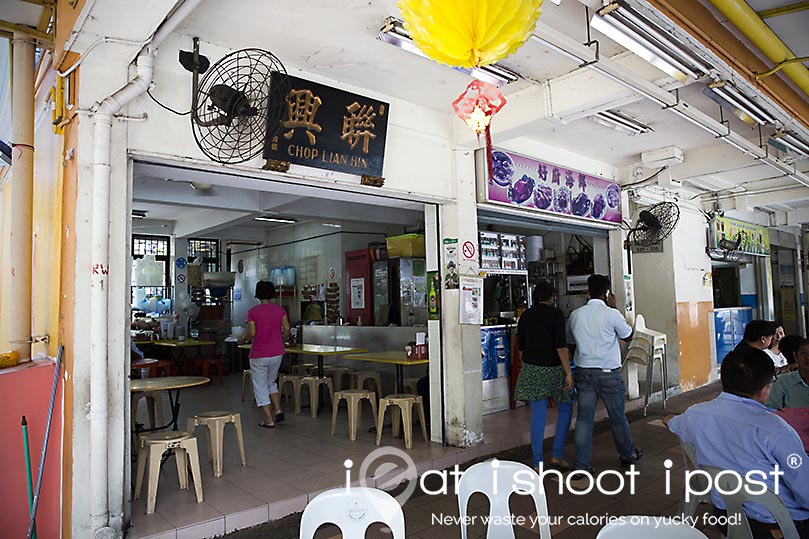 Conclusion
As with many other Cze Char places that we have visited, this Cze Char has got a few good dishes, most notably the cereal prawns which is worth recommending.  It's quite reasonable price wise as the portions are quite big.  They are quite inflexible on their timing, so by 1.45pm they will be rushing to push all the dishes out and close the shutters, so do go early!