Address updated 20 Sep 2021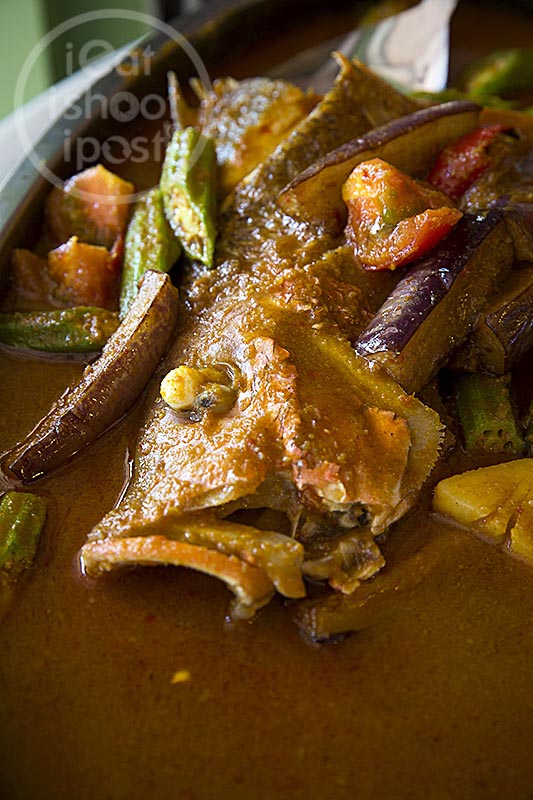 You know what makes Malaysian Cze Char different from Singapore Cze Char? You might find this question a little superfluous, but there is a reason why I ask. Most of the Cze Char dishes in Singapore are cooked by Malaysian Chefs, so you would think that it should taste very much the same. But everyone knows that the food still tastes different across the causeway. So what gives?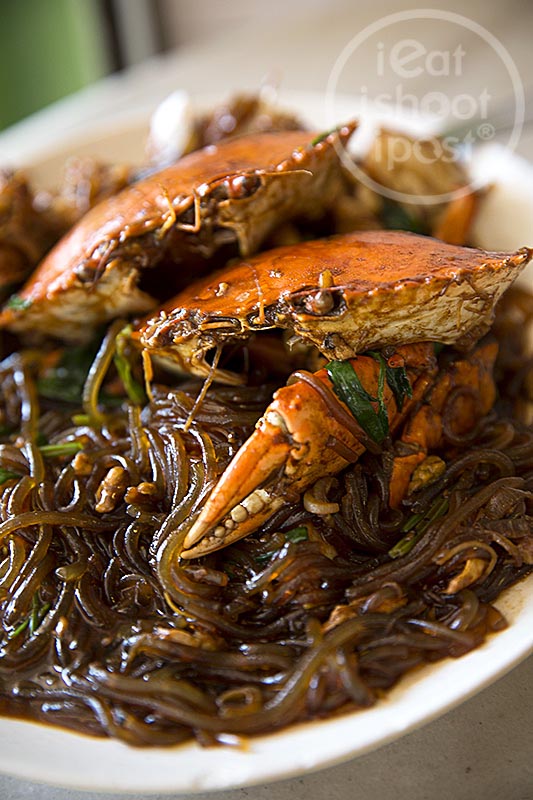 Well, the most obvious reason is that their ingredients and sauces are different from ours. Ingredients like Malaysian pork are not available in Singapore which is why some people insist that Malaysian Char Siew is much better than Singapore's. Our two countries also tend to use local soy sauces such that you can't really make a good KL Hokkien mee here unless you import the stuff from Malaysia.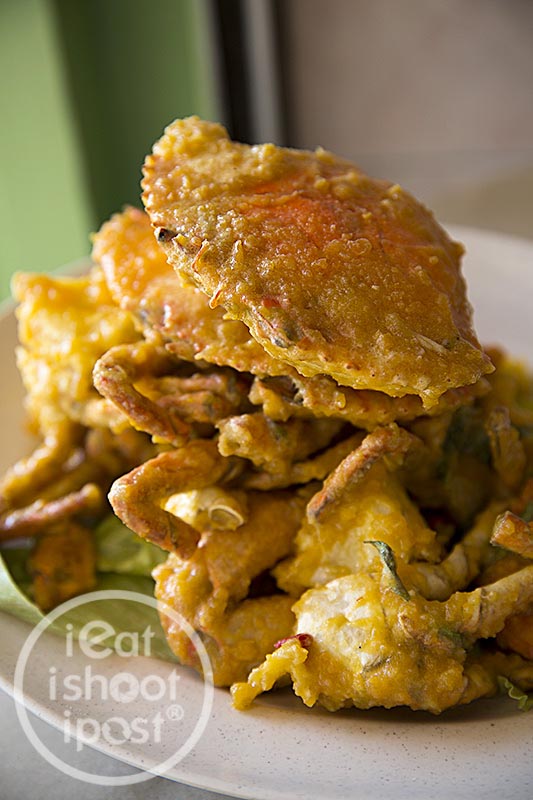 Although a lot of Singaporeans feel that food is better across the causeway, not many realize that one important aspect to take note of is the issue of food safety. The food in Singapore is more regulated than that of Malaysia. So Kway Teow (rice noodles) in Penang has a much better texture than Singapore. The reason is because Singapore has banned the use of borax in the manufacture of Kway Teow because of the risk of cancer. As a result, our Kway Teow is flaccid compared to that of Penang. Farmers in Malaysia also tell me that some of the veggies that are served in Malaysia will never be allowed to be imported to Singapore because of the levels of pesticide used. Singapore also regulates and limits the power of the gas burners. So in Malaysia, it is not uncommon to see them frying stuff in a wok with the flames enveloping the entire wok. That is not permitted here.
On a more positive note, Singapore Cze Char has access to a wider variety of ingredients from across the world. So, while most Cze Char in Malaysia uses mainly local crabs, Singaporeans have access to Sri Lankan crabs, Alaskan King Crabs, Dungeness crabs as well as ingredients from all over the world at the Cze Char Chef's disposal if he is creative enough to use them.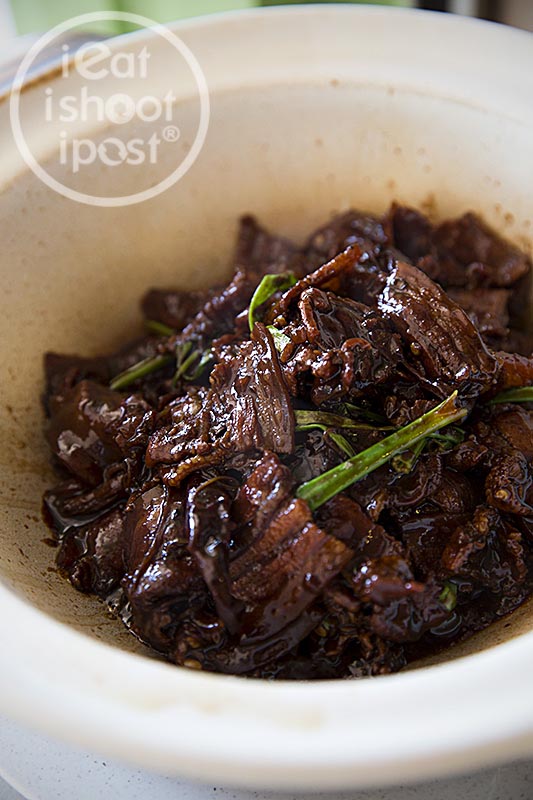 Many of the dishes we get here are imported from Malaysia. Stuff like Chao Tar Bee Hoon and Salted Egg Crabs were popular in Malaysia and brought over to Singapore by the Malaysian chefs. However, there are still many dishes which are popular in Malaysia that don't seem to have made it here yet. One such dish is 咸鱼花腩锅 (Hum Yu Fa Lang Pou – Salted Fish Pork Belly ). This is one of my must order dishes whenever I visit Malaysia. It is one of those dishes that make you want to order an extra bowl of rice!
It is getting very expensive to eat crabs in Singapore, which was what attracted me to Eastern House of Seafood. They are currently having a special promo where you pay $20 for two crabs. Each crab weighs around 400-500g, so that means you are getting 800g to 1 kg of crab for $20! That is excellent value since medium and large crabs are now going for $55-$60++. So being able to eat crabs for anything less than $40 is quite a bargain. For $20, the crabs far exceeded my expectations. They were meaty and sweet and the various sauces were very good. I wouldn't say that their black pepper sauce is as good as Eng Seng's, but it is better than a lot of other places and frankly, I am happier eating two small crabs here for $20 rather than having to spend much much more elsewhere. The salted egg crabs here are actually very good as are the Crabs with vermicelli. They use Korean tang hoon here so the texture is excellent. You need to add and extra $3 for these two dishes. 4.25/5
After a very satisfied first visit, I organized for another round of makan to try more of his dishes and specially ordered 咸鱼花腩锅. The owners are very friendly and accommodating and so I managed to eat my salted fish pork belly! It is their first attempt at it and turned out quite good but a bit more salted fish flavour would make it even better! 4/5 (You need to pre-order this dish)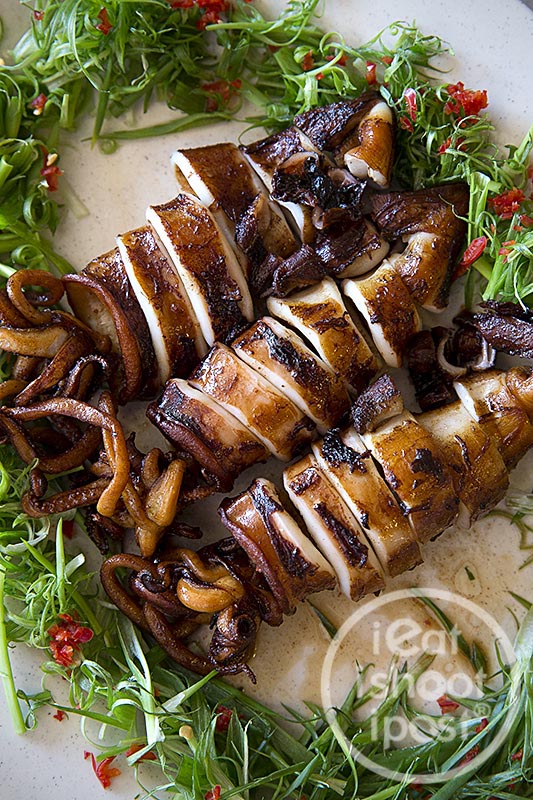 There are a few signature dishes here which I would highly recommend. The first is the Assam Fish Head. It's $15 for half a head and it's fresh, tasty, cheap and good. 4.25/5
Their Wok Grilled Sotong is a must try. Everyone who ate it said it was excellent. This is quite a unique dish that is not one of those standard Cze Char dishes you find everywhere. The squid is first marinated overnight and then slowly bathed in a mixture of marinade and hot oil. The result is a tender sotong with a nice smokey flavour which tastes as if it were charcoal grilled, except that it's not! Everyone who had tried this dish loved it. 4.5/5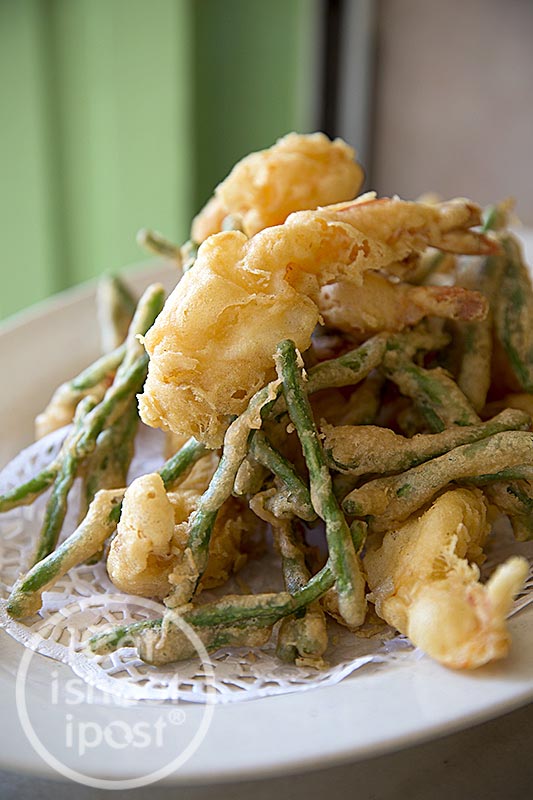 The Singapore style tempura prawns here are also very good. The batter is flavoured with a bit of shrimp paste (Har Cheong) so it is crunchy and savoury and they use a good sized fresh Ang Kah prawns such that unlike a lot of cheap Japanese eateries, you can really sink your teeth into real prawn meat after the crunching through the crisp batter. The crisp Si Ji Dou is also an excellent idea which combines the apple like crunchiness of the Si Ji Dou with the deep fried crunch of the batter. The tempura platter also comes with a local style soy sauce dip just like what you get with tempura. 4.5/5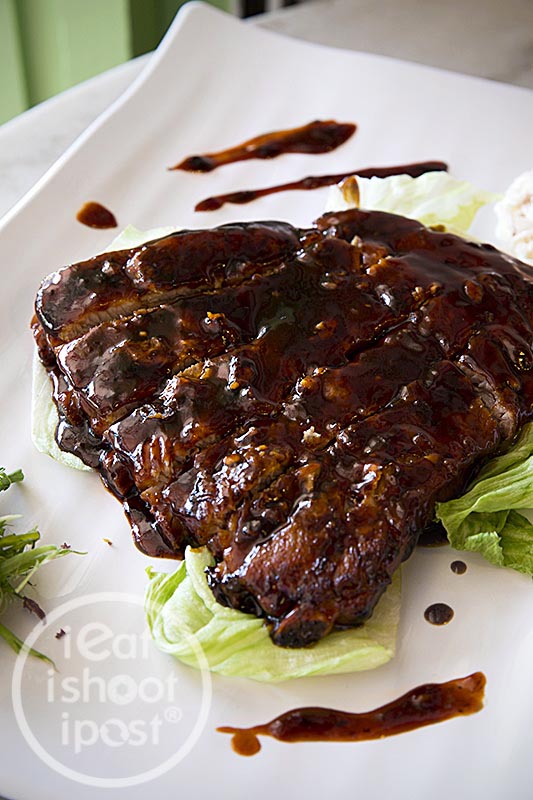 The Dinosaur Pork Ribs are also very good. These have been marinated overnight and steamed before being finished in a wok to give it a nice smokey flavour. The ribs are tender and the sauce has a unique smokey BBQ flavour. As shiok as eating baby back ribs but at half the price. 4.25/5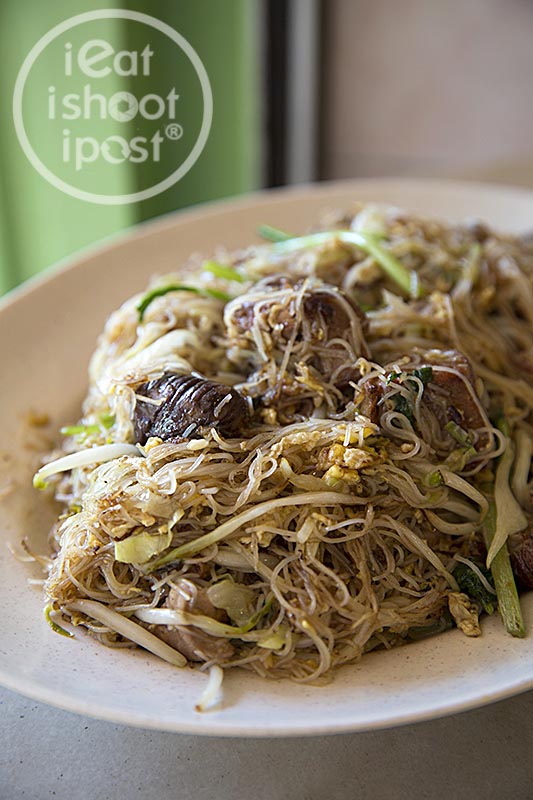 If you are going there for lunch and don't have enough kakis to order a few dishes, then the pork trotters bee hoon would be a good one dish meal. They use canned pork trotters to cook the dish which is what is usually done. The bee hoon is well fried and it makes a very nice, satisfying meal by itself or as accompaniment to some of the other dishes here. 4/5
Conclusion
You know what the difference is between Cheap and Good vs Good and Cheap? Cheap and Good means you take a whole lot of Cheap places to eat and pick out the good ones. Good and Cheap means you take a whole lot of Good places to eat at and pick out the cheap ones. This Cze Char is Good and Cheap since I only like to blog about Good places. So in my whole list of Good places to go for Cze Char, this is the cheap one! This place is Good and Cheap! That's why it's currently the go-to place for Cze Char for myself and several of my kakis!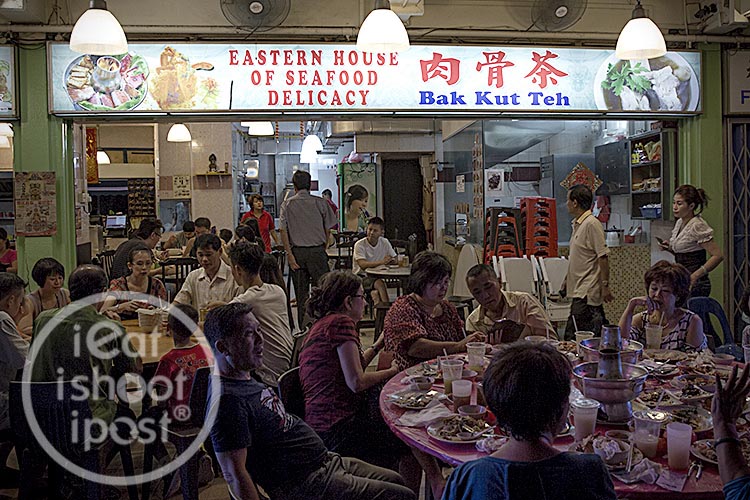 Previous address
55 Chai Chee Drive