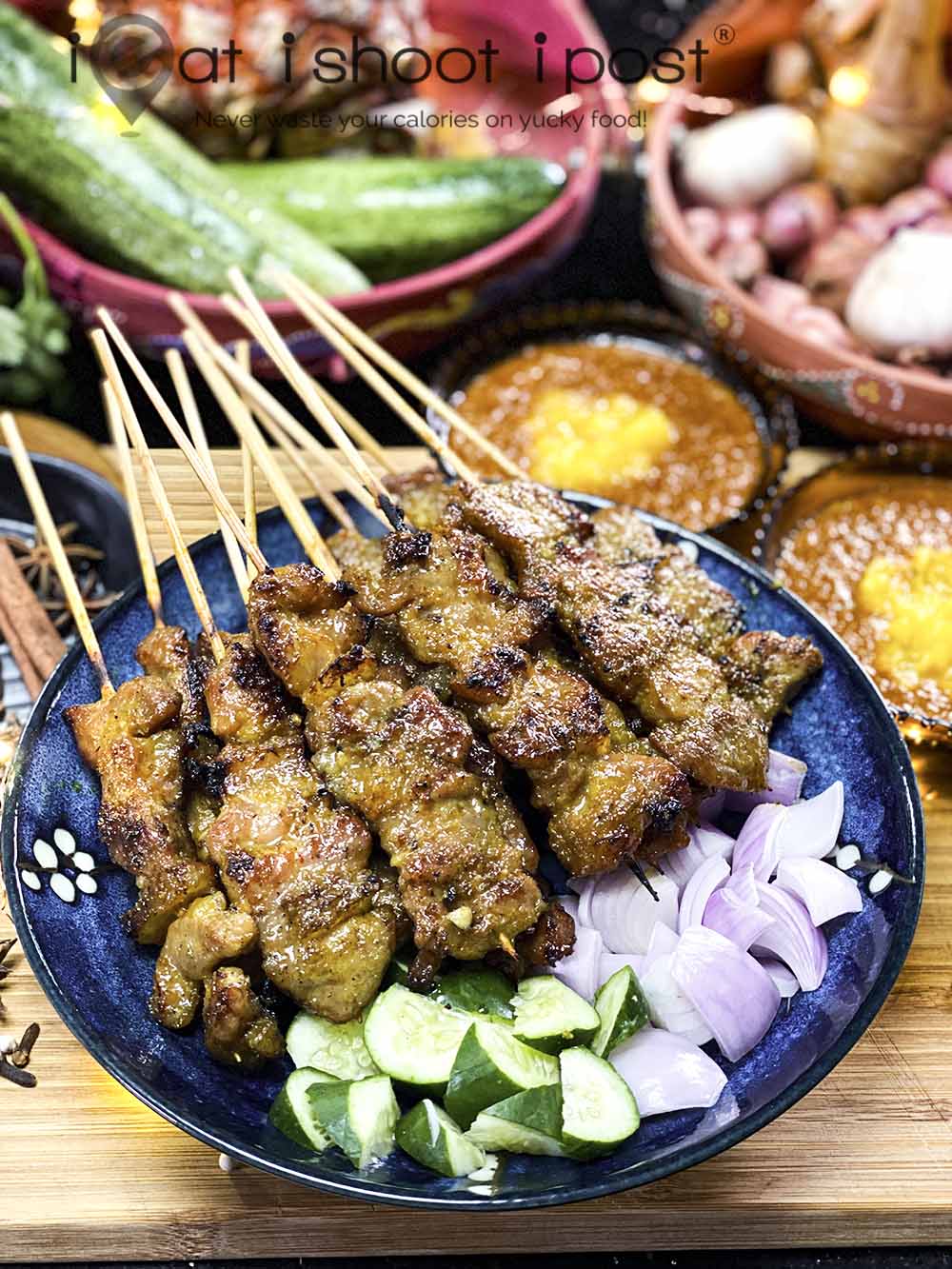 This is yet another recipe which took me years to perfect. Sure, there are many Satay recipes online and in recipe books but none of them will actually give you the same result as the Hainanese pork satay that you get at the hawker stalls. Most of them are based on the Malay style chicken satay. What makes Hainanese pork satay different is not only that it is made of pork meat and lard, but the marinade is also different.
Over the years I have tried to tease the recipe out of the hawkers but they have been quite secretive about the exact ingredients. But there were a few things that I gathered in my years of research. Firstly, most of the hawkers tell me that there is Chinese five spice in the marinade. Then there is that sliver of fat in between the slices of lean meat which is usually from the hind leg. The grilling technique is also different. The Hainanese technique is to go low and slow so that there is enough time to slowly render the slice of fat.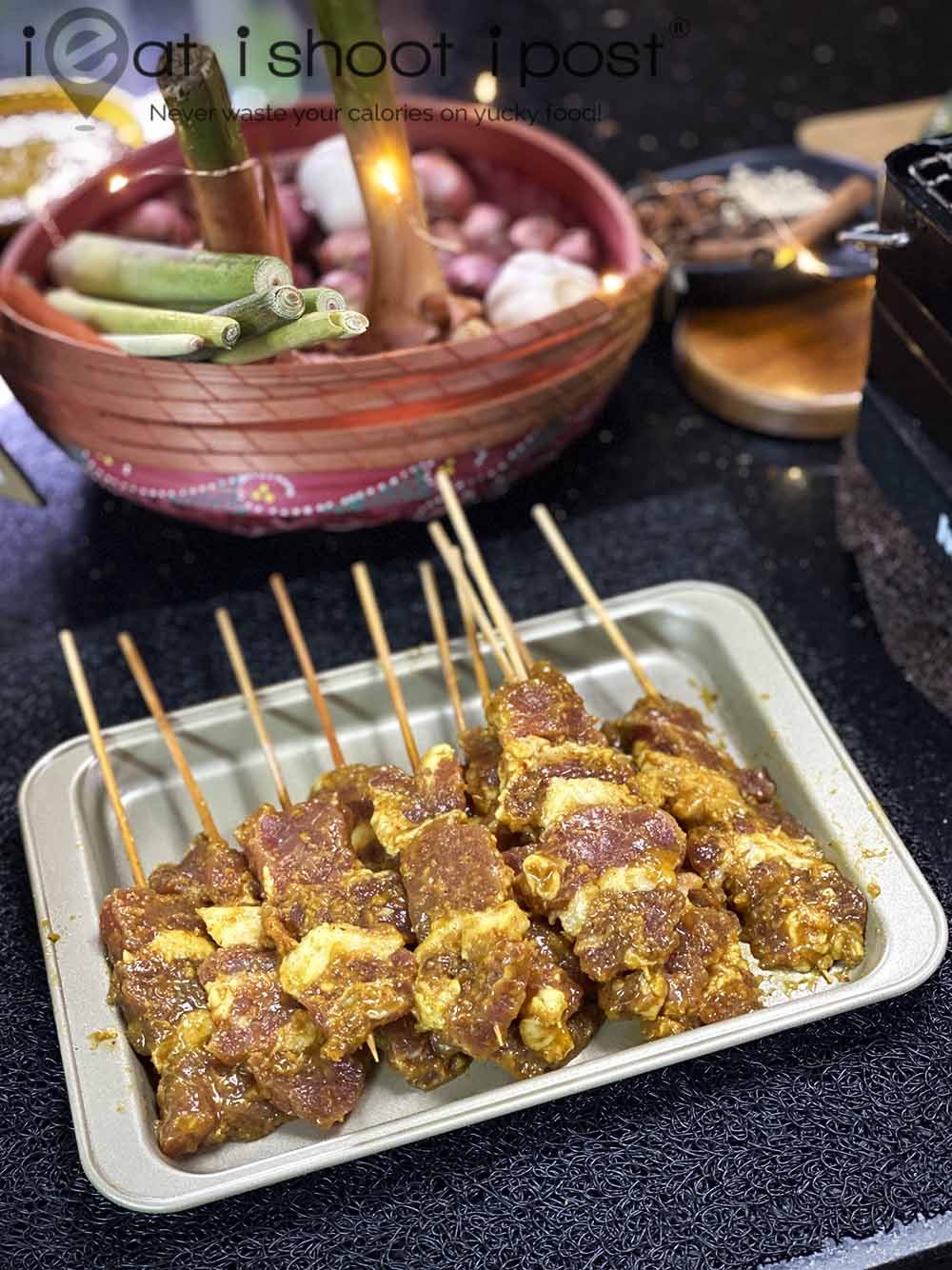 I have tried to reverse engineer the Hainanese Pork Satay recipe using recipes found in Singaporean cookbooks both ancient and modern. They have never given me the result that I wanted. A perfect Hainanese pork satay will have that wonderful satay aroma which has that warm earthy fragrance of the star anise and cinnamon which balances out the herbal notes of the lemongrass and galangal. All the recipes I have tried so far had been more like a Malay style satay than the old school Hainanese style one. It wasn't until a Penang Chef generously shared his recipe with me that I finally cracked the code!
Click here to see my list of Hainanese Satay hawker stalls
So without further ado, here is the recipe. Please make sure you read my notes at the end so that you can re-create the recipe successfully. And, for those of you would be hawkers and Cafe/Bistro owners, do consider joining the Hainanese Pork Satay revolution and together let's MAKE SATAY GREAT AGAIN!
Recipe Card
Ingredients
Pork 1kg (900g meat, 100g back fat) (see notes)
Gp A (Rempah)
Peeled shallots 150g
Lengkuas (blue ginger or galangal) 20g
Lemongrass 1 stalk (white part)
Chilli paste 30g
Five Spice powder 1/2 tsp (or grind your own Meat Spice Powder as below)
Coriander powder 2 tsp
Tumeric powder 1.5 Tbsp
Sand Ginger powder 1 tsp
Coconut Cream 60ml
Salt 2 tsp
MSG 1 tsp (optional)
Baking Soda 1 tsp (optional)
Meat Spice Powder
Cinnamon 1/2 stick
Cloves x 3
Star Anise x 2
White peppercorn 1 tsp
Gp B
Sugar 200g (Yes, it is that much, (see notes)
Garlic 4 cloves finely chopped (see notes)
Oil for basting
Method
1.  Slice pork meat into 3cm X 2cm x 0.8cm tiles
2.  Slice pork fat into 3cm x 1cm x 0.5cm slivers
3.  Slice lemongrass and galangal into thin slices and pound till fine
4.  Blend add all the ingredients in Gp A together as finely as possible
5.  Add in sugar and blend till smooth
6.  Finely chop garlic and add to the blended spice paste
7.  Add spice paste to meat and fat separately, massage well and marinade for at least 6 hours or overnight.
8.  Soak bamboo skewers in water
9.  Skewer the meat then fat, meat, fat, meat
10 Brush with oil and set aside.
Peanut Sauce Recipe
Gp A (Rempah)
Shallots (peeled) 150g
Garlic (peeled) 10g
Lemongrass 25g
Lengkuas (Blue Ginger) 15g
Cooking oil 3 Tbsp
Chilli paste 100g
Cumin powder 1 tsp
Buah Keras (Candlenuts) 15g
Gp B
Roasted peanuts 500g
Coconut milk 200ml
Cooking Oil 1 cup
Assam Paste 80ml (adjust to taste)
Sugar 200g (adjust to taste)
Salt 1 tsp (adjust to taste)
Method
1. Slice lemongrass and lengkuas finely
2. All all the ingredients from Gp A in a blender and process till smooth
3. Add rempah into a pot with 1 cup of oil and using low heat fry till the rempah turns dark and the oil is released
4. Add the rest of the ingredients in Gp B and simmer for 15-20mins until the red oil is seen on the top of the gravy
Pineapple Puree
Grate Honey pineapple by hand and set aside.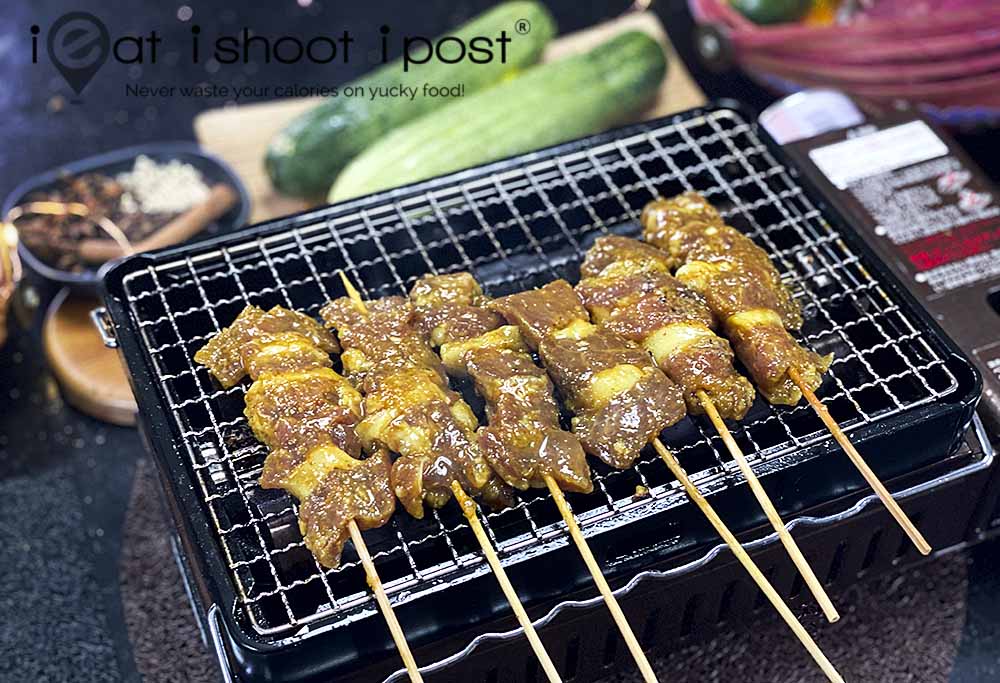 Grilling Technique
1. Oil the skewers before grilling
2. Slowly grill the satay until the meat turns golden brown and the fats are slightly charred
3. Serve with peanut sauce, pineapple puree, cucumbers and onions
Notes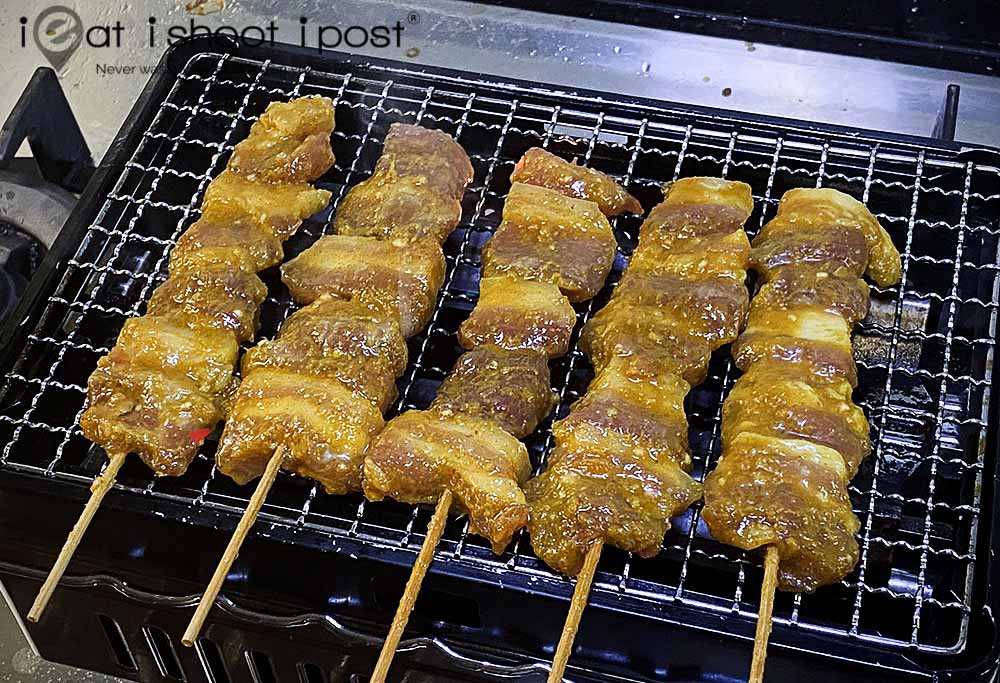 1. Cut of Meat
Traditionally lean meat from the hind leg or loin is used together with fat from the back. However, there are many other cuts which I feel are actually better in terms of texture. One of my favourite cuts is the Bu Jian Tian or shoulder flap. This cut of meat comes with a thin layer of fat, so that you don't actually need extra fat. The texture is very nice. It is tender and bouncy and doesn't dry out like loin does. Pork belly is also a nice cut to use for satay. Pork jowl is also very good for satay. Local pork jowl is too thin, so you have to look for Iberico. Pork collar is also good but the fat in between the muscles can be a little loose and it is a little difficult to cut into uniform shape.
2. Meat Marinade (Rempah)
When it comes to the rempah, less is more. Unlike Malay style satay, Hainanese pork satay doesn't have as much of the ground lemongrass and ginger on the surface. Make the effort of slicing the lemongrass and blue ginger thin and pound it finely. Also, you will note that the amount of powdered spices use is actually very little. That really is the key! Most of the recipes will have you use 2 Tbsp of Coriander powder. I only used 2 tsp and it is enough to give you the aroma that is typical of satay. Trust my recipe!
3. Use of Sugar
There is a lot of sugar in the marinade. Don't be alarmed. The original recipe had twice the amount of sugar. I have already reduced it by half. Just follow the recipe as it is the first time and you can decide to reduce the sugar if you want the next time.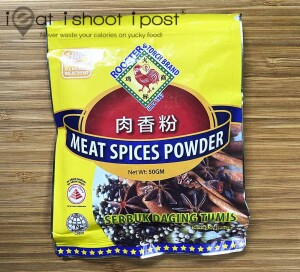 4. Meat Spice Blend
Hainanese style marinade contains five spice powder. Just a very small amount but you can smell the difference. I like to use the above "Meat Spices Powder" which is available at the wet market, but any five spice powder should do. In case you are not able to buy it, I have provided a list of the ingredients in the recipe. This is the same list of ingredients on the packet.
Sand ginger powder is commonly used in Chinese cooking. It is not so easily available. You can buy it from Chinese specialty stores or online. Again, you only need a small bit of it, but it does make a difference. If you can't get hold of it, just omit it.
6. Chopped Garlic
The garlic is finely chopped and then added to the rempah paste. It is not added together with the other ingredients before you blend it into a paste. Chef explained to me that it makes a difference to the flavour of the satay
Happy Cooking!
Places to eat hainanese pork satay:
Kwong Satay
168 CMY Satay
Chye Seng Satay
Shi Xiang Satay
Chai Ho Satay
Ah Pui Satay
Chuan Kee Satay
Night Hoover Satay
Other Similiar Hawker recipes
Char Siu
Sio Bak
Hokkien Mee (satay and HKM is my favourite pairing!)
Tau Yew Bak
Equipement used:
KitchenAid 3.5 cup Food Chopper
Iwatani Gas Stove
Disclosure: Some links above are affiliate links, meaning, at no additional cost to you, we will earn a small commission if you click through and make a purchase.