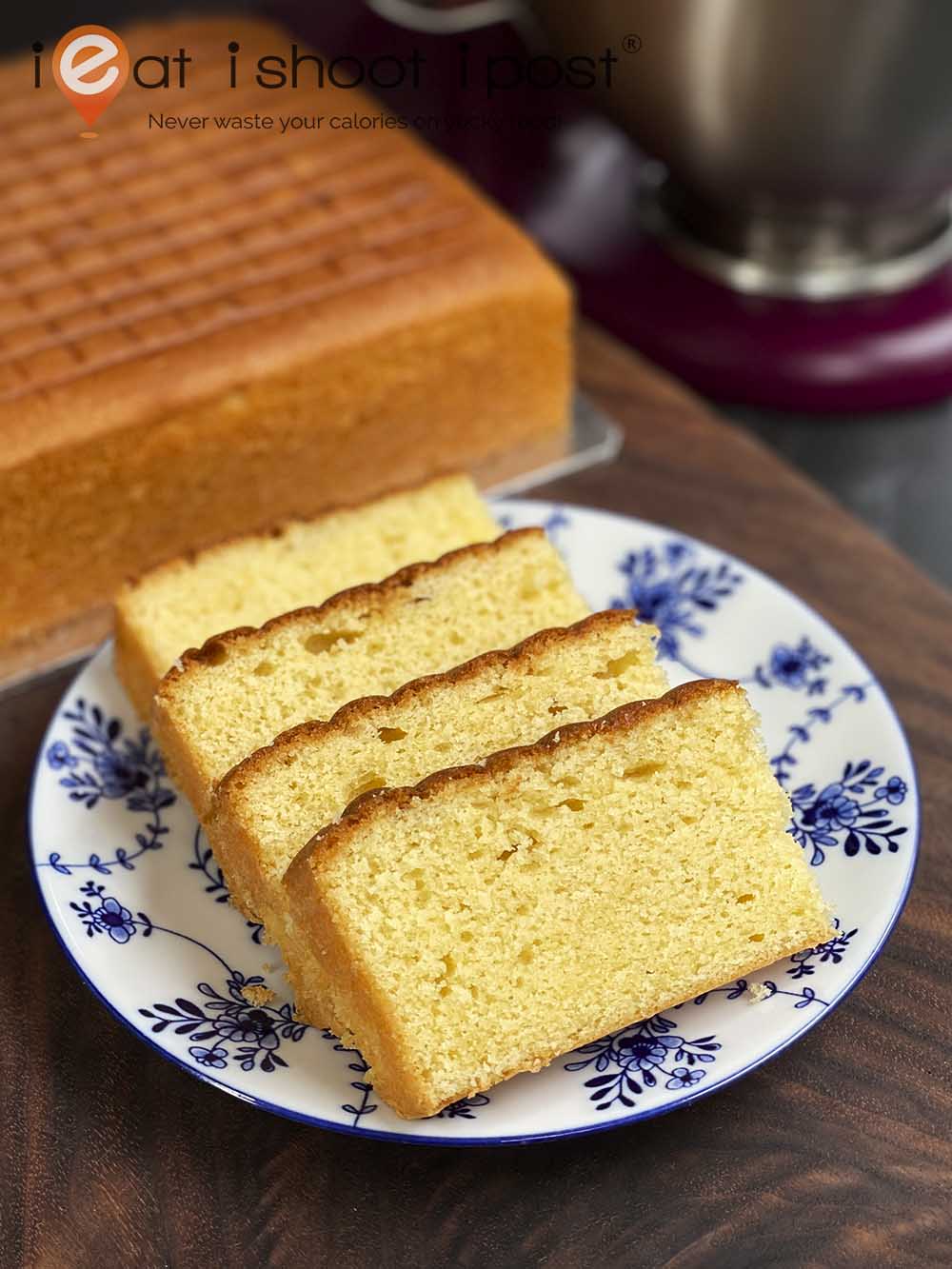 This butter cake recipe project has been a long time in the making!
My mother-in-law has always insisted that the traditional butter cake is still the best whenever she is served some fancy new cake for the thirty-something years that I have known her. I had always assumed that this very basic old-school cake was easy to make so I never really thought about trying to perfect it. After all, there are already so many "Best" butter cake recipes online, surely it was just a matter of using someone else's tried and tested recipe! But, I soon realized that even though there are only four main ingredients, viz butter, eggs, flour and sugar, there are an infinite number of ways of combining and proportioning the ingredients! I tried many of the published recipes online and was never satisfied that I got what I wanted.
Here is a summary of what I wanted in a perfect butter cake recipe.
Taste/Texture/Aroma
1. A wonderfully buttery aroma and flavor 2. The crumb should be finely textured, not too crumbly, moist and melts in your mouth with just a slight pressure of the tongue on the palate. 3. It must go well with a cup of coffee or tea and leave you wanting another slice.

Dimension/Shape
I wanted a cake that can be served as a slice which is approximately 2cm thick and about 9cm by 6cm. The dimensions are important. A 6cm high cake will ensure that you take two bites with each bite having one side with brown crust. The brown crust adds a lot of caramel flavour to each bite which on average should be 3 by 3 cm. That means that a 9x6cm slice will yield 6 bites each with at least one side with the crust.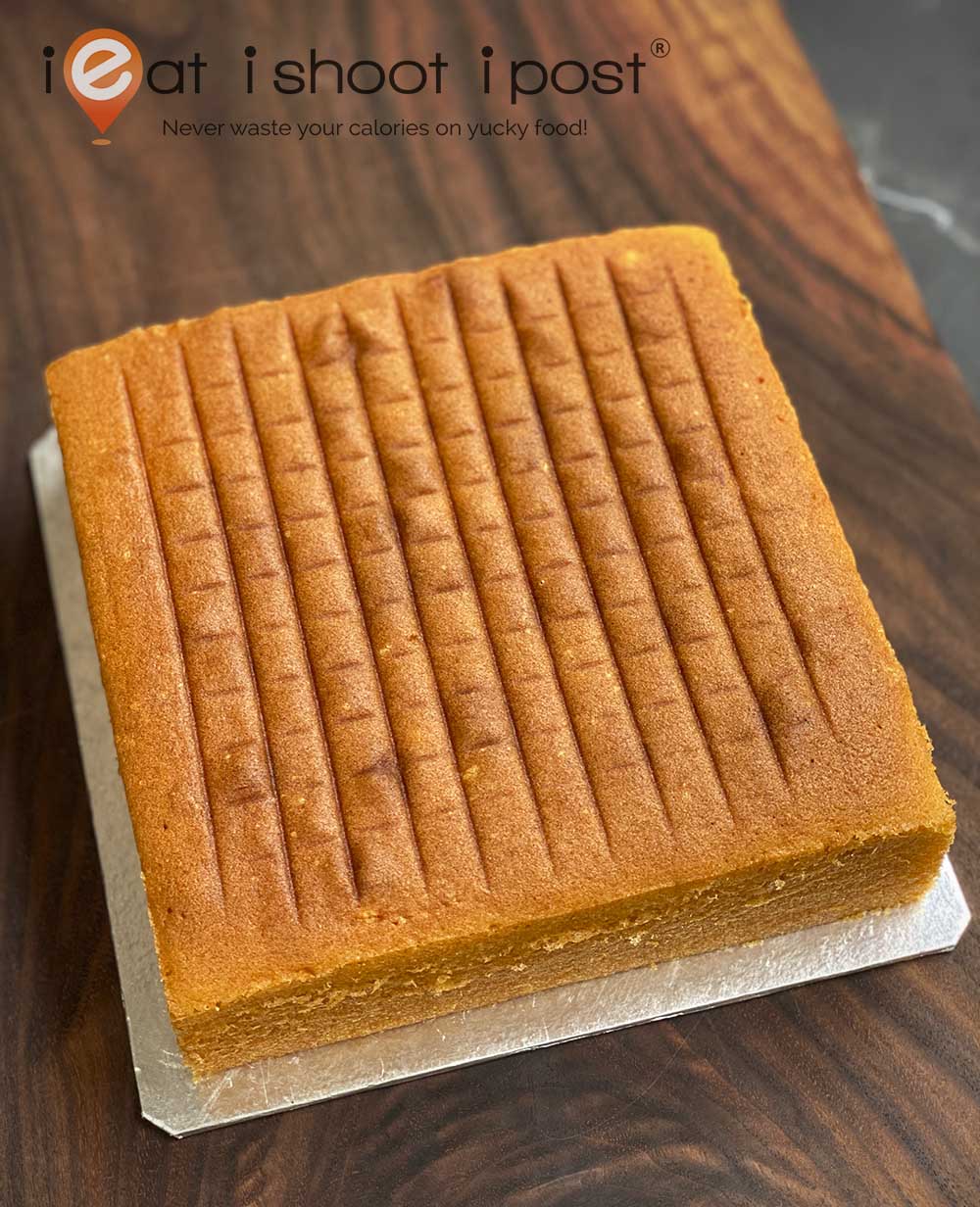 Recipe
First, I wanted a recipe that will use one standard bar of butter which is 250g. This just makes it easier as I want to be able to just unwrap the butter and use the whole piece.
There are many ways of combining the ingredients. I wanted to find the shortest and simplest way of adding the ingredients which will yield consistent results. eg I don't like to have to alternate between dry and wet ingredients when you can add it all at once. After many experiments, I think my technique is the most straightforward and yields the kind of crumb structure I was looking for.
I wanted to find the best method of baking the cake so that it would come out as a nice even square block with a smooth top and edges. I just like to have a cake that not only tastes good but looks perfect as well. If you aren't fussed about the looks and just want a cake that tastes good, then you can just skip this bit.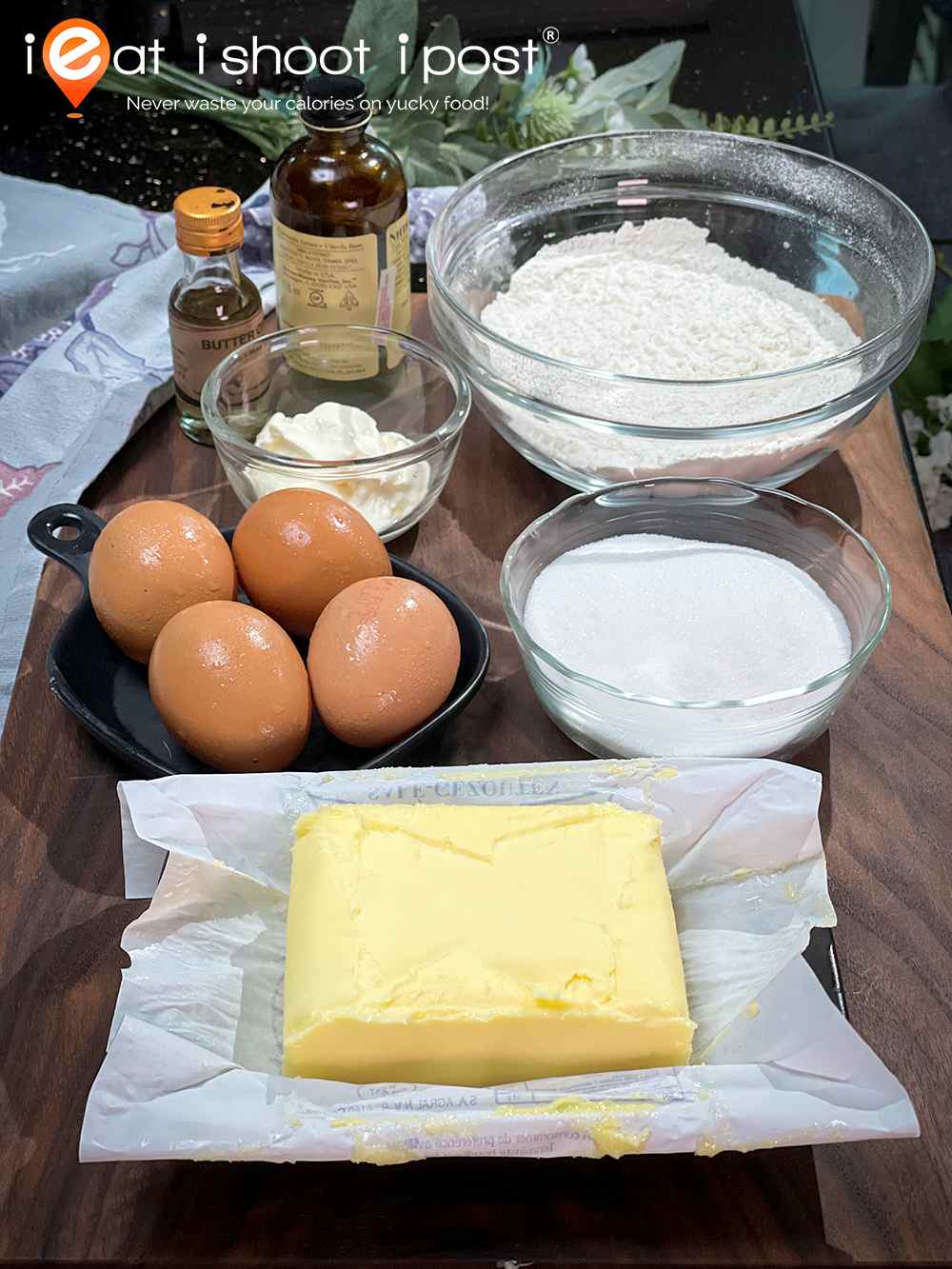 Ingredients
Yellow Team
1. Butter 250g (1 block)
2. Castor sugar 75g
3. Sour Cream 45g (3 Tbsp)
4. Egg yolk 70g (from 4x60g eggs)
5. Vanilla extract/essence 1 tsp
6. Salt 1/4 tsp
7. Butter oil 1/2 tsp (optional)
8. Self-raising flour 180g (or Cake flour with 1.5 tsp baking powder)
Update 30 Apr 2022: For even better texture I now use 140g Self Raising Flour and 40g Super Fine Almond Flour + extra 1/2 tsp baking powder
White Team
1. Egg whites 150g (from 4x60g eggs)
2. Castor sugar 75g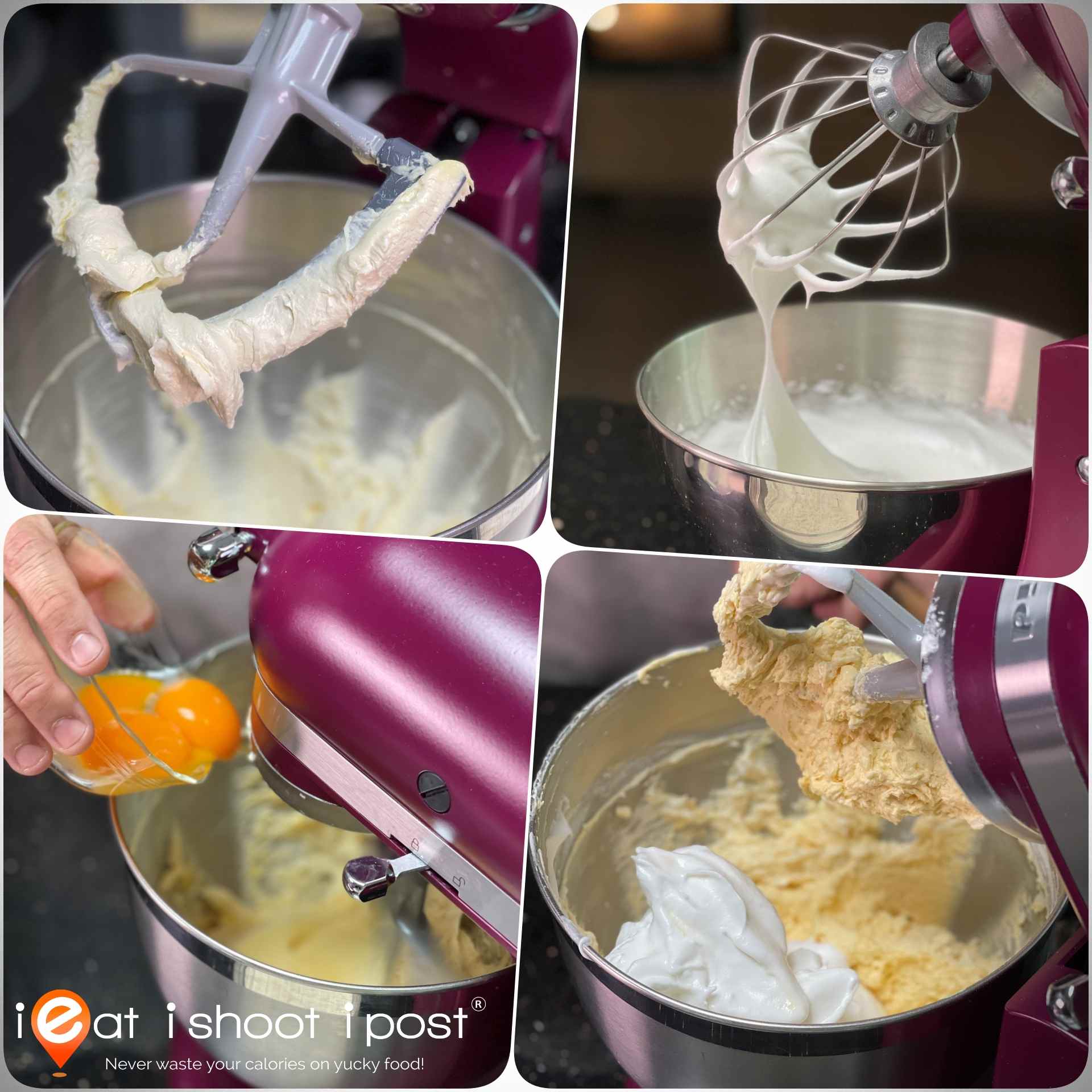 Method
Bring the butter out of the fridge, divide into 2 cm slices and place in mixing bowl to thaw.
Separate the eggs while still cold
Use the butter wrapper to oil the cake tin
Coat the inside of the cake tin with flour. Wet the baking strips (if using) and secure around the cake pan.
Fit the flex edge beater and beat at medium speed (6) the butter until it is soft. Temperature should be around 15°C. It should still be cool to touch and you should easily be able to indent it with your finger tip.
Add castor sugar and beat for 4mins or until pale and fluffy
Add sour cream and mix till fully incorporated
Add yolks one at a time. Mix each yolk until fully incorporated before adding the next yolk

Add salt, vanilla essence and butter oil (if using) and mix till incorporated. Set aside.

Whip egg whites at high speed (8) till bubbles have almost all disappeared.

Add castor sugar and whip till stiff peaks
Sift the flour and add to the yellow team. Mix at low speed (2) till the all the flour has almost disappeared.
Add 1/3 of the whipped egg whites and mix at low speed (4) till whites are incorporated.
Add the rest of the egg whites and mix at low speed (4) until all the egg whites have just disappeared.

Use a chopstick to even out the batter and spatula to smooth the top

Bake in pre-heated 160°C oven for 50mins or until the top of the cake is springy and a skewer comes out clean.

Cool the cake upside down

on a cooling rack

until completely cool.

Overturn the cake onto a cake board and leave overnight for the flavours to mature. (If you can resist)
KitchenAid Color of the year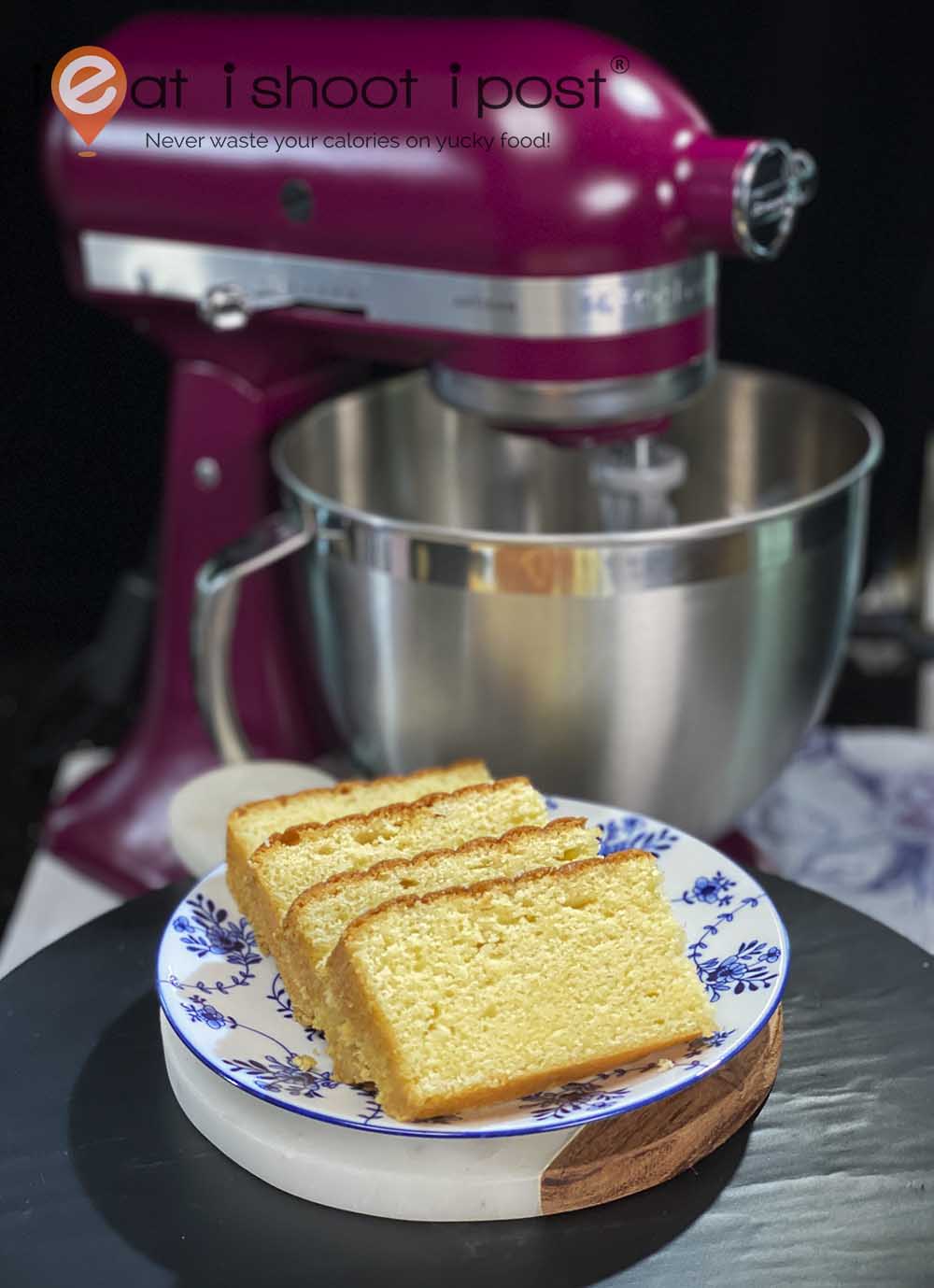 The KitchenAid Color of the Year for 2022 is Beetroot!
It didn't sound very appealing when we heard about it, but when we finally opened the box, Lisa immediately fell in love with it. Purple is her favourite color and the satin finish actually makes the mixer look rather outstanding in the kitchen. The set came with a smaller 3L bowl that fits neatly into the larger standard bowl which was really handy and I like that they now have a flex edge beater which means that I don't have to keep scraping down the butter during creaming. The pouring shield also comes with handy clips now that secures it to the rim of the mixer bowl. There is also a pastry beater specially for crumbing butter and flour like when you are making shortcrust pastry!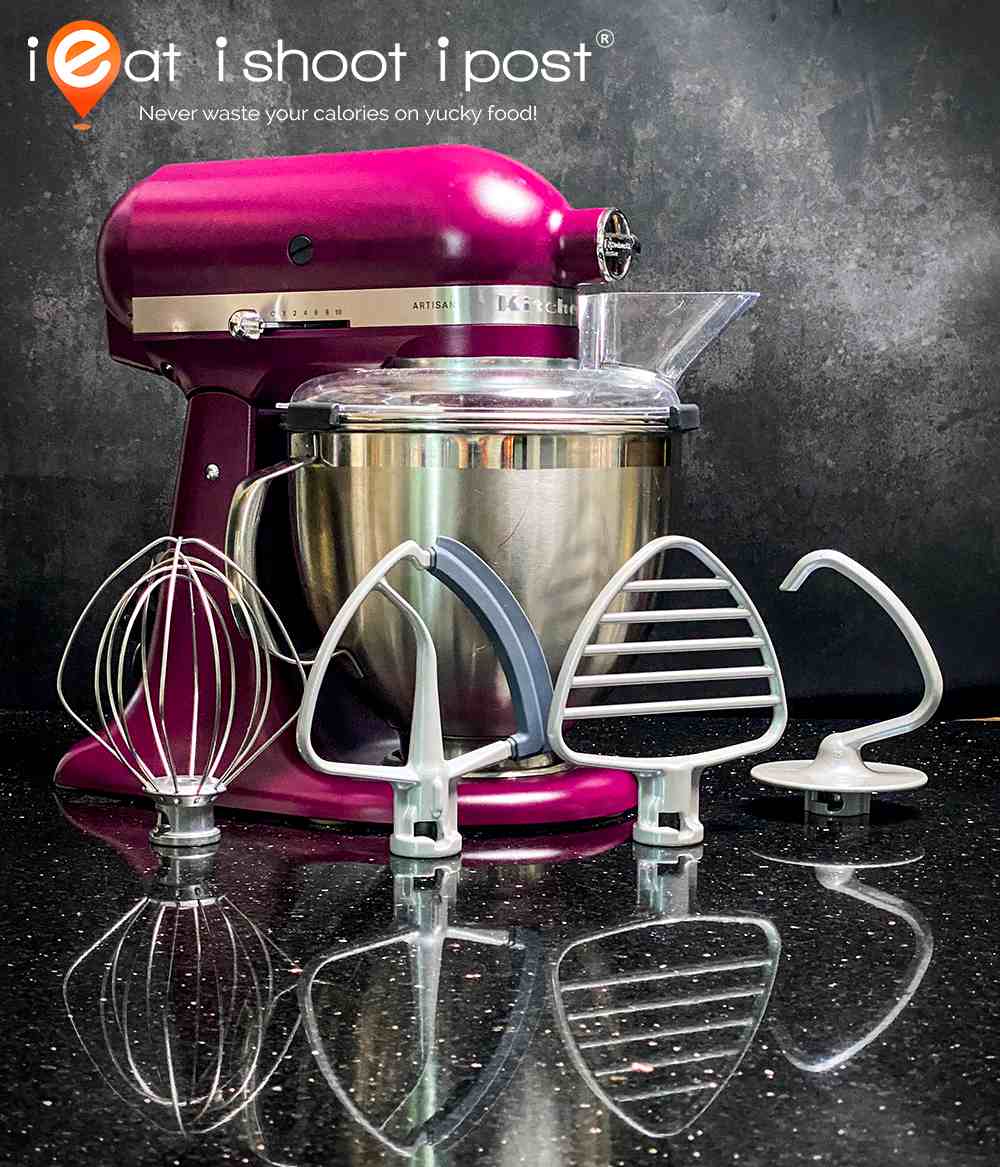 It is the first time the model is available in Singapore and the added silver coated accessories and bowl really makes this model a very attractive buy. You can purchase this Artisan colour KitchenAid mixer at Tangs or online on Kitchenaid.sg.

Notes for those of you who really want to know
1. Butter flavor
I have been struggling for months to find the perfect butter that will yield a nice butter aroma and flavor. In the end, I found that the easiest way to add a buttery aroma to the cake is to add a touch of butter oil to the batter. Diacetyl is the natural substance that gives butter its characteristic aroma. You need enough of it to give your cake that buttery aroma when you smell it. You can easily omit the butter oil, the cake will still taste and smell good but I found that most people like my cake better when I add a little butter oil to it. I buy my butter oil from Ailin Bakery House. Another way of intensifying the butter flavor is to use canned butter. One brand that you can find in the market is Wijsman Dutch butter, which is favored by people who make kueh lapis. Another popular option is Golden Churn canned butter which you can find at most supermarkets. I haven't tried raw French butter yet, but you can find them at specialized grocers and cheese shops. I currently use La Fermiere Belgium Butter which I buy at wholesale prices from United Bakery Supplies.
2. Creaming the Butter
One of the things that I feel should be clarified is the statement, "bring the butter to room temperature". As you know room temperature in Europe is not the same as room temperature here. If you leave a block of butter on the kitchen table for 30mins on a really warm day, the butter might be too soft. What you really want is butter that is at around 15°C which will still feel cool to the touch, but soft enough to be beaten. I like to bring my butter straight out of the fridge, cut it into smaller cubes and leave them in the mixer bowl to temper while I prepare the rest of the ingredients. Once the eggs are separated and ingredients are measured out, the butter is usually soft enough to start beating. If it isn't, just start your mixer and allow the butter to spread around the mixing bowl. It will soon be just right for creaming.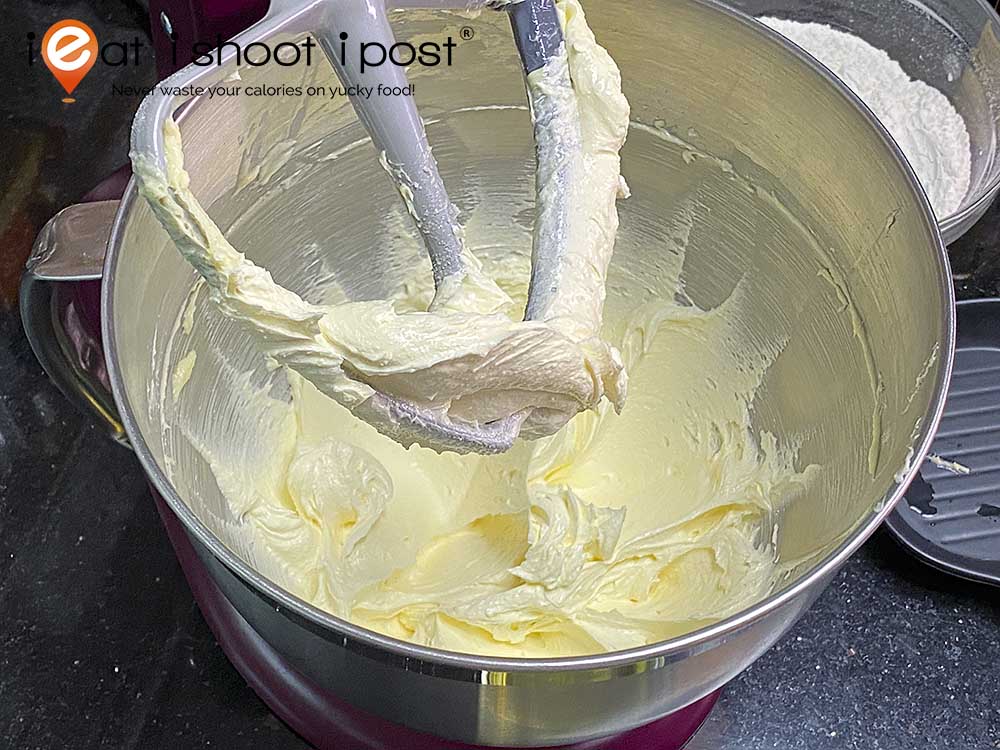 Another thing about creaming that I need to emphasize. It is actually more difficult to over cream the butter than to under cream and the window is quite wide. As rule, 4 mins using a mixer should yield a batter that is pale yellow and fluffy. You can go for about 8mins and it is still ok. If you don't cream enough, your cake might be dense and heavy. If you over cream it will become dry. However, the window is quite wide, so make sure you cream enough and don't stress about over creaming.
3. Baking the cake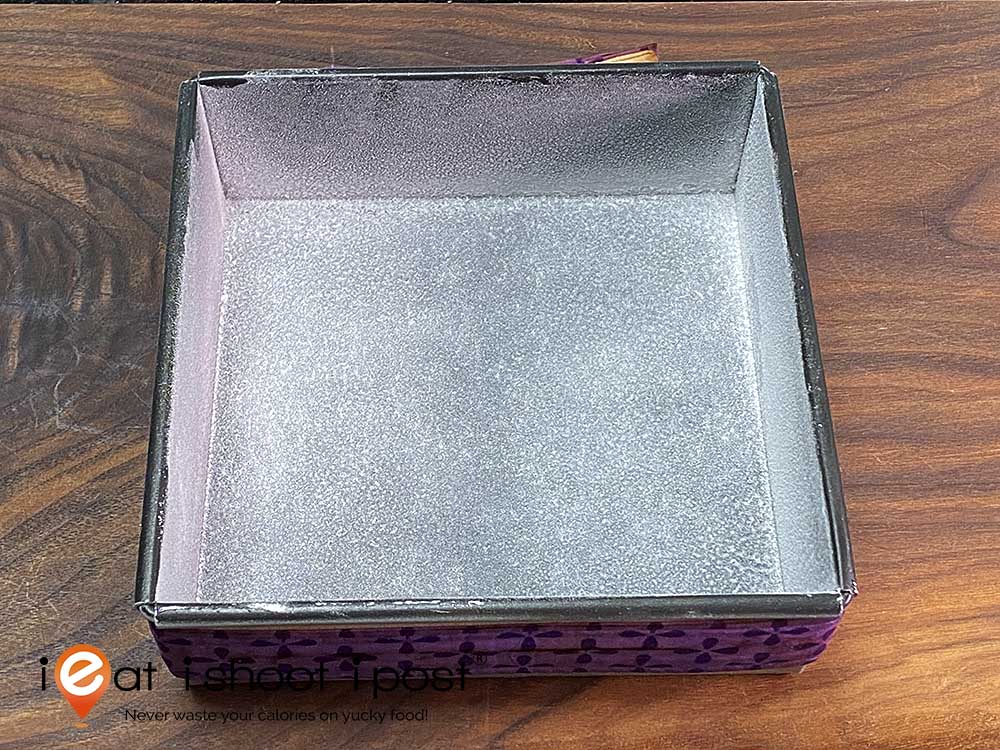 If you want to have a perfect-looking cake, then you need to pay close attention to the baking tin that you are using. If you are using a plain aluminum tin, then you should bake your cake at 170°C and make sure you line the tin with baking paper. The baking paper helps the cake to rise nicely so that the edge is nice and round instead of a sharp rim as shown in the photo.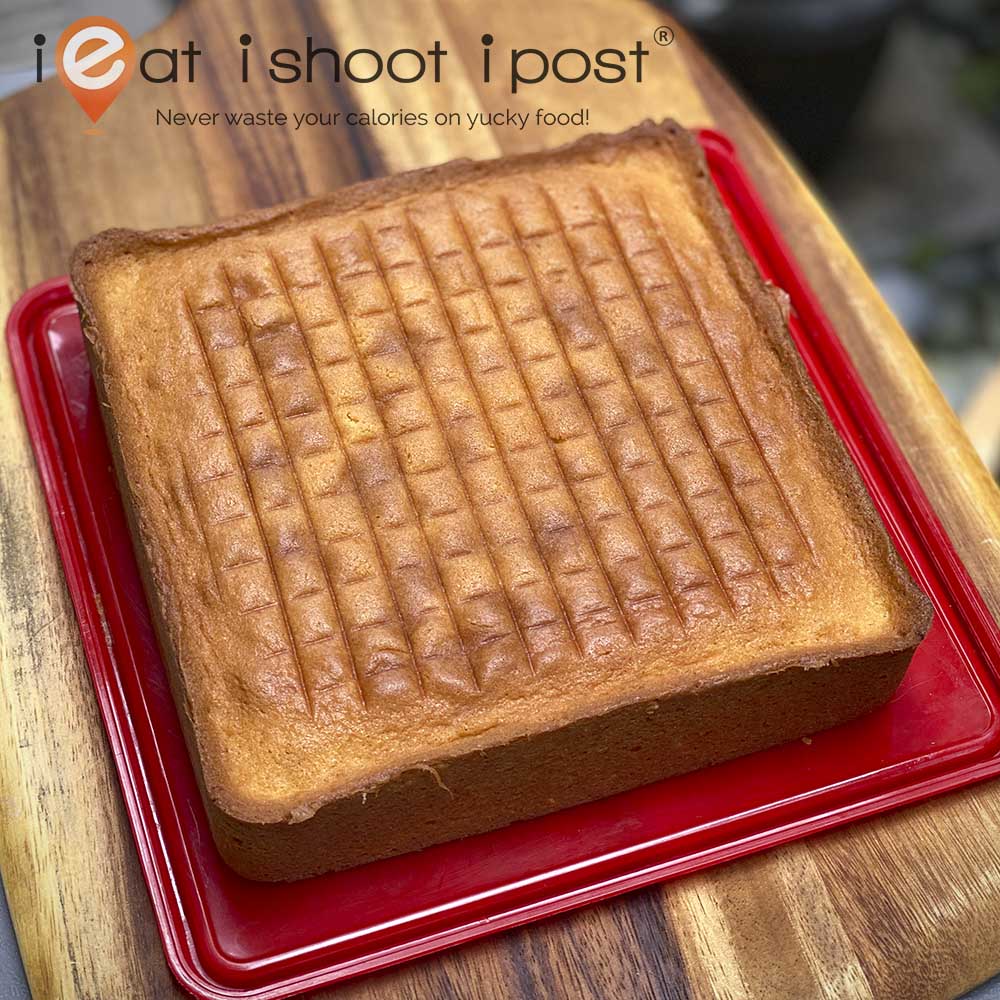 I actually use an anodized aluminum non-stick pan which I oil and flour before filling with the batter. You can use a non-stick pan without the flour, but it also develops that sharp edge because the sides get really hot and the batter rises quickly up the sides of the pan. Actually, it doesn't look nice but that edge is really crispy and my wife actually likes it! So, if you are not bothered with the look, just oil the pan without the flour and go ahead and bake your cake.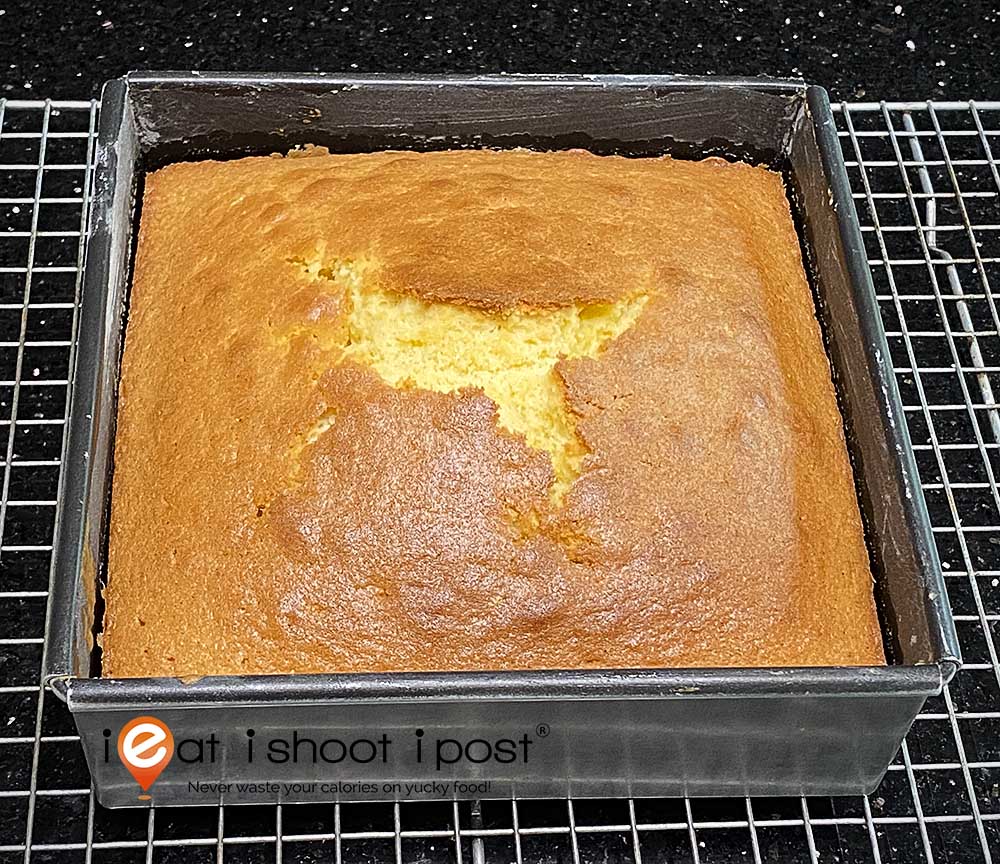 If you want to prevent the cake from cracking, then you may need to use baking strips. These strips will insulate the sides so that it doesn't set too early. This applies to cakes in which you cream the butter and sugar first and not as much to sponge cakes where the eggs are beaten till foamy. What happens is that the sides will cook quickly and set first while the middle of the cake is still cooking. So the middle has more time for the bubbles to expand and rises more than the sides causing the middle to split. The cake is still fine to eat but just doesn't look nice. The split is fine if you are using a loaf pan but not so nice when using a square pan.
4. Sour Cream
I find that sour cream does make the cake a little more tender and moist, but the effect is subtle. If you don't have sour cream on hand, you can substitute with 60g full cream milk
5. Adding all the flour at once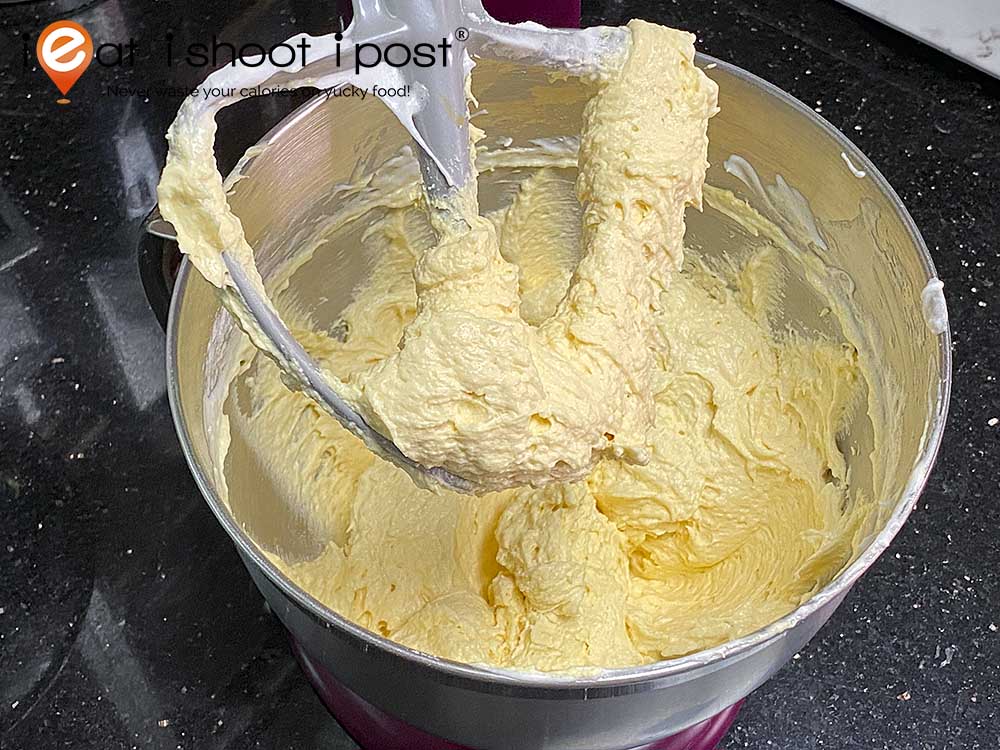 There are many recipes that instruct you to add a bit of flour, followed by the milk then the flour. In my recipe, I cream the butter, sugar, and egg yolks first then add all the flour to the mix and make sure that the flour is mixed with the fat. Since egg yolks are mainly fat, there isn't much water in the batter at this stage, so you are not too concerned about gluten formation which will make the cake doughy. Gluten formation only really starts when you add the egg whites which are 90% water. However, by whipping them to stiff peaks with sugar, you prevent the water from interacting with the gluten in the flour. Once the egg whites are added, just mix till no more whites are visible and your cake batter is ready to be baked.
Do give this recipe a try and let me know how you go in the comments section. Happy Baking!
Other Recipes using KitchenAid Equipment
Disclosure: This post is written in collaboration with KitchenAid Singapore